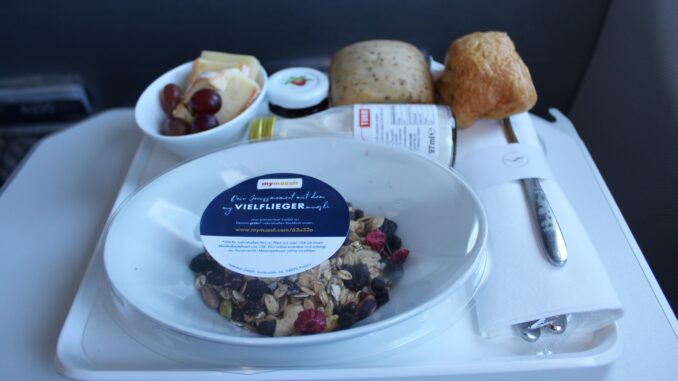 There are plenty of good things to say about Lufthansa, the largest airline group in Europe. Unfortunately their shorthaul business class catering is not one of them and especially not their breakfasts.
This was the breakfast they served on the morning flight from Munich to Barcelona, a flight of nearly two hours. And it was exactly the same breakfast I got on the connecting flight the same morning two hours earlier from Poznan to Munich.
Nothing hot whatsoever to eat and actually very few cold items as well. The cereals were allright and better than the chocolate cereals I got on for example the flight from Oslo to Frankfurt a few months ago, which were incredibly sweet. But otherwise there really is not much on that tray. No yoghurt, no cold cuts and no fruit salad (ok, you get some grapes).
And the service, although not bad by any means, was by no means exceptional either. It was a very uneventful and unmemorable flight. The best thing was that you get a free middle seat in business class, which meant I could stretch out and get some rest after a very early start of the day.
It is a shame with the Lufthansa shorthaul catering since the catering in the Lufthansa lounges (and in the Senator Lounges in Frankfurt and Munich in particular) has improved considerably during the past years. So why are they not able to provide the same excellent standard inflight?
At least the approach into Barcelona El Prat Airport provided a magnificent view of the coastline and downtown Barcelona with the La Barceloneta beach in the foreground. And the weather was just amazing.