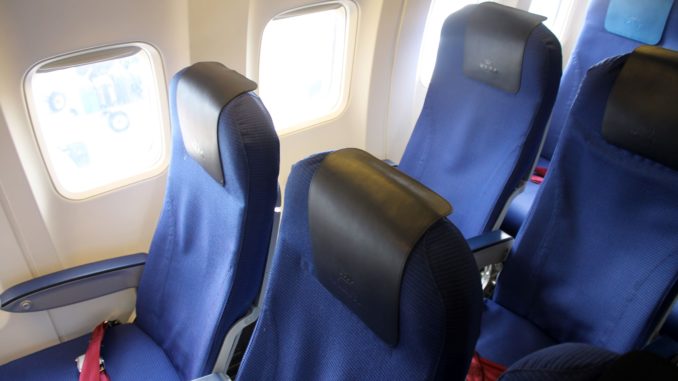 A nice benefit of having a platinum card in Flying Blue, the frequent flyer program of Air France and KLM, is that you can select a seat in the Economy Comfort section in the cabin free of charge when travelling on an economy class ticket. Of course this makes much more sense on a longhaul flight, but Economy Comfort is actually available also on shorthaul flights, on flights operated by Boeing 737, Fokker and Embraer aircrafts.
On the Boeing 737 Economy Comfort are the first few seats of economy class, just behind the business class cabin. The Economy Comfort seats have 3 inches (almost 8 cm) more legroom, the same amount of legroom you get in business class, and it is definitely noticeable.
A seat in Economy Comfort also means you are one of the first passengers to gt off the aircraft and sometimes the service is a bit more attentive at the very front of the economy cabin.
All passengers can pay to get a seat in the Economy Comfort section. Flying Blue Gold members get 50% discount on the price. You can also use Flying Blue points to prebook an Economy Comfort seat.