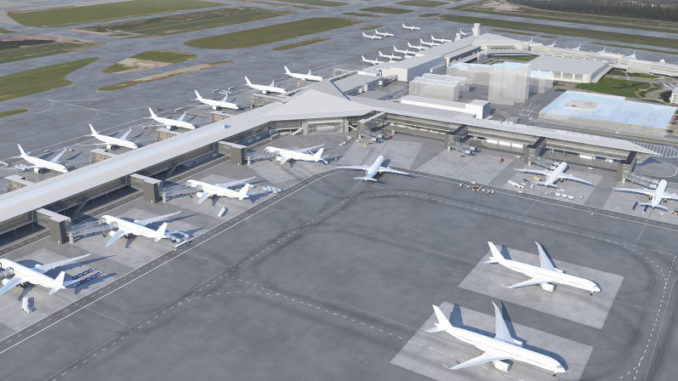 The Finnish airport authorities Finavia have now released a few photos of what the new terminal building at Helsinki Vantaa will look like, which is expected to be completed by year 2020.
The new longhaul terminal building will be built towards the west and will specifically increase the number of parking stands at the terminal building for widebody aircrafts, doubling the capacity compared to today. This is especially important for the growing traffic from Helsinki to Asia, for which there are simply no more gates and terminal parking stands available today. In the past 10 years the number of transfer passengers has increase by more than 75% at the airport and a large number of these connect between Asian destinations and European destinations.
New aircraft stands will also be introduced at the terminal and they will enable de-icing to be done at the gate. Although aircraft stands with de-icing facilities is a rather expensive investment the airport authorities Finavia estimate they are worth the price as they will also reduce delays and make the flight operations more efficient. And as most people know it is snowy in Finland during most of the winter.
Some of the boarding bridges will also allow business class and economy class passengers to board and disembark separately using different passenger bridges.
A total of eight new bridge gates will be introduced in the southern and western extensions of the longhaul terminal building, with drivable passenger boarding bridges. Also some of the current gates will get drivable bridges.
Timeline for the expansion
In August 2017 the new south wing will open.
In December 2018 a new entertainment and media centre will open, home to live TV productions and public events. Also a new Central Plaza will open in the new west wing with 25,000 sqm of passenger facilities.
In December 2020 the full expansion program is expected to be completed.