Where is it?

The Aspire Lounge at Helsinki Vantaa airport is located in the Schengen area of the transit hall close to gates 27 and 28. The entrance is on the second floor opposite a restaurant and can be reached using the stairs or the lift.
How do I get in?

The lounge is used mainly by airlines in the Skyteam alliance such as Air France, KLM and Czech Airlines but also by other airlines such as Air Baltic and Icelandair according to the sign at the entrance. It is also possible to enter using various credit cards and lounge cards such as Priority Pass and Diners Club.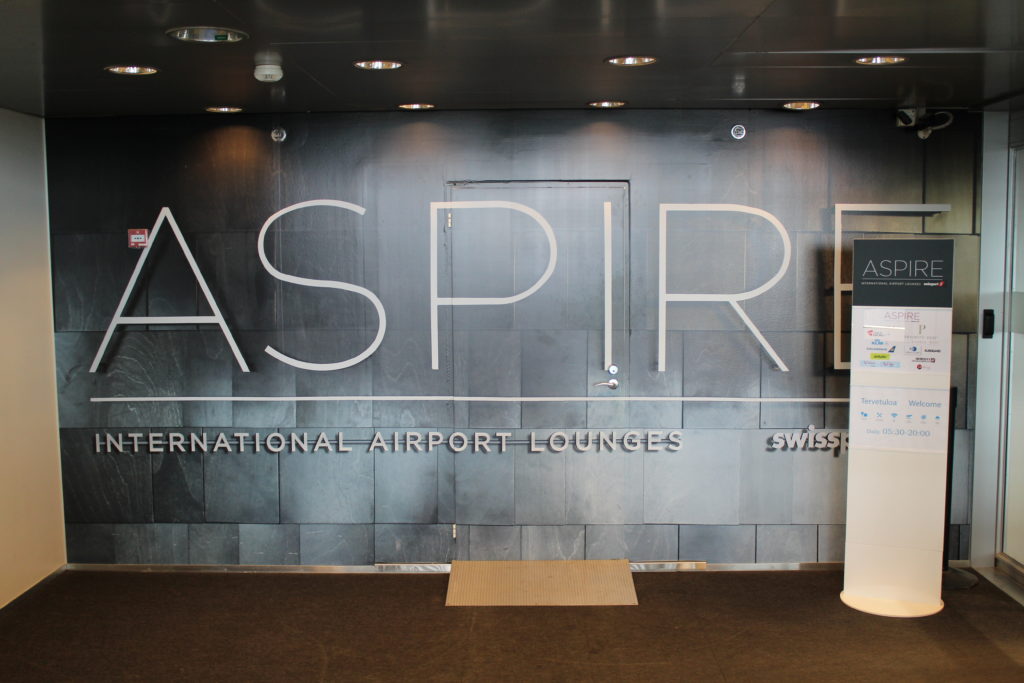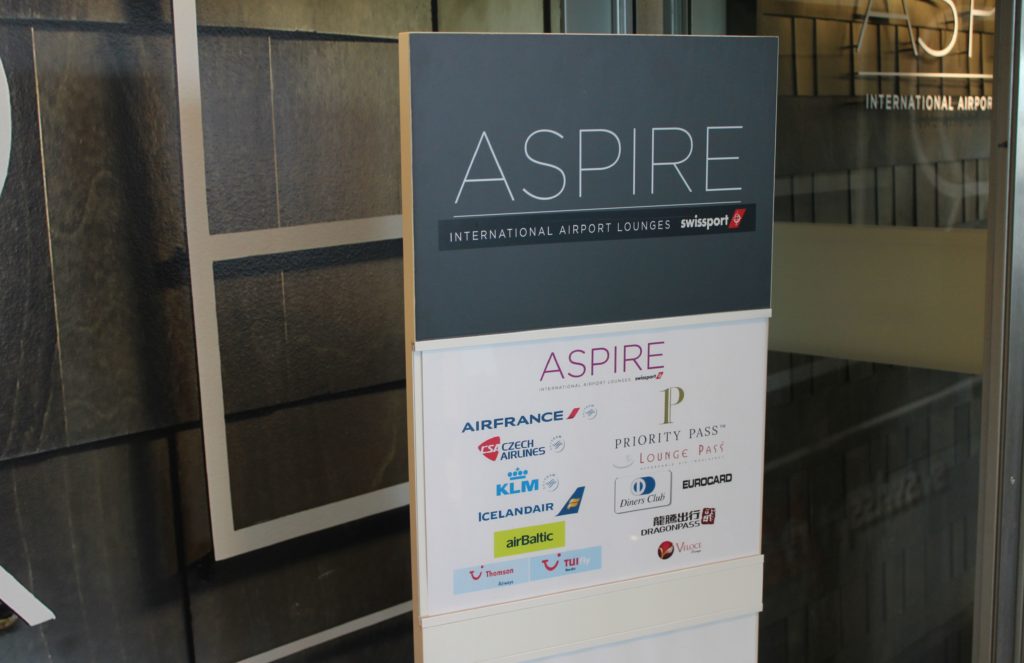 What's it like?

The lounge has the new Aspire lounge design which can also be found at for example Copenhagen airport. The design is hip and modern with strong colours in green, purple and orange and interesting furniture in different shapes and sizes. The design is quite creative and makes the lounge quite enjoyable to spend some time in.
The Aspire Lounge measures 245 sqm with seating for 118 guests and has been designed by GI Design & Architecture.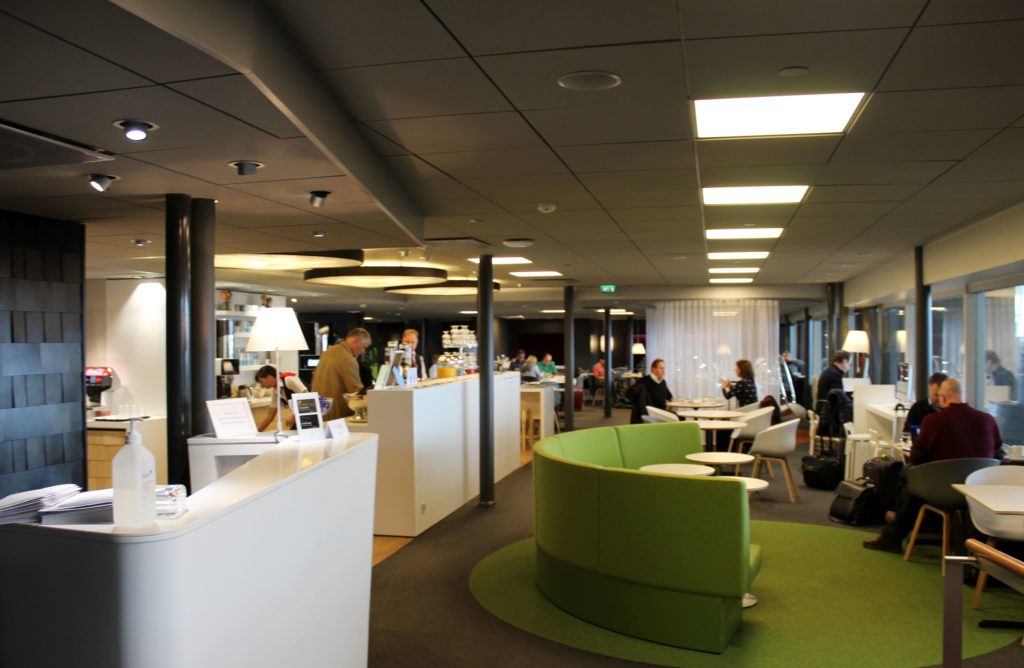 There are some interesting elements in the lounge such as the hanging bubble chairs, three in total, the half-moon shaped green sofas, which are in fact quite comfortable to sit in, and the tree stumps, which are used instead of stools.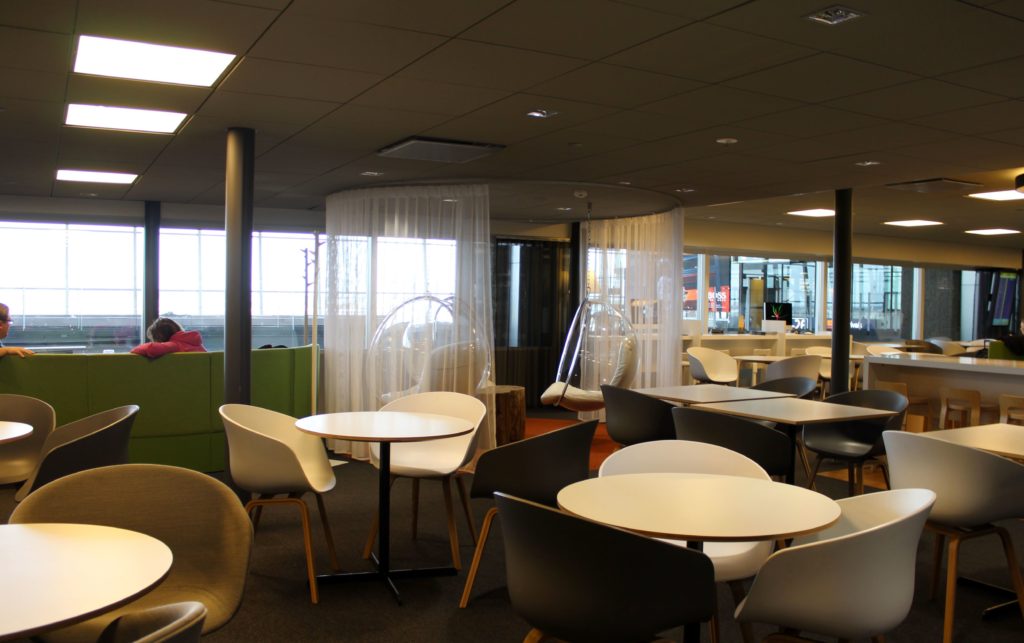 And of course there is plenty of regular seating as well with restaurant-style tables and regular armchairs. The lounge is quite spacious but can still be fairly crowded at peak times.
Food and drinks

The self-service buffet is located to the left after the reception desk and offers mainly cold food which varies depending on time of the day. In the morning breakfast dishes are offered and later during the day cold cuts, salad, soup, bread rolls or sandwiches and usually something sweet. Snacks such as crips and nuts are also available throughout the day.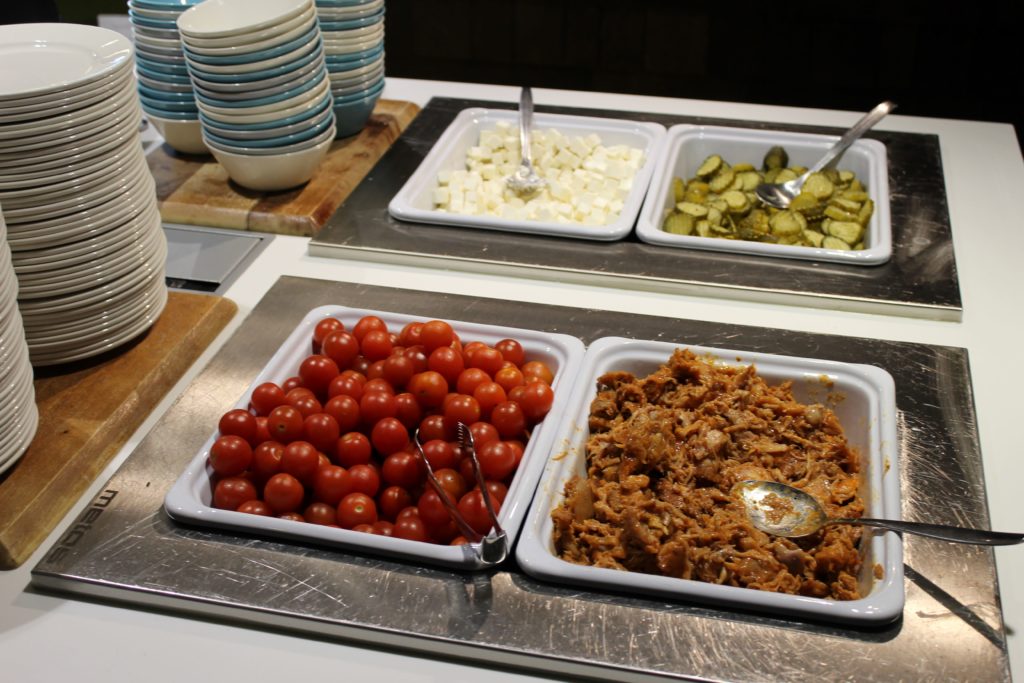 The drinks selection includes red and white wine from bottles (one brand of each), beer on tap, a standard selection of spirits such as gin, vodka and whisky (in optics), and of course soft drinks, including juices and sodas. There is also a pretty good coffee machine.
If you fancy something else, such as a bottle of champagne or sparkling wine, this can be ordered (at a charge) from the lounge staff. Prices and assortment can be found on a sign in the buffet area.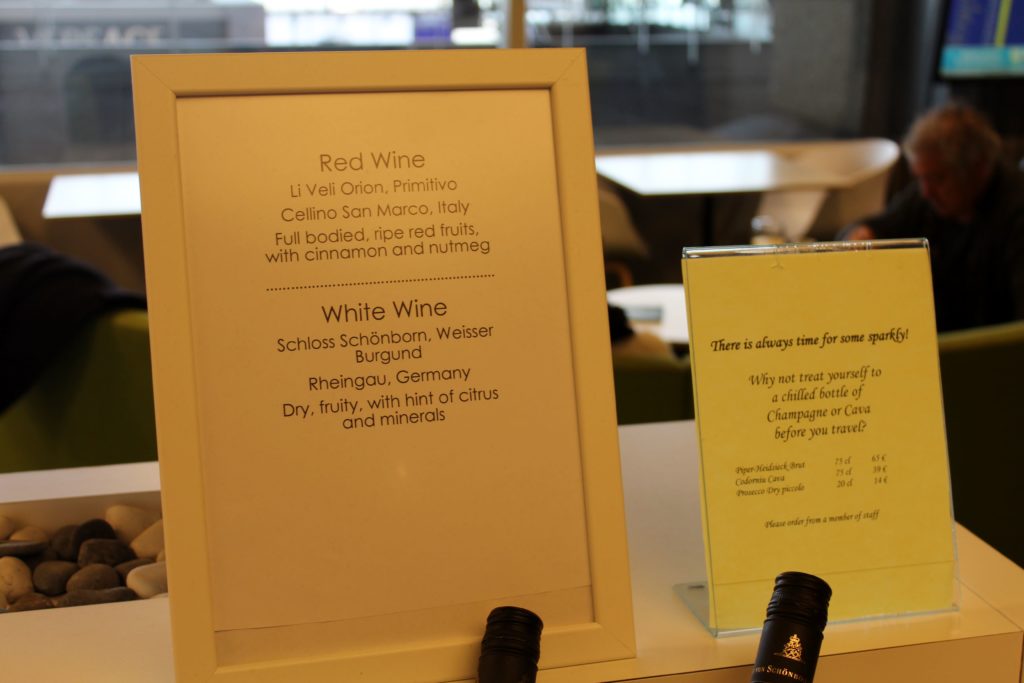 Facilities

Free Wi-Fi is available as well as a business centre with two internet computers. There are also several TVs and a rack with Finnish and international newspapers.
Restrooms and showers are available inside the lounge.
Anything else not to miss?

If you have the time, and if they are available, try the hanging bubble chairs. An interesting experience!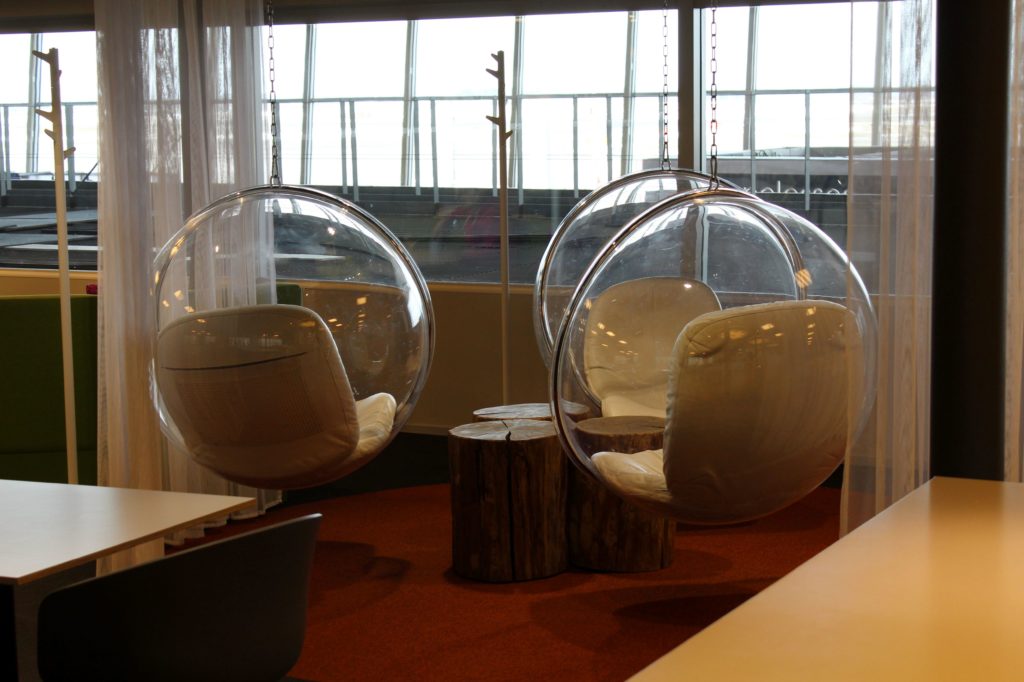 If they are not, you may want to try the second option, sitting in a frame in a wall, or on a tree stump.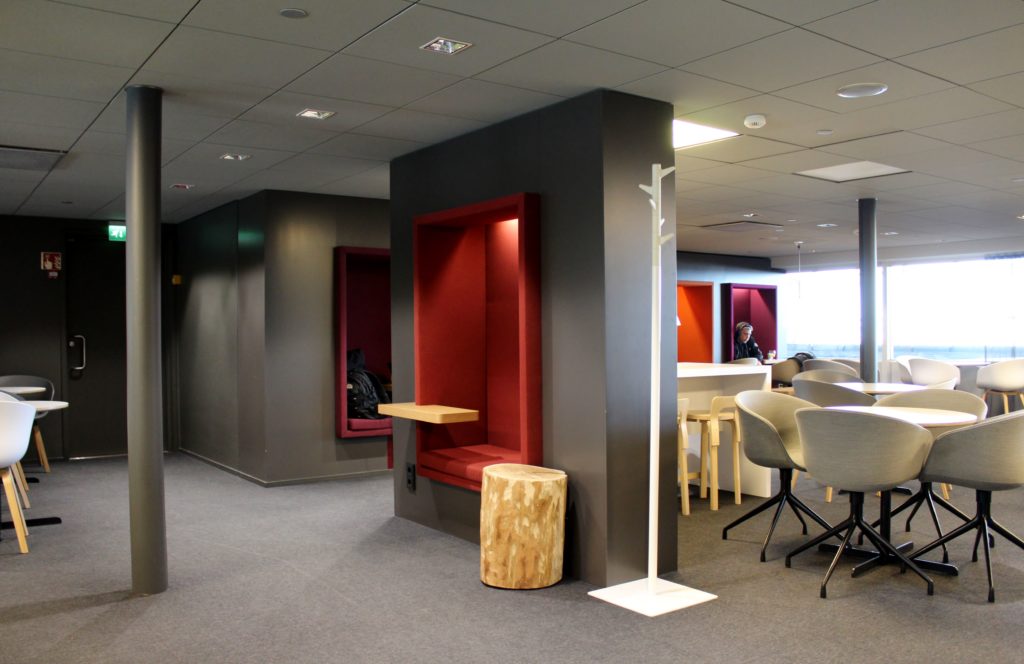 Final impression

The Aspire Lounge in Helsinki is a fun lounge to visit with a hip and cool design. The food and drinks selection is not spectacular, but acceptable. Unfortunately, in spite of its size, the lounge can be fairly crowded at peak times.