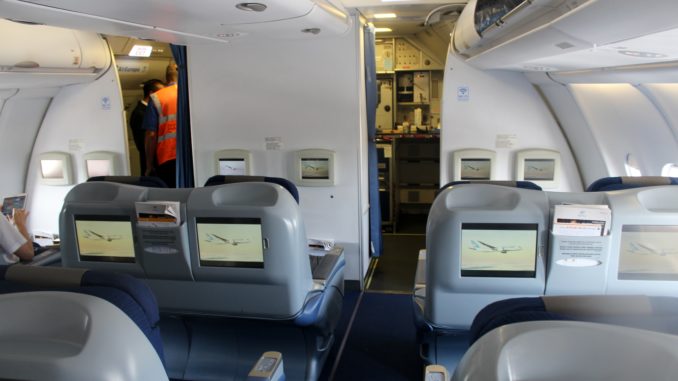 Air Europa is the third largest airline in Spain after Iberia and Vueling with its hub in Madrid and further bases in Barcelona and Palma de Mallorca. The airline was initially founded as a charter airline but nowadays also operates as a full-service airline, even operating a few longhaul routes to the Americas. Air Europa is also a member of the Skyteam alliance and uses the Flying Blue program.
Departure experience

I arrived at Barcelona El Prat airport at 10 am, well ahead of the scheduled departure time at noon. Air Europa uses the newer terminal 1, just like most full-service airlines. The terminal was quite busy this Sunday morning with many passengers returning home after a weekend in the city.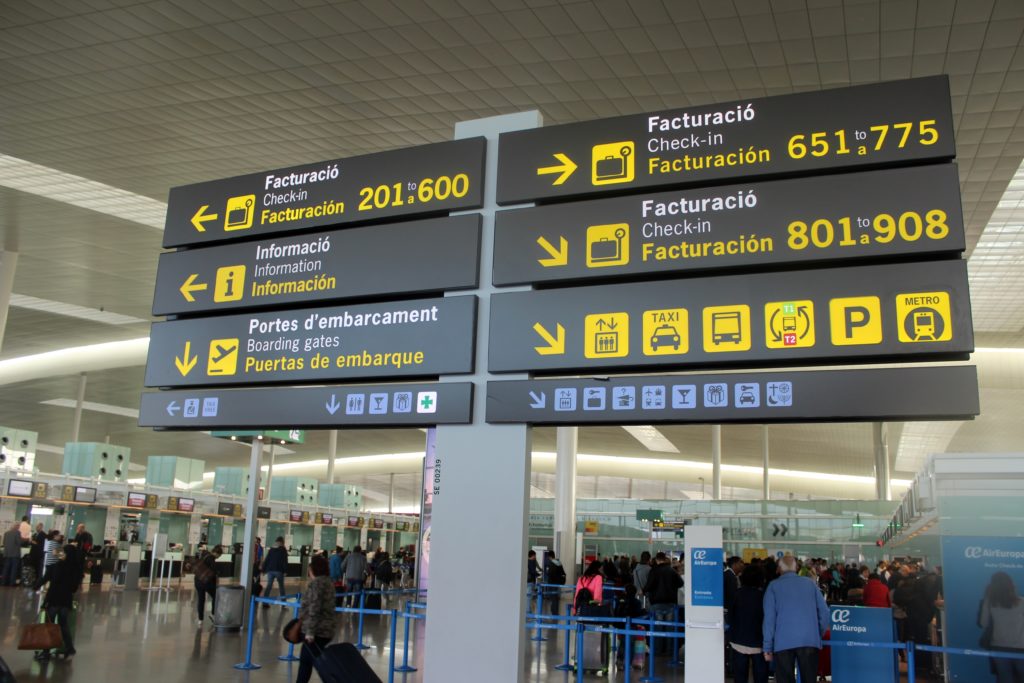 I had already checked in online but needed to have my boarding passes printed as I did not have access to a printer. Although there were self-service machines available, which would have been sufficient for me travelling with only hand luggage, there were quite a few people in line and I decided to go to a manual desk instead, one of the benefits of travelling in business class and having a gold card.
There was one Sky Priority desk open with no one in line and my boarding passes were quickly printed. I was also told I was invited to visit the Sala VIP Pau Casals Lounge after the security control.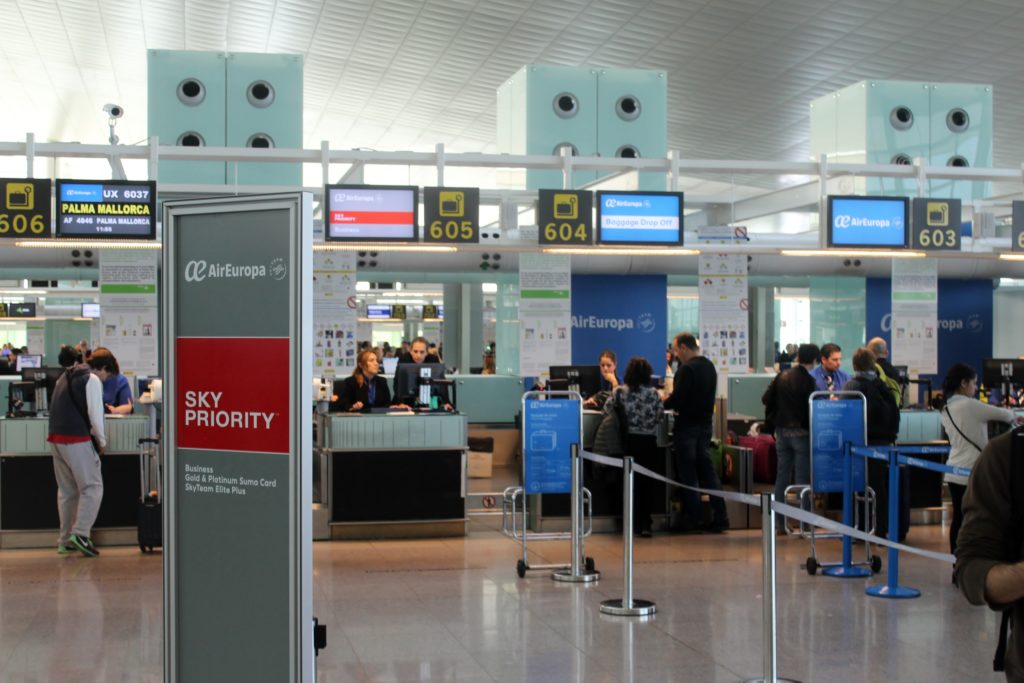 There was a fast track channel at security. The sign did not mention Air Europa (actually it did not list many airlines at all) but I decided to scan my boarding pass at the access gate anyway to see what would happen, and I was admitted. There were only two passengers in line, a huge contrast to the regular lines. It saved me a massive amount of time this busy Sunday morning.
There is only one lounge at the airport for Schengen passengers, used by all airlines. A bit strange for a large airport like Barcelona. The lounge is called Sala VIP Pau Casals and is in fact quite pleasant with a modern interior, large comfortable leather armchairs and a nice selection of drinks and snacks, including a nice Nespresso machine for the coffee. In the past there has also been an ice cream box in the lounge, but it seemed to have been removed.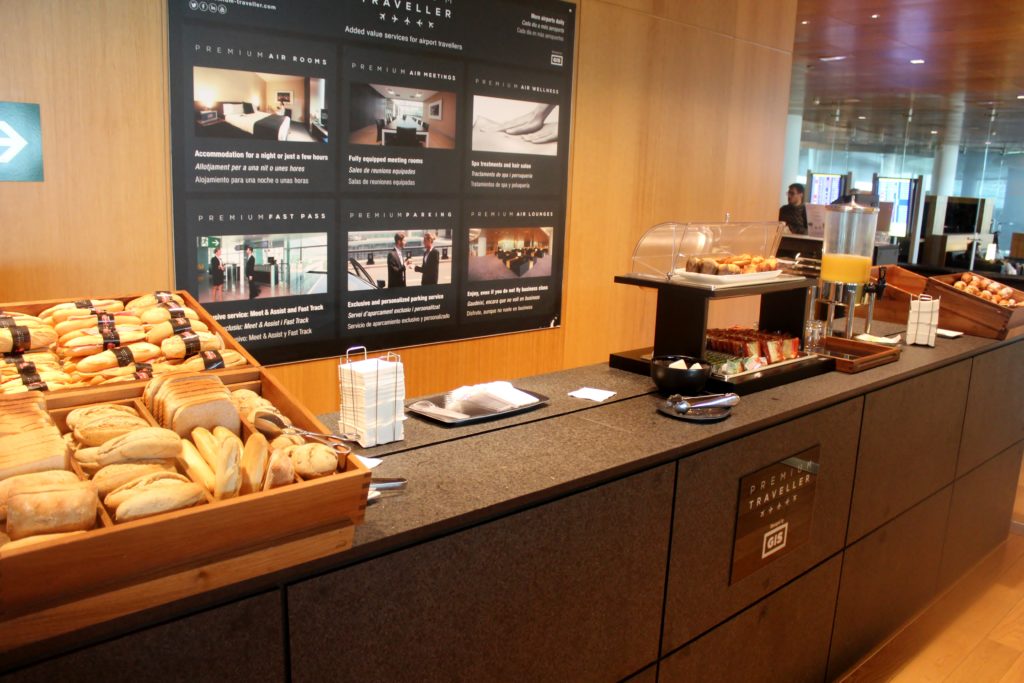 This morning sandwiches, croissants and pastries were on offer as well as a full bar service with Spanish wines, beer and spirits. The lounge was fortunately not too packed and the lounge visit ended up being quite pleasant.
Read the full lounge review here!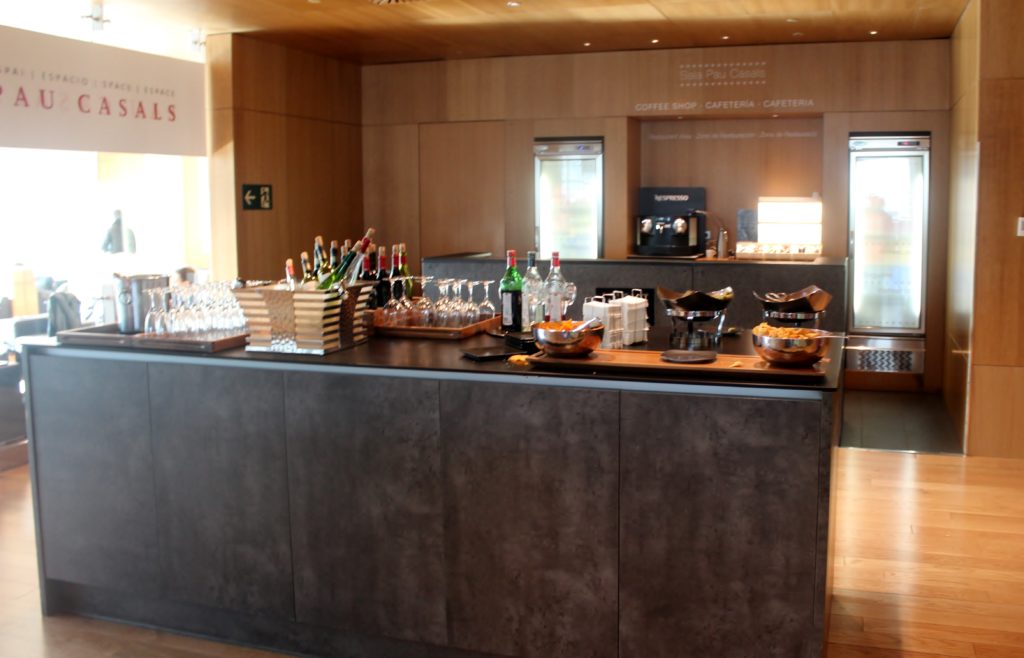 There is in fact also a second lounge in the Schengen area of the airport called Sala VIP Colomer. It is located at the end of a long concourse, in a corner of the terminal building, and is used for the Barcelona-Madrid shuttle and a few domestic flights. As I was travelling to Madrid and had never been there before I decided to make a visit. It is quite a lengthy walk from the main transit hall and taxfree area. I am not sure if it would be technically possible to visit it flying to other destinations, but it would be a major detour for most passengers anyway and frankly not worth the trek.
The lounge itself reminded me much of the Sala VIP Pau Casals with the same design and furniture. This lounge is much smaller though but on the other hand there were far fewer guests. Although Air Europa was clearly written on the sign at the entrance the woman at the reception was a bit surprised to see me there considering the departure gate for my flight to Madrid which was at least a few minutes walk away.
Read the full lounge review here!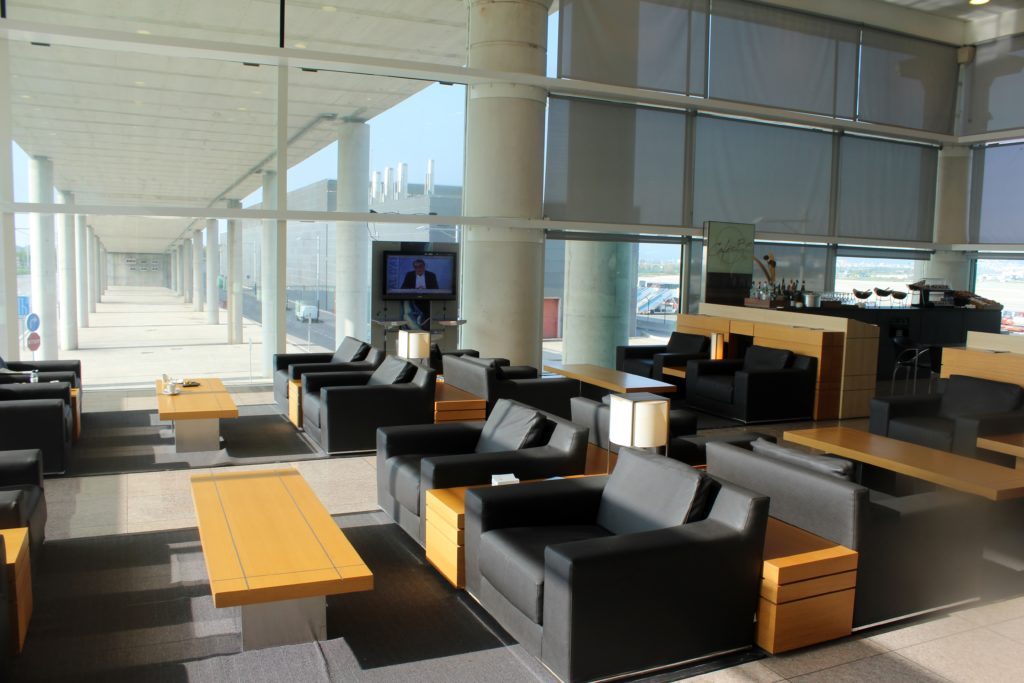 Boarding started very early to Madrid, about 45 minutes before departure, at least according to the departure boards. Gate B63 was used to Madrid, at the very end of concourse B and a long walk from the Sala VIP Colomer Lounge.
The flight
Barcelona-Madrid
Air Europa flight UX 2057
Departure: 12.00
Arrival: 13.25
Business Class
Airbus A330
Seat 03K

Boarding had just started as I reached the gate. They seemed to have started with passengers travelling with children. Afterwards priority boarding was offered for Sky Priority customers, including Skyteam Elite Plus members and business class passengers. There was a special line at the gate for premium passengers, a bit hard to see at first with so many passengers waiting at the gate, but it was there, and quite clearly signposted, once found. I was immediately processed and allowed to board.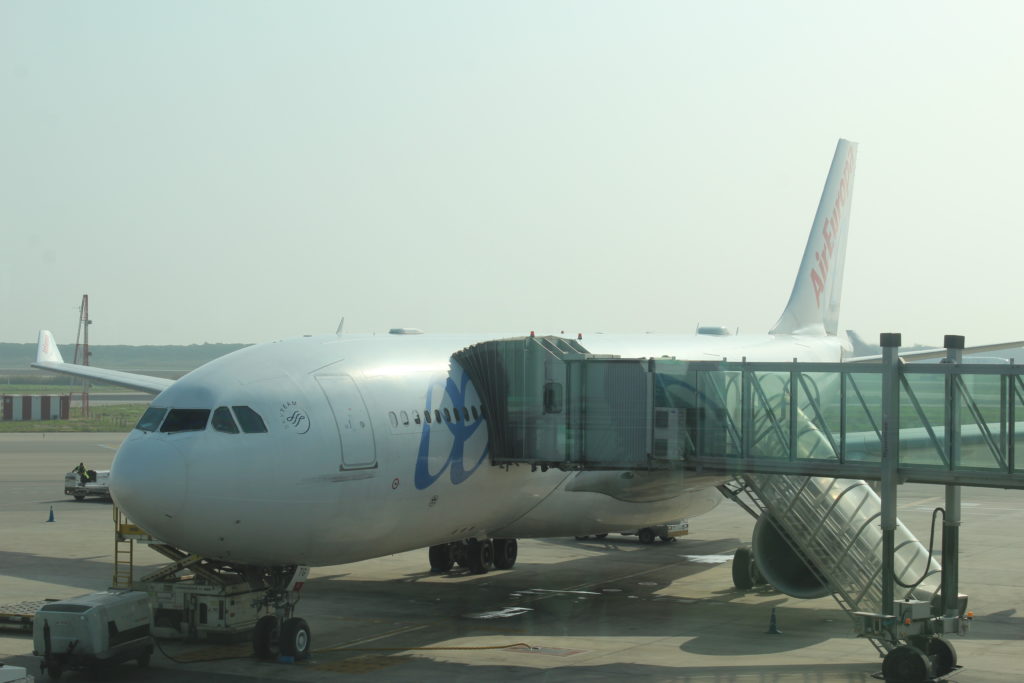 On most flights between Barcelona and Madrid narrowbody aircrafts are used, however for some reason Air Europa uses an Airbus A330 on some departures, with the longhaul configuration, and this was one of those departures.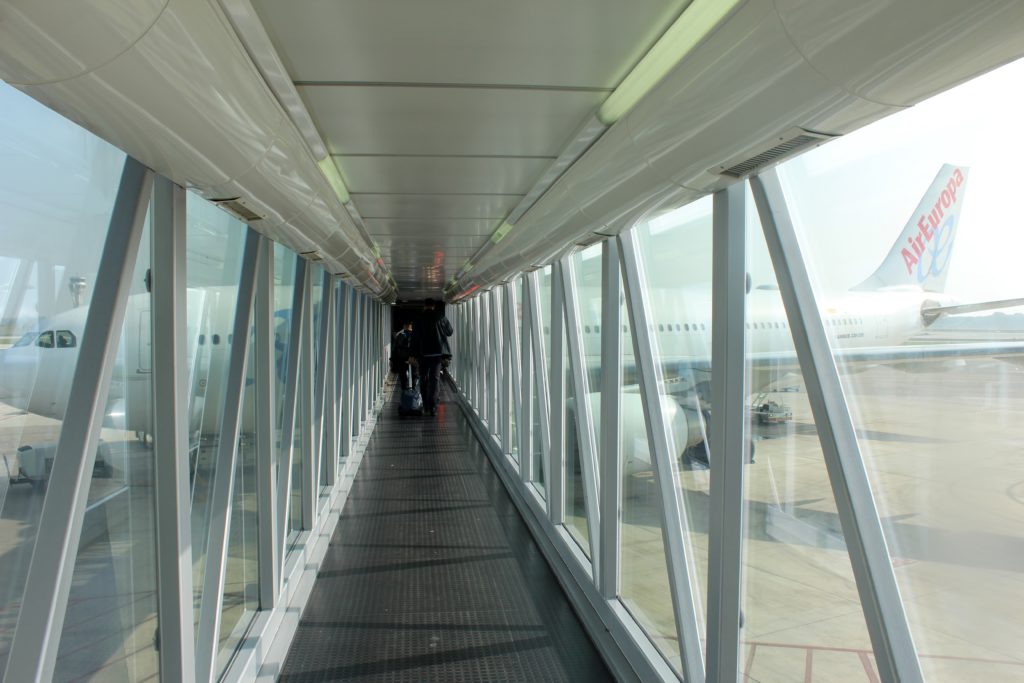 First impression
Boarding was done through the second door, 02L, which meant a left turn for business class. I was one of the first passengers to board and the cabin was almost empty when I arrived.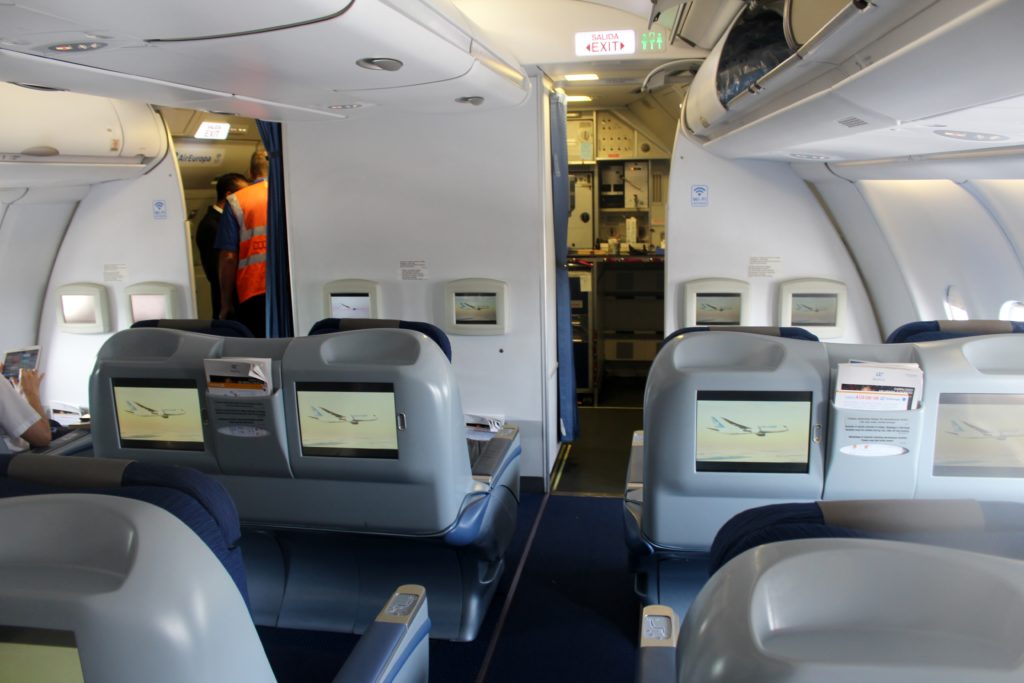 There was indeed a proper business class cabin in the front of the aircraft with a 2-2-2 configuration. The seat design looked very familiar from a few other airlines I have travelled on. Although not the newest seat type in the industry it was definitely not bad and especially not for a one-hour shorthaul flight.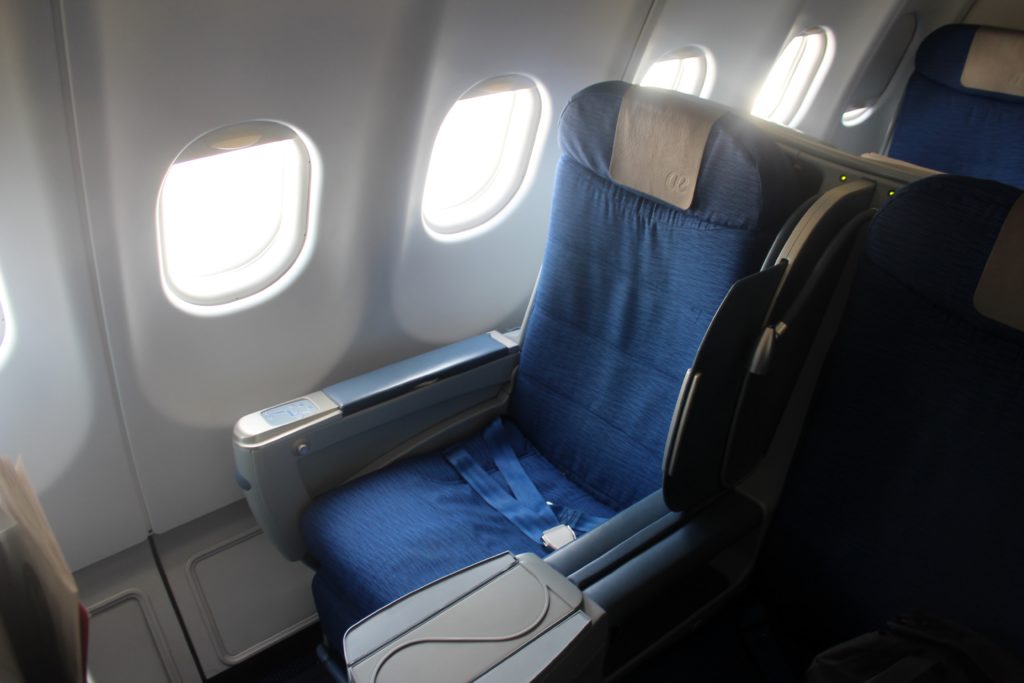 Most of the cabin interior was in different shades of blue, probably to complement the Air Europa logo and branding, which are also in blue.
The crew were still busy with pre-departure checks so it took a bit of time before someone appeared to greet me and welcome me onboard as well as offering to take my jacket.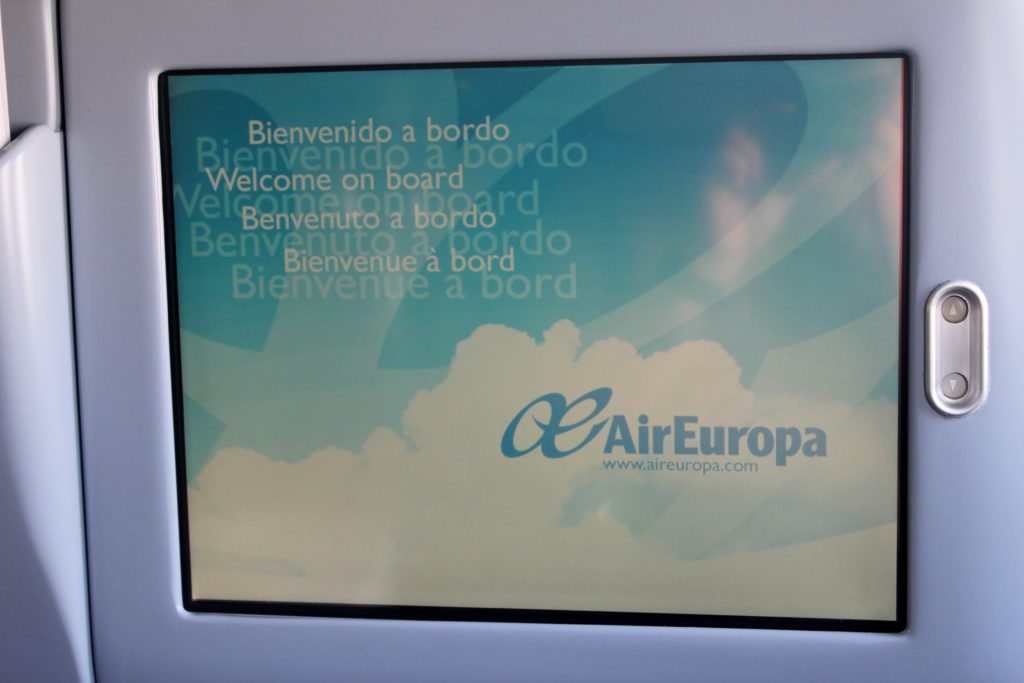 Pre-departure drinks were also offered. Nothing alcoholic but rather a choice of water and different juices. I had a glass of orange juice to drink, served in a plastic cup.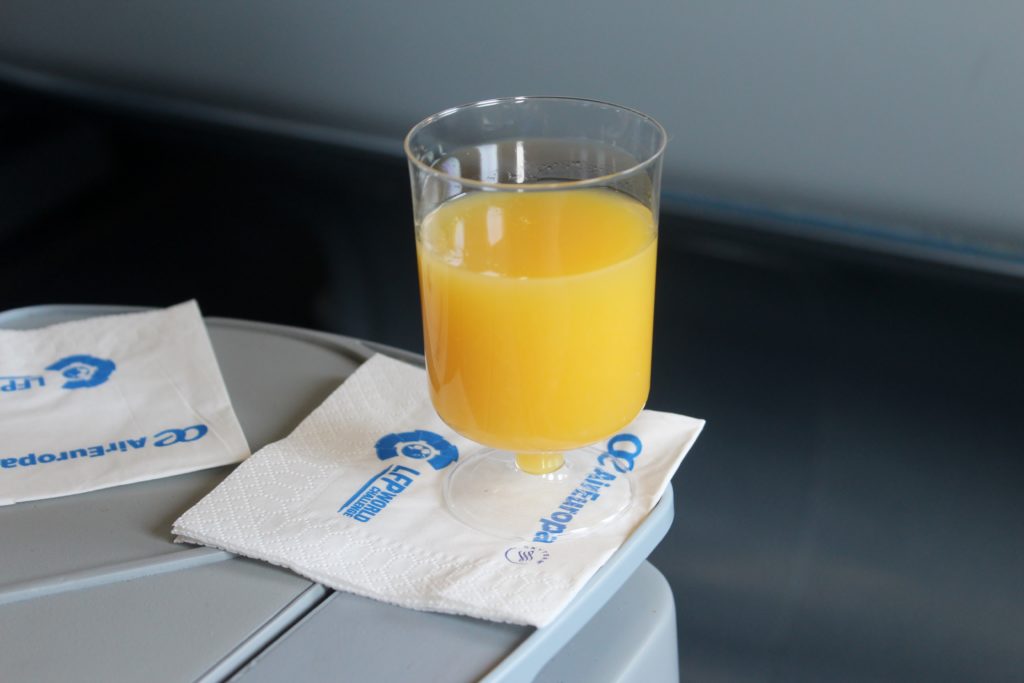 I was rather surprised to see that the business class ended up being completely full, even with as many as 24 seats. Apparently it makes sense to use an Airbus A330 for some flights on this route and there seemed to be a good load in economy class as well.
After a safety demonstration video we took off to the west a few minutes after noon with a nice view of the coastline during the first minutes after departure. The weather was the best possible. The flight time to Madrid was expected to be around an hour.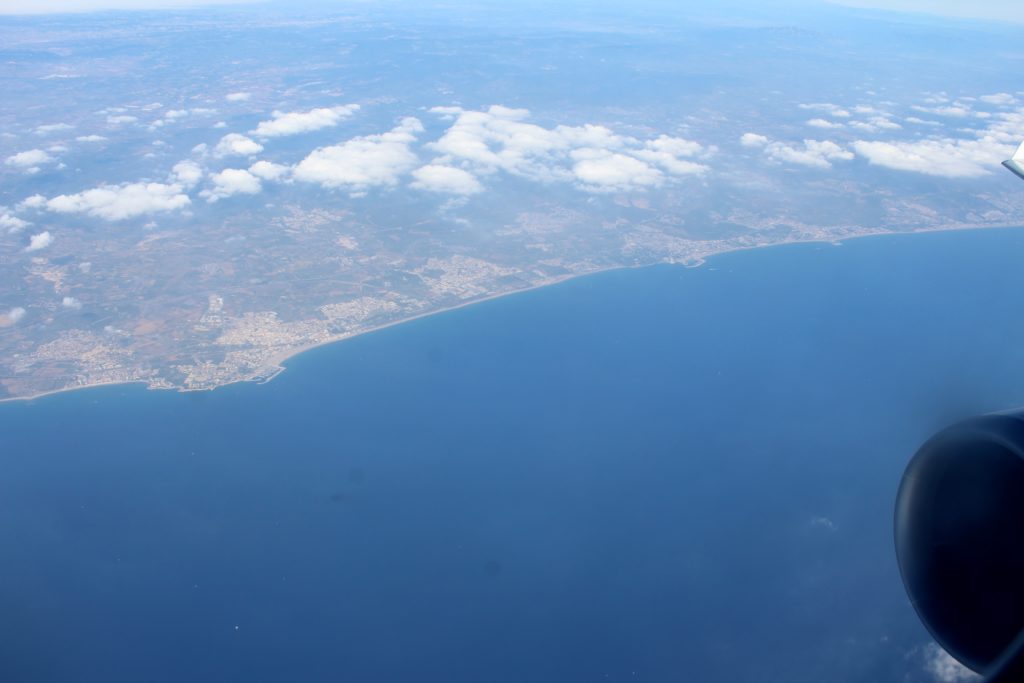 Seat and cabin

There were 24 seats in business class on the Airbus A330. Four rows in a 2-2-2 configuration. All seats were occupied during the flight.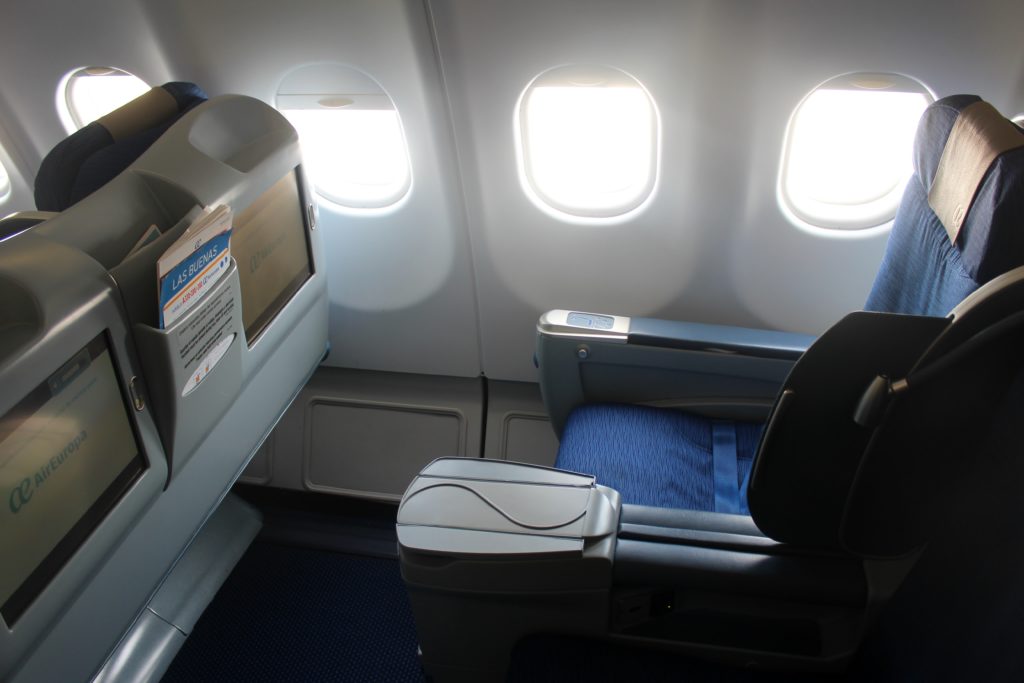 The seats were angle-flat, so better than a traditional recliner seat but not really fully flat, as is becoming standard in longhaul business class. The seat pitch was 51″, again not the best seat pitch in the industry for a widebody longhaul business class cabin but certainly more than adequate for an intra-European flight.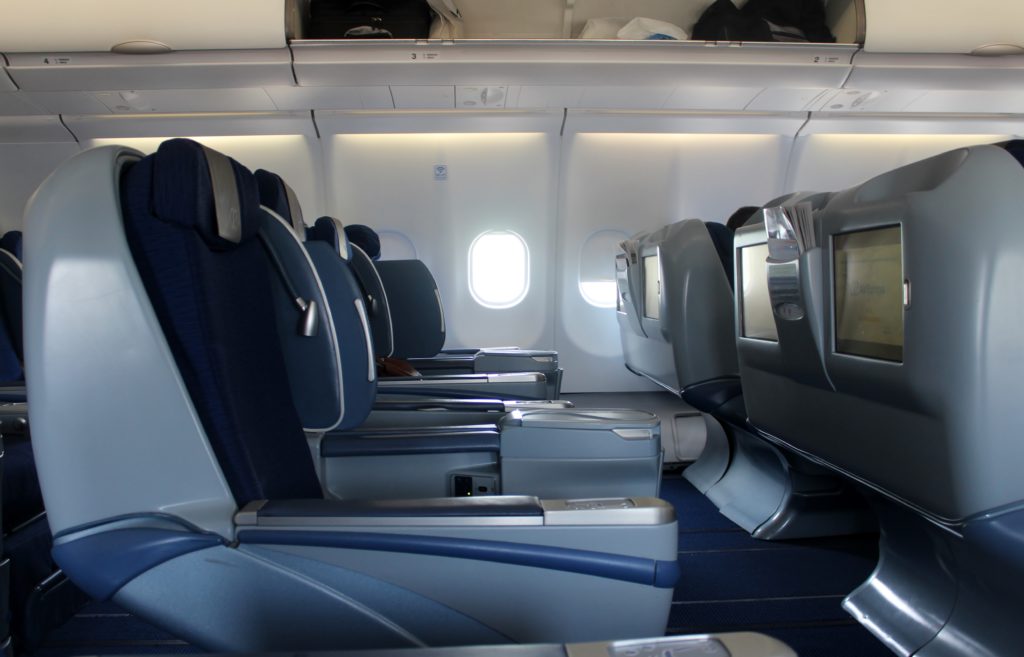 Each seat also had a decent screen and some storage for reading materials.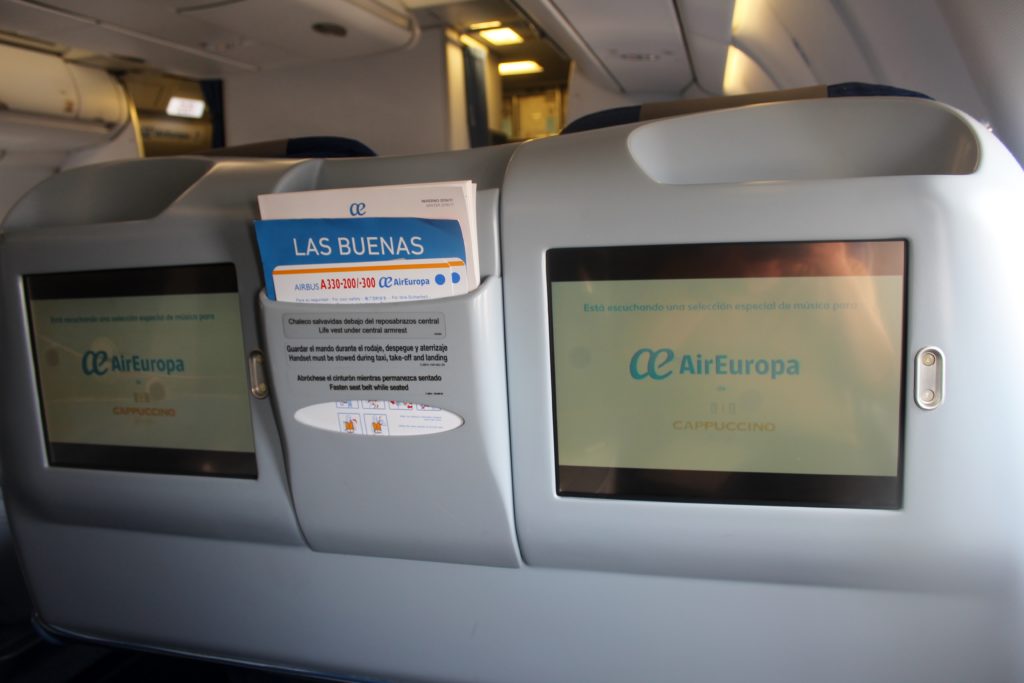 The seat could be adjusted using a seat control placed on the armrest.
Food and drinks

As we reached cruising altitude the cabin crew passed through the cabin offering snacks and drinks. Given this was business class at lunchtime I was expecting some kind of light meal, perhaps some cold cuts and a bread roll. Instead we were offered sandwiches, pastries and cookies from a basket followed by drinks from the trolley.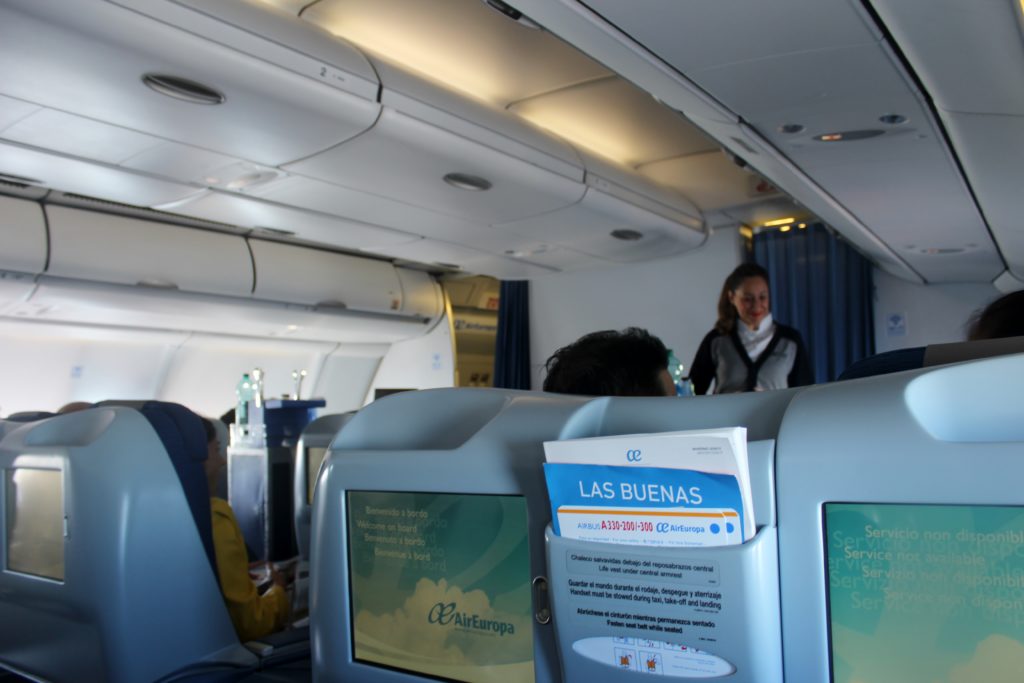 I had a sandwich from the basket and asked for a bottle of red wine, which turned out to be a Spanish Rioja wine. It was served with some nuts. Although nothing wrong with the sandwich, or the wine, the concept just did not really feel like business class, even for a shorter domestic flight. A tray would have been nice, and perhaps a proper glass for the wine instad of a plastic glass. It just felt a bit cheap, perhaps something I would rather have expected in a premium economy cabin. But on the other, frequent commuters between Barcelona and Madrid may appreciate being able to choose themselves what to eat.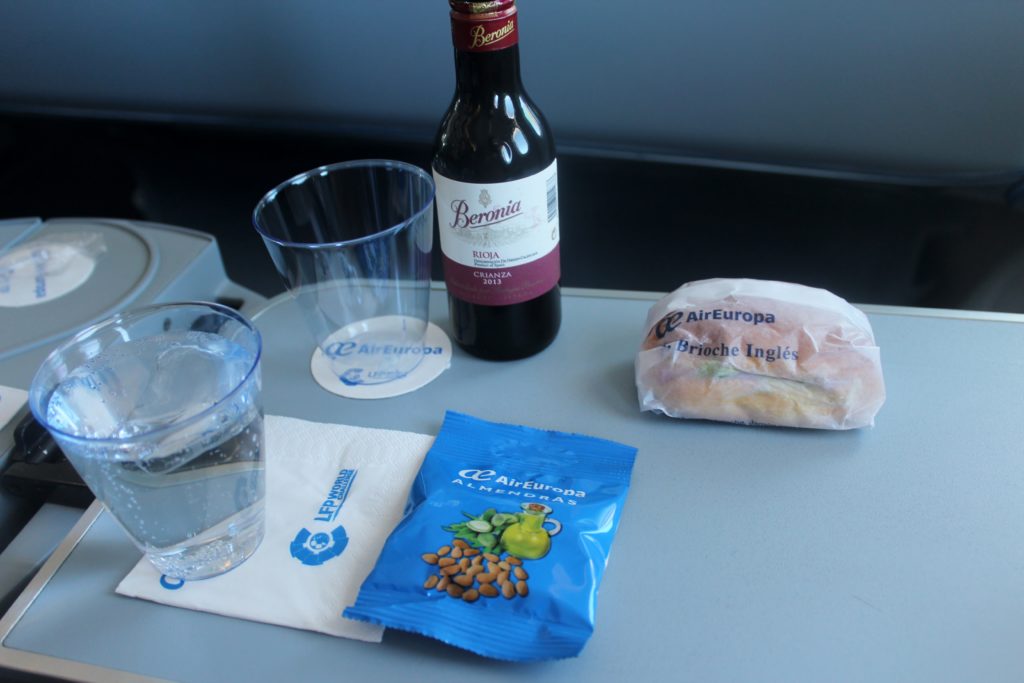 Inflight entertainment
An inflight entertainment system was available onboard the Airbus A330. It was not AVOD (Audio Video On-Demand) but rather and older-style system with music channels and video channels. There was a small remote control in the armrest to turn on and off the system, switch channel and adjust the volume.
Although the entertainment system was turned on during the flight I did not really make use of it.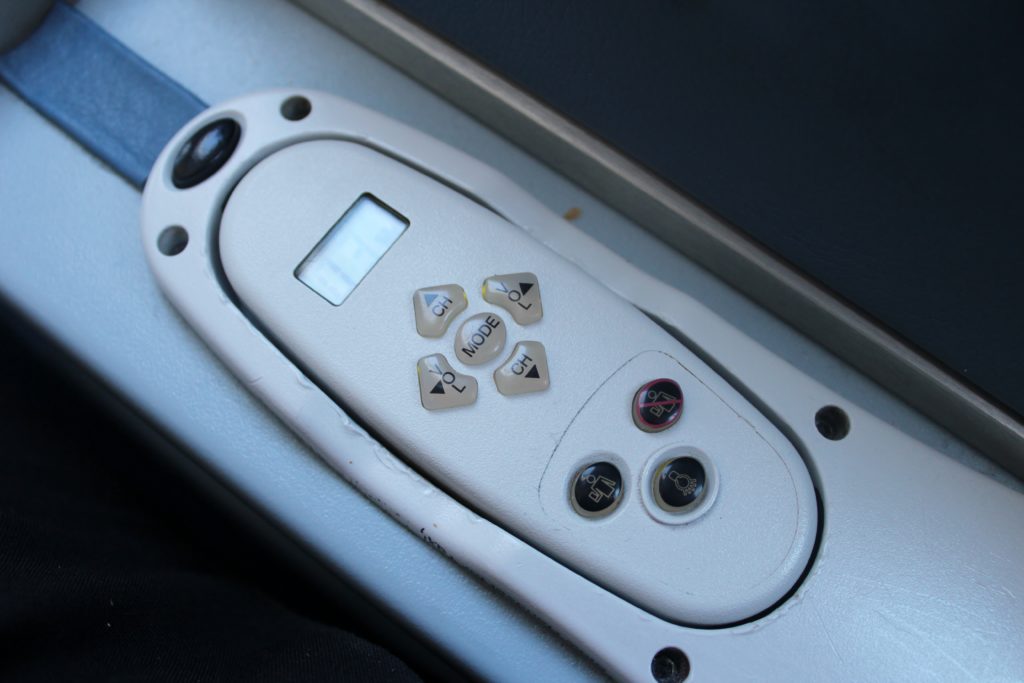 The service

The service was friendly and correct but with 24 passengers to serve during a one-hour flight there was not much time for any extra initiatives. Everything was done by the book, no more no less. And there was no special recognition of me as a gold card holder. Still there was nothing to complain about.
Arrival experience

The weather during the flight was beautiful without a single cloud. We flew along the coastline south-west of Barcelona and the turned right towards the Spanish capital and got some amazing views of the inland and later the city of Madrid.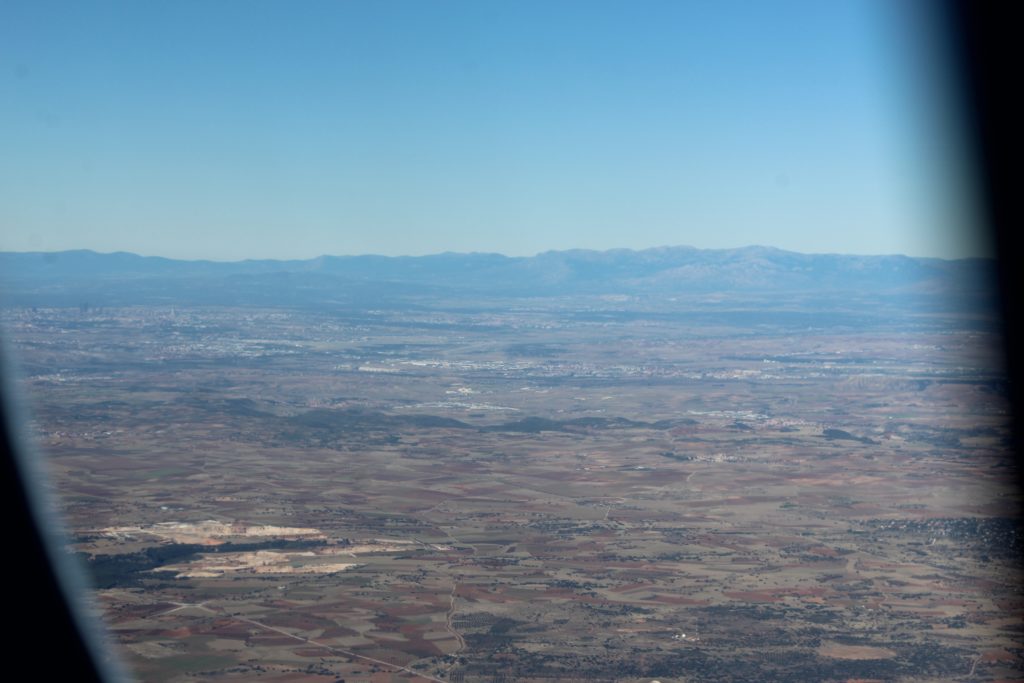 We touched down at Madrid Barajas airport on time around 1.20 pm. Air Europa uses the old terminal complex, nowadays called terminal 2 and 3. Again just one door was used for all passengers, door 2L.
I had a connecting flight to Amsterdam two hours later and with the on-time arrival I had plenty of time to visit the two lounges in the terminal.
Final impression

Very nice to fly an Airbus A330 with longhaul business class even on a short domestic flight with excellent comfort. The crew were friendly but the inflight service could have been a bit more extensive with a more premium feel to it.