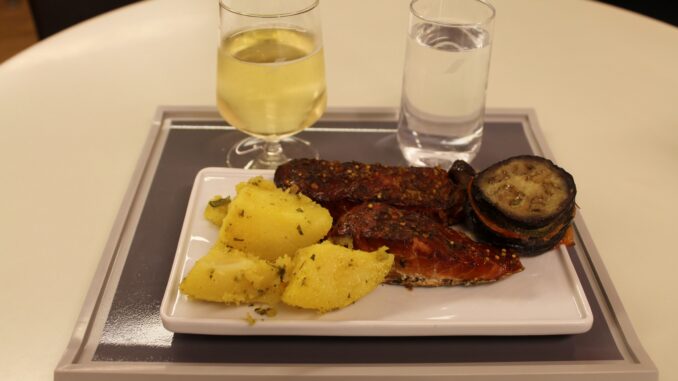 Second dinner for the evening in the Air France Lounge at Paris CDG Terminal 2E, the lounge in Concourse K. Tonight I am connecting from a shorthaul flight to a longhaul flight to Asia.
I know some people like to complain about Paris CDG, sometimes deservedly so. It is not the best airport in Europe, but on the other hand, what airport in the world being the second largest on the continent with over 60 million passengers per year, is truly great? But they have done some major improvement in recent years, which have definitely enhanced the experience.
Transfering from a shorthaul Air France flight at terminal 2F to a longhaul Air France flight at terminal 2E was incredibly easy and straight-forward and it took me exactly 18 minutes from the moment the aircraft touched down on the runway until I was sitting in the lounge, including disembarkation, change of terminal and passport control. And I did not run, or even rush.
The Air France Business Lounge at terminal 2E concourse K is perhaps not the best one around when it comes to design and interior. It is located in the basement and is almost completely windowless. But the selection of food and drinks well makes up for it.
Fairly crowded in the lounge this evening with passengers waiting for the late flights to Asia, Africa and South America.
All drinks are available for self service and there are two large bar counters in the lounge, one in each room. And the wines are just lovely, definitely the best wine selection you would find in any business class lounge in Europe and well comparable to the wines you would often find in a first class lounge.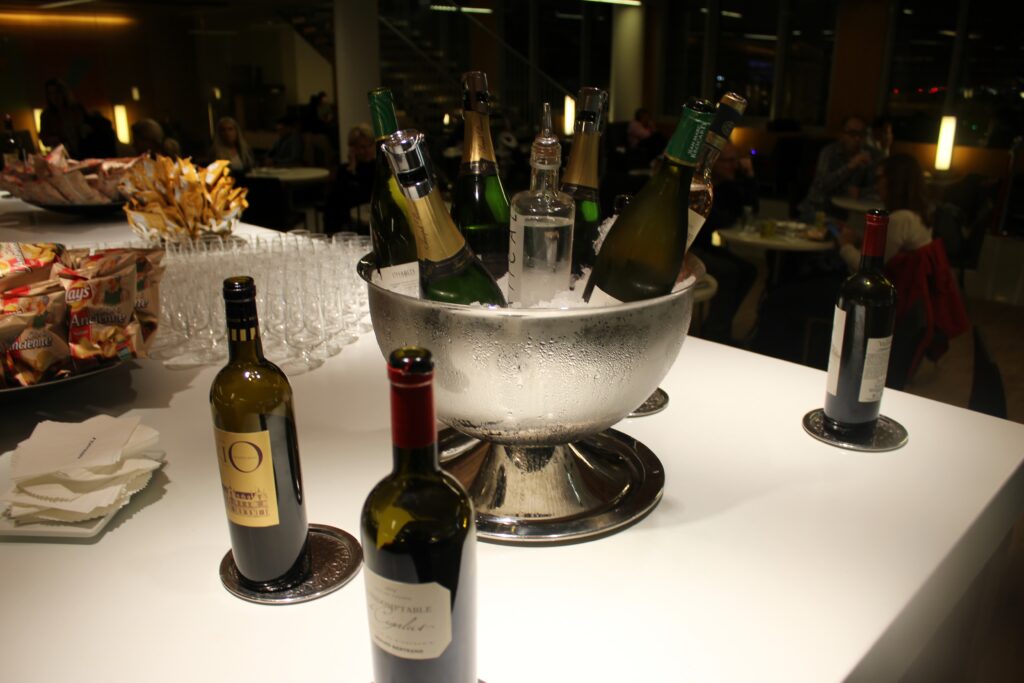 The selection of spirits, although not exceptional, is definitely not bad either.
Starting at 7 pm they offer a proper dinner service in this lounge targeted at longhaul passengers who prefer to eat in the lounge and then go to sleep straight after takeoff. Most Air France longhaul flights depart very late with a large number of flights leaving between 11 pm and midnight. I usually enjoy these late departures as it makes it very easy for me to get some proper sleep after a quick dinner service on the flight, but other may find the late departure times a problem and may prefer to eat on the ground instead.
The dinner this evening consists of smoked salmon, potatoes and vegetables.
There is also a section with salad and vegetables as well as bread rolls and butter.
And finally there is a third section with an excellent selection of desserts, petit fours, cheeses and fruit salad.
And here is my dinner for the evening. Smoked salmon with vegetables, a glass of Laurent Perrier champagne, and a lemon meringue cake for dessert with a double espresso. Overall a very high quality of the food, this was excellent. The food and drinks in the Air France lounges at Paris CDG have really improved during the past years. The only thing I wonder now is how I should be able to cope with a third dinner on the longhaul flight.
But although the Air France Business Lounge is not bad it would have been even nicer to take this lift in the transit hall. I can even spot the red lights in the reception area I recognise from previous visits. The Air France La Première Lounge is probably my favourite lounge in the world.