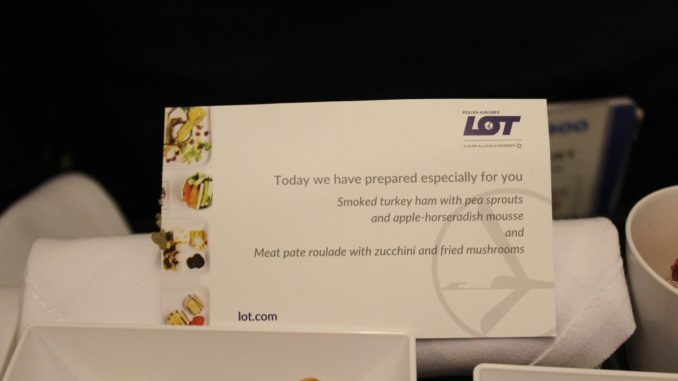 Departure experience

I was in transit in Warsaw, transferring between two Schengen flights having already received a boarding pass for the flight to Stockholm at the departure airport. So no further formalities were needed. I had around 90 minutes between my two flights in Warsaw.
LOT runs business lounge in the transit hall at the airport. Once inside the business lounge there is a discreet door next to one of the buffet areas marked "Elite Club", a more exclusive lounge available to Star Alliance gold card holders and business class passengers travelling on LOT longhaul flights. After the glass door there is a second reception desk where the gold card is swiped.
The Elite Club Lounge is small but vastly superior to the business lounge outside with plenty of hot food of decent quality and a large selection of cold cuts and desserts. The drinks selection is also decent and includes the same wines offered in business class on LOT longhaul flights as well as champagne for self service. On this visit they had Nicolas Feuillatte champagne on offer.
I had a decent dinner in the lounge with champagne and a French white wine followed by a cup of coffee and a lemon cake.
Read the full lounge review here!
The flight
Warsaw-Stockholm Arlanda
LOT flight LO 455
Departure: 19.45
Arrival: 21.30
Premium Economy
Canadair CRJ-900
Seat 04F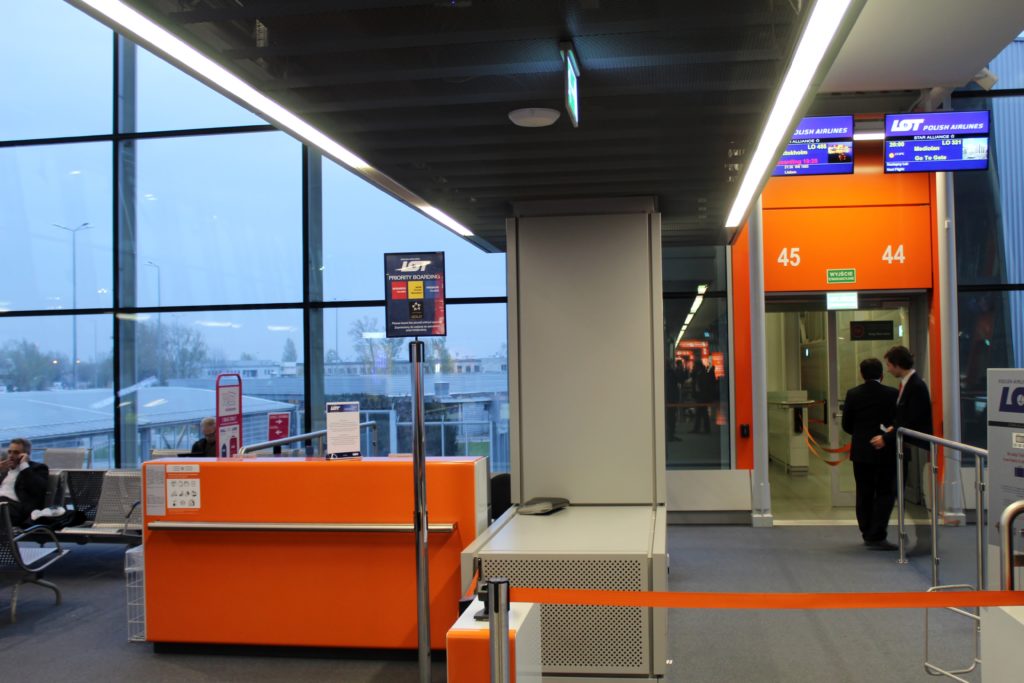 The flight to Stockholm departed from gate 45 at the very end of the terminal building, a rather lengthy walk from the lounge. Boarding started 25 minutes before scheduled departure time with proper priority boarding for business class, premium economy and Star Alliance Gold, which was properly enforced by a young man.
As the aircraft was parked at a remote stand we were to be taken to the aircraft by bus. Just like on my previous flight a separate bus was waiting below the gate for business class and premium economy passengers, next to the regular bus. We were only three passengers travelling in the premium cabins but unfortunately we had to wait for all passengers to be processed at the gate. Well at least we could enjoy a comfortable seat in a heated car.
Eventually we left the gate about a minute before the regular bus and could board the aircraft, stow the hand luggage away and settle down iwell ahead of the other passengers. A very pleasant and relaxing start of the flight.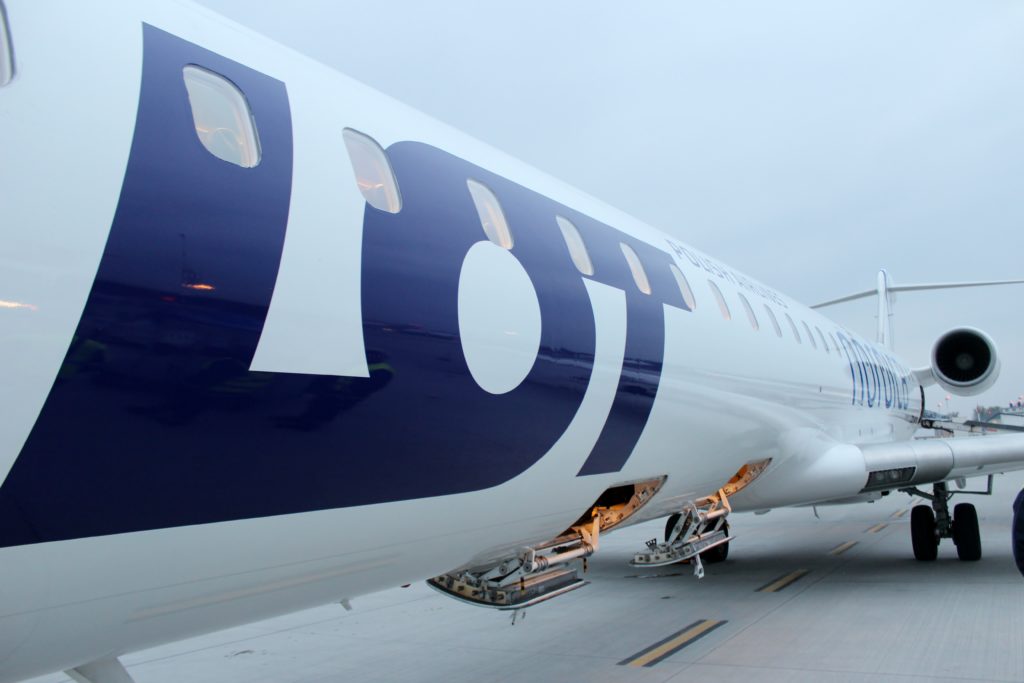 First impression

The aircraft used to Stockholm was a Canadair CRJ-900 operated in cooperation with Estonian airline Nordica. The aircraft was in a good condition with four rows assigned to business class and premium economy in front of the curtain.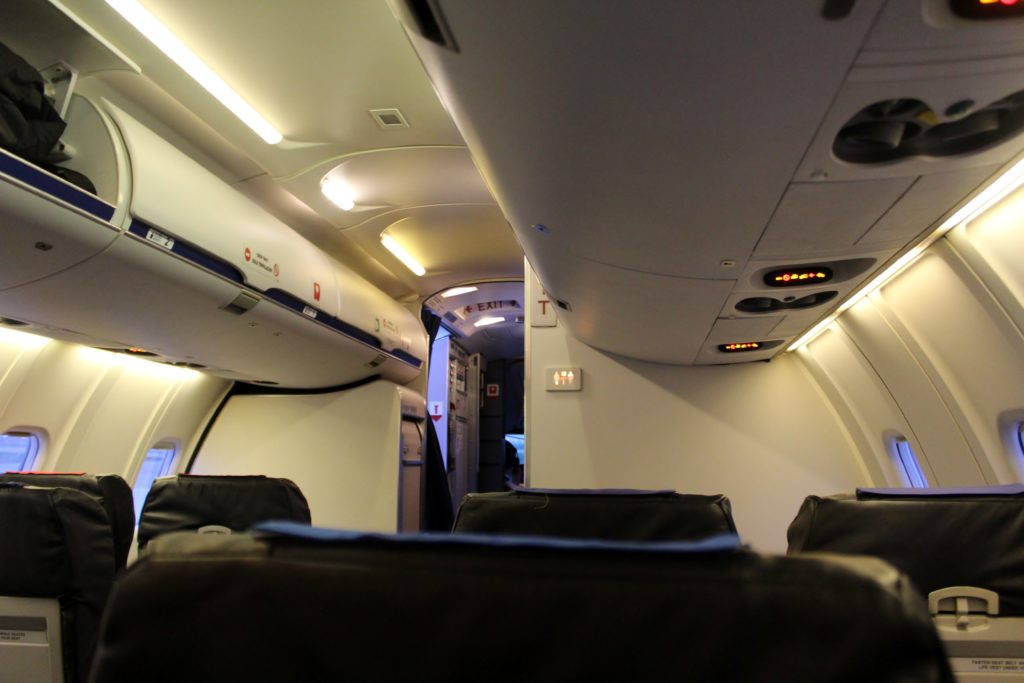 Before departure a pre-departure drink of water or orange juice was offered as well as a cold towel and Polish and International newspapers.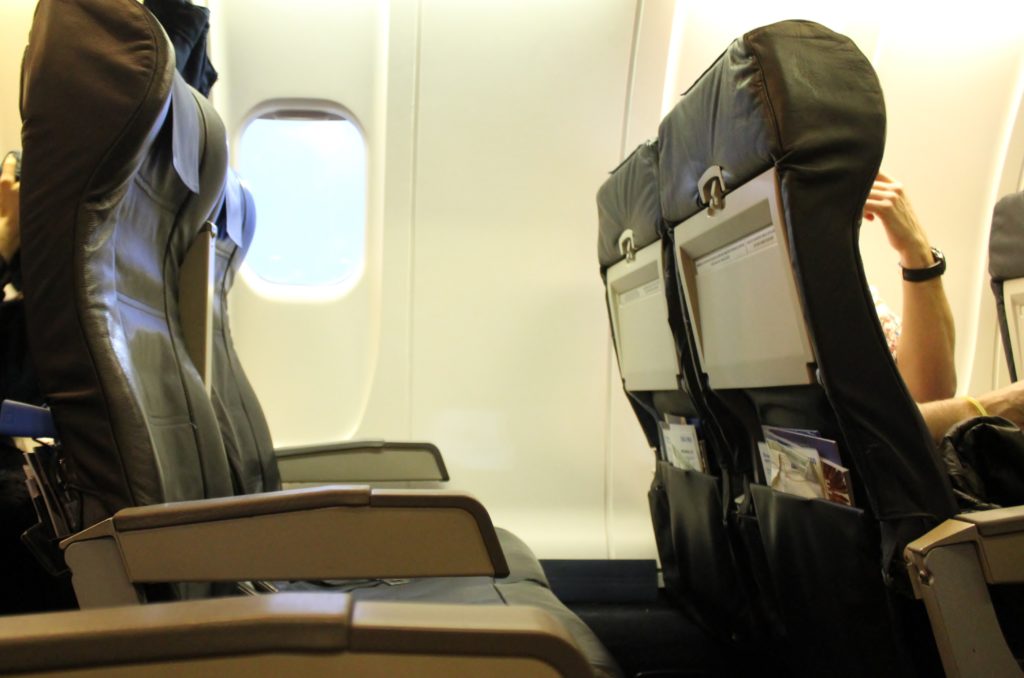 Punctual pushback with an expected flight time to Stockholm of 90 minutes. There is now a very close cooperation between LOT and Nordica, operating most services as joint flights using the LO prefix. Nearly all flights between Stockholm, Warsaw and Tallinn are operated as a triangle route, and this was also the case this evening. The flight from Warsaw to Stockholm was to make a stop of 45 minuter in Stockholm before continuing to Tallinn as a late evening flight at 10.15 pm.
Seat and cabin

Four rows were assigned to business class and premium economy. Initially there were three rows of business class and one row of premium economy but as there was no one travelling in business class it was changed an hour before departure to give all of us some more space.
There was a 2-2 configuration onboard the CRJ-900 but in business class the adjacent seat is kept free. Red headrests are used in business class, blue in premium economy. Otherwise the seats are exactly the same throughout the cabin, rather comfortable in dark leather.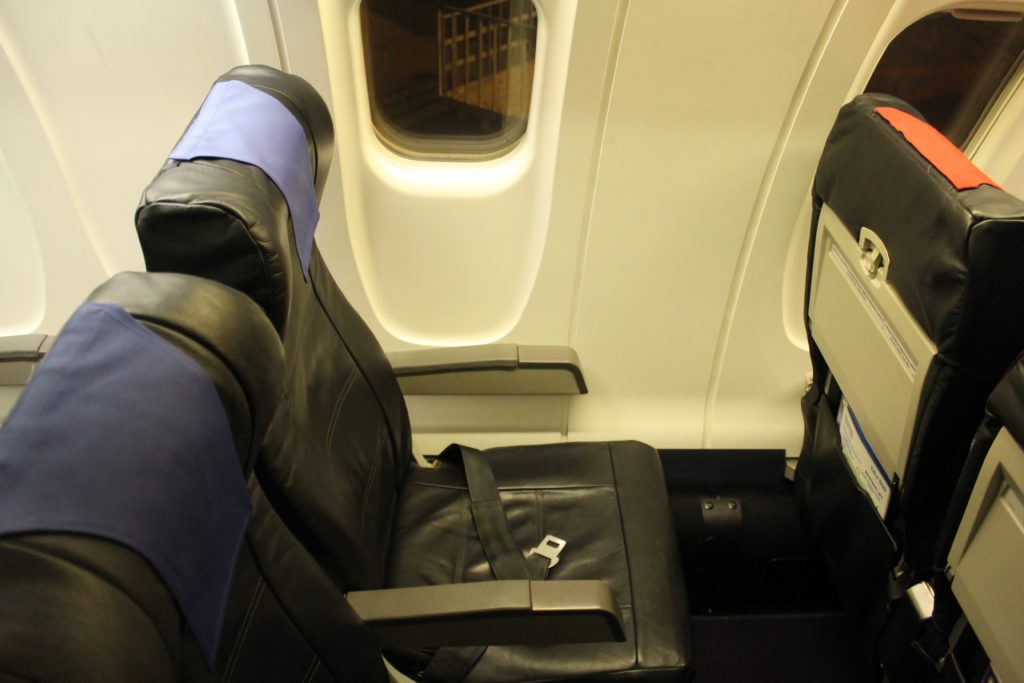 Food and drinks

Once we had reached the cruising altitude the inflight service started. This time a white table cloth was laid on the table, a very nice but unfortunately rather unusual touch on intra-European flights.
Next the meal trays were handed out. Two bowls with cold cuts, which were described on a printed menu also available on the tray, including smoked turkey and a meat pate roulade. The food was tasty but the portions rather small. Warm bread rolls were offered from a basket, with a second offering after a few minutes.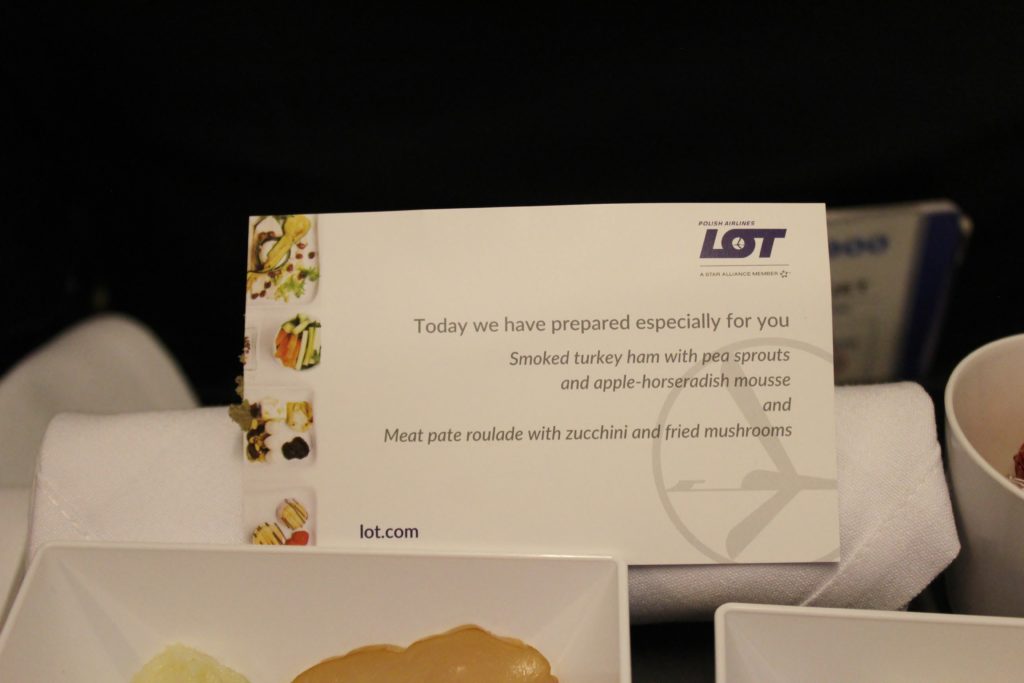 I asked for some white wine to drink and had two wines to choose between. I settled with a South African one. This time both the wine and the water were served in proper glasses. On the previous flight plastic glasses were used in premium economy.
A few minutes later the meal tray was removed and coffee and tea were offered from the trolley, served in proper cups. The standard Prince Polo chocolate bar was also offered from a basket and there was Lindt chocolate praline on the tray.
I also asked for a gin & tonic to drink, which was served with ice and lemon, again in a proper glass.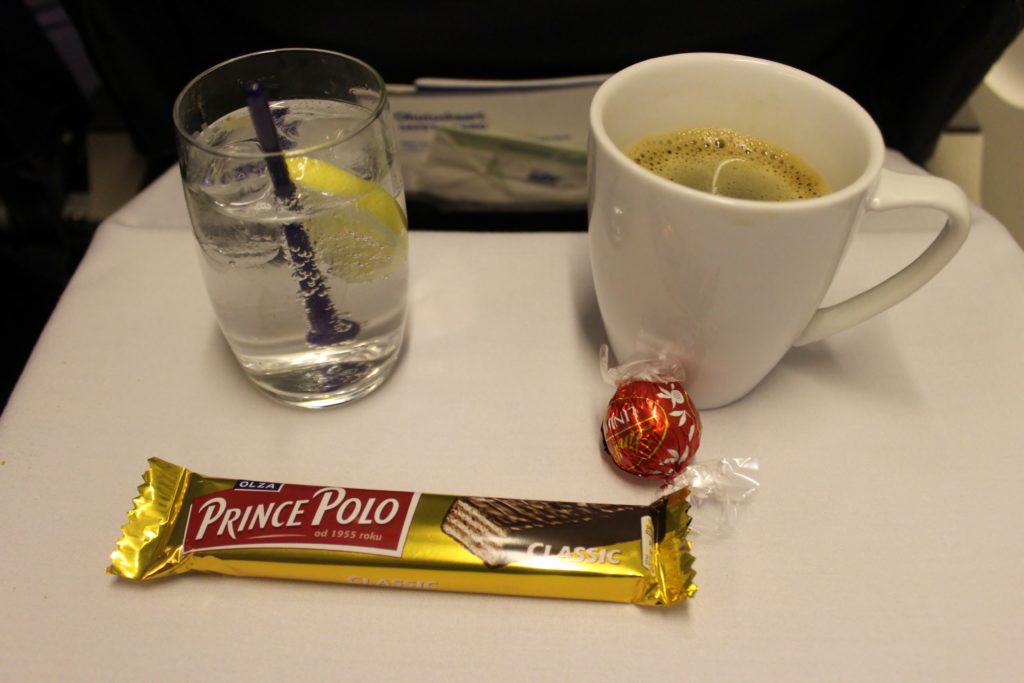 Although the food did not differ much from the previous flight in premium economy to Warsaw, the service concept surely did. On this flight there was a pre-departure drink, a table cloth, a real wine glass for the wine, a large cup for the coffee, and a full bar selection, again with the drinks served in proper glasses. None of this was offered in premium economy on the previous flight.
To be fair I think most of these things should technically only be offered in business class, not in premium economy, but the cabin crew wanted to be nice to those of us sitting at the front of the curtain as we were only three passengers, business class and premium economy combined. A very nice touch.
The service

The service was perfect throughout the flight. Very attentive service from the pleasant female flight attendant responsible for the three of us travelling in premium economy. Frequent refills of drinks were offered and she even took her time for some small talk.
Arrival experience

We landed five minutes early at Stockholm Arlanda airport, enjoying a beautiful evening view of the city during the approach.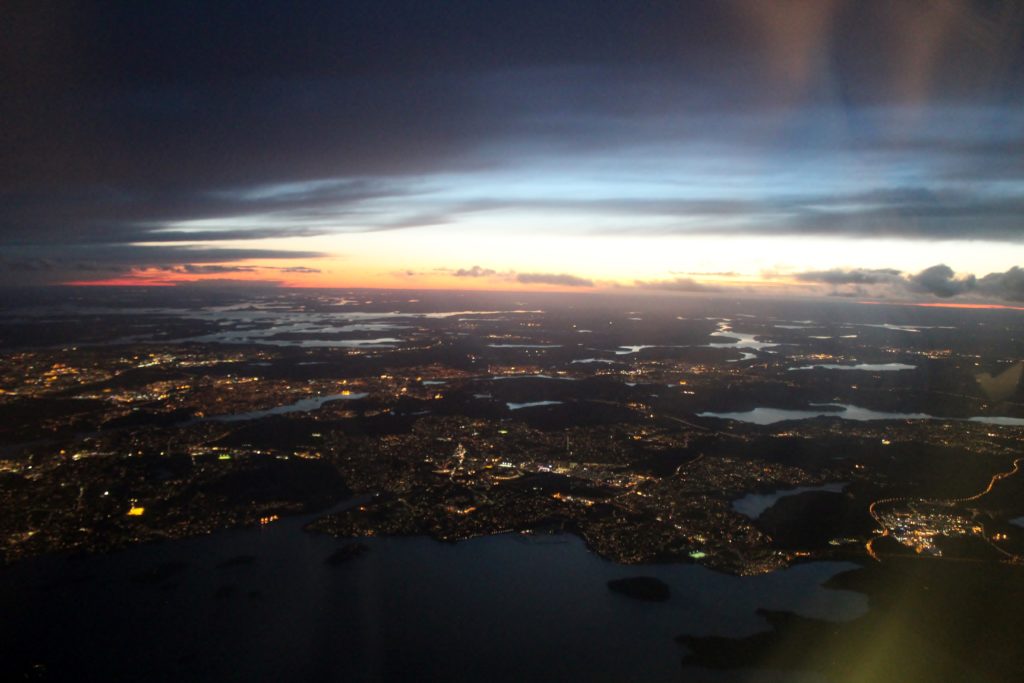 The aircraft parked at the F-pier at terminal 5 with a rather lengthy walk to reach the arrivals hall. It seems like the jet bridges do not work for the CRJ-900 aircrafts, so all passengers had to walk a few steps on the apron to reach the terminal building.
As I had only hand luggage I was quickly on my way from the airport.
Final impression

A very nice experience! Pre-departure drink, table cloth, cold meal and a full bar service, served in proper glasses. Not bad for a 90-minute flight in premium economy, for a decent ticket price. The service was also very friendly and attentive. My only negative comment is that the meal could have been a bit more extensive.