LOT Polish Airlines has an interesting service concept as they operate three cabin classes on virtually all flights, all the way from longhaul flights to the Far East and North America to the shortest of shorthaul flights to neighbouring countries lasting less than an hour. The only exception is domestic flights within Poland which are one-class only, just economy class. On all other flights you will find Economy Class, Premium Economy and Business Class.
But what are the differences between business class and premium economy?
Longhaul flights
On longhaul flights the differences are quite obvious. In business class you will sit at the very front and you will enjoy a fully-flat seat. The configuration is 2-2-2 and the seat pitch nearly 80 inches.
In premium economy you will find a 2-3-2 configuration with much more basic recliner seats with a 38 inches seat pitch. The inflight service is also quite different. If you are sitting in business class you will get to enjoy a much more extensive meal service.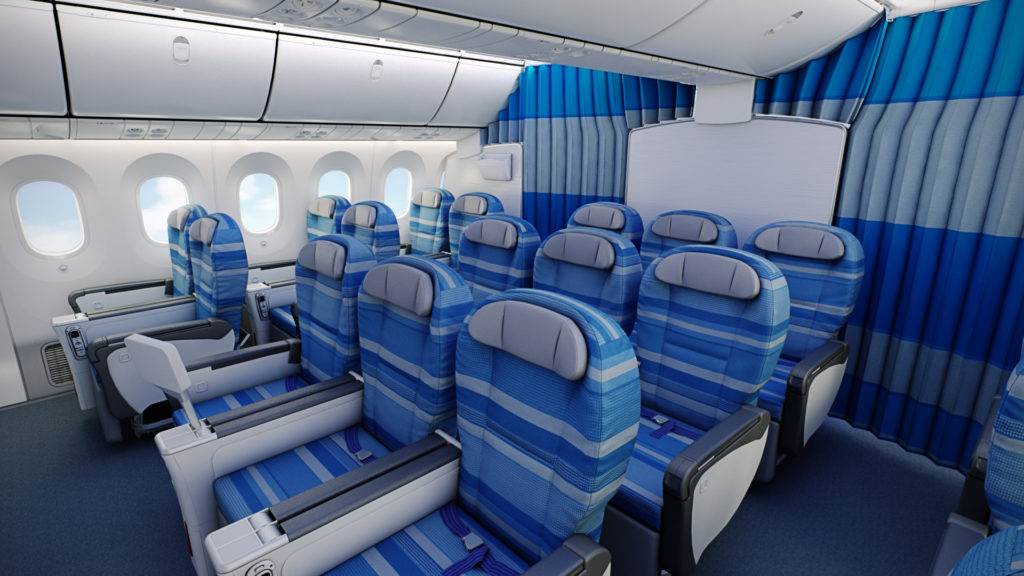 Shorthaul flights
On shorthaul flights it is far more difficult to distinguish between the two products.
As for tickets both business class and premium economy are available with both flexible tickets and discounted tickets (with restrictions). And the number of points you will earn also varies depending on booking class, in both classes of travel.
At the airport both business class and premium economy passengers can check in at the premium counter. Fast track at security is also offered for both cabin classes, at least in Warsaw, and in both cabin classes you get priority boarding. However premium economy does not provide lounge access unless you have a Star Alliance Gold card, however in Warsaw you can purchase access traveling in premium economy.
However an important difference is that business class passengers get to bring more hand luggage. They can bring two pieces at 9 kg whereas premium economy passengers can only bring one piece of cabin luggage. This may be important to some passengers.
Once onboard business class passengers will always get a free middle seat or a free adjacent seat, which means a 2-2 configuration on a Boeing 737 and a 1-1 configuration on a CRJ or Embraer aircraft. In premium economy there will be no such thing and on a full Boeing 737 you may even get a middle seat.
However if there are curtains onboard the divider will usually be placed between premium economy and economy class rather than between business class and premium economy, regarding premium economy as a premium cabin rather than as an economy class cabin.
The meal service on shorthaul flights is exactly the same in both classes, i.e. you will get exactly the same meal and on longer intra-European flights you will have the same meal options (although business class passengers are of course more likely to get their first options as they are served first). However there are some minor differences. In business class you will get a table cloth and a refreshing towel and all drinks will be served in proper glasses. In premium economy you will get your drinks in plastic glasses.
Is it worth paying for business class over premium economy?
On longhaul flights, definitely. You will get a larger seat with significantly greater legroom, which becomes fully flat at night. And the meal service will be much more extensive.
On shorthaul flights, well it depends. You will get a bit more space onboard and you can bring two pieces of hand luggage and the service from the cabin crew will be slightly more attentive. The key question here is if you hold a Star Alliance Gold card. If you do you get fast track anyway, even in economy class, and the same goes for lounge access. With a Star Alliance gold card you will even get access to the superior Elite Club lounge in Warsaw.
So have a look at the price difference. If you book on LOT.com, once you have done a search you will usually get an excellent overview of the cheapest available fares for the three cabin classes for your selected itinerary. Sometimes premium economy is even cheaper than economy class, especially close to departure, which would of course then be a no-brainer. And sometimes the fare difference is also quite small between premium economy and business class, which could be worth it for a better comfort and possibly some more points.