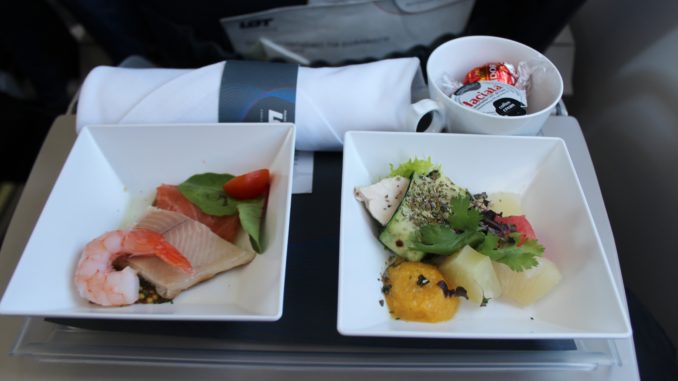 Departure experience

I was only in transit at Prague Vaclav Havel having already checked in online and received my boarding passes electronically. The airport in Prague is divided into two terminals with terminal 1 used for non-Schengen departures and terminal 2 for Schengen departures.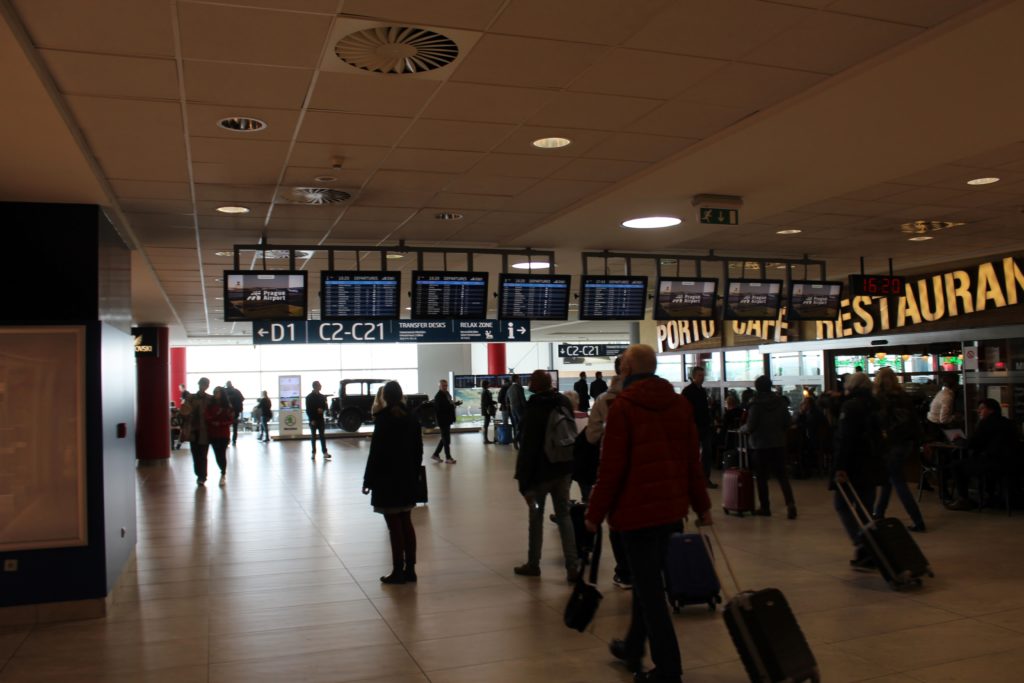 There are two lounges for Schengen passengers, both located on level 3 just above the main shopping area. Most airlines use the larger Erste Premier Lounge. LOT used the second smaller lounge, the Menzies Aviation Lounge.
The lounge is somewhat basic but was kept very tidy and well-maintained, at least during this visit. Also during most of the visit we were no more than a handful of passengers, so the lounge was very quiet.
A self-service buffet offered a standard selection of drinks, including wine in small bottles, Czech beer in a fridge, spirits, a coffee machine and a soda dispenser. The food selection was much more limited including bread rolls, pastries, fruits and cocktail snacks. And apparently there were waffles as well, at least according to a sign.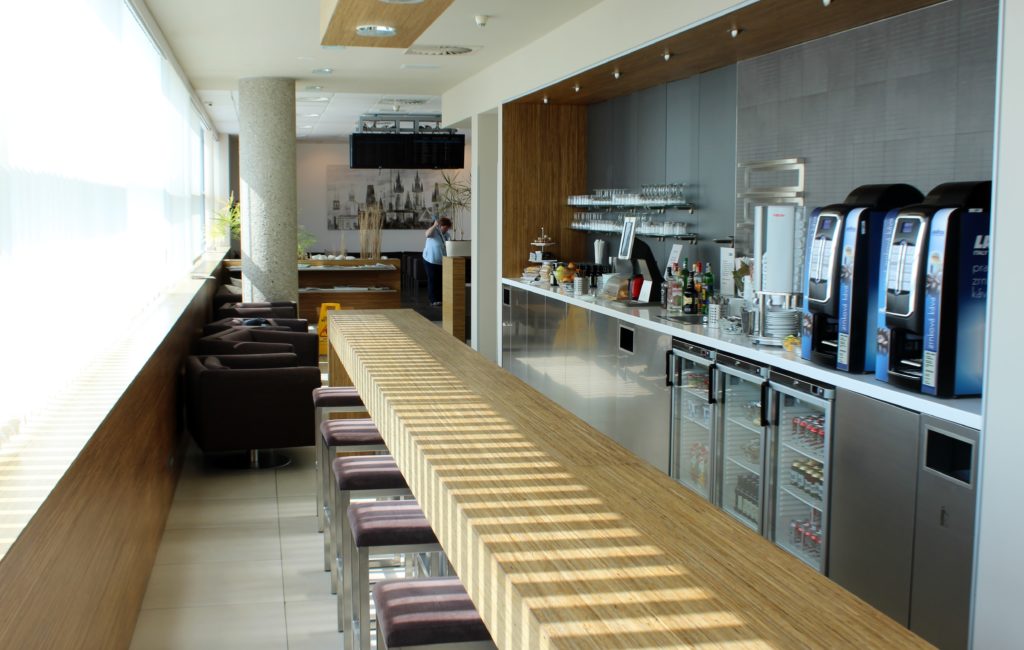 Read the full lounge review here!
The flight
Prague-Warsaw
LOT flight LO 522
Departure: 16.55
Arrival: 18.10
Premium Economy
Dash 8-Q400
Seat 05D

First impression

Boarding started around 30 minutes before departure from gate C20, a bus gate in the basement. No priority boarding was offered but it would have made little difference anyway as we were all taken by bus to the aircraft and the bus did not leave the terminal until all passengers were onboard.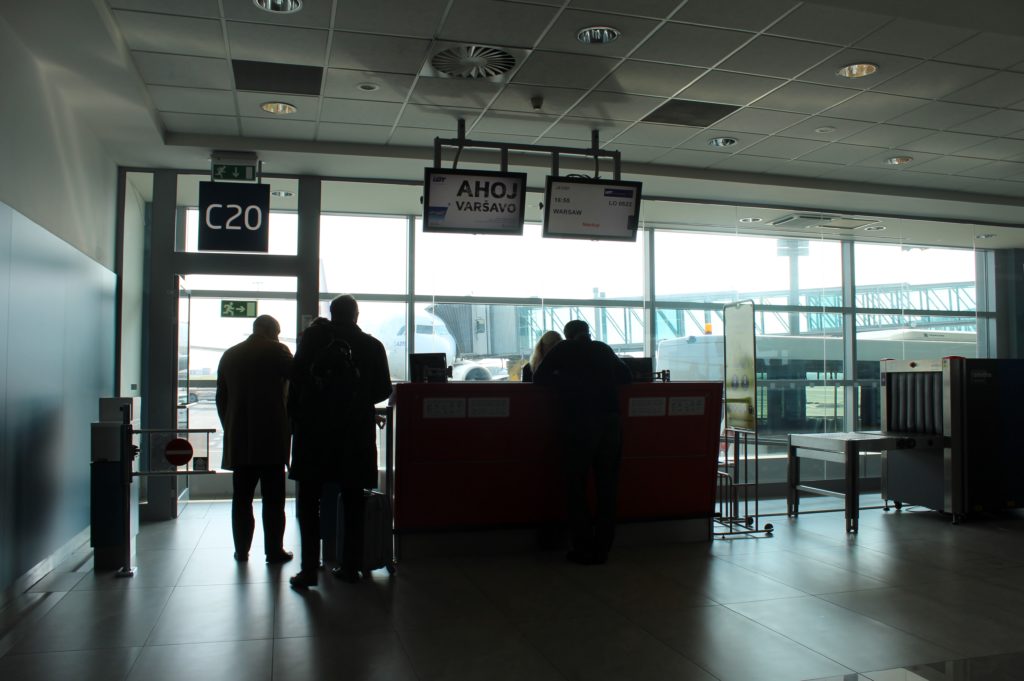 The aircraft used to Warsaw was a Dash 8-Q400. The aircraft still carried the Eurolot painting although Eurolot no longer exists as an airline as of March 2015. Eurolot operated some flights under their own brand Eurolot.com and some flights on behalf of the main Polish carrier LOT.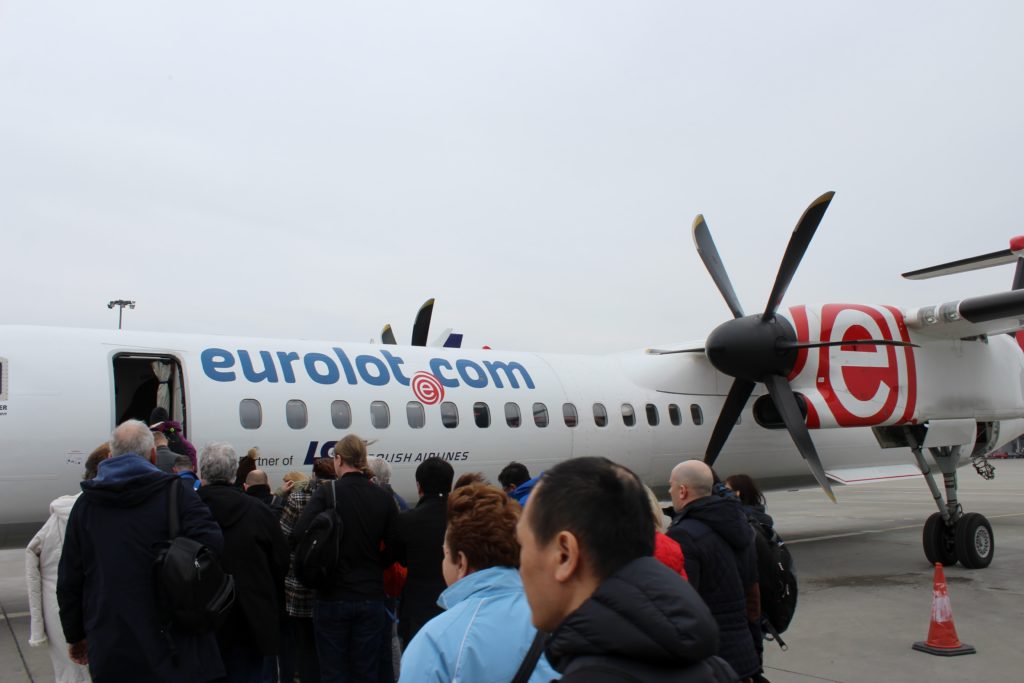 After boarding was completed Polish and International newspapers were offered in business class and premium economy as well as a cold towel, however there were no pre-departure drinks.
Pushback a few minutes ahead of timetable with a very short taxi to the active runway. The flight time to Warsaw was expected to be one hour and five minutes.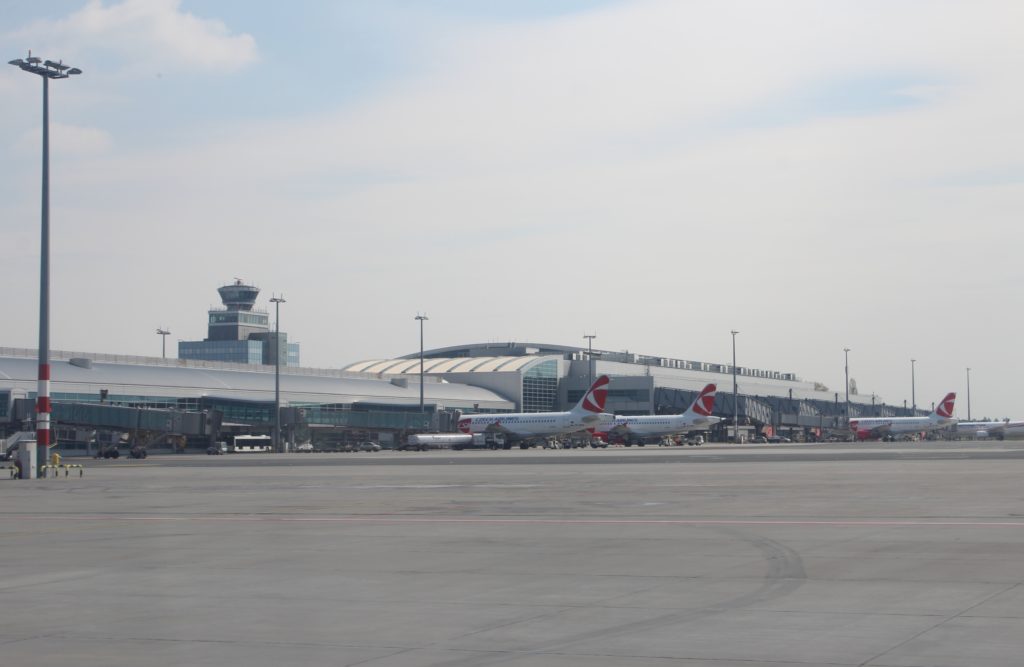 Seat and cabin

The Dash-8 had a 2-2 configuration with five rows available in front of the curtain on this flight. Three rows for business class, where the adjacent seat is kept free giving a 1-1 configuration, and two rows of premium economy, where we were four passengers and each got two seats, even though the empty seat is not guaranteed as it is in business class. On LOT intra-European flights both business class and premium economy are placed in front of the curtain.
The seat was a rather standard dark blue regional aircraft economy class seat with a standard amount of legroom.
Food and drinks

Once we had reached cruising altitude the inflight service started with a dinner service in business class and premium economy, included in the price of the ticket in contrast to regular economy class where everything except for coffee, tea and water are available for purchase. The service started from the front serving business class passengers first.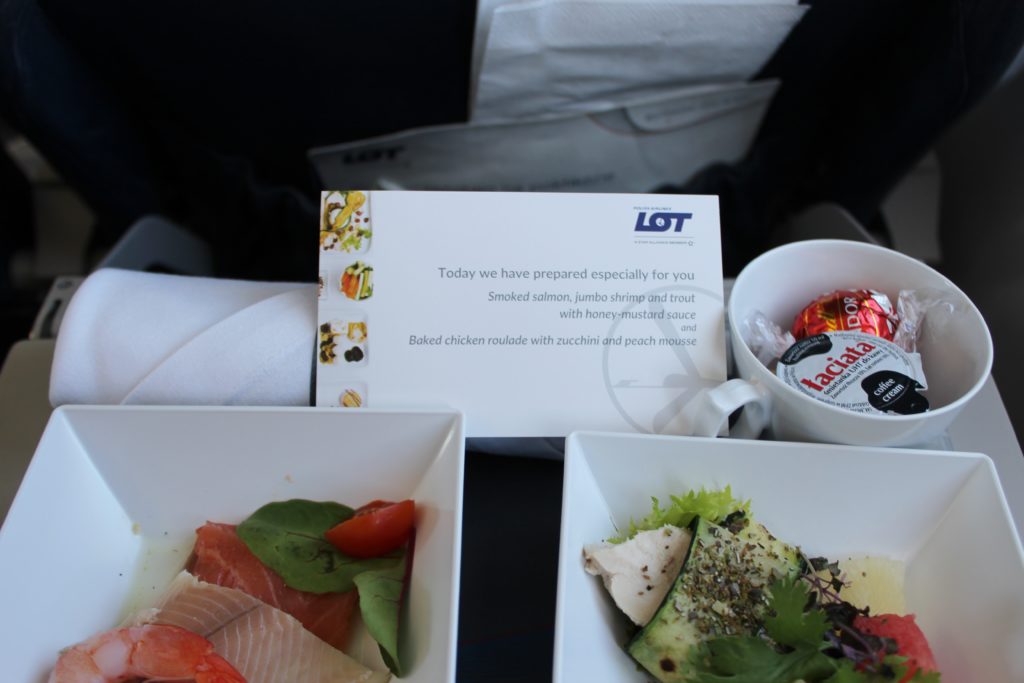 The meal tray consisted of two bowls with some cold cuts, including smoked salmon, a jumbo shrimp, tout and a baked chicken roulade. All described on a printed menu available on the tray. Bread rolls were also offered by the crew.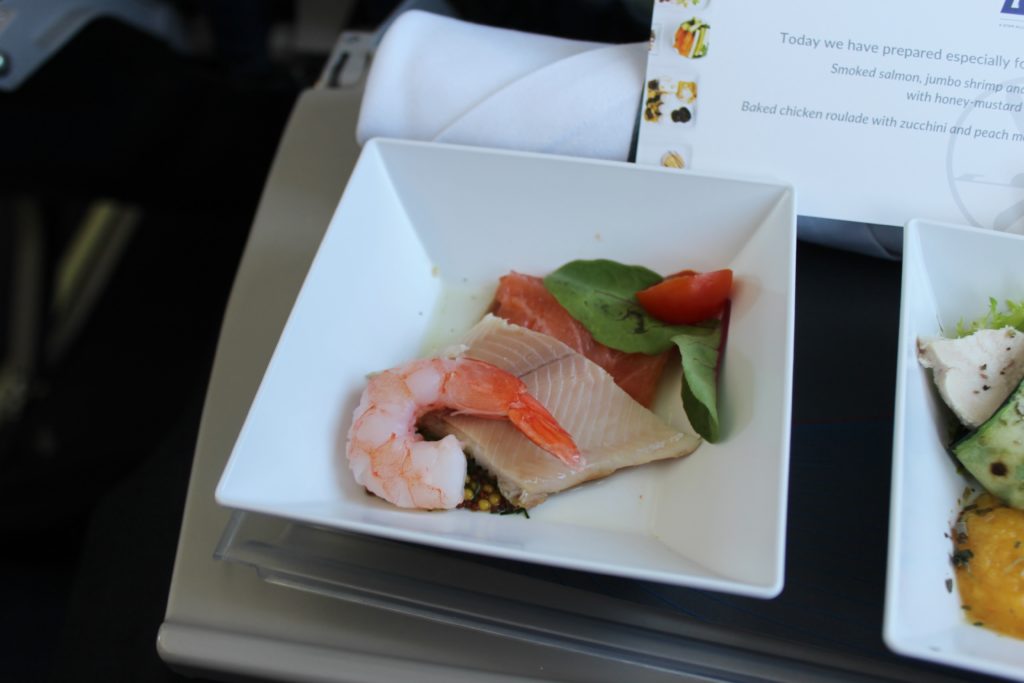 The meal in premium economy seemed to be exactly the same as in business class with the only exception that proper glasses were used in business class. In premium economy drinks were served in plastic glasses. I asked for a bottle of white wine to drink and a glass of still water. The wines were served in miniature bottles, in traditional glass bottles rather than the much lighter and recyclable plastic bottles many airlines have switched to.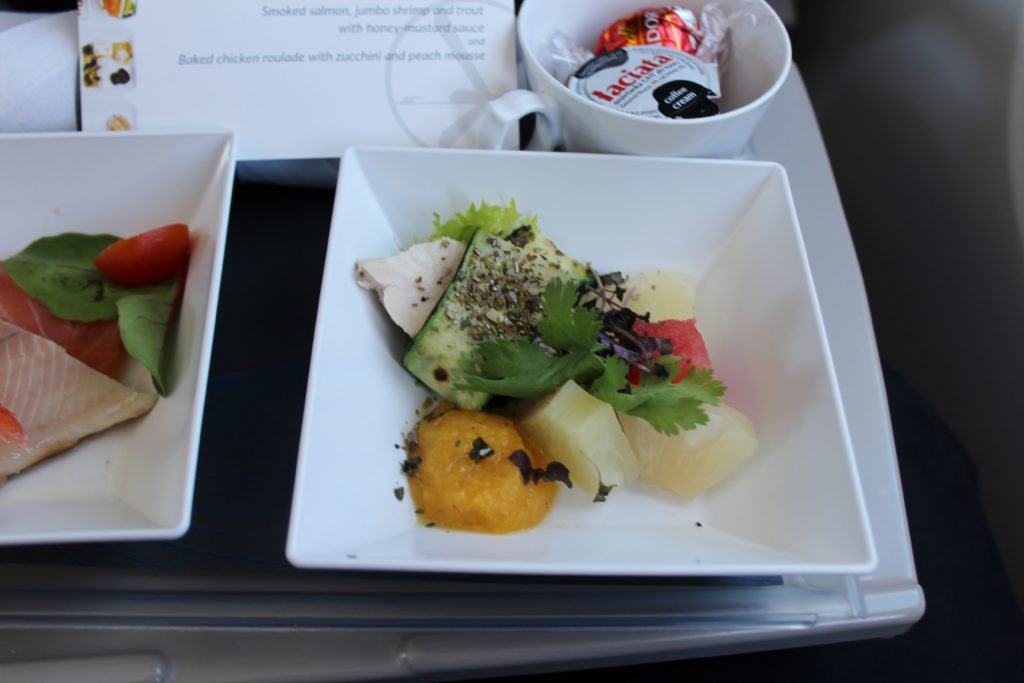 More bread and drinks were offered before the tray was cleared. Afterwards coffee and tea were offered. Although there was a coffee cup on the tray I got my coffee served in a large paper cup. As usual on LOT Prince Polo chocolate bars were offered from a basket to all passengers (also in economy class) and there was also a Lindt chocolate praline on the tray.
I asked if they had any spirits onboard to drink with the coffee. Apparently they did, but it was a limited selection. I asked for a gin & tonic but it turned out they had no gin loaded. I settled with a whisky instead, a Ballantines, again served in a plastic glass.
All-in-all the meal was acceptable in a premium cabin on a flight lasting an hour, but the portions were very small and will never substitute a proper meal at the airport.
The service

The service was friendly from the male purser who served in business class and premium economy. He had ten passengers to serve during a fairly short flight time but managed well with a polite approach to the service. There was never any rush.
Arrival experience

We landed at Warsaw Chopin airport ten minutes ahead of timetable and just like in Prague were assigned to an apron stand. On the positive side there was a separate bus waiting for us seated in business class and premium economy, which left just a minute after the aircraft door had been opened, several minutes before the rest of the passengers. Very nice initiative by LOT, especially for me with a connecting flight as it meant several more minutes to spend in the lounge. And we could all enjoy a comfortable seat during the ride to the terminal building rather than the standard space in the regular bus.
Final impression

Not much to complain about for a one-hour flight, it was all pretty much as expected. Very friendly and polite service from the purser although I would have prefered a larger meal for a flight departing at 5 pm. The separate premium transfer service in Warsaw was a very positive surprise and much appreciated.