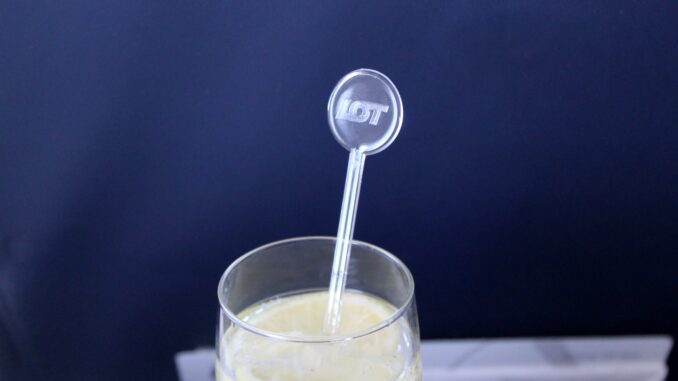 Departure experience

I checked in online on the LOT webpage, which was easy and straight-forward. I had already prebooked a seat during the booking process and since this was a Schengen flight there was no need to enter my passport details. The boarding pass was downloaded to my mobile phone.
For the first time I decided to try the metro from Barcelona city centre to El Prat airport. It takes a bit more time than taking a taxi, and in most cases you need to change train, but it is very affordable and especially the metro line to the airport is very modern and spotlessly clean.
Three check-in desks were open for the LOT flight to Warsaw, including a priority desk for business class and premium passengers. They were all empty. There was no need for me to pass any of the desks, having already checked in online and travelling with only hand luggage, but I happened to pass the LOT check-in area anyway.
A fast track channel was available for LOT business class passengers and I was through in just about three minutes.
There is just one Schengen lounge in Barcelona called Sala VIP Pau Casals, used by virtually all full-service airlines flying to Schengen destinations. To my surprise it had been completely refurbished and also enlarged since my last visit, and it had a brand new design.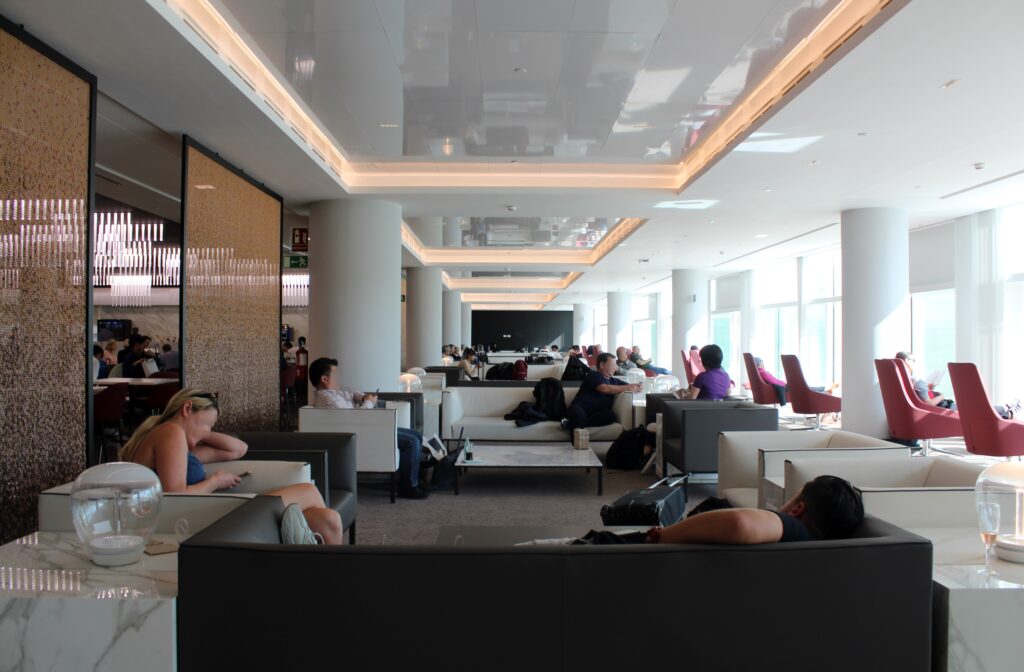 This was a huge difference compared to the old lounge and I was very surprised but also very impressed. Also the selection of food and drinks had improved with some new snacks concepts.
Read the full lounge review here!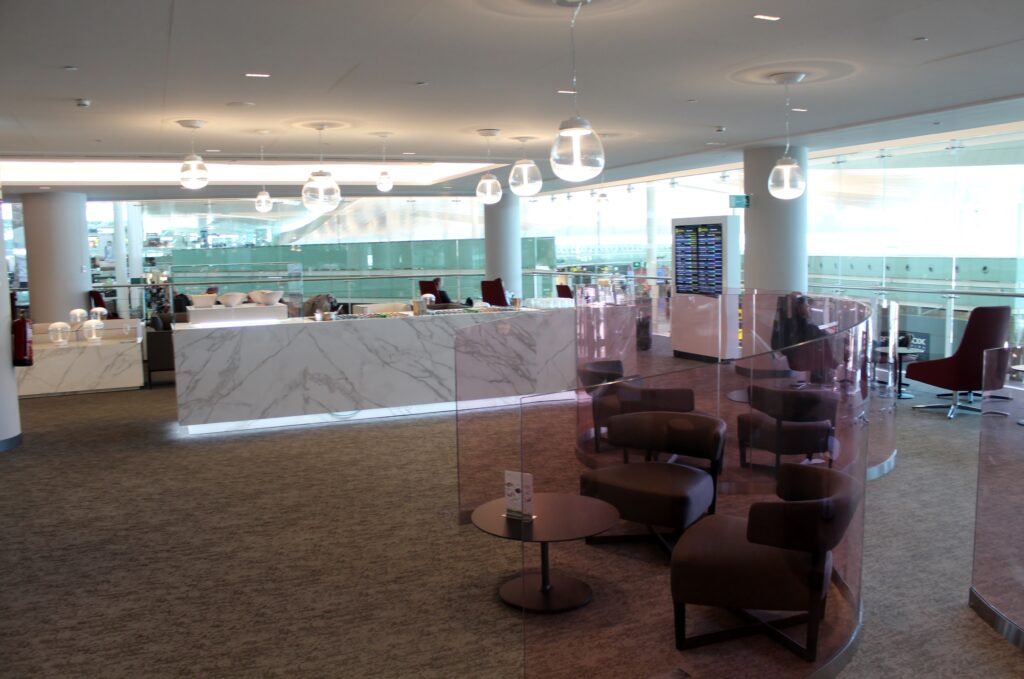 The flight
Barcelona-Warsaw
LOT flight LO 438
Departure: 13.25
Arrival: 16.25
Business Class
Boeing 737-800
Seat 02C

The incoming flight was late but they managed to turn the aircraft around very quickly, which was impressive.
Proper priority boarding was offered for business class, premium economy and Star Alliance Gold as well as for passengers travelling with small children and those needing assistance.
First impression

A Boeing 737-800 was used for the afternoon departure to Warsaw. Although you could notice that this was a rather old aircraft most of the cabin interior, including the seats, was in a good condition.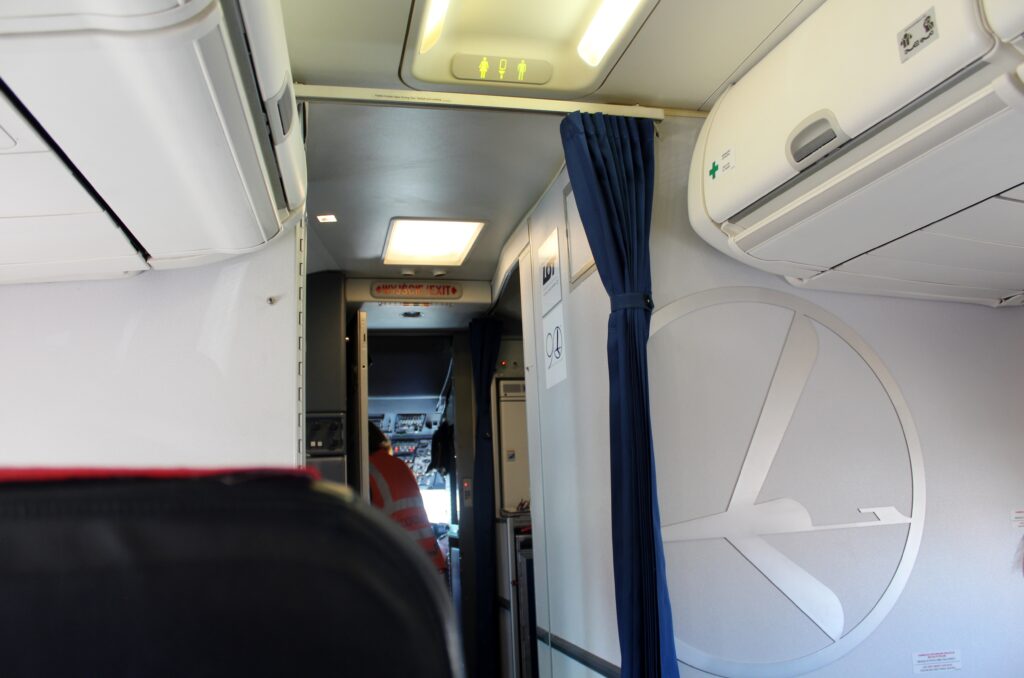 Three rows were used for business class followed by two rows for premium economy. Interestingly there were no curtains in the cabin, but the headrests were different for all three cabin classes.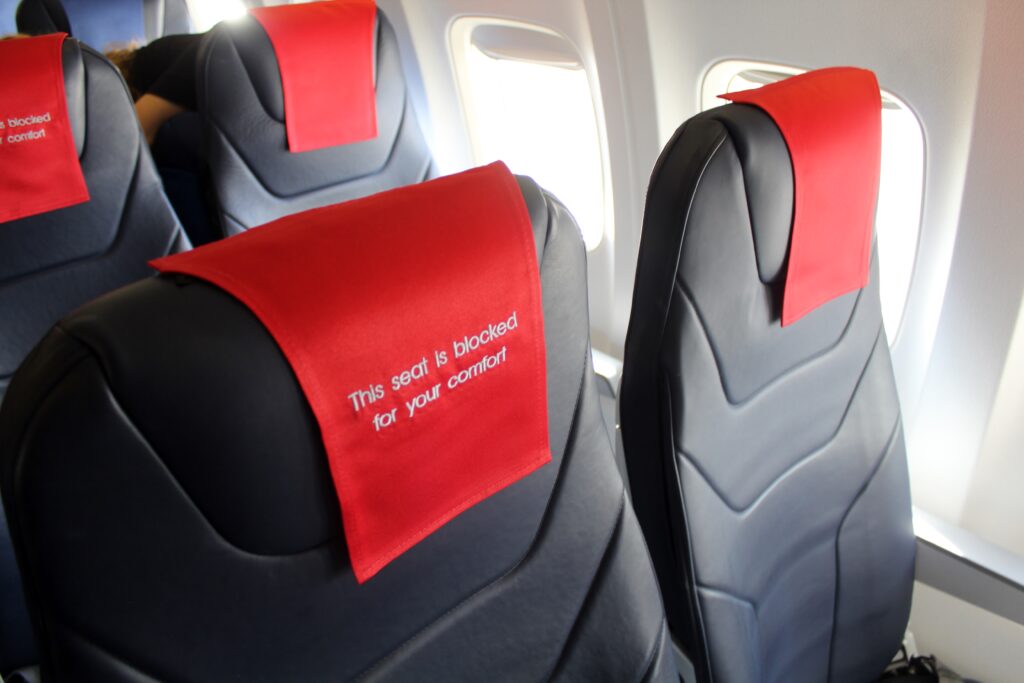 I had selected seat 02C on the second row of business class. The middle seat was blocked and at the end there was no one sitting by the window, so I got my own row. Later I moved to the window seat 02A to get a good view during the flight.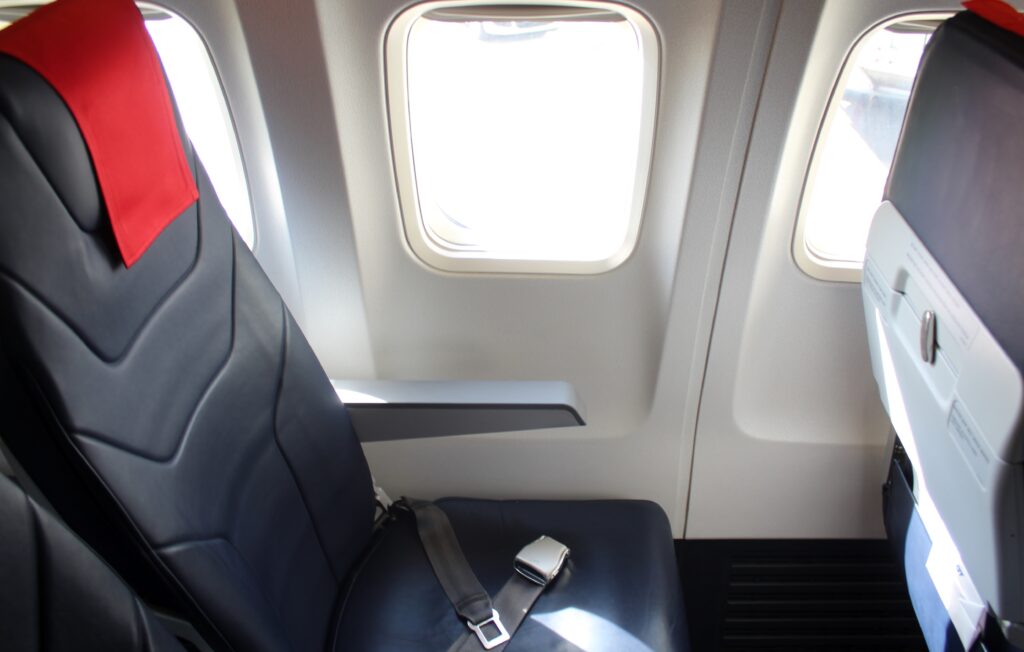 Rather nicely, after all passengers were onboard pre-departure drinks were offered in business class. Nothing alcoholic and the drinks were served in plastic glasses, but at least there was a choice between water and orange juice. Newspapers and magazines were also offered, most of them Polish though with few options in English.
Even though the aircraft landed nearly 20 minutes late we pushed back pretty much on time. The initial climb provided a magnificent view of downtown Barcelona and the beautiful coastline.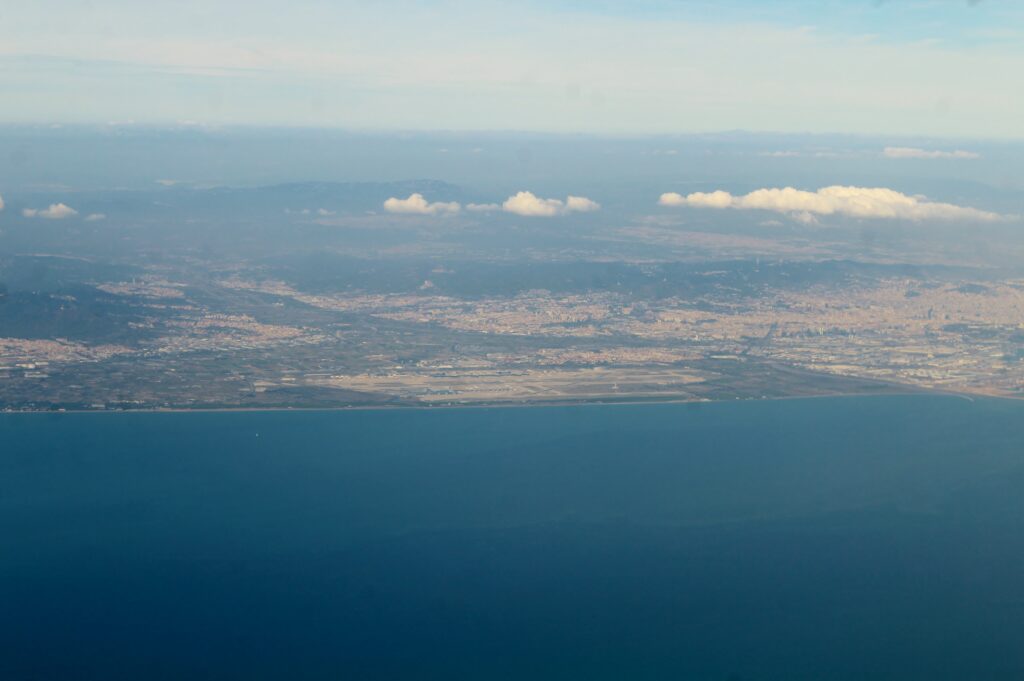 Seat and cabin

There were three rows of business class with blocked middle seats and a 2-2 configuration. The legroom was adequate but as I got my own row there was plenty of space. The seat itself was in dark blue leather, rather comfortable. The seat was the same as for example the one used by Ukraine International Airlines.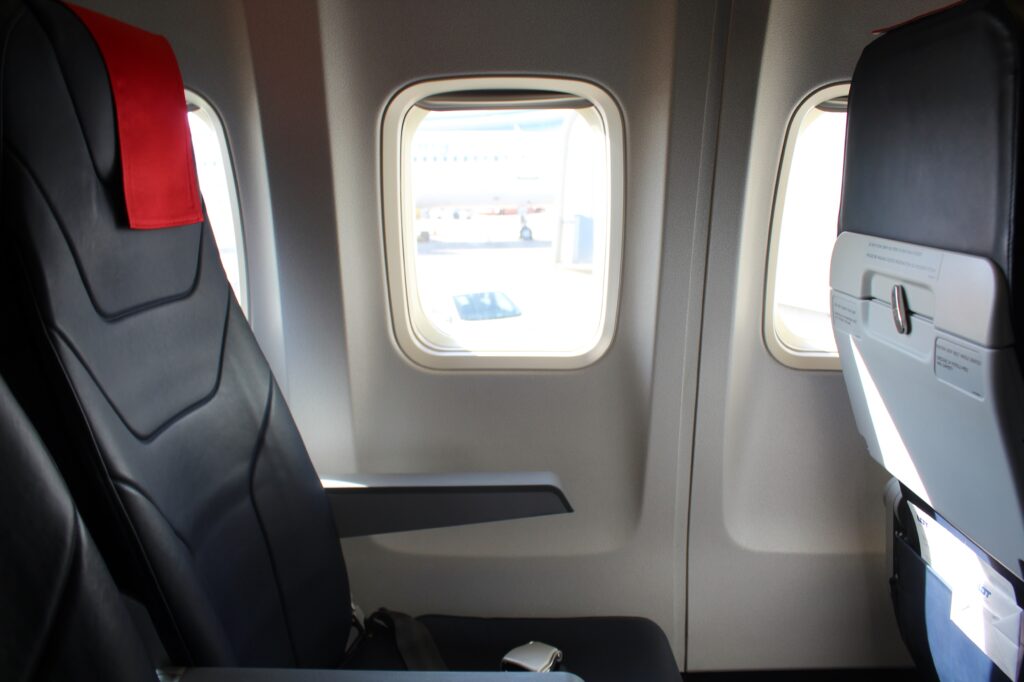 We were four passengers in business class in total. A middle-aged Polish couple sitting on the first row. A Polish businessman sitting in 02F, and me in 02A.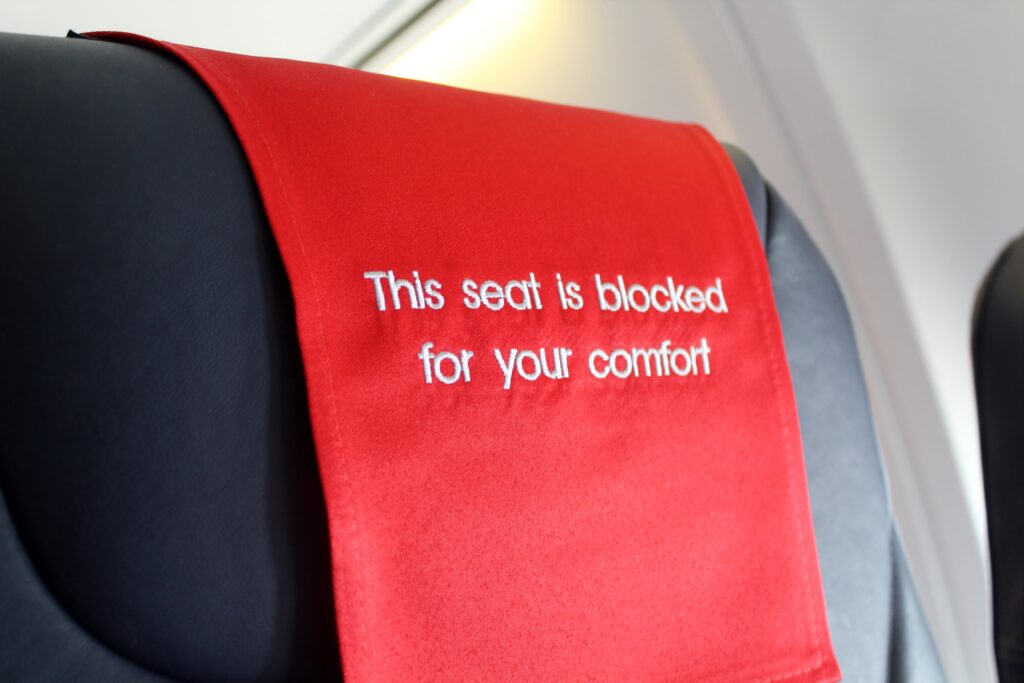 Food and drinks

As we reached our cruising altitude the inflight service started. A white linen tables cloth was laid on the tray table and the trolley passed through the cabin to offer a first cocktail together with some nuts. I asked for a gin & tonic, they serve the excellent Hendrick's gin in LOT business class, also on shorthaul flights.
A few minutes later the meal trays were handed out with two options, chicken or fish.
The meal options were presented by the purser but after the meal had been delivered there was also a small printed menu on the tray explaining exactly what it was. And what a lovely presentation.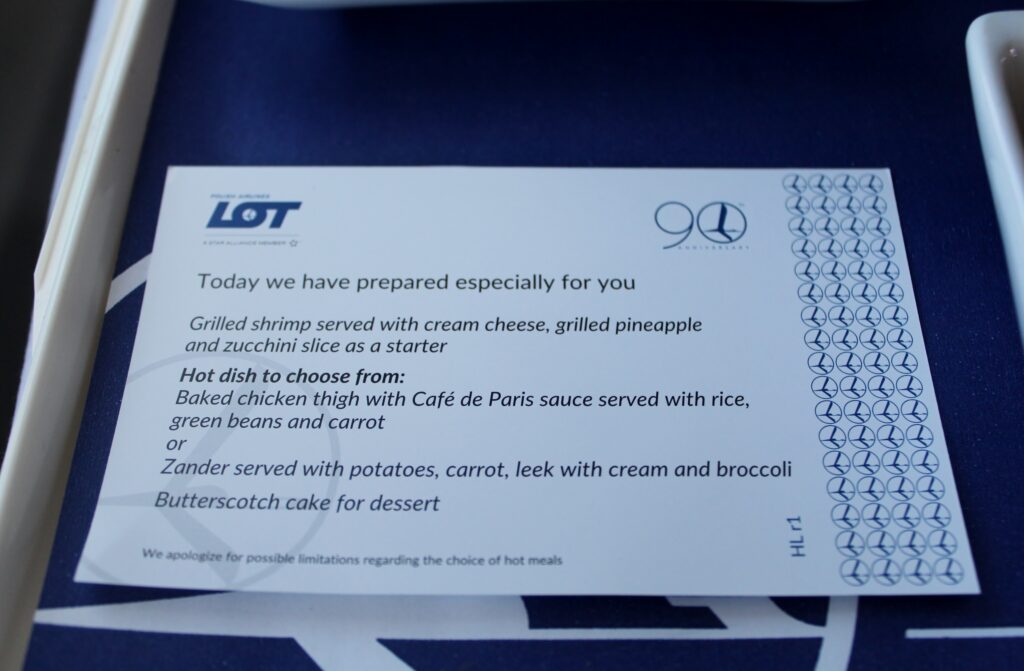 The starter was Grilled shrimp served with cream cheese, grilled pineapple and zucchini slice.
I chose the fish for main course. the Zander, served with potatoes, carrot, leek with cream and broccoli. The second option was baked chicken thigh with Cafe de Paris sauce, served with rice, green beans and carrot.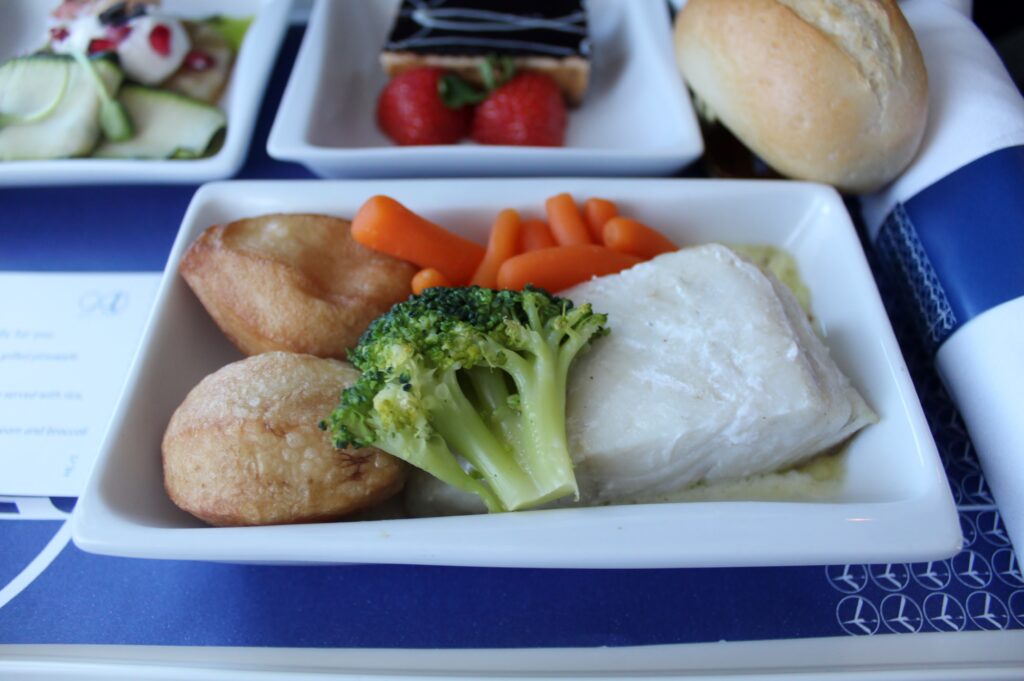 As the purser passed again I asked if it would be possible to get something to drink with the main course. I had already finished my gin and tonic. And this is really my only negative comment regarding the service, she wanted to serve all the meals first, including the meals to the passengers in premium economy, so it took quite some time before I was able to get a bottle of wine to drink. With only four passengers in business class it would have been more fair to serve us drinks first before serving meals to the passengers in premium economy.
Eventually though I got a bottle of white wine, with two brands to choose between.
To finish off coffee and tea were offered and there was a butterscotch cake for dessert on the tray.
I had a look through the inflight magazine which also had the inflight menu for economy class. Since there was no printed drink list in business class I had a look through the economy class menu and noticed there was a Polish liqueur on offer I had not tried before, Likier Chopin, with caramel and sea salt.
I asked the purser about it at the same time as I was offered more coffee and she went to speak to her colleagues in economy class and then came back and asked me how I wanted to pay. Apparently the drinks selection is different in economy class compared to business class, and they really do keep the selections separate. So while seated in business class I was not able to order a liqueur only available in the economy class menu, without paying for it, and consequently a passenger in economy class would not have been able to order a Hendrick's gin for example, not even for payment, since it is a business class beverage.
However LOT is not the only airline doing this. British Airways keep separate drink lists in economy class and business class for example, also on shorthaul flights.
Later during the flight there was no problem ordering more drinks by pressing the call button or by simply stopping the purser or one of the flight attendants when passing.
Inflight entertainment
No inflight entertainment was available onboard but newspapers were offered in business class, paper copies. Unfortunately most of them were Polish though with a very limited selection of English titles.
The service
The service during the flight was excellent. The middle-aged purser did a terrific job offering a very polite and attentive service. She also spoke perfect English. Although her colleagues mainly worked in the economy class cabin they were also very friendly when they assisted in business class. Nothing whatsoever to comment or complain about.
My only comment regarding the inflight service is that they pretty much treat business class and premium economy as a single cabin. It did feel a bit annoying being served a hot meal and then having to wait for all passengers in premium economy to be served, a different and lower cabin class, before being able to order something to drink. Nothing major, just a reflection.
Arrival experience

The weather was nice during most of the flight. We got a wonderful view of the French Riviera, including Marseille, Nice and Monaco. The weather was sunny and simply beautiful.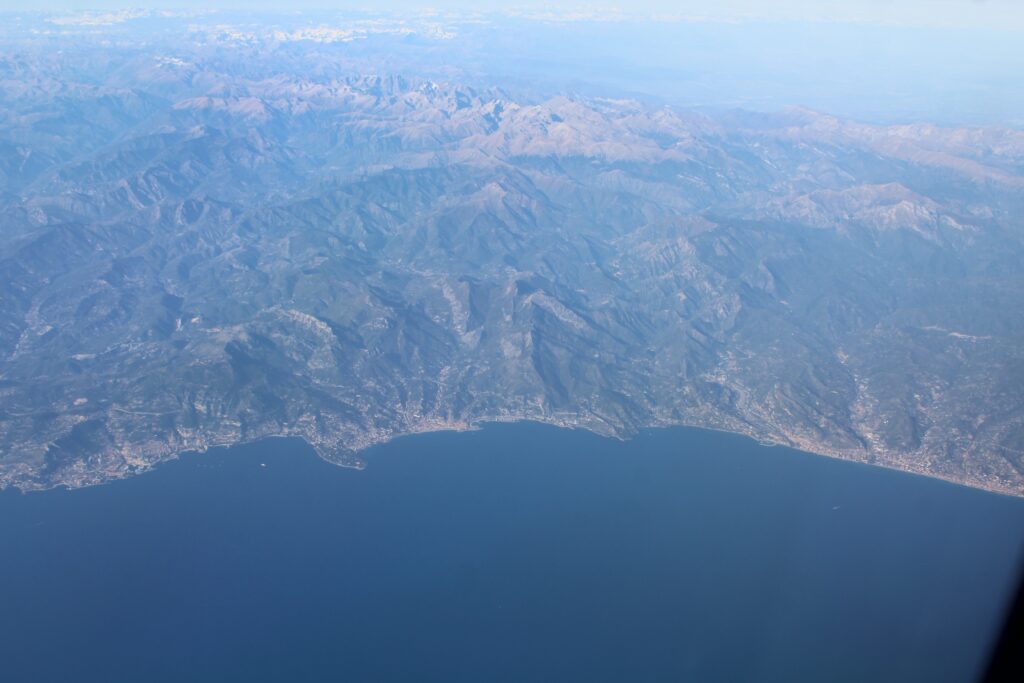 Later during the flight we passed over Vienna and river Danube. I definitely did the right thing choosing a seat on the left hand side of the cabin.
We landed a few minutes early at a grey Warsaw Chopin airport. Rather surprisingly, since we arrived on a Boeing 737, we were assigned a remote stand. The good thing though was that us in business class got to enjoy the premium transfer service, a separate bus leaving as soon as all business class passengers (and sometimes premium economy passengers) have disembarked. On the bus there are seats for all passengers, making it a much more comfortable ride, and you arrive at the terminal well ahead of all other passengers. And if you are a transfer passenger it means more time in the lounge.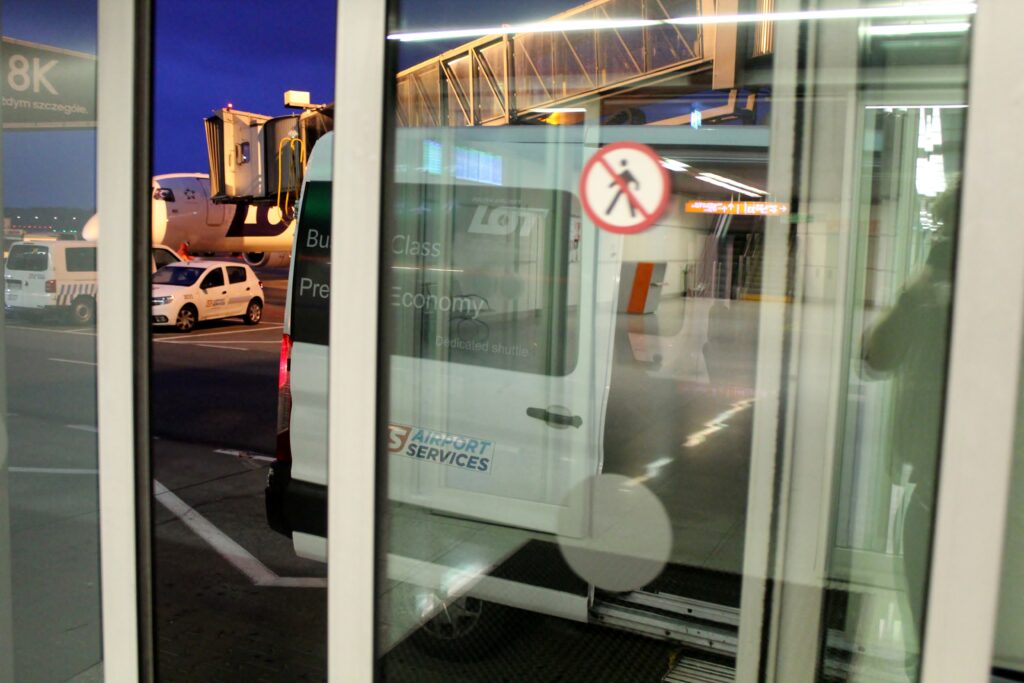 Final impression

A great flight. LOT business class on longer European flights is really a solid product. Great food and drinks with a very nice presentation and a very pleasant service from the cabin crew. I would happily do this again.