Where is it?

The Premium Lounge is located airside in the transit hall next to the gate areas. The airport is small and the lounge is impossible to miss.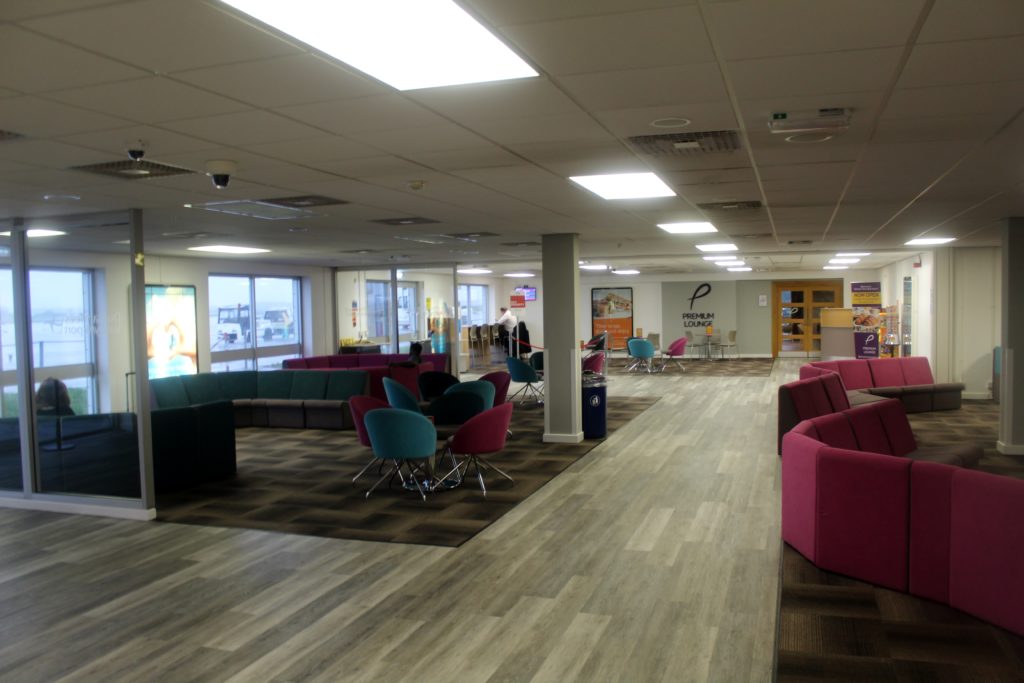 How do I get in?

This is the only lounge at the airport used by all full-service airlines.
Business class passengers on KLM as well as Flying Blue Gold and Platinum and Skyteam Elite Plus passengers travelling on KLM have access.
Eligible full-flex passengers on flights to Scotland also have access.
Furthermore it is possible to access using Priority Pass and by paying directly at the reception desk. It may also be possible to purchase access in advance, which may be a bit cheaper.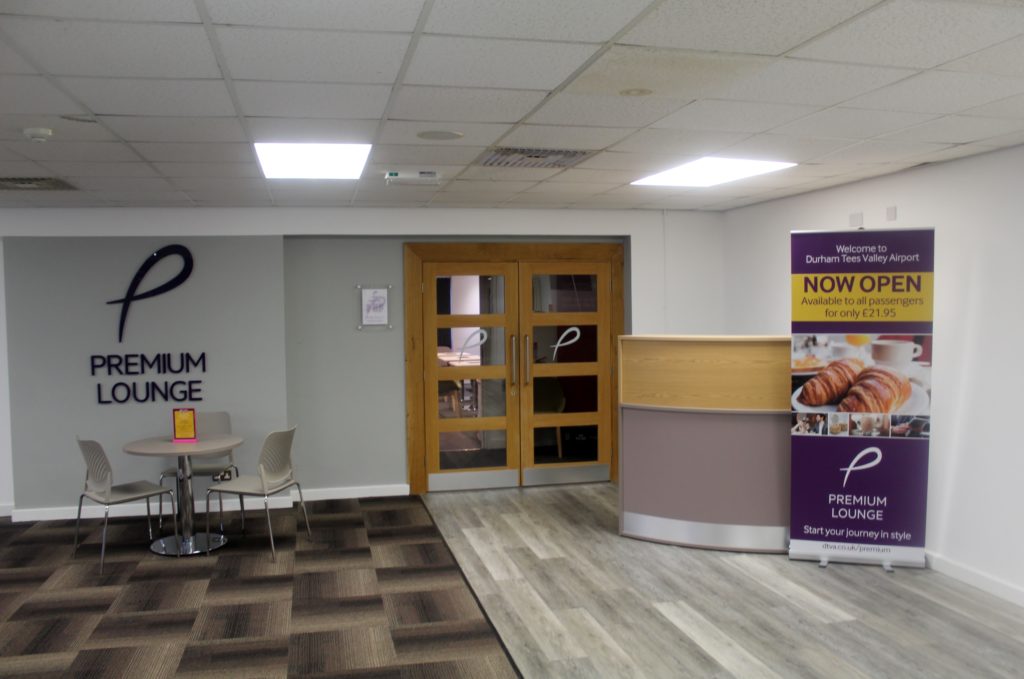 What's it like?

The Premium Lounge was fully refurbished in 2017 and re-opened in the beginning of 2018 and for a small airport like Tees Valley Airport it is a rather pleasant lounge.
The lounge is small, basically just a small room with seating for around 30 guests, but it has a modern design and a tidy and well-maintained interior. There are several seating areas with sofas and armchairs and a small dining area for those who want to eat properly.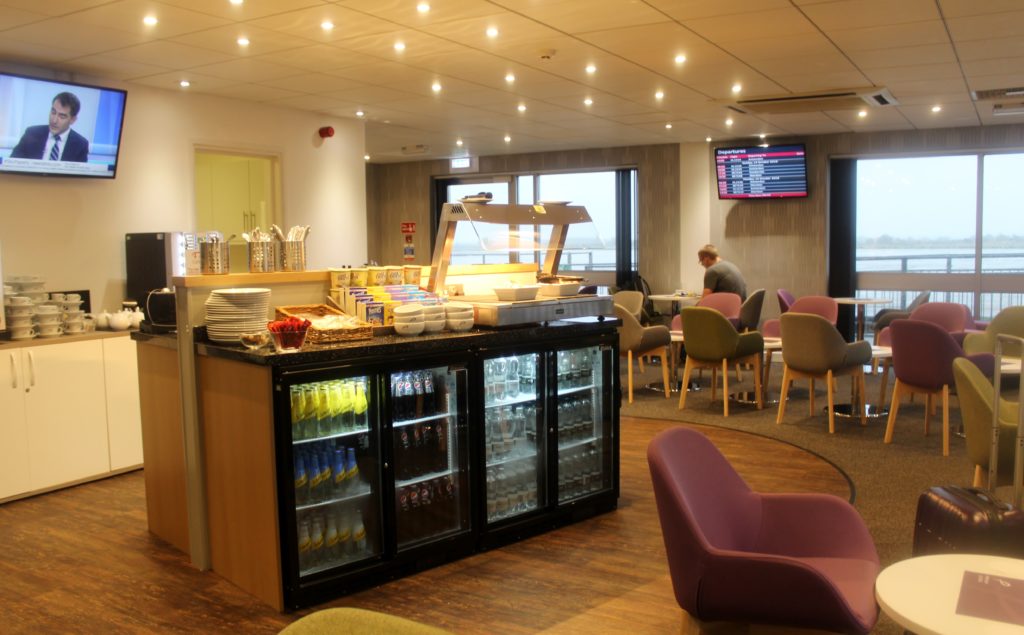 Pastel colours are used in the interior while the floor and most of the furniture are in wood. Combined with the natural light provided through the large panorama windows the lounge is fairly bright and the design gives it a warm feeling.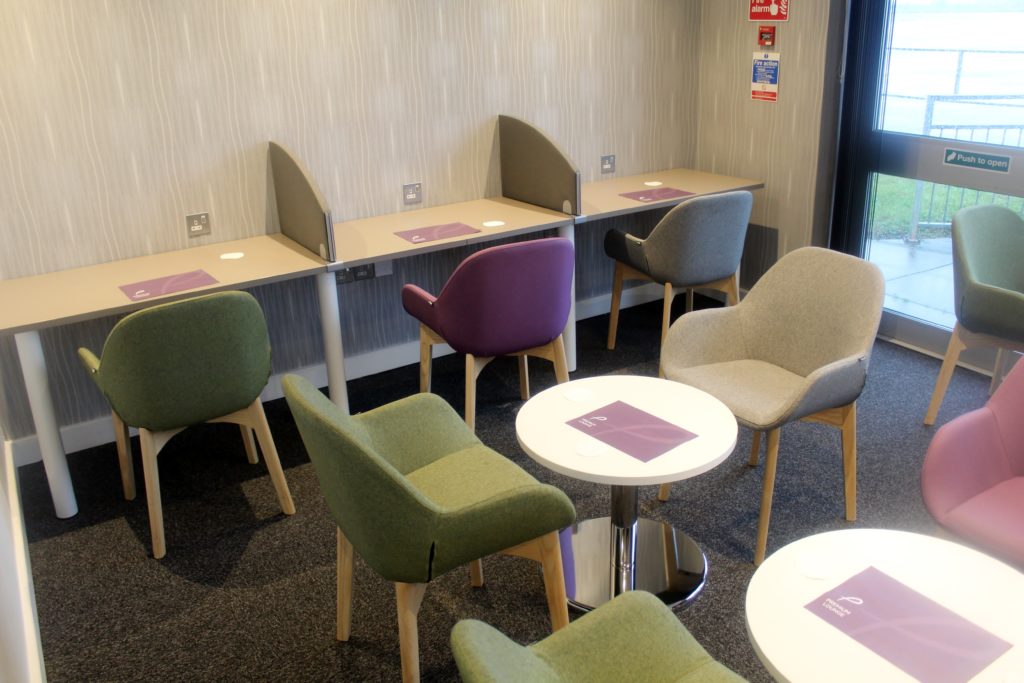 The lounge has been named Premium Lounge and the design is nearly identical to the Premium Lounge at Doncaster Sheffield airport. Both lounges have the same logo and are presumably run by the same company.
Food and drinks

A self-service buffet area is available with food and drinks which change depending on the time of the day.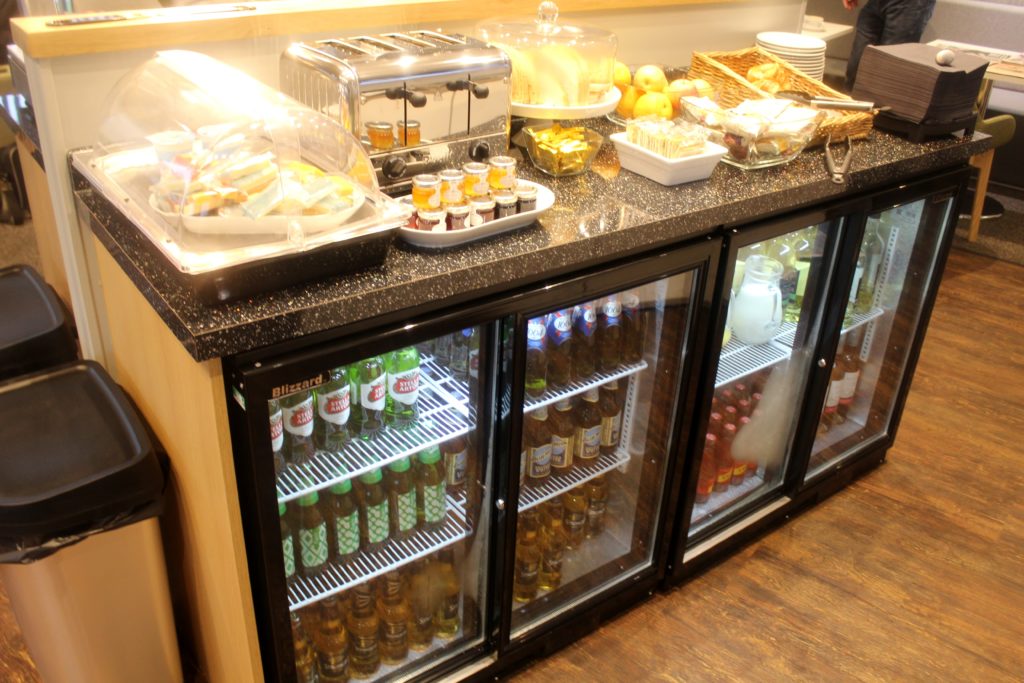 In the morning, when the test visit took place, a surprisingly decent breakfast buffet was available, especially considering such a small lounge at a small airport.
The breakfast spread included bacon and sausages, yoghurt, cereals, toast, bread rolls, cold cuts, marmalade, croissants and pastries.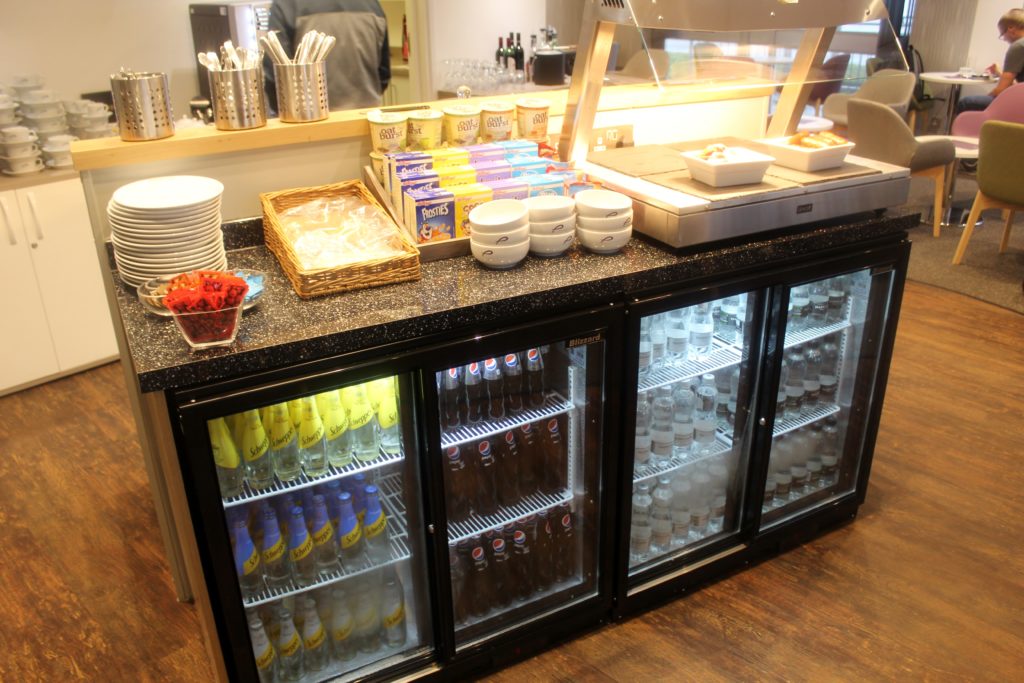 Also the drinks selection is decent and includes different red and white wines, a good selection of beers and ciders, a standard selection of spirits, various juices and sodas, tea and a coffee machine.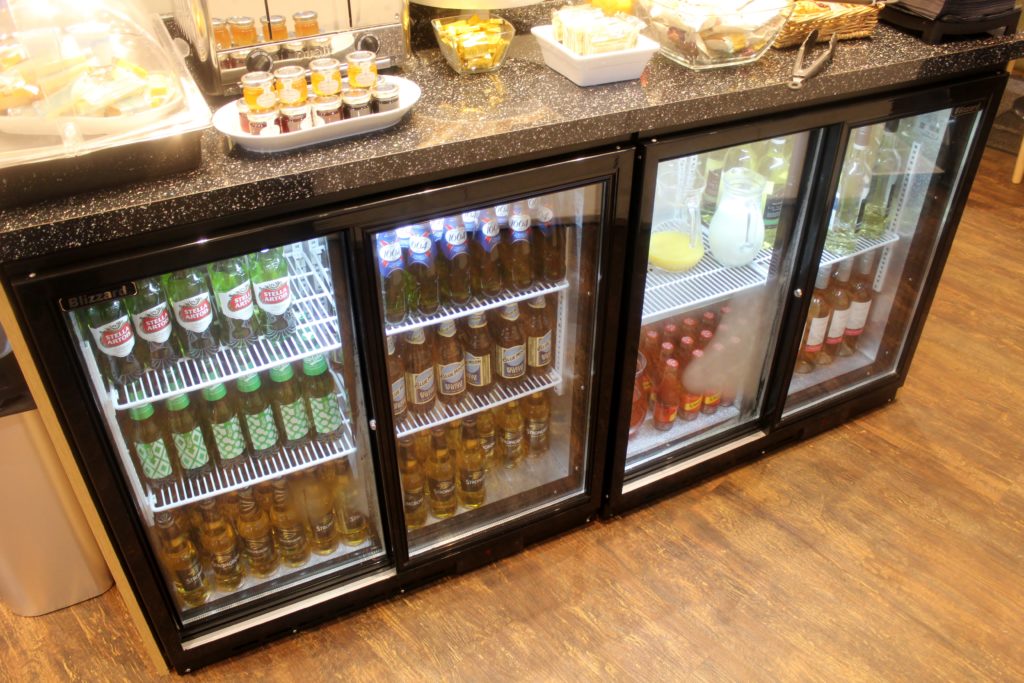 The red wine and spirits are available on a separate table from the main buffet counter.
It is also interesting to notice that the lounge has its own china, coffee cups and glasses with the lounge logo on them.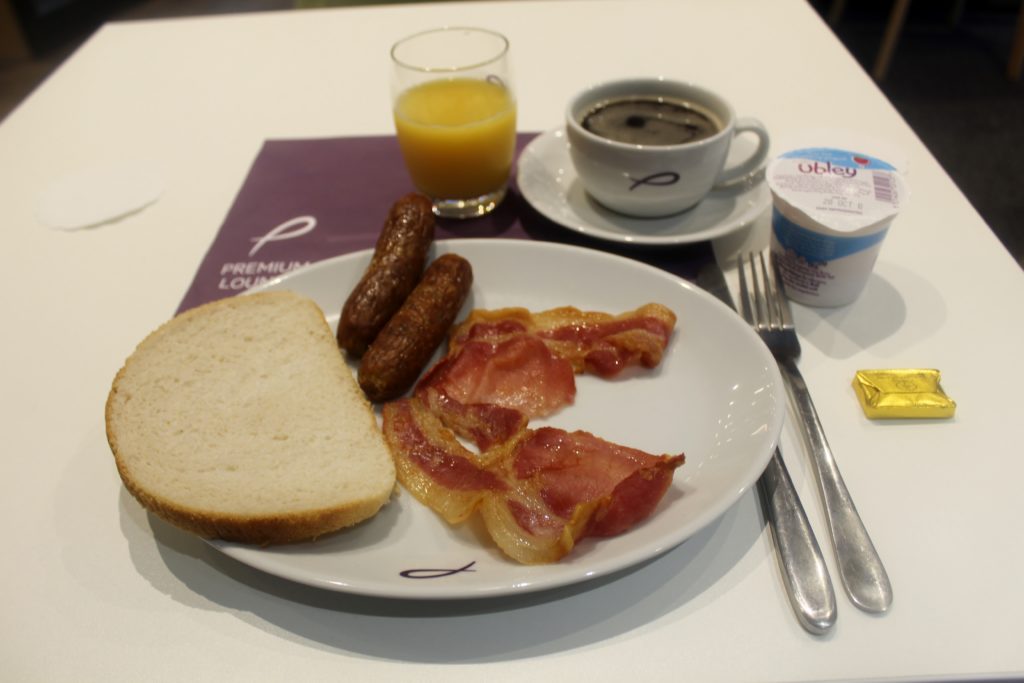 Facilities

Free wireless internet is available, there is a TV and a standard selection of newspapers.
No showers are available and there are no restrooms inside the lounge. Lounge guests use the public restrooms next to the gate area.
Final impression

A newly renovated lounge with a good standard, a nice interior and a surprisingly good selection of food and drinks for a lounge at an airport with no more than a handful flights per day.