In December 2017 a new lounge opened at Copenhagen airport called 'Atelier Relaxium Lounge by Aviator', or just 'Atelier Lounge'. This is definitely not your average airport lounge but a very cool and hip place with a most unusual concept and design. It is currently used by airlines such as Air France, KLM and Finnair but at the moment it is not possible to enter using the usual lounge cards. However during the weekends they currently have a special weekend promo which we decided to take advantage of to get a proper look.
The lounge is located in the Schengen transit hall, at the end of the shopping area close to concourse A with the entrance just above one of the duty free shops.
There is a sign at the entrance describing the concept. Five different colours are used for the interior which all represent different themes. Yellow, orange and red are designed for the leisure traveller who wants to relax and have some fun and these areas are all located on the upper floor to the left and to the right of the reception desk.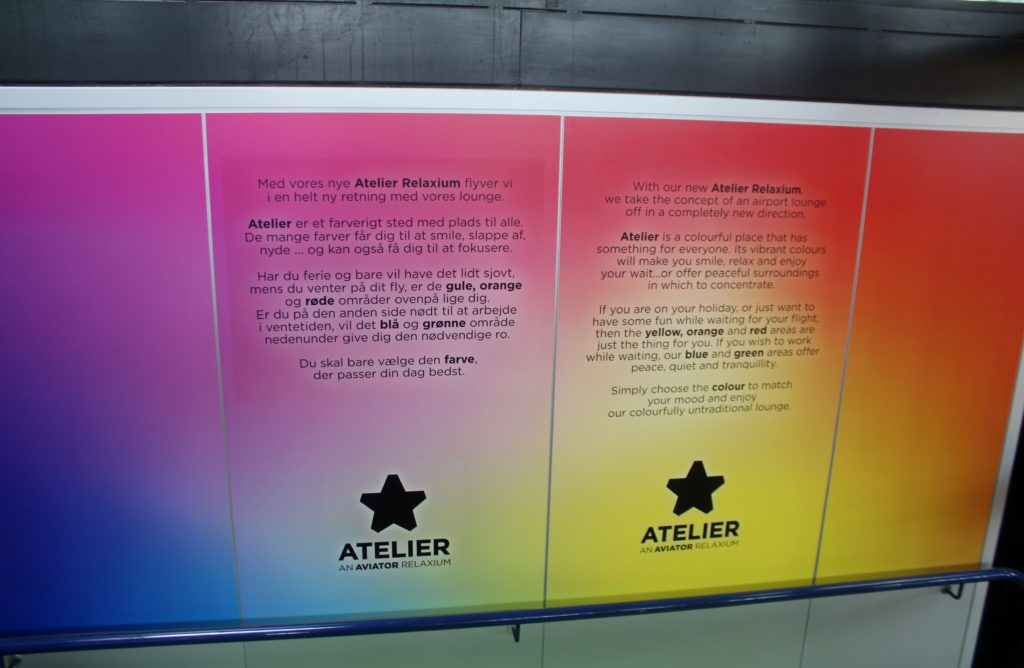 There is a large red, orange and yellow area to the left of the reception with seats and tables. There is also a self-service buffet area and a small bar area opposite the reception desk. This is obviously the area where most guests will decide to stay after having registered at the reception as it is the first area you see when entering the lounge. So in that sense the colour idea makes sense as this section will usually be far more crowded.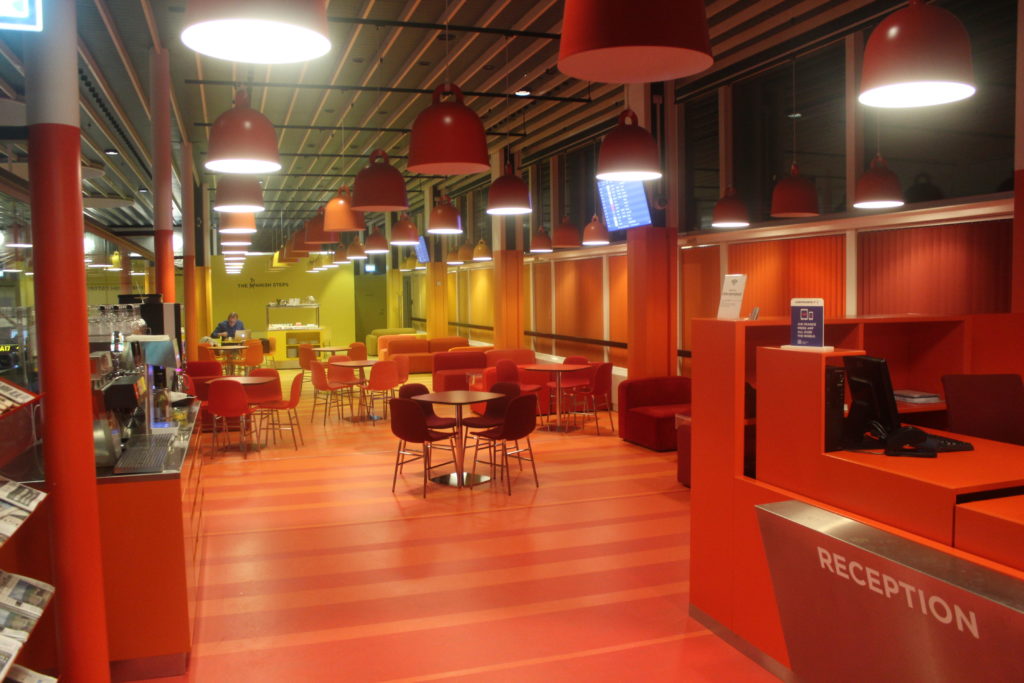 To the right of the reception there is a second seating area, this one is in red, or perhaps purple. So this would also be a leisure area according to the concept. There are a few comfortable sofas and armchairs in this area.
Just behind the reception desk there is a staircase leading down to the first floor, the green and blue areas. There are far fewer guests who make it down here and just as advertised the atmosphere is calm and quiet. This is a much better choice if you need to get some work done or simply prefer a quiet place.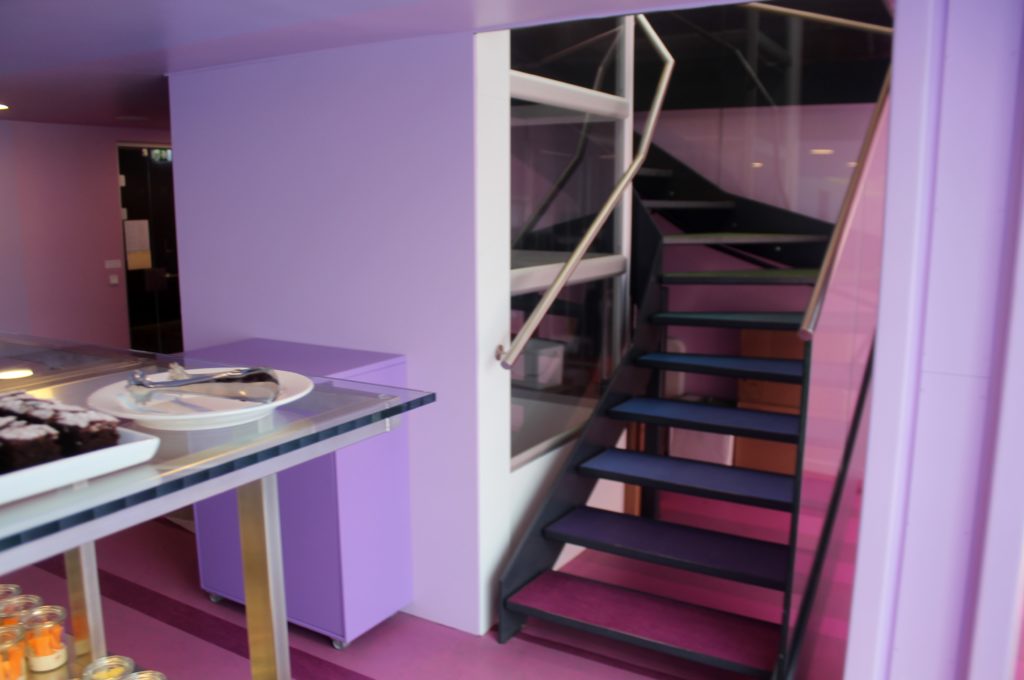 There are several seating areas downstairs as well with basically the same furniture as on the upper floor. There is dining area, a work area and a bar area with barstools. In the green area there are a couple of sofas and armchairs.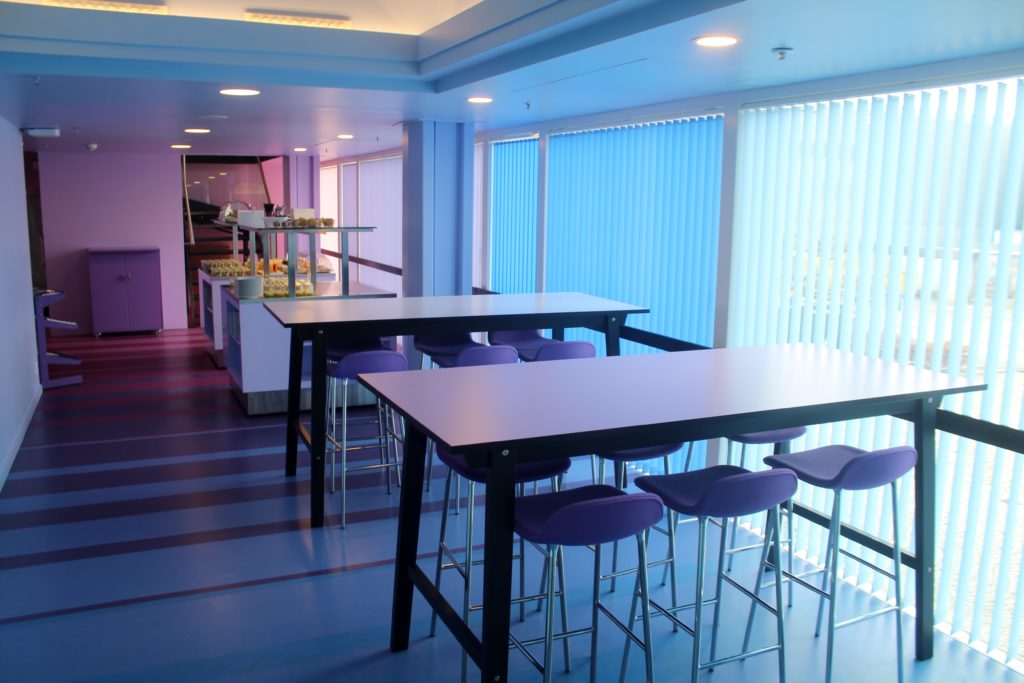 There is a self-service buffet area on this floor as well which is slightly larger than the one upstairs.
The selection is quite nice and fairly innovative with sandwiches, salads and vegetables. There are also cheeses and crackers, miniature desserts, pastries, cakes and various snacks.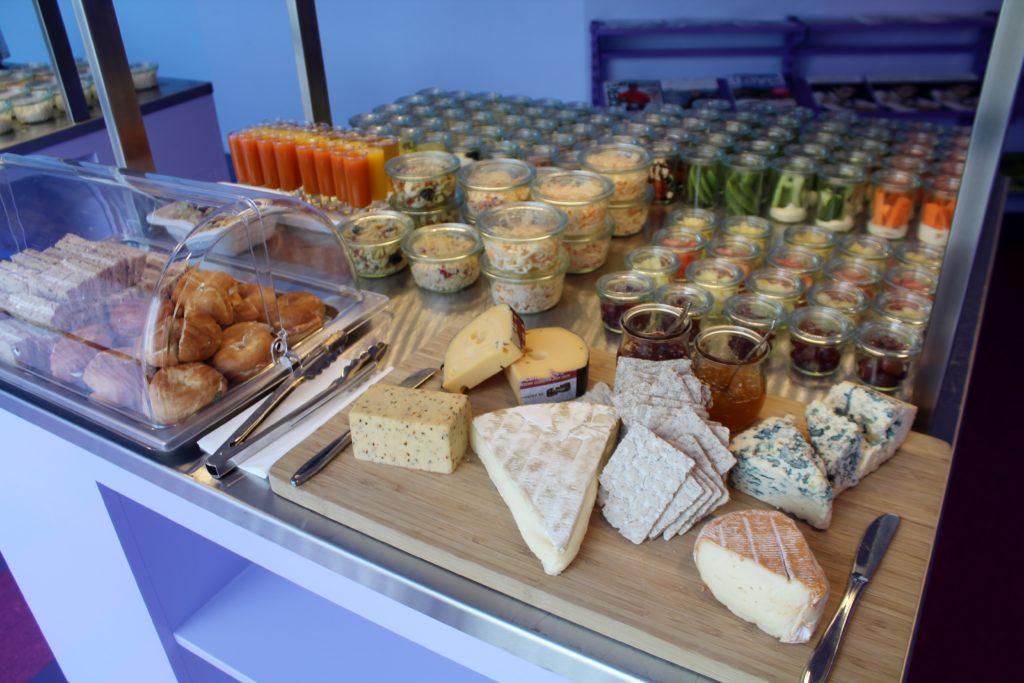 There are also a few hot items, there seems to be three in total, with an Asian dish and another one which was chicken with rice. All served in small bowls.
A self-service bar is also available on the lower floor with coffee and tea, a soda dispenser, two red and two white wines, three different beers on tap and a standard selection of spirits.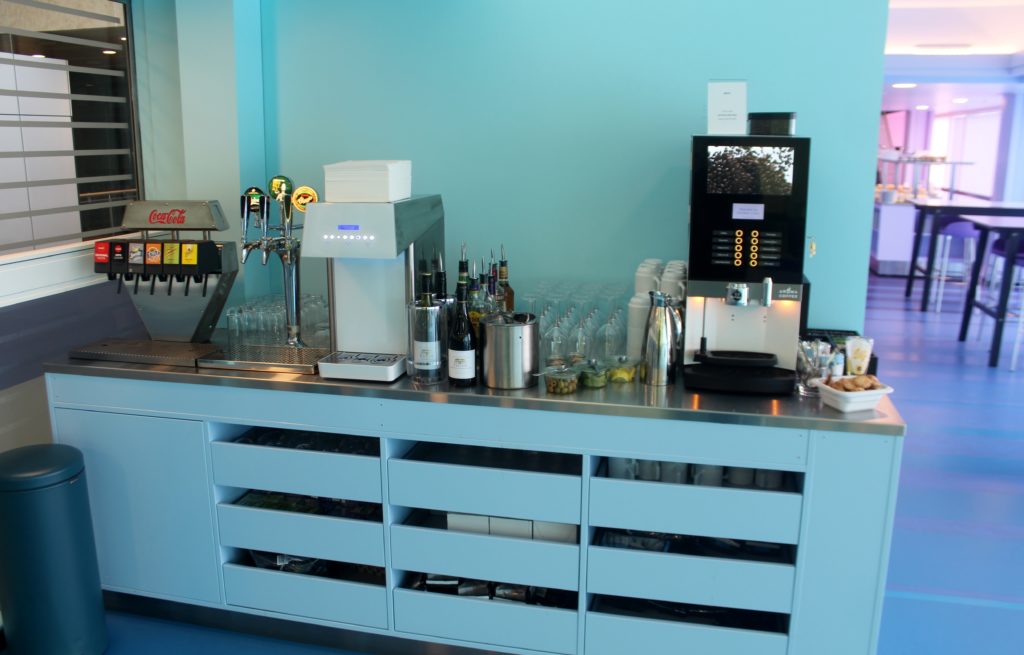 To summarise this is a really cool lounge with a very innovative design that has not really been tried anywhere else before. Especially when you travel extensively these initiatives to create something different are such a breath of fresh air. The buffet selection is also quite innovative and the drinks selection, although not spectacular, is definitely not bad.