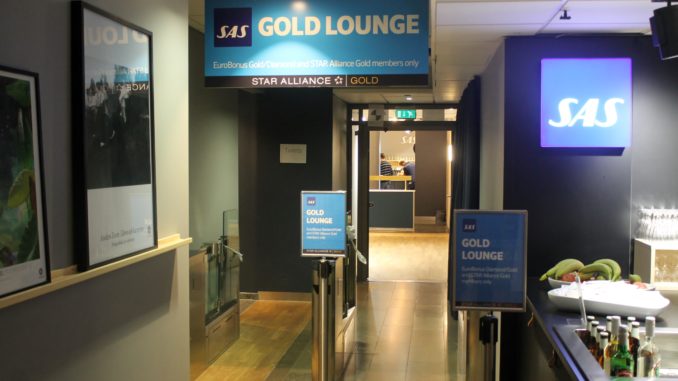 The SAS lounge in Oslo has a rather strange layout. After the reception desk you enter the business lounge, or the 'SAS Lounge' as it is called nowadays as SAS dropped business class on intra-European flights a few years ago. Then you pass through a corridor to enter the Gold Lounge, accessible to passengers with an SAS EuroBonus Gold or Diamond or a Star Alliance Gold card.
Back in the days there was a second reception desk there, right in the corridor between the two lounges where you quickly showed your gold card to get in, however about ten years ago this desk was removed, it was probably too costly. Although the sign remained, informing passengers that only those with a gold card could enter, in practice anyone could enter and make good use of the better food and the wider selection of drinks, including spirits and wines in bottles.
However it seems a change is on its way. The new SAS Gold Lounge opened in September and this week automatic gates are being installed both at the first reception desk and at the entrance to the Gold Lounge. This means that after nearly ten years the airline will once again be able to control who enters the Gold Lounge. Bad news for those without a gold card, good news for those who do have one as the Gold Lounge will most likely be less crowded.