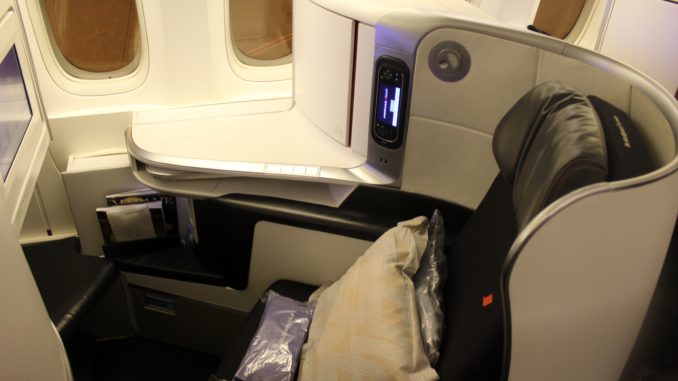 A review of the Air France longhaul business class experience on a 12-hour flight from Paris to Guangzhou in southern China.
Departure experience

Although Paris CDG will probably never make it to the list of the world's best airports it does in some cases have a reputation which is not really deserved, especially given the fact that it is the second largest airport in Europe with 70 million passengers per year. Although transferring between terminals 1, 2 or 3, which are located far from each other, can be time-consuming and confusing, there have been many improvements at the airport, especially when transferring within terminal 2 and between terminals 2E and 2F in particular, which are the main terminals used by Air France and Skyteam.
My incoming Schengen flight arrived at terminal 2F, which is the main Schengen terminal for Air France and partners. The connecting flight to Guangzhou was leaving from terminal 2E, the terminal used for Air France non-Schengen departures. Nowadays there is a transfer tunnel between these two terminals where there is also a dedicated passport control for transfer passengers, and it even has a fast track channel for premium passengers. It was completely empty when I arrived at 10 pm with no wait whatsoever.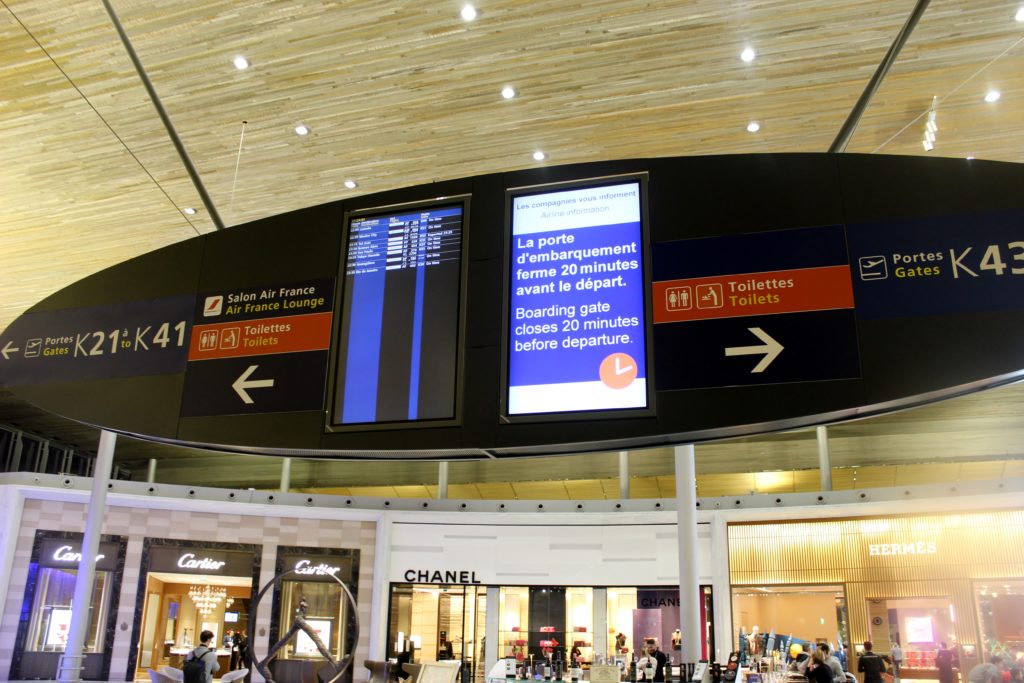 All-in-all it took exactly 18 minutes from the moment we touched down on the runway until I had reached the Air France Lounge in terminal 2E, including taxiing, disembarkation, change of terminal at normal walking speed and passport control. The signs are easy to follow and it is all very straight-forward.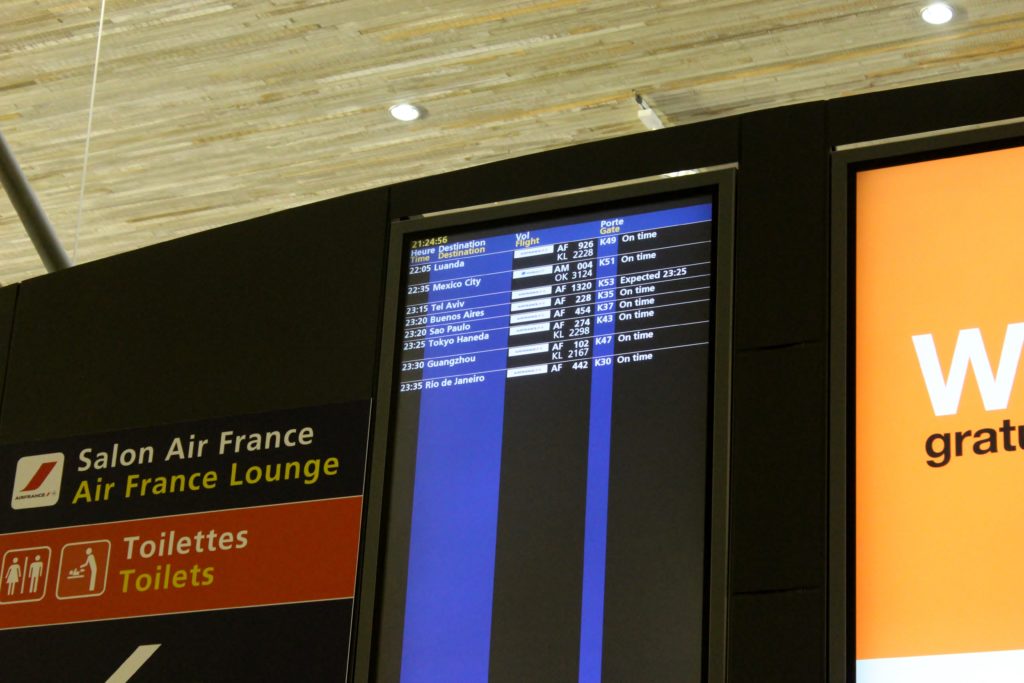 The Air France Lounge in terminal 2E, the main building with the K-gates, is divided into two floors. As a lounge it is nothing to write home about. It is mostly windowless, has the old Air France lounge design and is generally plain boring when it comes to interior and facilities.
However the very good thing about the lounge is the selection of food and drinks, for which the French are renowned. It is excellent. The selection of food and snacks is of high quality and you can easily make yourself a proper dinner. And the wine selection is nothing but fantastic, possibly the best selection you will find in any business class lounge anywhere in Europe. And there is free-flowing champagne as well and some decent spirits.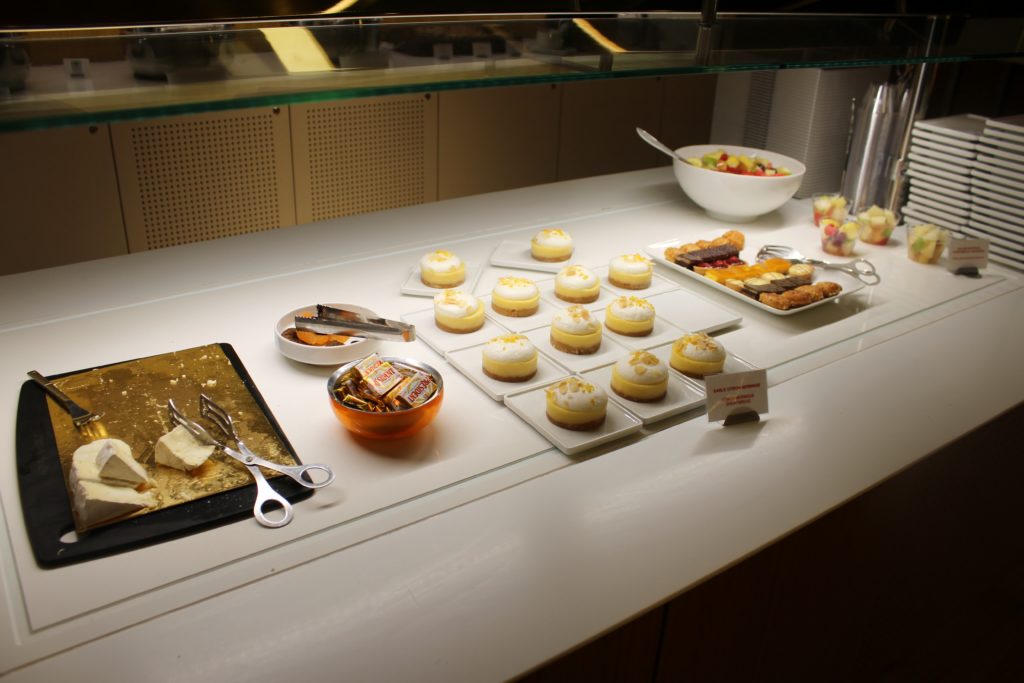 I helped myself to my second dinner of the evening, salmon with potatoes and vegetables, and a glass of champagne of course. They also have meal trays for the food and drinks, the same ones used onboard in business class, designed by Massaud.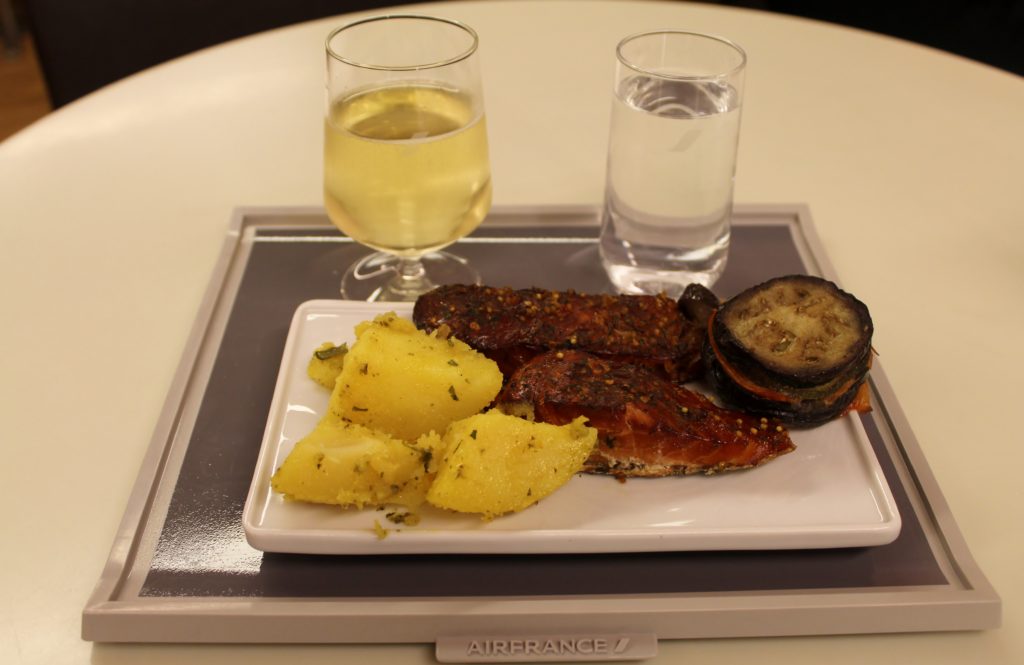 The flight
Paris CDG-Guangzhou
Air France flight AF 102
Departure: 23.30
Arrival: 18.25
Business Class
Boeing 777
Seat 04L

Boarding started 45 minutes before departure at gate K45, one of the gates in the main terminal building at terminal 2E (the other buildings are called L and M), just a short walk from the lounge.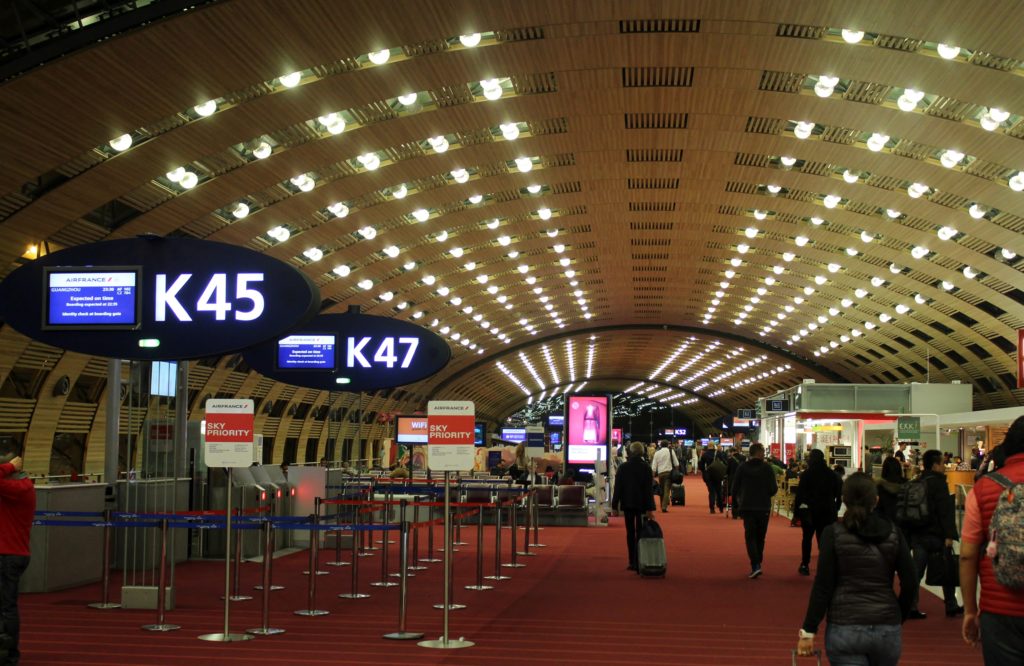 There was a separate Sky Priority line at the gate for business class passengers and Skyteam Elite members which I could use.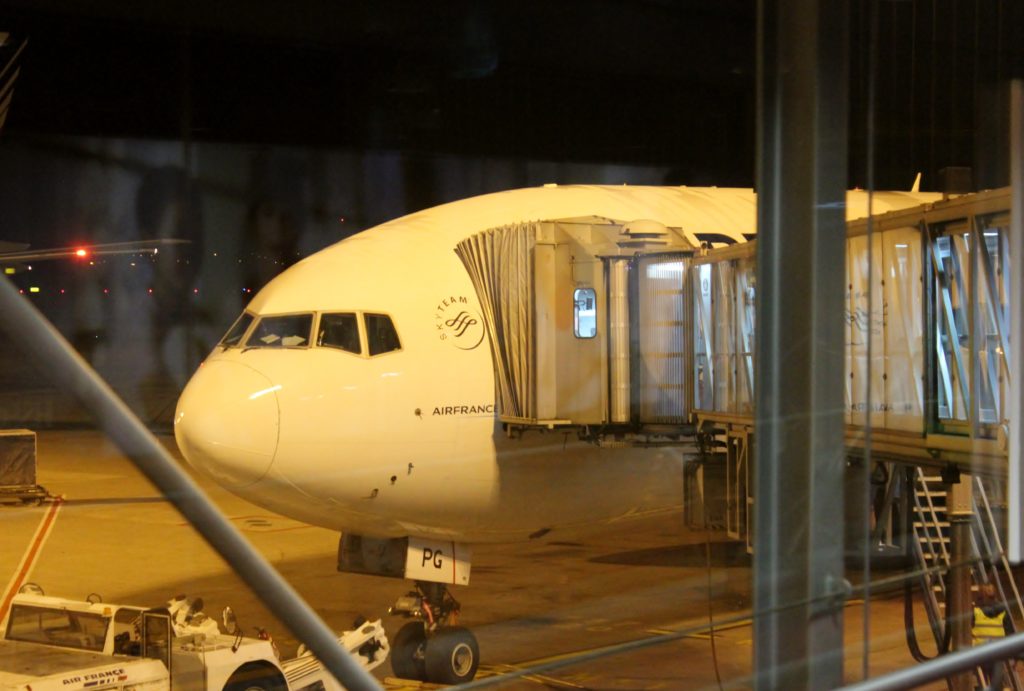 Two passenger bridges were used, one for the front door 01L, used by business class passengers, and one for door 02L, used by economy class passengers and premium economy. There was no La Première/first class available on this flight.
First impression

The Boeing 777 had the new Air France business class cabin with a 1-2-1 configuration, which means direct aisle access for all passengers. Most of the new cabin goes in white, or perhaps light grey. The new product is vastly better compared to the old Air France longhaul business class.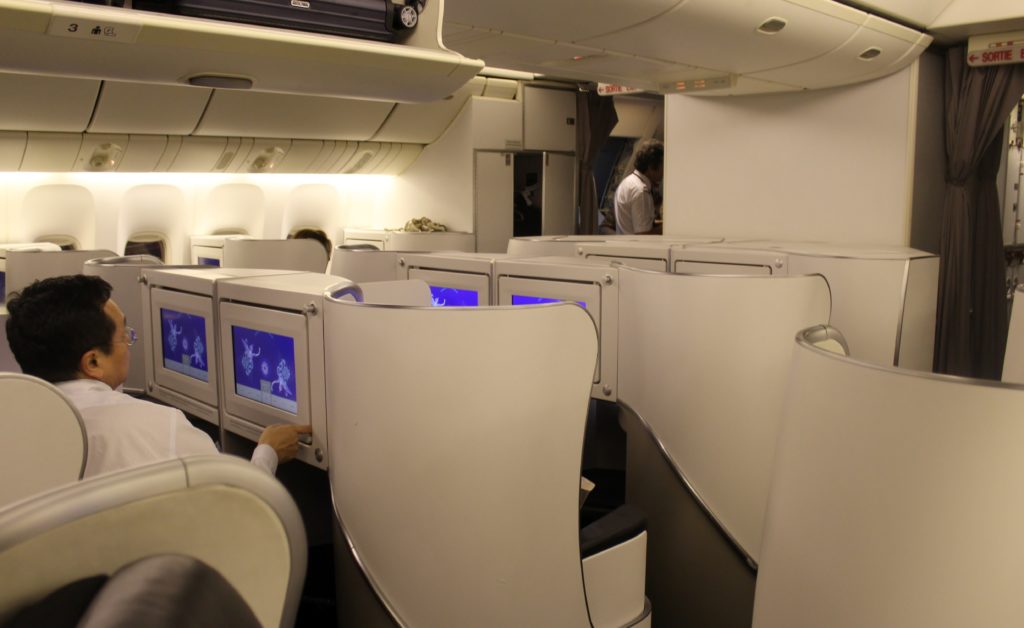 I had prebooked seat 04L for the flight, a window seat on the fourth row. A pillow, a duvet and a hanger were waiting on the seat, the latter to make it easier for the cabin crew to hang your coat or jacket, not creating too much confusion when return them to the correct passengers at the end of the flight.
Shortly after I had taken my seat I was offered a pre-departure drink, obviously including champagne. The champagne on offer was Laurent Perrier Cuvée L P.
Pushback right on time at 11.30 pm. The new Air France safety video is quite fun to watch, inspired by the ongoing theme "France is in the air".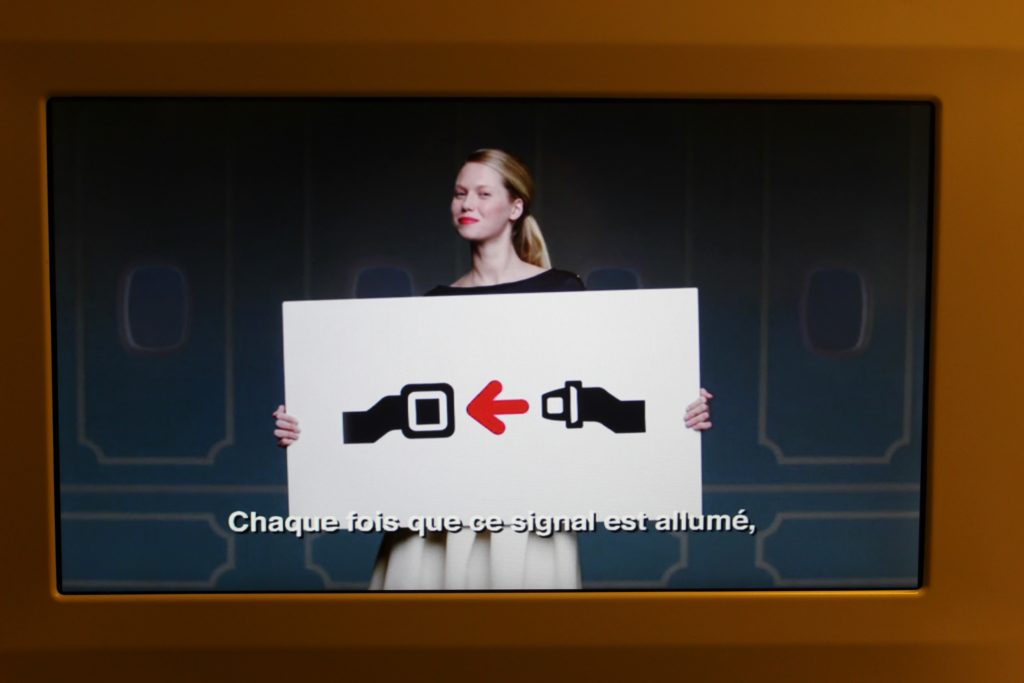 The flight time to Guangzhou was expected to be just over 11 hours, so plenty of time for both dinner and breakfast and a proper night's sleep.
Seat and cabin

The Boeing 777-200 had seven rows of business class in a 1-2-1 configuration, which meant 28 seats in total. They were placed between doors 1 and 2. There was also a small premium economy class cabin followed by economy class, both behind door 2.
I had tried this seat in the past, both on Air France and a few other airlines. The seat is called Cirrus and is produced by the French company Zodiac. The seat design is becoming increasingly popular as it offers both some fairly private seats for single travellers as well as dual seats in the middle when two people are travelling together (however there is a divider in the middle in case you do not know your seat neighbour). The seat is also used by airlines such as Cathay Pacific and Finnair.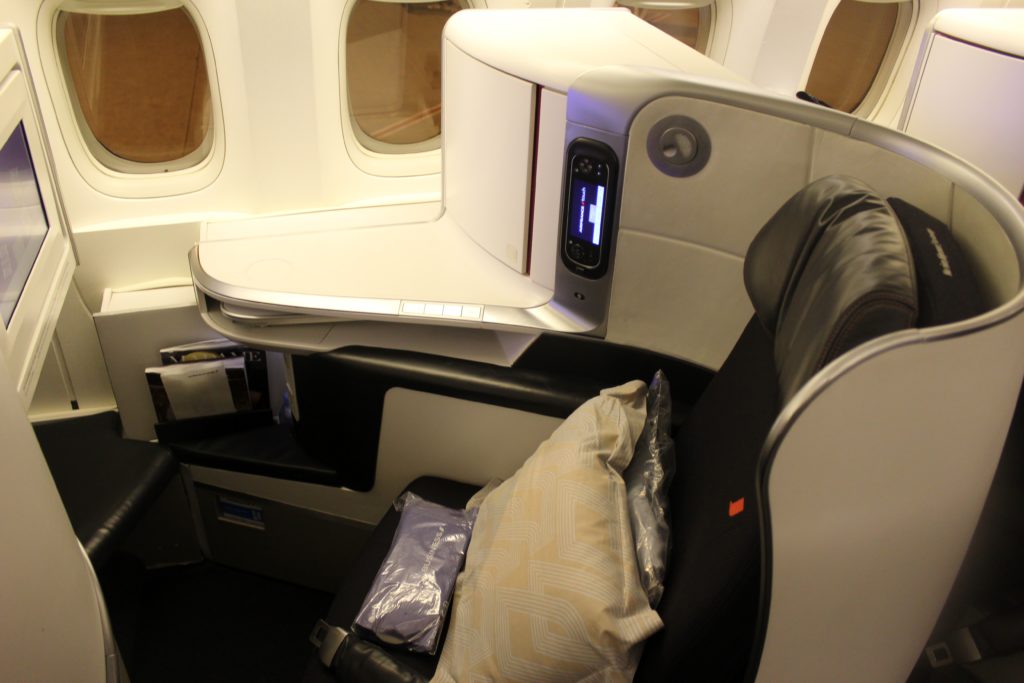 The seat is controlled using the seat control placed next to the side table with four different buttons as well as controls for the lighting.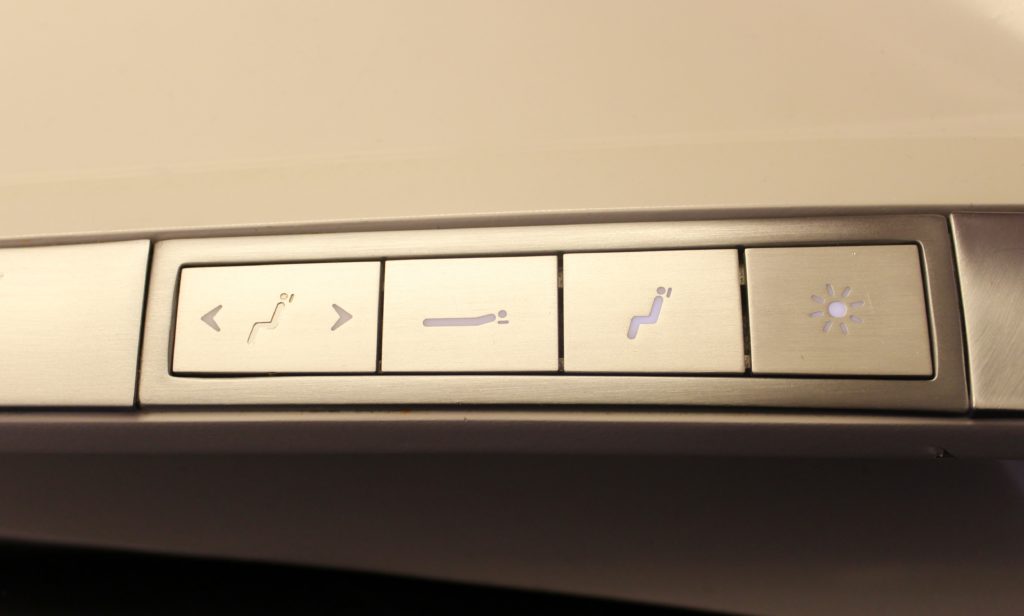 There is also a small cupboard next to the seat where you will find your headphones (which cannot be removed). There is also storage here for personal items.
Food and drinks

The inflight service started as soon as we had reached cruising altitude and followed the standard Air France longhaul business class concept starting with a champagne service while the rest of the cabin crew started preparing for the meal service in the galley.
I like this approach. It feels rather luxurious to be offered a glass of bubbly after takeoff but also it means you get something to drink almost immediately, rather than having to wait for the trolleys to appear.
The menu was then handed out and included both the menu in French, English and Chinese and the drink list and wine list.
Especially the drink selection on Air France is somewhat different from what you would find on for example Lufthansa or British Airways. There is a long list of apéritifs available, including the more traditional vodka and gin but also for example Vermouth Rosso and Bitter. And whisky is listed as an apéritif, i.e. something you drink before the meal. And there is a long list of digestifs, i.e. drinks to be served after the meal, including for example Green Chartreuse, Calvados, Armagnac and Pear eau-de-vie. It is all a bit different from many other airlines.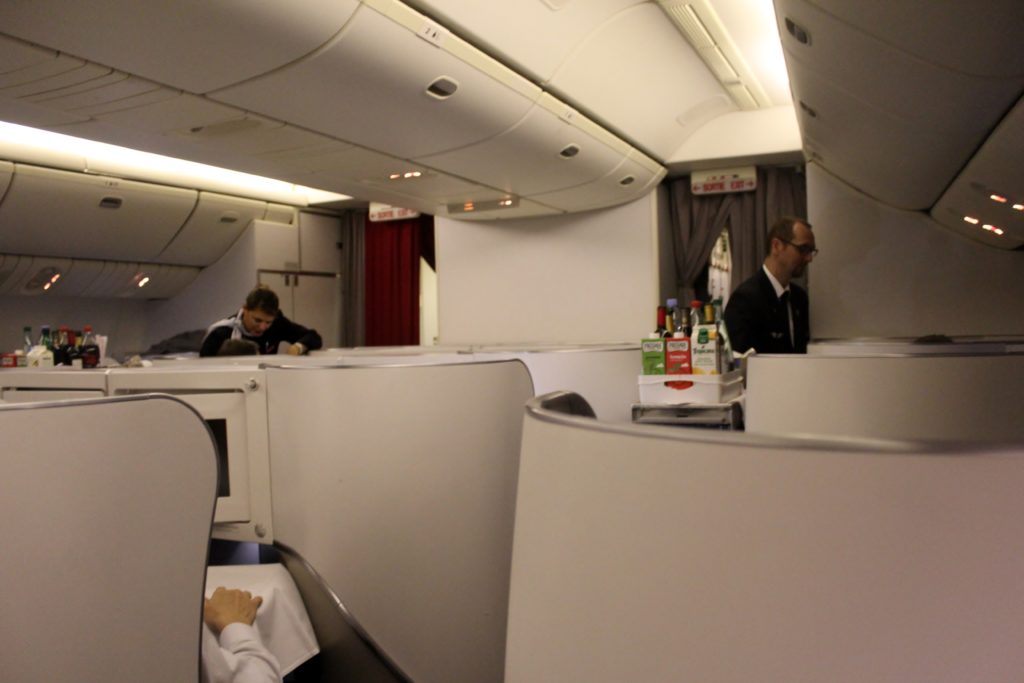 After a few minutes the first trolley passed through the cabin offering the meal tray with the starter as well as the cheese and the dessert, to reduce the length of the meal service on this very late departure.
The starter was a "Gourmet Appetiser" with Duck foie gras terrine with lemon, chanterelle mushroom salad with golden raisins, goat cheese timbale with sunshine vegetables, celeriac mousse with lemon, carrots with hazelnut oil, and celery with olive oil.
Foie gras or duck foie gras seem to be a standard starter in Air France longhaul business class, served on nearly all flights. But their starters are usually pretty good.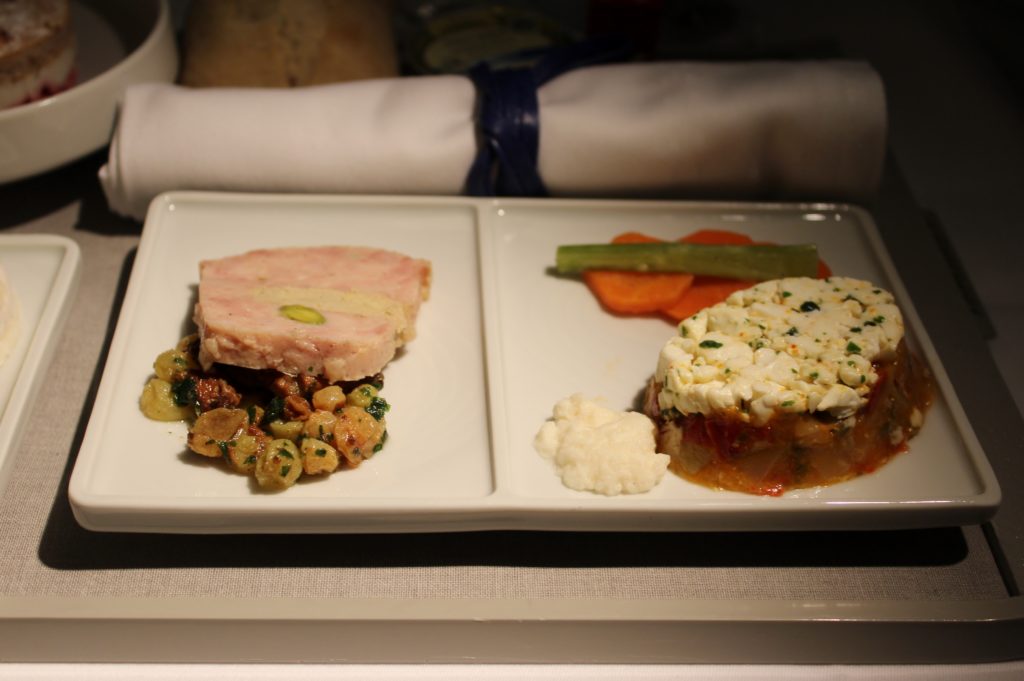 Bread rolls were offered from a basket and I asked for a glass of red wine to drink, a glass of the Bourgogne red wine called Mercurey 2014 M. Albert Bichot. The wines are selected by Paolo Basso together with Thierry Desseauve and Michel Bettane. Paolo Basso was awarded Best Sommelier of the world in 2013.
There were three choices of main course. Chinese-style chicken with scallion sauce, sauteed vegetables , rice and broccoli. Fillet of cod with basmati rice with turmeric, zucchini puree with cashew nuts, and spicy coconut sauce with Espelette chili pepper. This dish was according to the menu created by chef Guy Martin. And the last choice was Penne pasta with lemon and pistachios, parsley jus and green vegetables.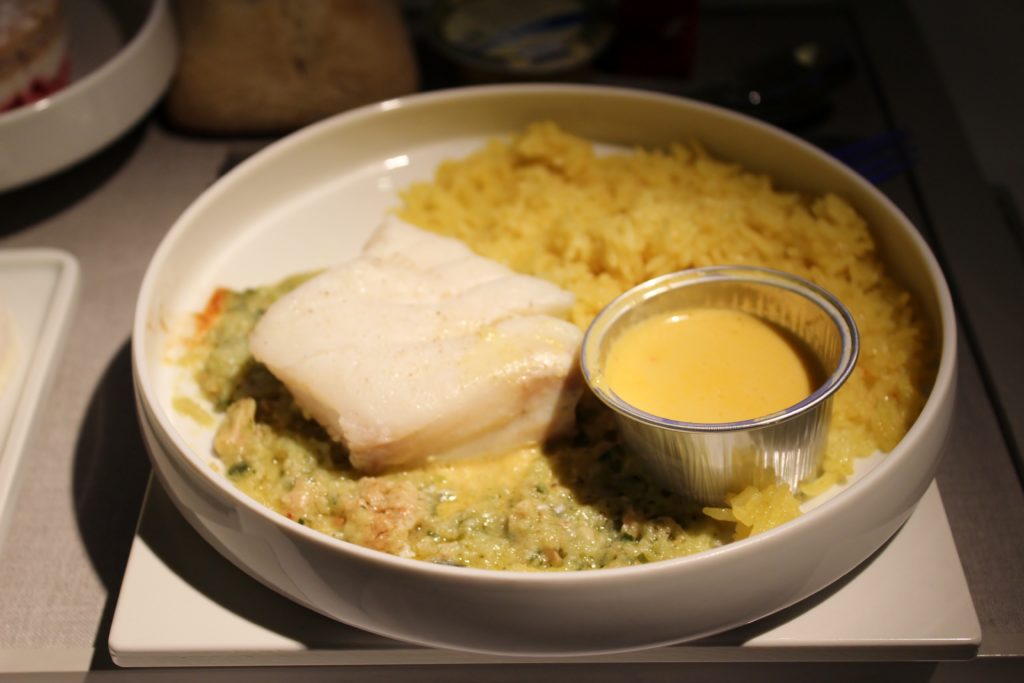 I ordered the cod with basmati rice, which was also fairly tasty. I had a glass of white wine to drink with the it, a glass of Château l'Hospitalet 2015 Gérard Bertrand, a Coteaux du Languedoc. Gérard Bertrand is in fact an old French rugby player who is now a wine producer.
Two different cheeses were available on the meal tray, Petit chèvre and Cantal AOP, and there was a berry almond cake for dessert. Coffee, tea and digestifs were finally offered and I asked for a whisky, a glass of Glenlivet Founder's Reserve.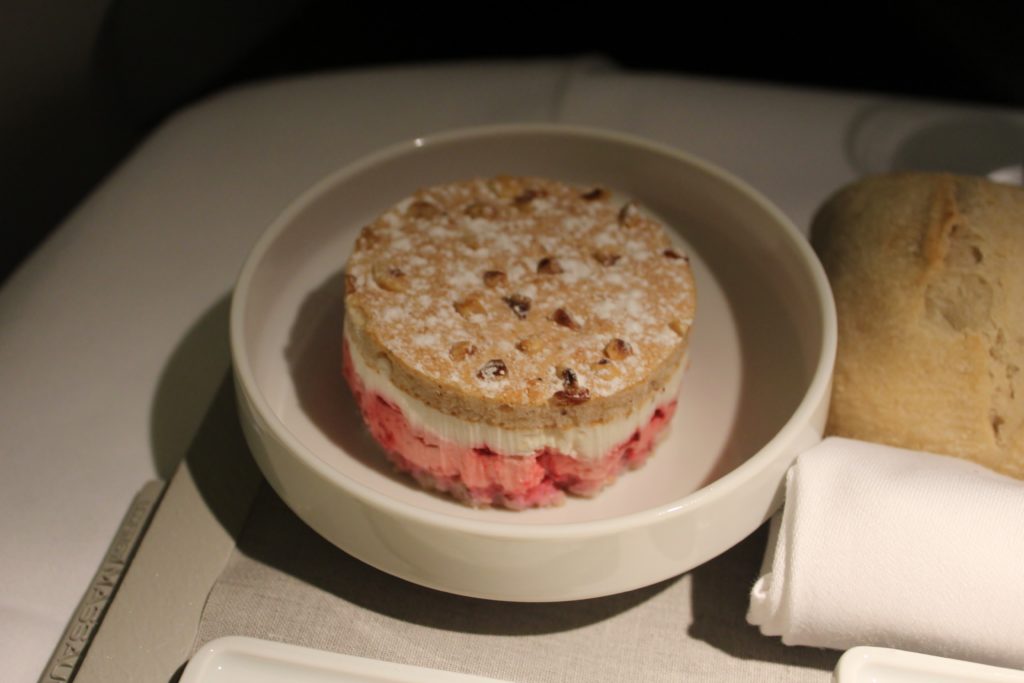 Overall both the food and the wines were excellent, which is often the case on Air France. This is definitely a strength and a highlight of Air France and even though they still use trays for the meal service the trays are quite elegant, designed by Jean-Marie Massaud.
However on daytime flights there is usually a longer meal service with cheeses and desserts served separately and usually there is also an amuse bouche to start with, but on late night flights they offer a shorter meal service so passengers can go to sleep quicker.
Inflight entertainment
The latest inflight entertainment system is rather modern and easy to use. You can either navigate the menus by touching the 16-inches screen or by using the fairly advanced remote control, which also has a screen with a smaller version of the menus.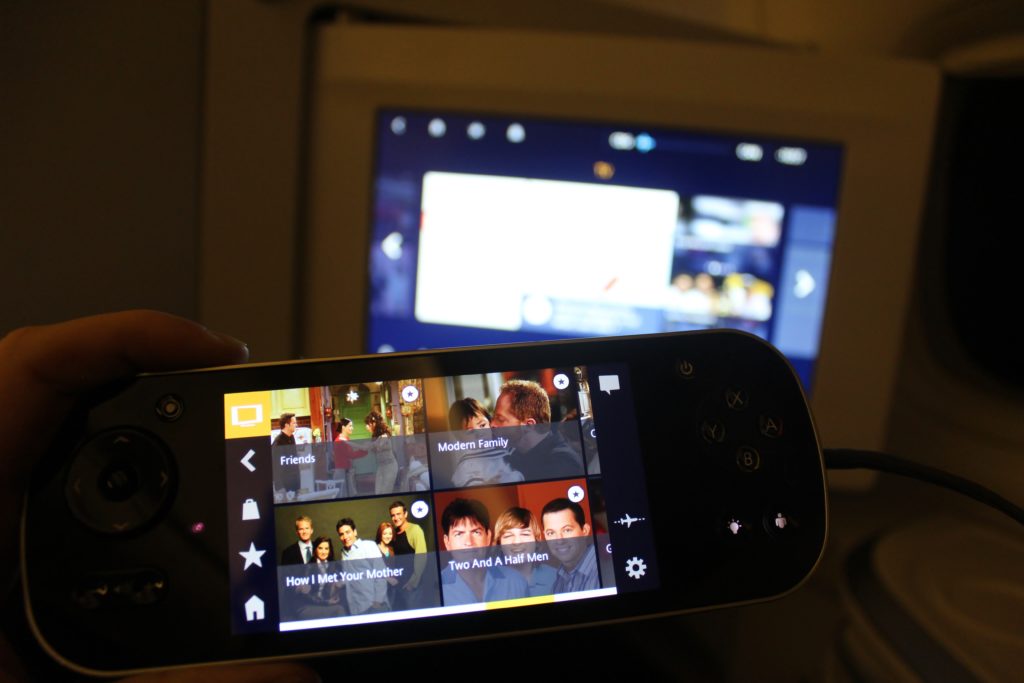 The inflight entertainment system has been developed by Panasonic and offers more than 1000 hours of entertainment and menus in 12 different languages. There are movies, TV shows, music albums, games and some information about Air France and the flight.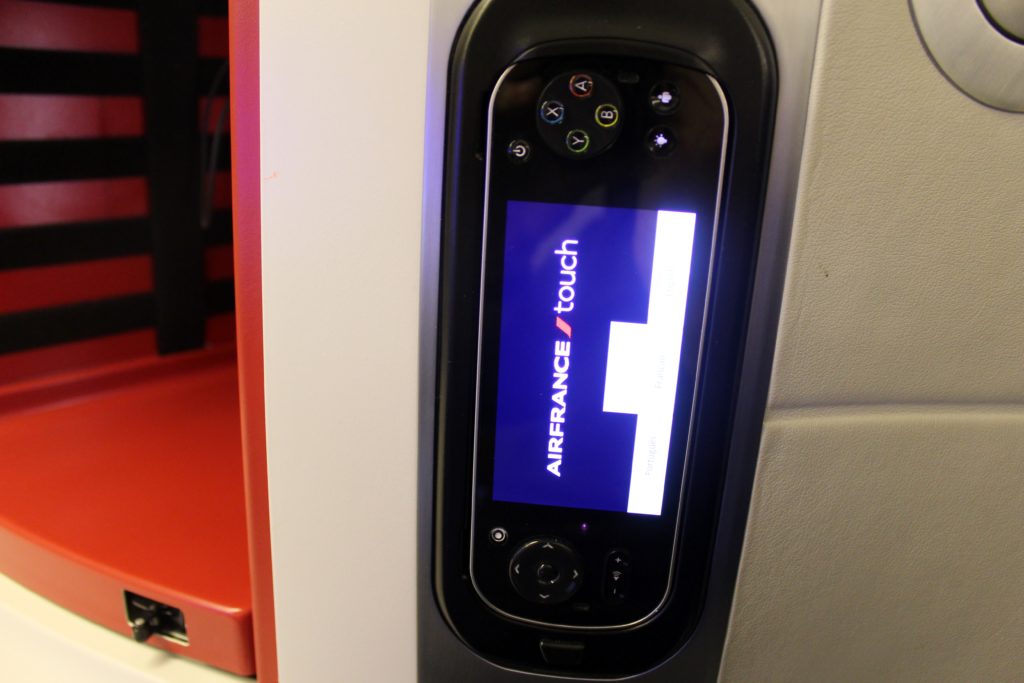 Noise-cancelling headphones are also provided, stored in the small cupboard next to the seat.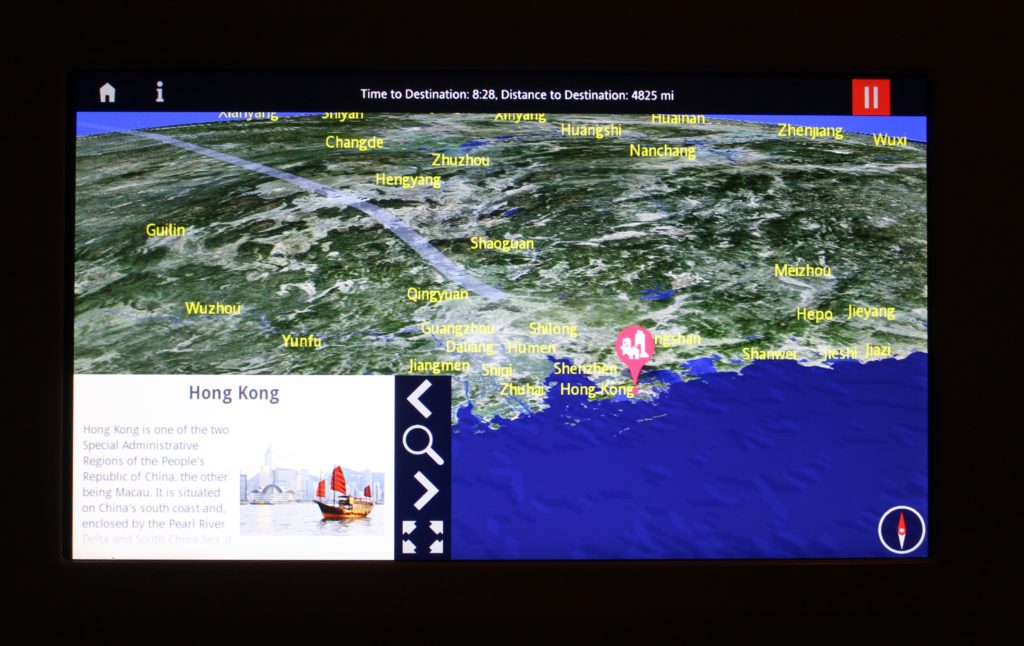 Sleeping

After a glass of whisky I changed to my pyjamas and prepared the seat for the night with the pillow and the duvet. The new business class seat becomes fully flat when reclined and although I do miss a mattress to place on top of the seat it is as good as it gets when it comes to sleeping.
During the night there is also a self-service bar available available next to door 2R where you can help yourself to some snacks and drinks, including a glass of champagne if you want. Usually there is also someone sitting inside (or near) the galley in case you want something else to drink. According to the menu you can also order some warm snacks and noodles during the night.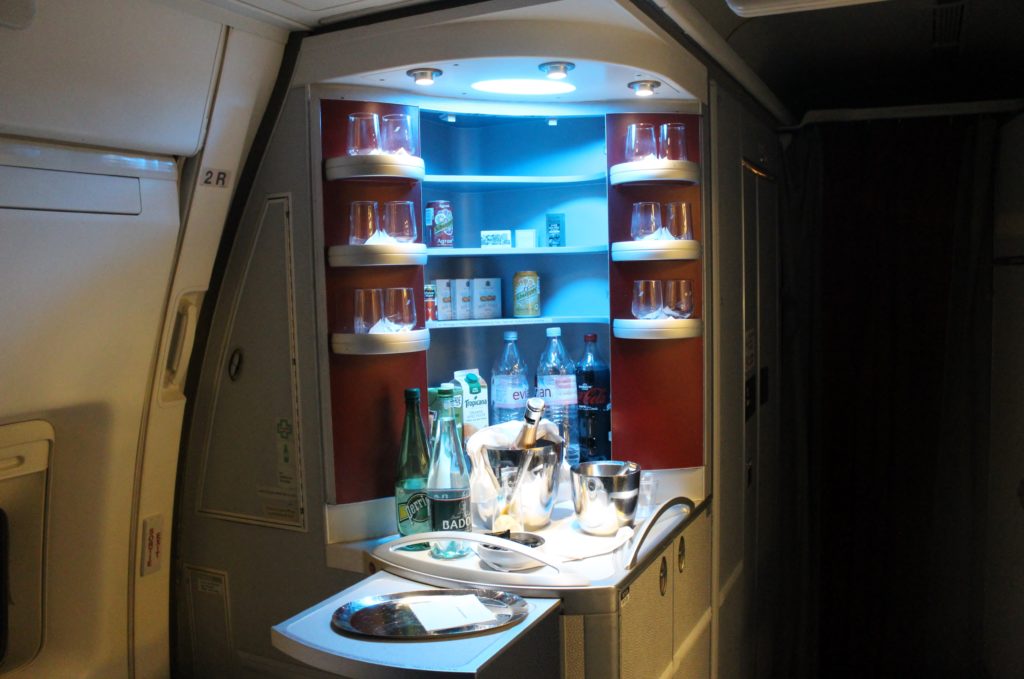 The service

The service was friendly, polite and attentive throughout the flight and I was taken well care of. Nothing to complain about. However they did not use any names when addressing passengers.
From experience a good way to get good service onboard Air France is to try to get involved in the meal service. The French are very proud of their wines and their cuisine, an integral part of the French society, and they will appreciate passengers who show some interest in the food and drinks selection, who ask for advice on the wines or who may even want to do a little wine tasting session, which most crews will be happy to arrange. Of course a friendly "Merci" will also be appreciated.
Arrival experience

Breakfast was offered around 90 minutes before landing with fruit salad, cheeses, yoghurt, bread rolls and croissants. There were also three choices of main course. Either a Full English with omelette, potatoes and sausages. A cold platter with pastrami, chicken and cheese. Or crêpes with apple compote and berries. I went for the crêpes. There was also an express breakfast available, served until 30 mins before landing.
Coffee, tea and juices were also offered, with refills. And there were hot towels both before and after the breakfast.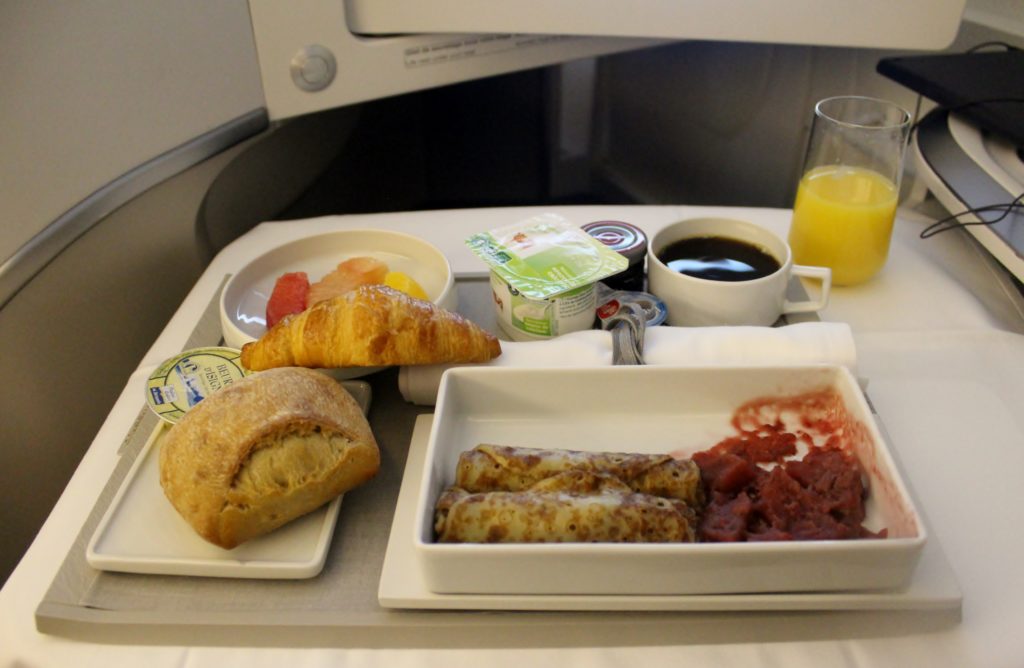 Overall the breakfast is not a significant meal in France. Many people just have some bread rolls or croissants and coffee for breakfast and this is somewhat reflected in the breakfast service on Air France. The portions are fairly small and the breakfast services are quick.
We landed a few minutes early at Guangzhou Baiyun airport. It was just after 6 pm so it was already getting dark outside. Although I really appreciate these late evening flights to Asia, as they are much easier for sleeping than afternoon flights, it is a bit strange to land at dusk, with a full day having passed and you have not seen any daylight during that day.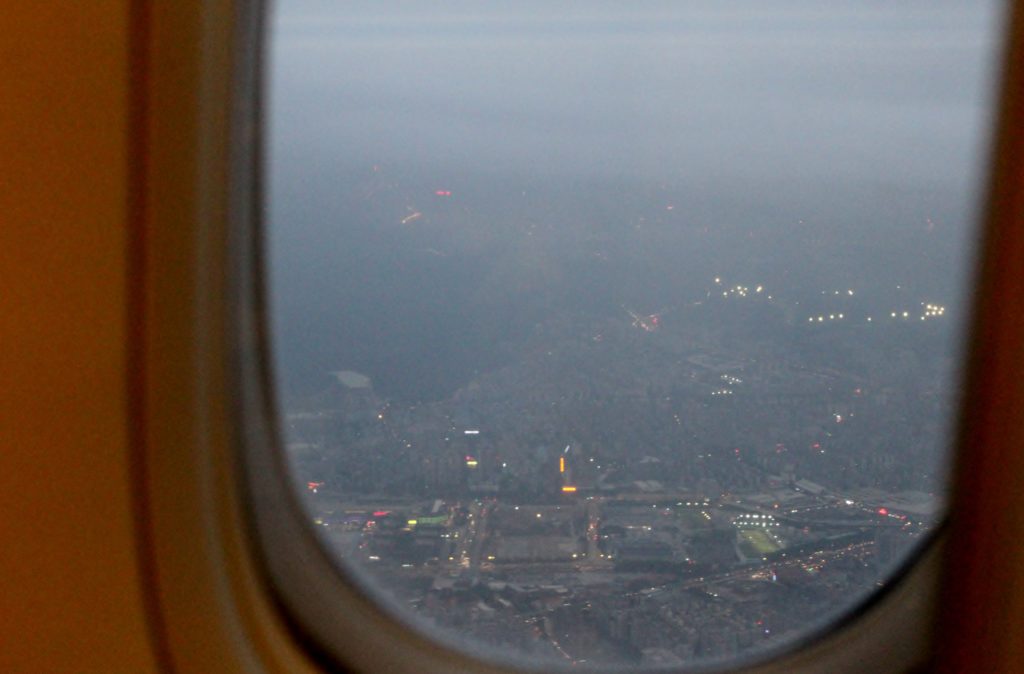 For some reason we were assigned an apron position and were taken to the terminal building by bus. I had a connecting flight with Kenya Airways to Bangkok so I followed the signs for international transfers, which turned out to be much easier than expected.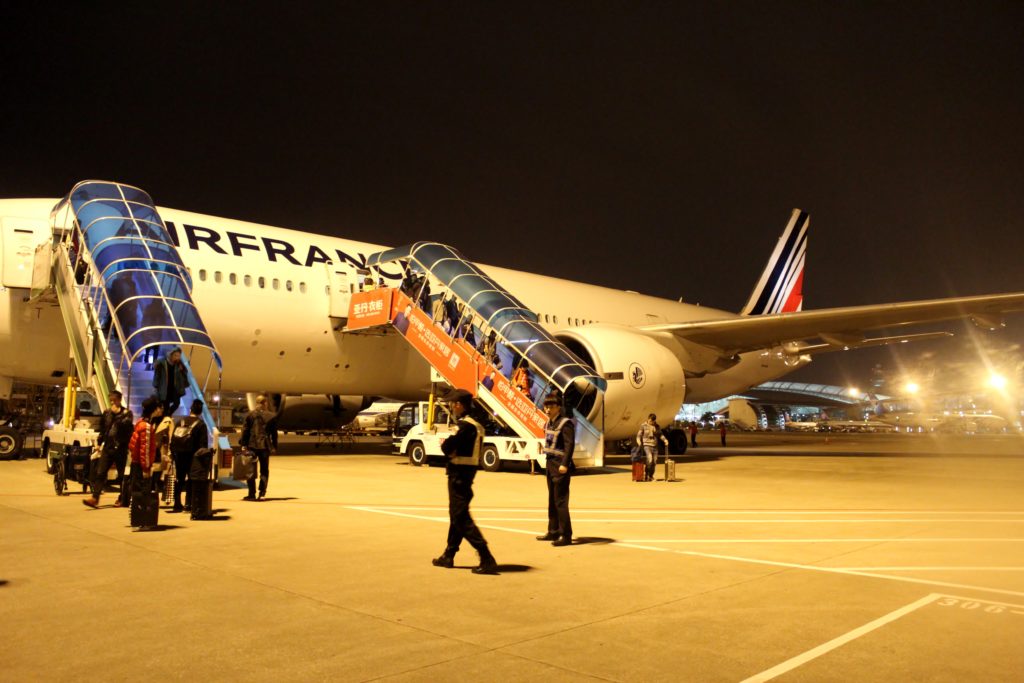 Final impression

A good flight with a decent fully-flat seat and friendly service. But the best part of Air France business class is definitely the food and the drinks.