In April 2015 Air France introduced a new meal concept in their mediumhaul business class on intra-European flight lasting at least two hours and 15 minutes. In the new concept there are two choices of main course served on a new china, the same china used on longhaul flights in business class designed by Jean-Marie Massaud. Another change is that there is now a dedicated flight attendant for business class.
This flight was a chance to try out the new concept. Stockholm-Paris has a scheduled flight time of two hours and 40 minutes which means that it qualifies for the new concept.
Departure experience
I arrived at Stockholm Arlanda airport 90 minutes before departure. Air France and KLM use the smaller terminal 2 together with Skyteam airline Czech Airlines and most OneWorld airline operating at the airport.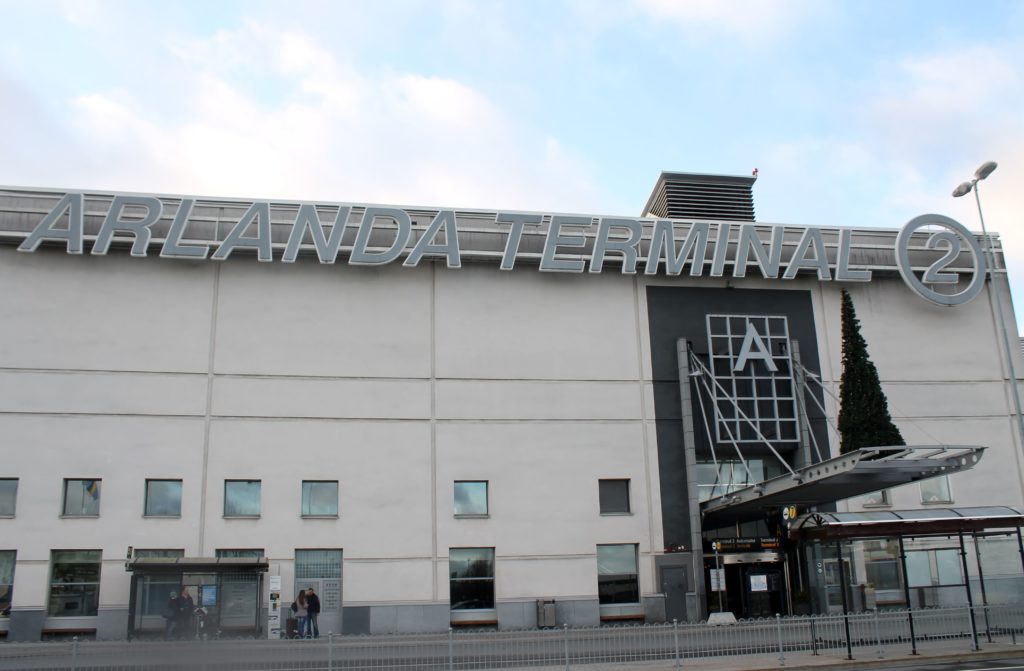 This flight took place around Christmas and the line for the Air France and KLM check-area was incredibly long, stretching through most of the departure hall. This was one of the days when you feel truly happy to travel in business class and have access to the priority check-in.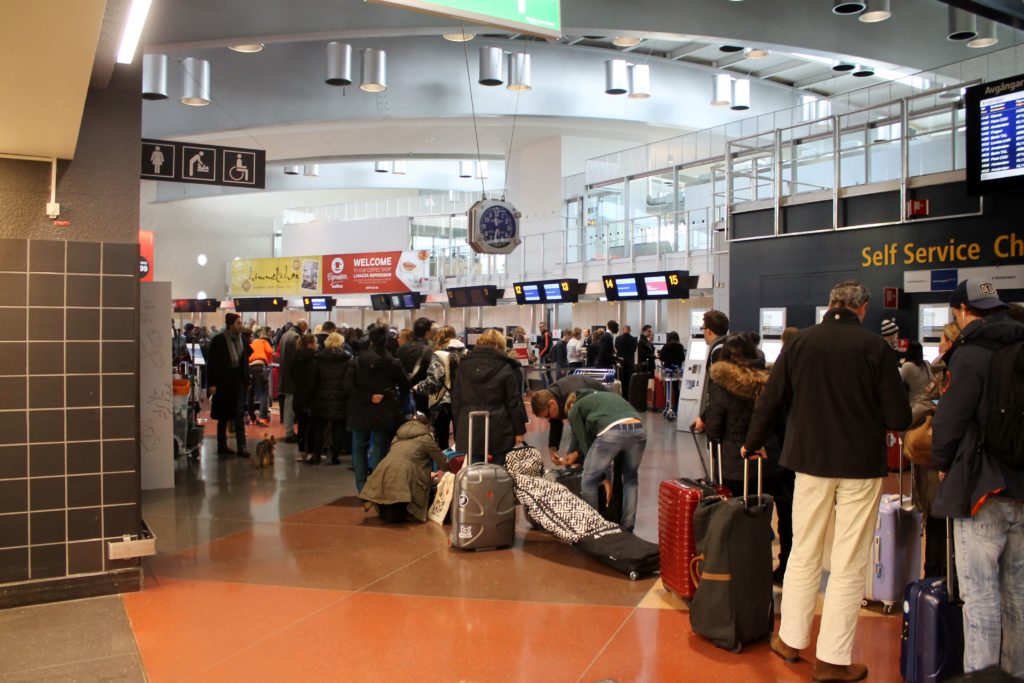 There were just two passengers in line for the single Sky Priority check-in desk, which I could access both flying business class through my Flying Blue Platinum card. A friendly male agent checked me in, tagged my suitcase with a yellow priority tag all the way to my final destination in South Africa and informed me I was invited to use the Menzies lounge in the transit hall.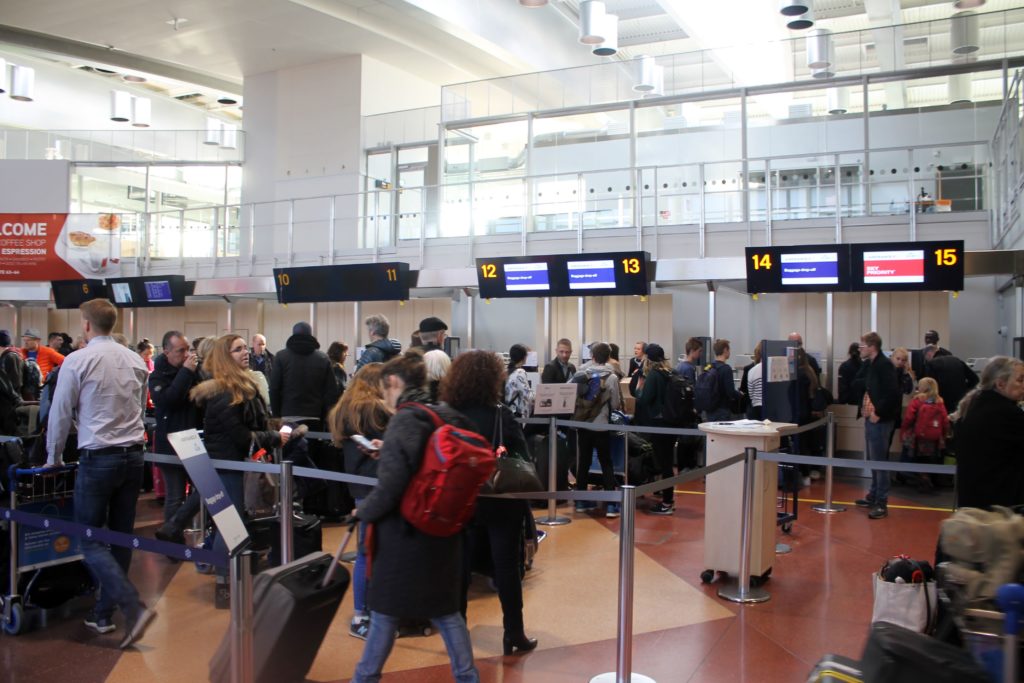 There was a fast track channel through security but the whole process was fairly quick for all passengers. Most others were probably queueing at check-in.
There is just one lounge in terminal 2 used by all airlines. Menzies Aurora Lounge is a rather pleasant lounge divided into several different areas, all with its own design and furniture and with some local Swedish themes.
This afternoon some traditional Swedish Christmas food was offered including potatoes, meatballs, sausages, ham with mustard, vegetables and bread rolls. The drinks selection included wine and beer on tap, soft drinks from a dispenser and a standard selection of spirits. All in all this was not bad, you could easily make yourself a proper lunch, but I would have preferred wines from bottles instead.
Another nice feature was Swedish mulled wine on offer, Glögg, served hot with almonds and raisins.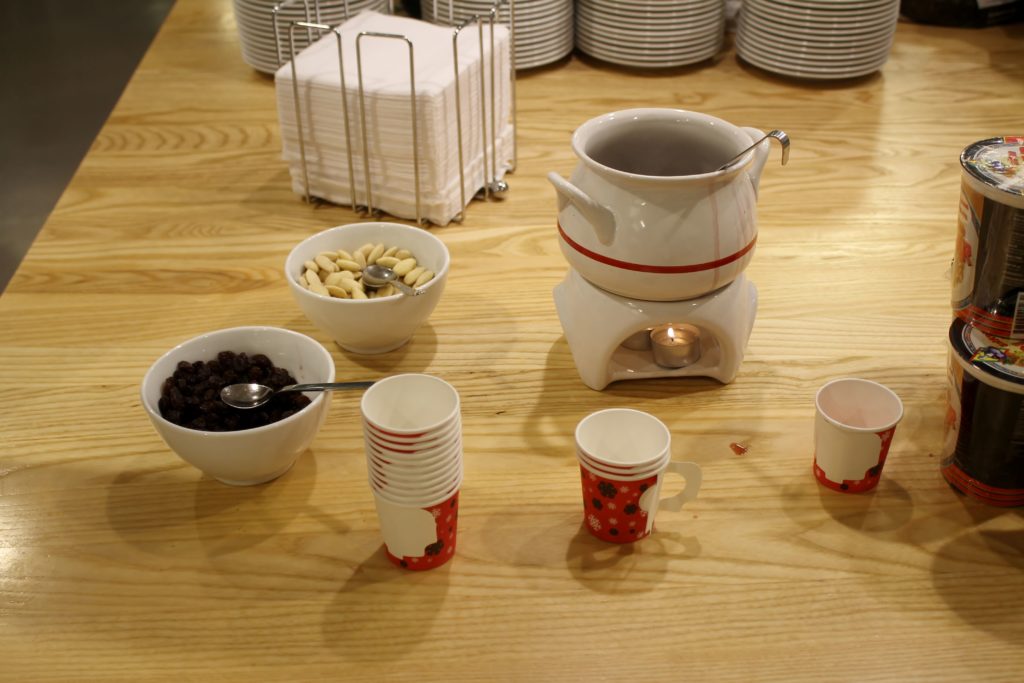 Read the full lounge review here!
The flight
Stockholm-Paris CDG
Air France flight AF 1263
Departure: 13.05
Arrival: 15.45
Business Class
Airbus A320
Seat 01A
Boarding started 20 minutes before departure with priority boarding to the right of the podium. This was clearly indicated using the red Sky Priority sign and the ground staff did an excellent job checking boarding passes.
Apparently the flight was completely fully booked in economy class (they did say the whole flight was fully booked, which was not the case in business class). For this reason they invited passengers with large pieces of hand luggage, or passengers travelling with two pieces, to come forward to have their bags tagged and loaded in the hold to reduce the amount of luggage in the cabin. A few passengers decided to do this.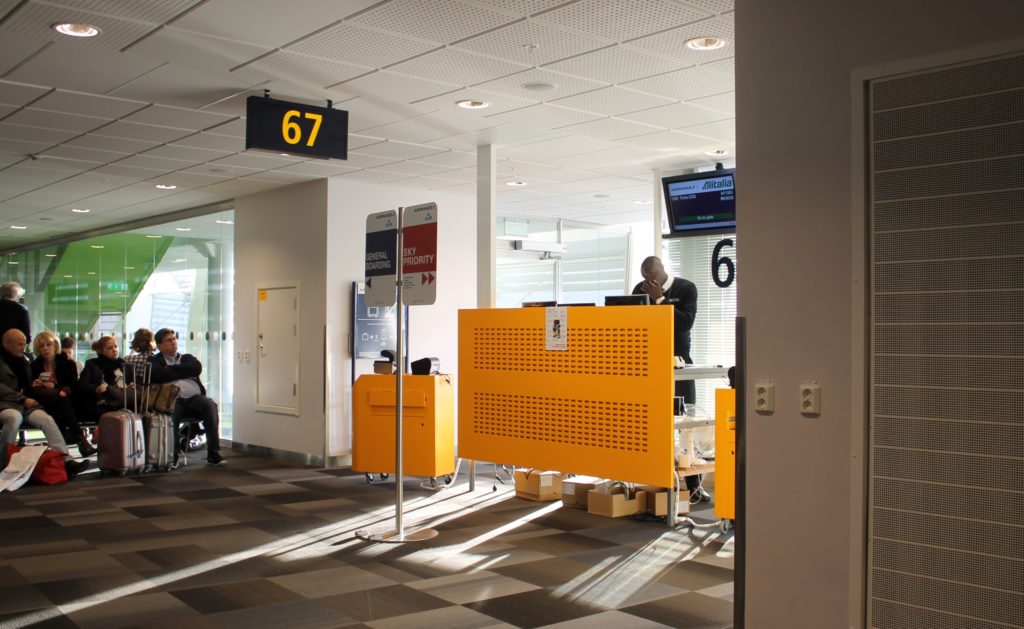 First impression
Business class consisted of three rows, clearly marked by bright red head rests and a blue curtain. I was seated in 01A, a window seat on the first row. At the aircraft door refreshing towels were offered from a stand, these were later offered by the crew to us in business class. Surprisingly no newspapers were offered.

The seat pitch on the first row was decent but a drawback of choosing a seat on the first row is that all cabin baggage has to be placed in the overhead lockers during takeoff and landing. We were four passengers in business class so there was plenty of space. I considered moving to row 2 to avoid the problem with the hand luggage, but decided to stay.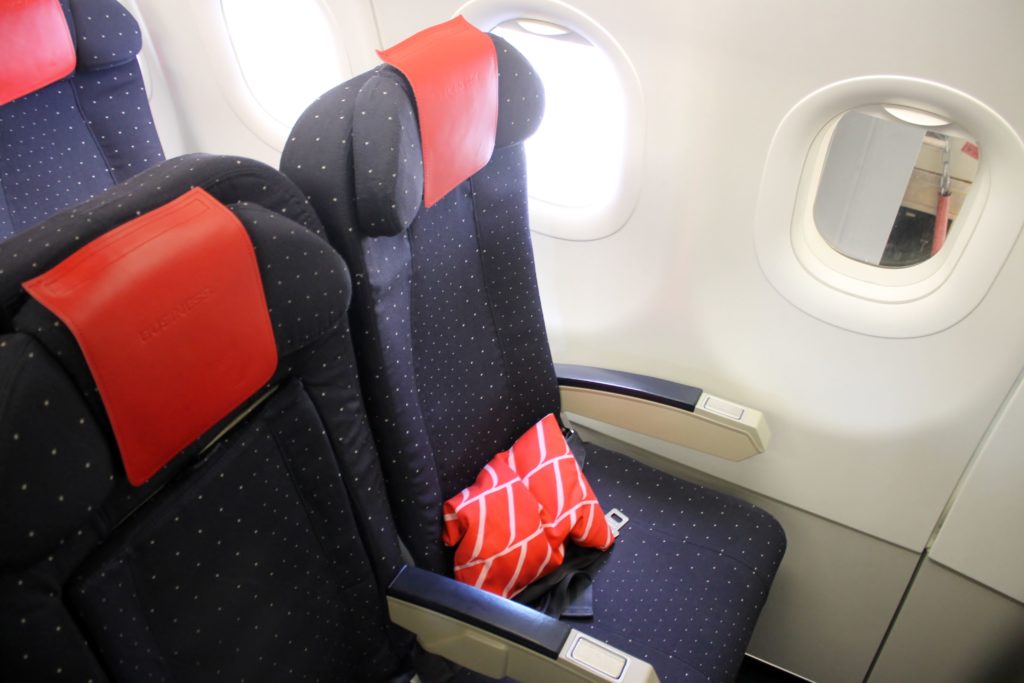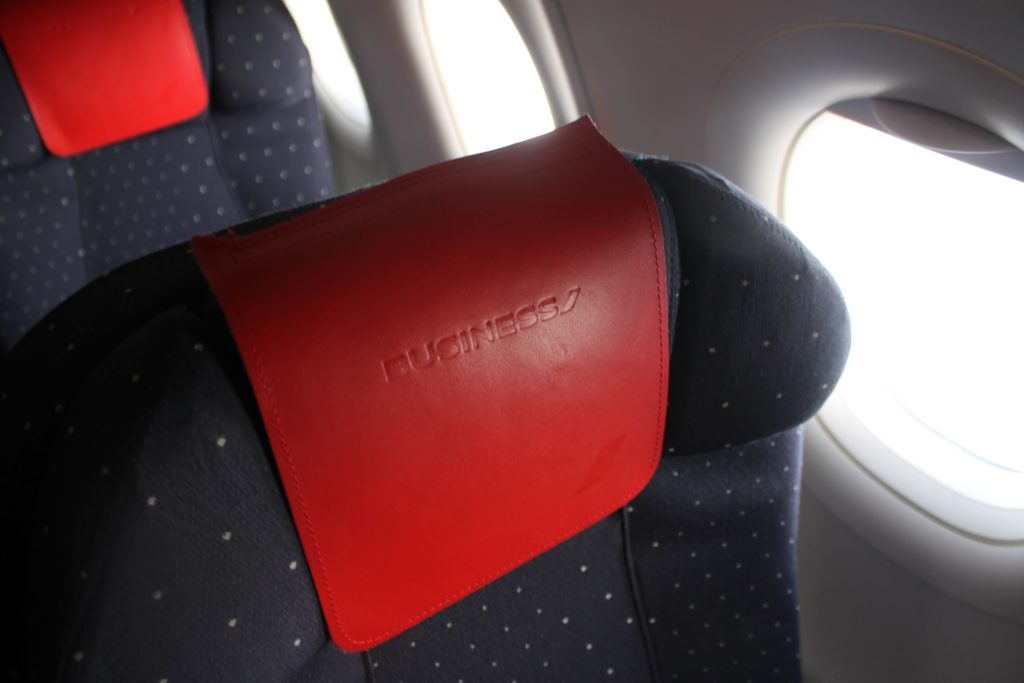 Boarding was completed well in time for an on-time departure but when the passengers were counted there seemed to be a problem. The gate manager was called to the aircraft and later the station manager joined. It turned out the number of infants onboard did not match the number of infants on the passenger manifest. It took a few minutes for the staff to sort this out. As I was sitting on the first row and speak French I could overhear the conversation and as far as I understood an infant had been registered twice, probably with both the mother and the father. At the end it was all sorted out and the doors could be closed. The flight time to Paris was expected to be two hours and 15 minutes.
Food and drinks
Half an hour after departure the meal service started. As expected there were two choices of main course, beef with rice, or pasta. I was the first person to be asked about my choice and I chose the beef.

The presentation of the new meal concept is beautiful. The china is the same used in business class on longhaul flights, accompanied by a white napkin and red salt and pepper shakers.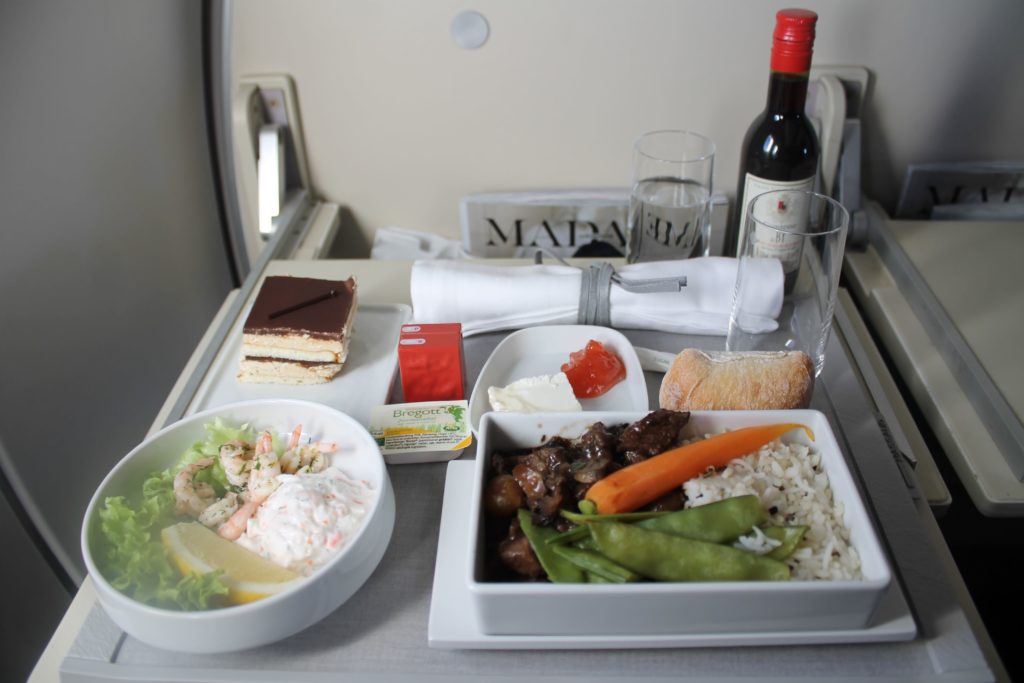 The starter was a rather tasty shrimp salad with a slice of lemon.
The main course was a beef stew served with rice and vegetables. Warm bread was offered by the crew and I asked for a bottle of red wine to drink and a glass of still water.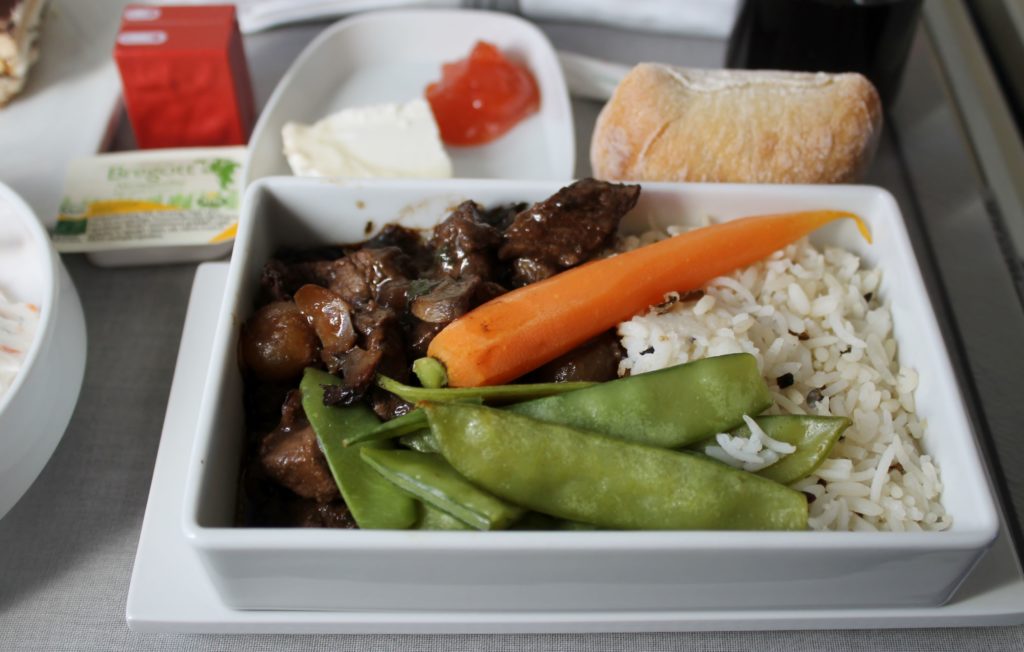 The dessert was a chocolate mousse cake. There was also a slice of cheese on a small plate with some marmalade. I was offered, and accepted, another bottle of red wine and later coffee and tea were offered. Surprisingly the coffee was served in a paper cup, which did not feel premium at all. I am not sure if this is standard in business class nowadays or if they simply ran out of proper cups.
Finally some petit fours were offered from a tray, from Fauchon in Paris presented in a lovely plastic box in the shape of a hand bag with a pink handle. I was also offered a box with chocolate pralines.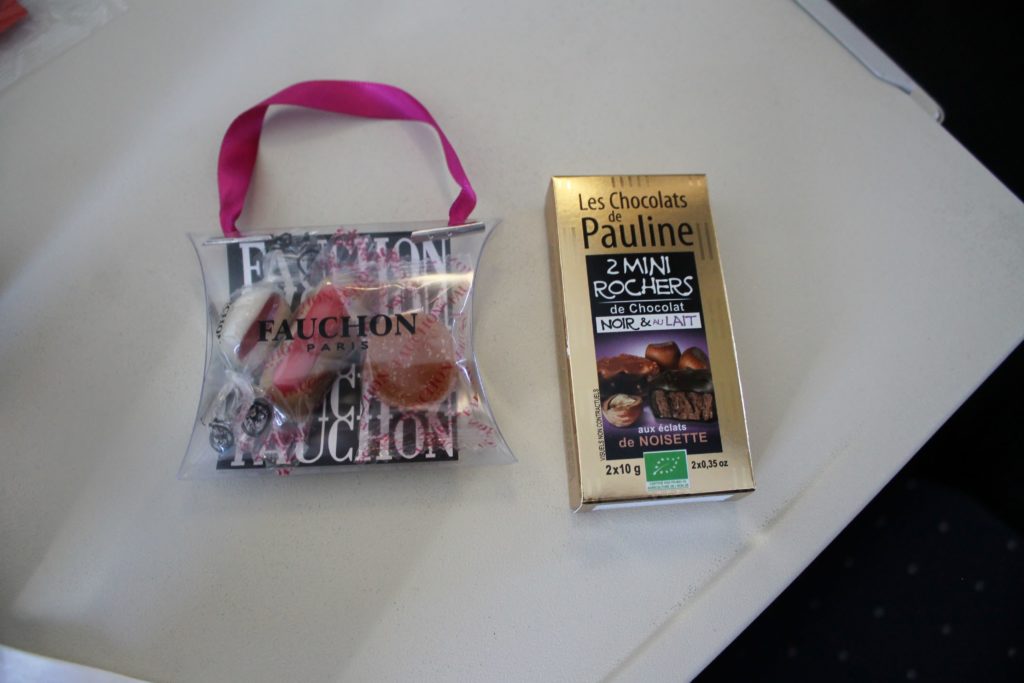 More drinks were offered later during the flight including proper champagne, served from a large bottle.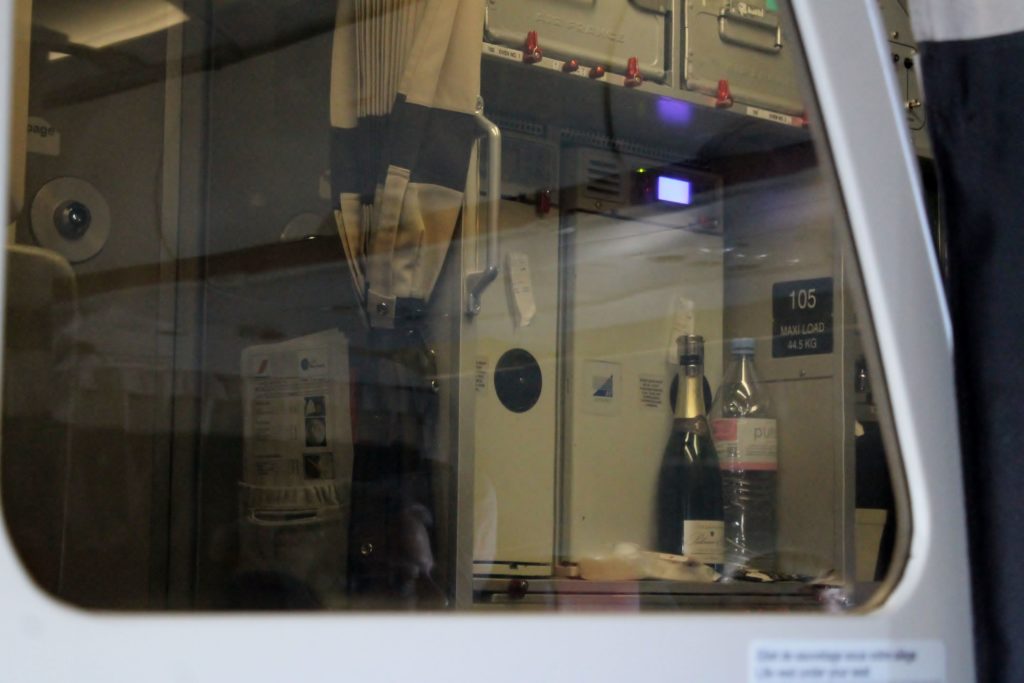 The service
The new service concept also means there is a dedicated flight attendant in business class and this was also the case on this flight. It was the male purser who took care of the business class cabin on the flight.
It took a fair amount of time before the service started though, more than half an hour. According to the press release sent out by Air France a cocktail is to be offered on mediumhaul flights before the meal service, this never happened. It was a bit of a shame as it was a rather long wait before the service started, it would have been nice to get something to drink in the meantime.

Other than that the service was very friendly and attentive, significantly better than in the past when the crew continued to economy class after all business class passengers had been served, and could be away for a fair amount of time before passing the next time. I was well looked after on the flight.
Arrival experience
The late departure from Stockholm meant we arrived a few minutes late in Paris. A few passengers with short connections were quite worried, especially with the ID checks now taking place when entering France also from Schengen countries. The purser was proactive though and offered the passengers with the shortest connections to be seated in business class during landing so they could leave the aircraft quickly after landing.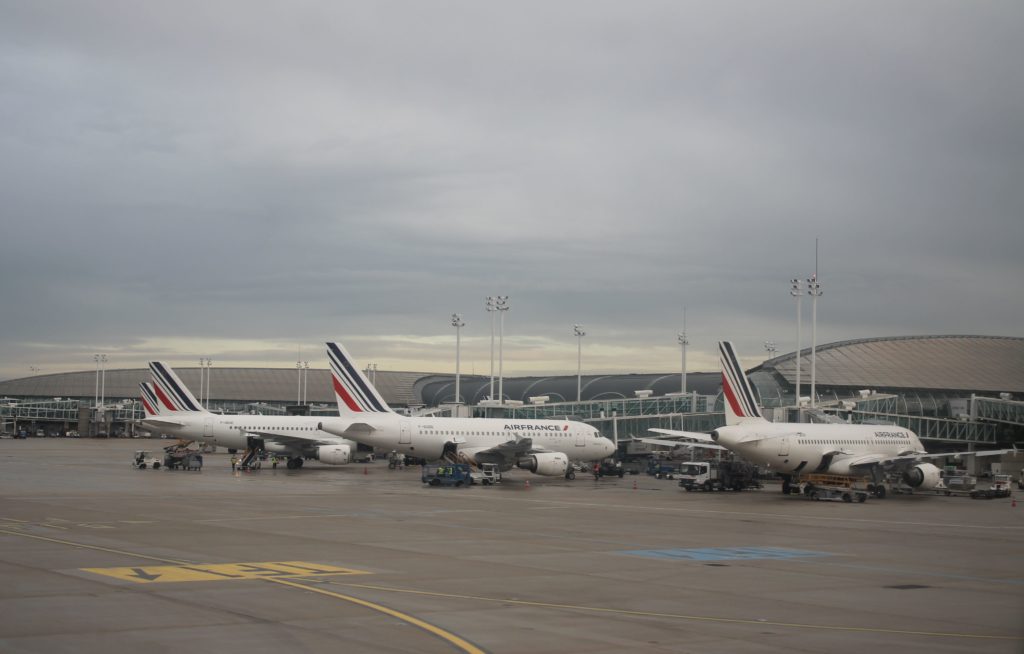 We arrived at Paris CDG terminal 2F where there was an Air France La Première assistant waiting at the door with my name on a sign. While many passengers rushed into the terminal building for their connecting flights we descended the stairs from the jet bridge, away from the crowds, and inside a waiting limo. I was whisked away to the lovely La Première lounge in terminal 2E.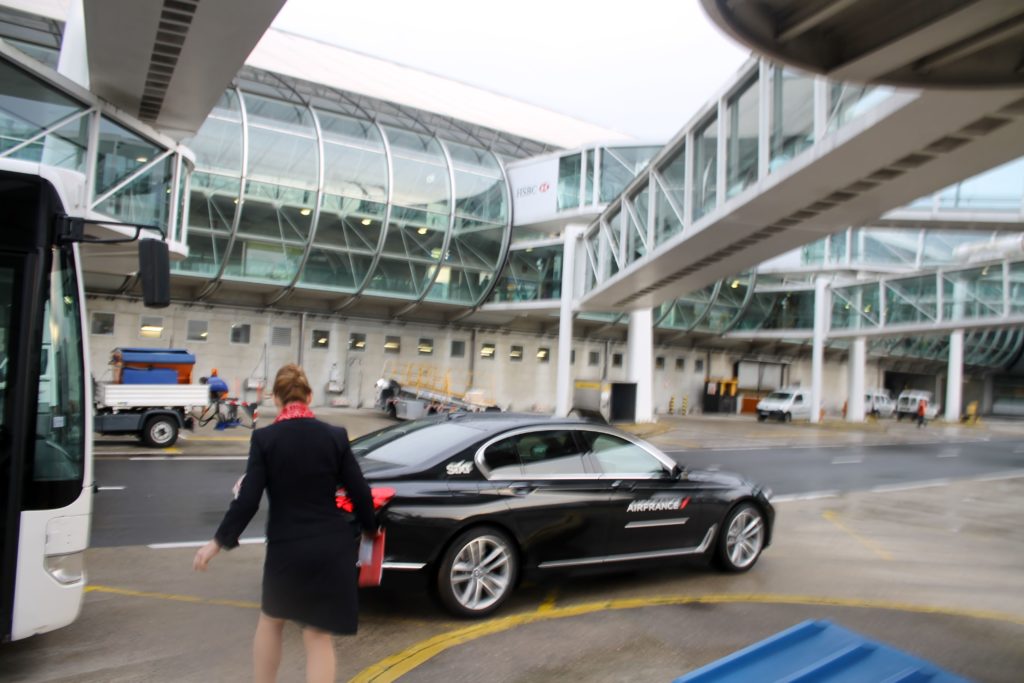 Final impression
This was a very pleasant experience. The new mediumhaul business class concept is a major improvement. The food is much better, the portions are larger, the china is nicer, the presentation is much more elegant and there is a choice of main course, which was not the case before. A flight attendant dedicated to business class also makes a big difference. Thumbs up!