LAM, short for Linhas Aéreas de Moçambique,, nowadays often referred to as LAM Mozambique Airlines, is the national carrier of Mozambique.
The airline used to be rather sizable, operating not only shorthaul flights around southern Africa but also longhaul flights to several destinations in Europe, including the important route to Lisbon in Portugal, since Mozambique is a former colony with Portuguese still the main language in Mozambique, but an EU ban in 2011 put an end to all of that (which not only included LAM but all airlines registered in Mozambique). Although the ban was fully lifted in 2017 the airline has never really fully recovered and nowadays operate on a rather limited scale.
The current fleet consists of only six aircrafts. Two Boeing 737, two Bombardier Dash 8-Q400 and two Embraer 190. 
And today, as of December 2019, the only permanent international destination from Maputo is Johannesburg, although with a handful of other destinations served through codeshare agreements with for example Kenya Airways and Ethiopian Airlines.
I was very excited to give the airline a try, on their only international route from Maputo to Johannesburg. A route which is served twice daily.
The booking was made on the LAM webpage and the process was fairly straight-forward, although I had some problems processing the payment. I got an error message cookies had not been enabled (which is definitely not the case) and eventually I had to use another browser to finalise the booking.
The route from Maputo to Johannesburg has a flight time of just 70 minutes, with an actual flight time of no more than 45-50 minutes, and of course I could easily have survived in economy class. However the price difference between economy class and business class was quite small and I was very curious to see what their business class experience would be like, so at the end it was a fairly easy decision.
Departure experience

I arrived at Maputo airport around 2.30 pm, well ahead of the scheduled departure time at 4.50 pm. The airport is divided into an international terminal and a domestic terminal, which are located right next to each other and which seem to be identical in terms of design and layout.
The check-in area in the international terminal was small but I could only see check-in desks for the delayed SAA flight to Johannesburg. I figured check-in for LAM would open two hours before departure. I had already checked in online but I needed some help printing a boarding pass.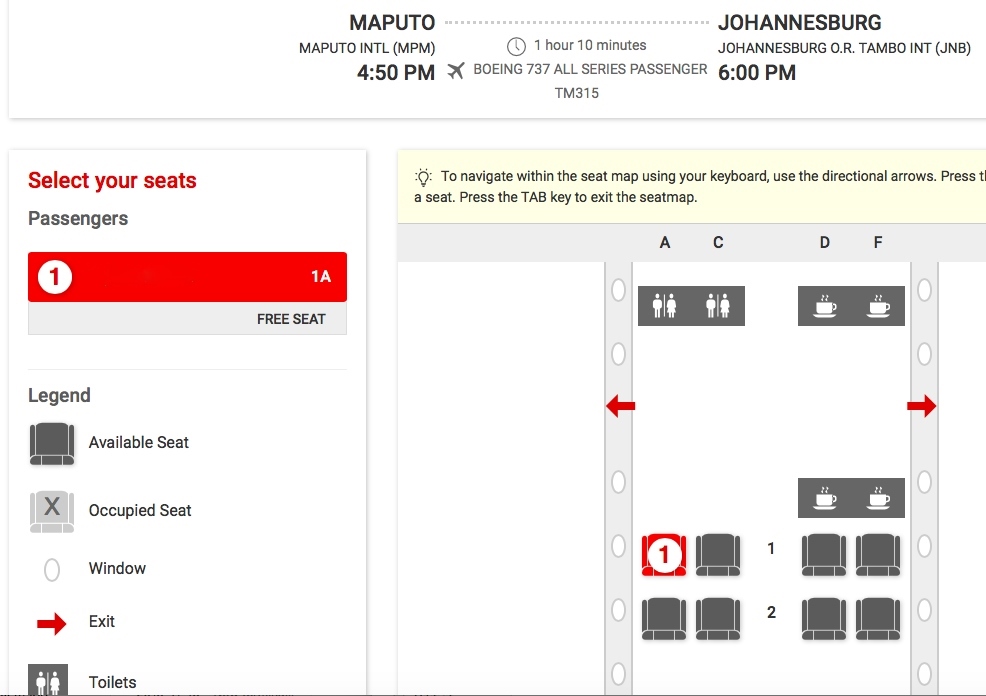 Eventually three women showed up and started preparing three more check-in desks. No announcement was ever made, the check-in screens were never updated so you could see which airline/flight there were used for (not sure if they did that later, after I had left) and no signs were placed next to the check-in area to show which desks were used for business class (I did notice the signs though, still in a corner of the check-in area).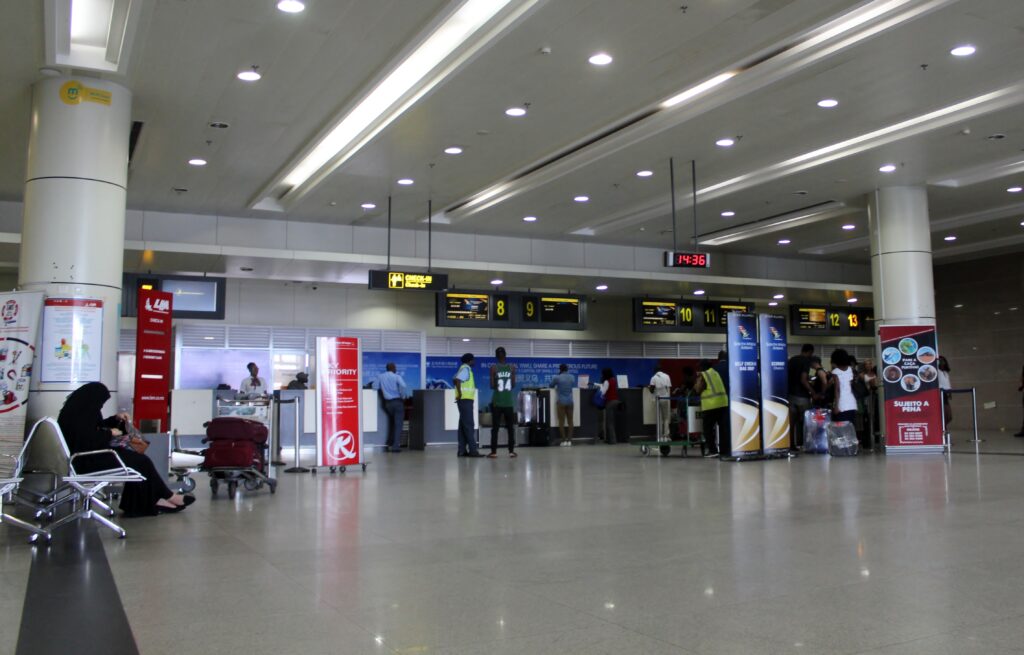 But the three women started checkin people in and since there was no other international flight leaving around that time I figured this must be check-in for LAM to Johannesburg. I approached one of the desks and the woman confirmed it was.
The check-in process lacked the warmth I experienced from many locals in Mozambique. The check-in agent was quite surly. She did everything she was supposed to but with no smile or no genuine interest, even to me travelling in business class.
I was only travelling with hand luggage, two pieces and expected this not to be a problem since I was travelling in business class. And it was not, however she wanted to see and weight my larger bag and eventually put on an 'approved hand luggage' tag on it.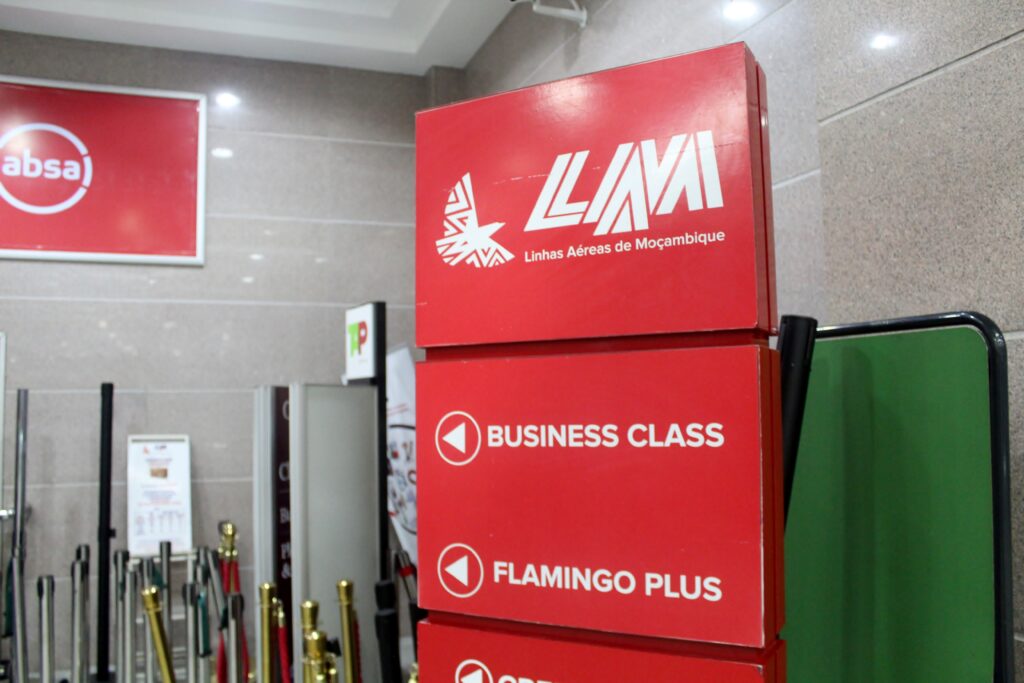 Security control and passport control on the upper floor were quick. The main transit hall afterwards was surprisingly spacious with an impressive number of shops and cafes given such a small number of international flights.
And there was also an impressive number of lounges, three to be exact. Two third-party lounges called Executivo 2000 Lounge and FNB Pearl Lounge. And actually also a LAM Lounge called LAM Flamingo Lounge.
Why LAM still operate a lounge in the international terminal at the airport is beyond me. Although the lounge is also used by Kenya Airways and Ethiopian Airlines we are still talking about no more than four flights per day. How can they justify operating a lounge for four daily flights? And with at least one staff member working in the lounge. And especially when there are also two third-party lounges they could use. I would guess it is all about prestige.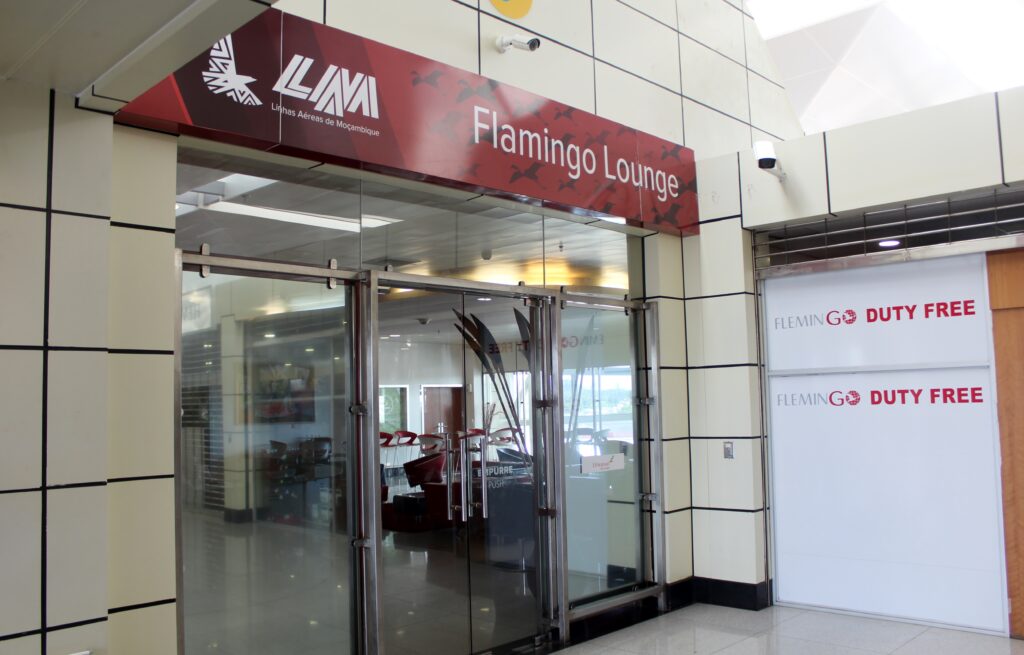 But the lounge itself is not that bad, and especially not for a smaller African airport like Maputo. The Flamingo Lounge is fairly spacious, has large panorama windows (just facing the drop off area though) and some modern furniture and contemporary art. Also worth mentioning are the red barstools, in the shape of a flamingo (which is also the name of the lounge).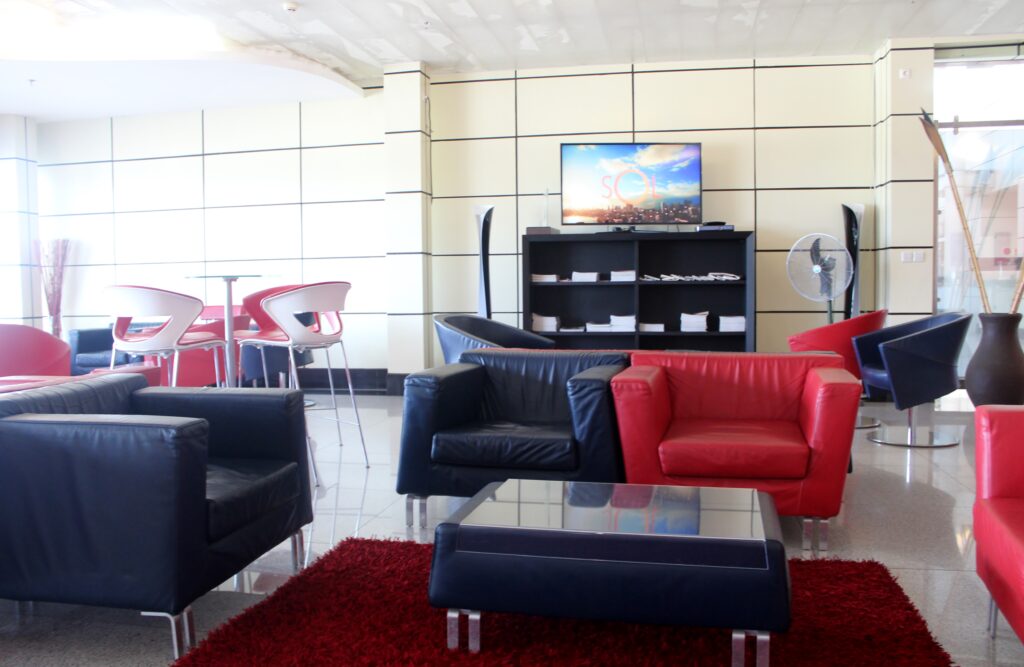 The selection of food, or rather the selection of snacks, was limited to some sandwiches, cold snacks, cookies and pastries. There was also a fridge with beer and soft drinks, a coffee machine and a table with spirits.
Throughout the visit, which lasted around 40 minutes (I also made a brief visit to the Executivo 2000 Lounge using my Priority Pass) I was the only guest, so I presumed I would be the only passenger in business class on the flight. However just as the boarding time passed two more passengers showed up and barely had time to grab a cup of coffee before the lounge attendant informed us boarding was about to start at gate 3.
I later learned that flight TM 315 was a two-segment flight starting in Pemba in Mozambique, making a stop of 50 minutes in Maputo before continuing to Johannesburg. Since Pemba-Maputo is a domestic leg and Maputo-Johannesburg an international leg passengers travelling between Pemba and Johannesburg need to disembark in Maputo to pass through passport control. So the two passengers who arrived at the end were transfer passengers on that flight who seized the opportunity to make a brief visit since the lounge was literally around the corner from the gate.
Read the full lounge review here!
The flight
Maputo-Johannesburg
LAM Mozambique Airlines flight TM 315
Departure: 16.50
Arrival: 18.00
Business Class
Boeing 737
Seat 02F

Boarding at gate 3 was somewhat disorganised. It seemed like there was one queue for passengers embarking in Maputo and another one for transfer passengers from Pemba (who had been given plastic boarding passes). There was no mention of any priority boarding for business class passengers.
The aircraft was parked on the apron, not using any of the passenger bridges available but at least within walking distance from the terminal building, so we did not have to take a bus.
Presumably they did this to be able to easily separate domestic passengers and international transfer passengers with just 50 minutes on the ground in Maputo.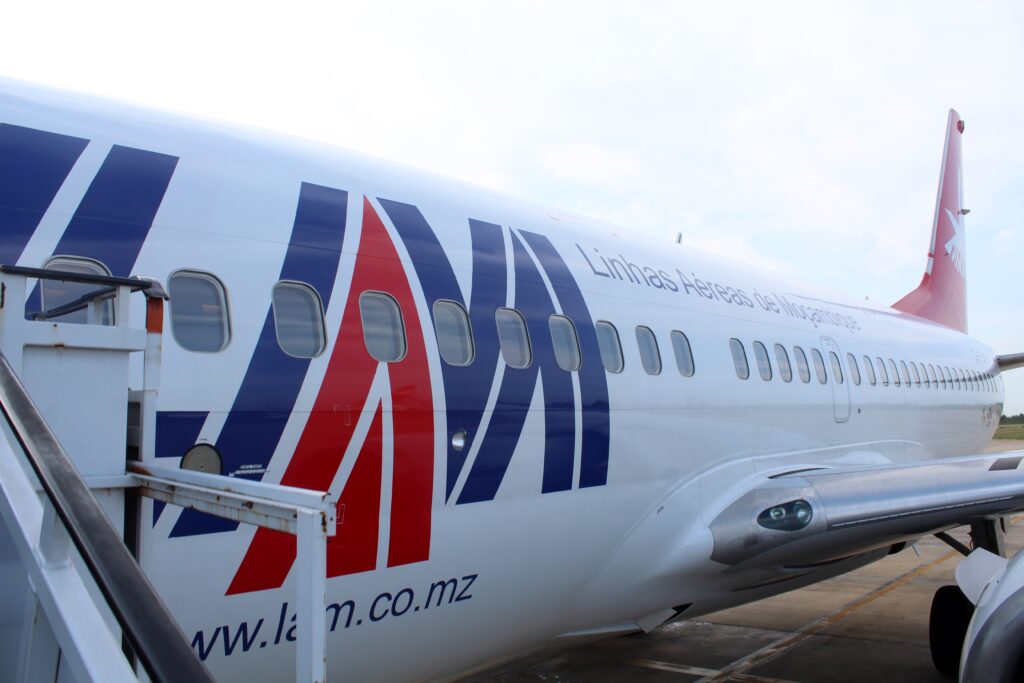 First impression

The aircraft used to Johannesburg was a Boeing 737-700. They have two Boeing 737 aircrafts in their fleet, both of the -700 version. In the inflight magazine they mention that these are Boeing 737-700 NG (Next Generation) aircrafts. Possibly the other one is, but this one was most certainly not, having been around since 2004.
But as expected from an African airline there was a proper separate business class cabin with proper business class seats, eight in total.
Although the seats had evidently been around for some time and were anything but new (the aircraft was previously used by airlines such as Lucky Air and Transair Congo) on the whole it still gave a reasonable first impression. Or rather, it was all pretty much as expected. Mo more no less.
When I made the booking I was the only passenger in business class and this was also the case during online check-in the night before. However when boarding was completed all seats but one were taken, which meant there were seven people in business class . Or rather we were three proper paying passengers, me and the couple I saw in the lounge, and four were pilots (or possibly airline employees) who were probably 'upgraded' as there were seats available in business class. Luckily the seat next to mine stayed free.
Newspapers were offered and we pushed back right on time at 4.50 pm.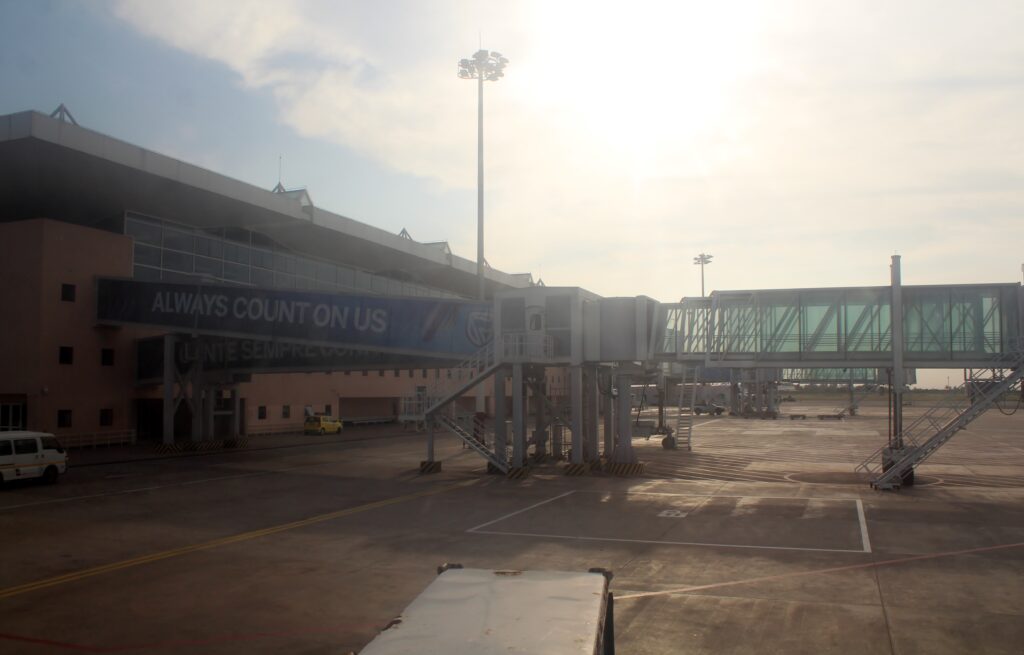 It was a very short taxi from our parking stand to the runway threshold, much shorter than it took to complete the safety demonstration in two languages. But interestingly we were asked to line up on the active runway before the safety demonstration was completed, and before the cabin had been checked, which took a good 2-3 more minutes. That would surely never have happened at most European airports. But on the other hand Maputo is not the busiest of airport.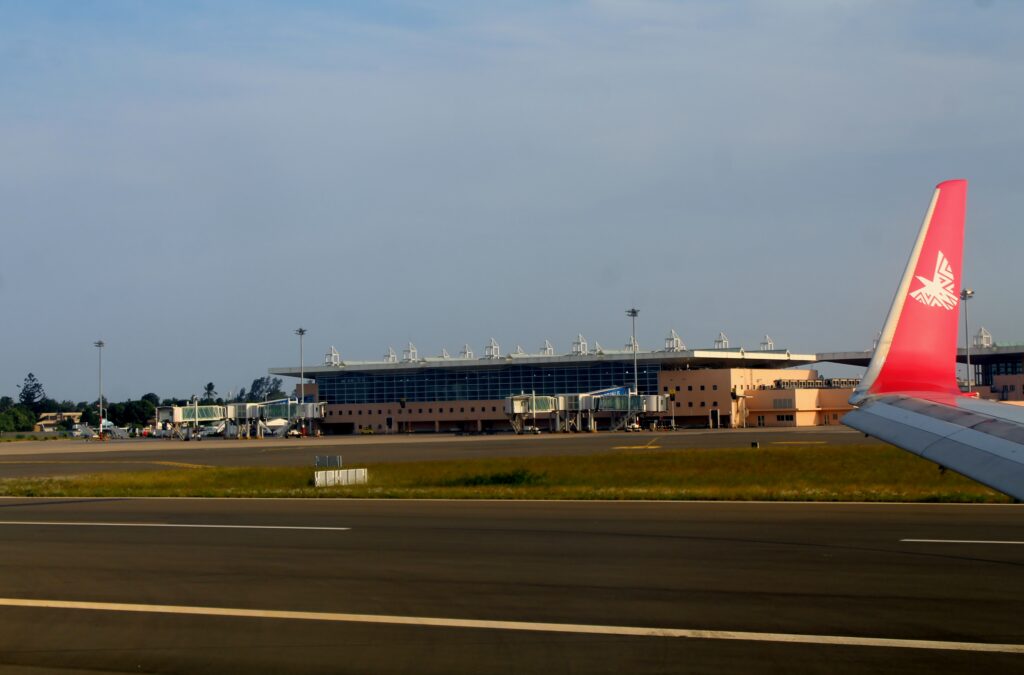 The initial climb provided a nice view of the northern parts of the Mozambiquan capital and the beautiful coastline with its many beaches. The flight time to Johannesburg was expected to be around 50 minutes.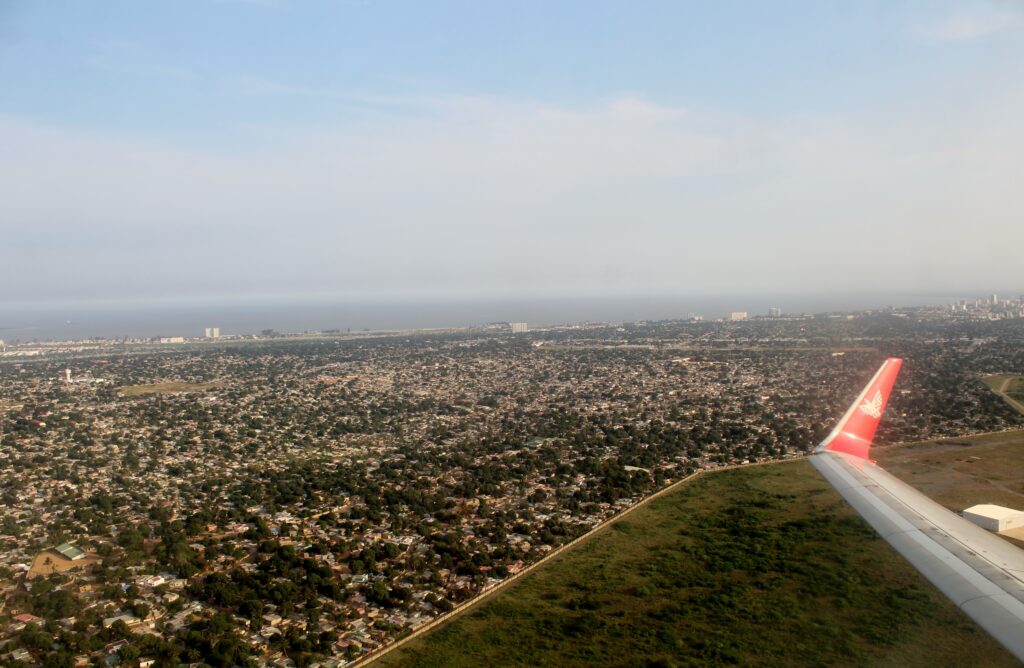 Seat and cabin

There were two rows of business class with a 2-2 configuration, instead of 3-3 in economy class, which meant eight seats in total. I had selected 02F on the second row.
The seat was an older version in dark blue leather, which had presumably been around for some time but which provided a decent seat comfort for a flight of around an hour. I have not managed to find any official numbers but I would guess the seat pitch was around 38" in business class. Each seat also had an individual footrest.
Food and drinks

As soon as we had reached a safe altitude the inflight service immediately started and the purser passed through the business class cabin handing out the meal trays.
And this is where I noticed one of the, well lets say 'areas of improvement' at LAM. The trolley had no breaks. Normally the trolleys used for meals and drinks have breaks with two pedals (one for break and one for release). The purser did his best to 'park' the trolley leaning against the armrest of one of the passengers in row 1, but some turbulence caused the trolley to move and fortunately both me and the pilot sitting in 02C noticed what was about to happen and immediately reacted and stopped the trolley from moving forward towards the economy class cabin.
I thought the breaks might be broken, which to be fair could happen, but when the trolley passed my seat on the second row I had a proper look and I really did not see any pedals. And I know where they are supposed to be and what they are supposed to look like. There simply were none, and the purser knew it.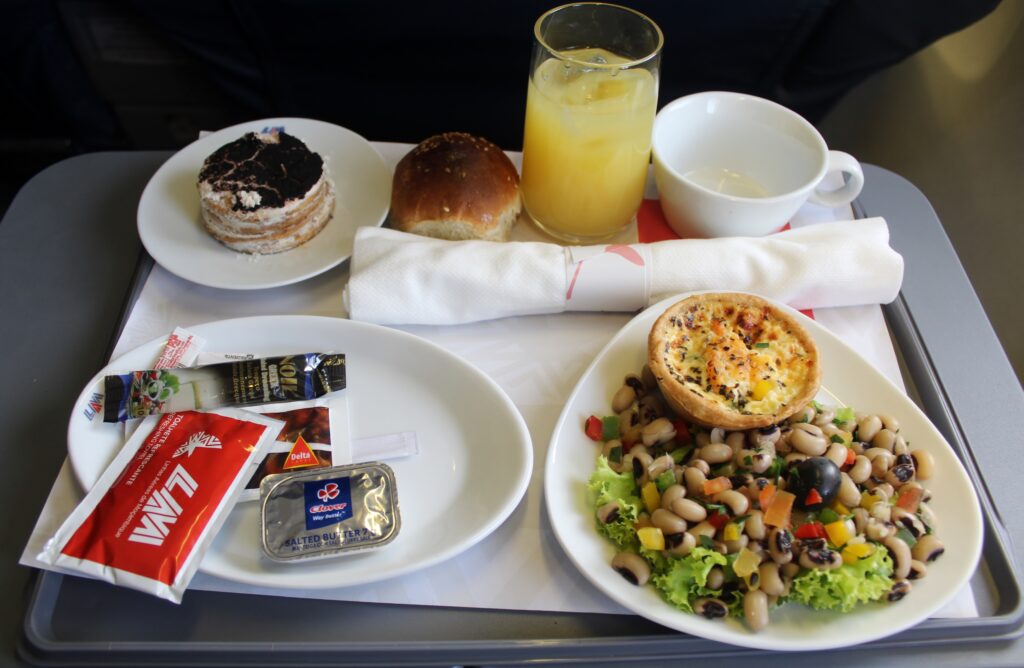 Back to the inflight meal, a cold dinner consisting of a quiche with beans and vegetables. Perfectly fine but nothing to get terribly excited about.  Bread rolls were offered from a basket and there was also a chocolate mousse dessert on the tray.
Drinks were also available on the trolley, served in proper glasses. I did not see any wines, nor any spirits, but on the other hand I did not ask about it either. But there were all kinds of soft drinks and I am pretty sure I saw some beer cans available as well.
According to the LAM webpage there should be both champagne and wines available in business class, or Classe Executiva as they call it, but again I never asked about it. I settled with a glass of orange juice.
The coffee service was also rather interesting. There was a cup on the tray but also a single-serve container with instant coffee, from Delta Cafes. So the crew probably only had to add some hot water, however I was never offered any (but again I did not ask about it). No refills were offered, the purser basically came to my seat and asked me if I had finished, the tray was removed and that was it.
Inflight entertainment
There were overhead screens available in the cabin, including on the wall in front of row 1, but they were never turned on.
There was a rather good inflight magazine though with some interesting information about Mozambique and LAM, which I browsed through with some interest.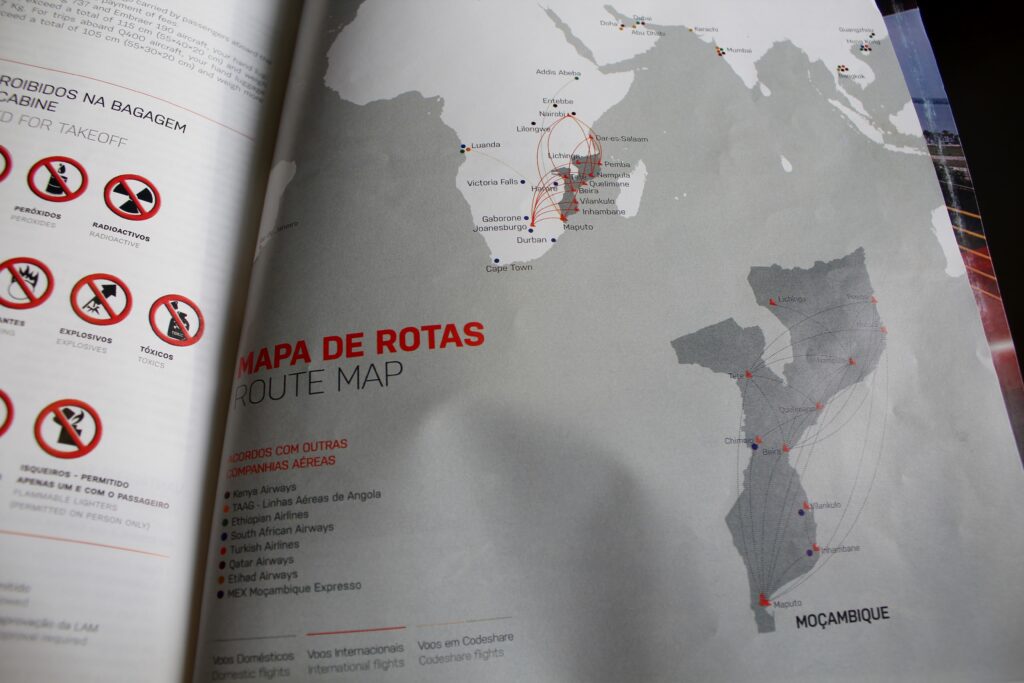 The service

The service was very much by the book, no more no less. The cabin crew were much like the check-in agent in Maputo. They did everything they were supposed to and were not rude or unapproachable in any way, but there was no real enthusiasm, nor any interest to do anything out of the ordinary.
I know LAM is owned by the government of Mozambique and to some extent when looking back at the visit to Mozambique I can notice a pattern in the people I encountered, a difference between those working for the state/government (in one way or another) and those working in private companies.
I stayed at the Radisson Blu Hotel in Maputo and all the staff there were delightful, all the from the driver of the airport shuttle to the bartender a the pool bar. They were always smiling and always had a warm approach, just the experience you can get in many parts of Africa. This in contrast to most people at LAM, as well as at for example the immigration counters at the airport, which had none of that.
Arrival experience

The flight was quick and by the time my meal tray had been cleared we had already started our initial descent towards Johannesburg.
We landed at O.R. Tambo airport a few minutes ahead of timetable, just before 6 pm.
Just before landing another small error was made, which shed some light on the actual state of the airline. When the captain was to contact the tower in Johannesburg he pressed the wrong button and instead of pressing the one to speak to ATC he pressed the one to speak to the passengers. So in the cabin we could hear "Johannesburg Tower, Mozambique 315, established visual approach runway zero three right".
Although anyone could naturally make a mistake, after nearly 2000 flights I have never experienced anything like that before. For an experienced pilot flying one of the most common aircraft types in the world, the Boeing 737, it is quite remarkable that you make this kind of mistake, one of the most basic tasks which is part of the work as a pilot.
The aircraft parked at the remote stand and we were taken to the terminal building by bus. Since I only had hand luggage I could follow the signs for international connections to check in in the international transit area for my longhaul connecting flight.
Final impression

It is always interesting to try new airlines and I am glad I did. But LAM would probably not be my first choice of airline in the future and given their very limited network there is little chance their flights would even fit my travel patterns. Overall they did what they were supposed to, no more no less. Punctual departure and arrival and their Flamingo Lounge was actually not bad. But most of the staff just felt indifferent, even to me as a paying business class passenger, and some of the mistakes that were made were simply embarrassing, such as the lack of proper signage at check-in, the trolley having no break and the captain pressing the wrong button to call ATC during the approach. 
I am definitely happy I did this and given that the EU has lifted the ban after a proper safety audit I have very little concerns regarding the safety of LAM. But as for the passenger experience there are so many better options if you want to fly to Maputo.