Departure experience
I arrived at Cape Town International airport 90 minutes before the 2 pm departure to Johannesburg. The airport is very pleasant to use with the new central departure and check-in area which opened for the FIFA World Cup in 2010.

Johannesburg is easily the most popular domestic destination with several airlines operating the route and one departure at least every hour. British Airways, South African Airways, Mango, FlySafari and Kulula all operate this route. Then there are also flights to the smaller Johannesburg Lanseria airport.
The line for the economy class and bag drop counters was very long but there was almost no line for the premium check-in desks, it took less than a minute before it was my turn to check-in. This afternoon I was booked to fly Cape Town-Johannesburg-Durban, all booked on one ticket with British Airways. There are nonstop flights between Johannesburg and Durban but as a transfer in Johannesburg would provide the double amount of Tier Points in the British Airways Executive Club at a reasonable cost it ended up being my choice.
To my surprise it turned out the female check-in agent could only tag my luggage to Johannesburg as through-check of luggage is not offered on domestic itineraries via Johannesburg. The fact that I booked both flights on one ticket, with same airline and the fact that I am a Gold cardholder with British Airways did not make a difference. It is just not allowed, for some reason. It surprised me a lot considering British Airways is a full-service airline.
Anyway, I was checked in all the way and received boarding cards for both flights but my suitcase was only tagged to Johannesburg where I had to pick it up and recheck it again. I had two hours between flights, which I knew would be more than enough as baggage delivery is usually very quick in Johannesburg. Also the suitcase was tagged with a priority tag, a white one with "Club" written, and these usually come out first.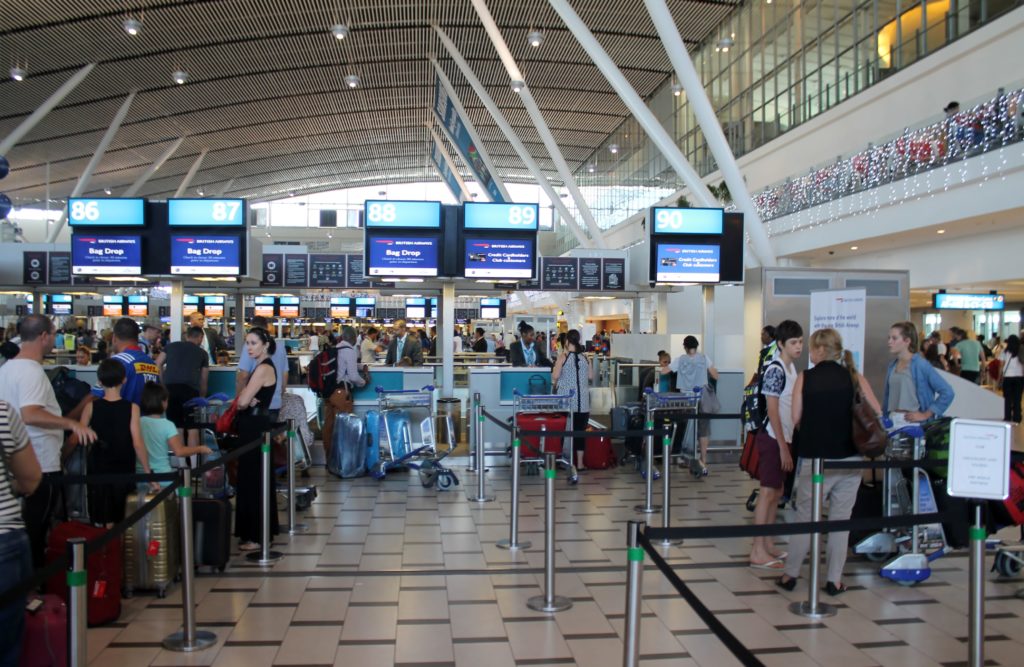 There is no fast track for business class passengers at the airport but the security control was very quick anyway. Afterwards international passengers turn left and domestic passengers turn right to separate transit areas. In the domestic area there is a food court and a few shops but really not much else to see and do.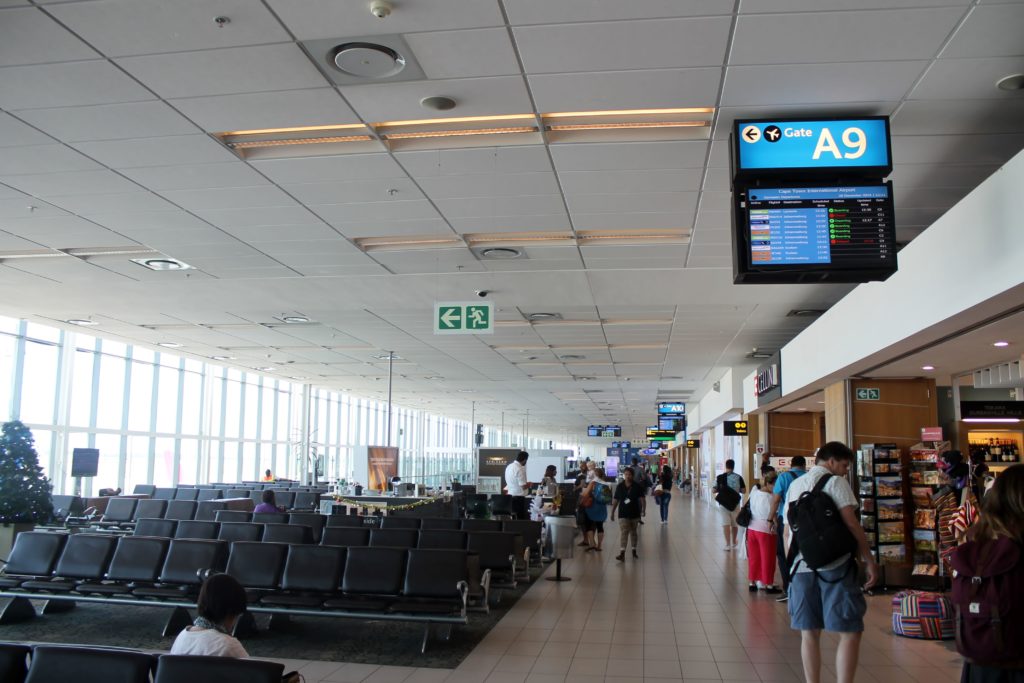 British Airways uses the SLOW Lounge at Cape Town airport. This is technically the British Airways lounge as no other airlines use it but in contrast to their own Galleries/Terraces lounges the SLOW lounges are run by a third-party company and are also available to some credit card holders. There are also SLOW lounges in Johannesburg and Durban.
The SLOW lounges are fantastic places to wait for a flight. These must be among the best domestic lounges in the world given the attractive design, the superb service level, the nice facilities and the very extensive selections of food and drinks.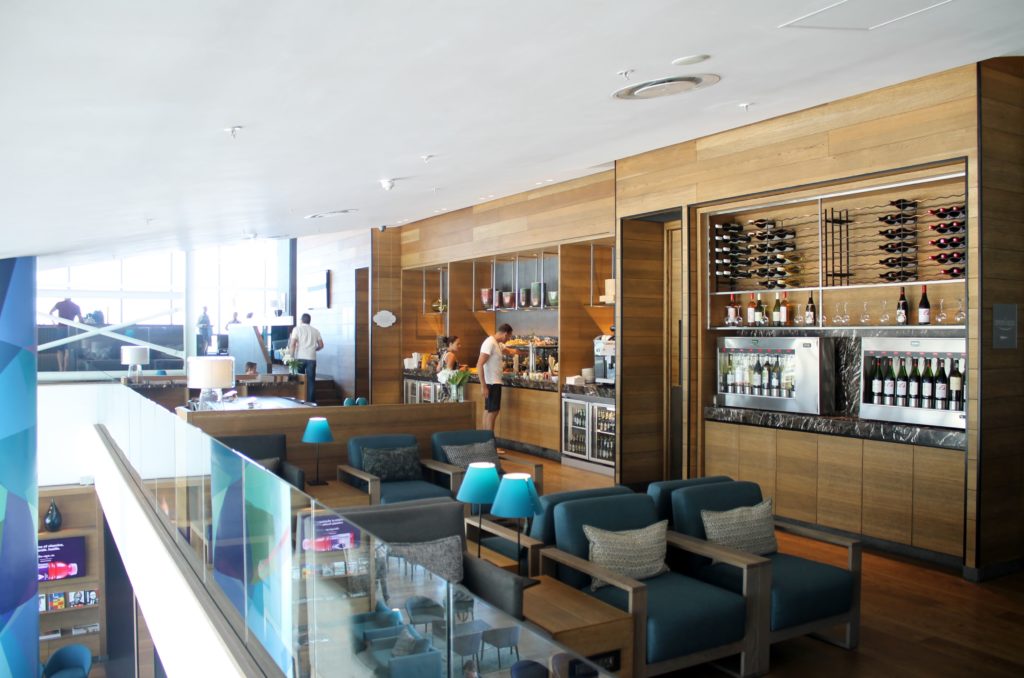 In the Cape Town lounge there are two self-service buffet areas with a very cool presentation, one upstairs on the balcony and one downstairs in the main lounge. Fresh coffee is brewed by a barrista while there is a wine bar upstairs with several different South African wines for self service. There are also several TVs, newspapers and magazines and free wireless internet. And last but not least the service is excellent and there are many staff members working, frequently clearing tables.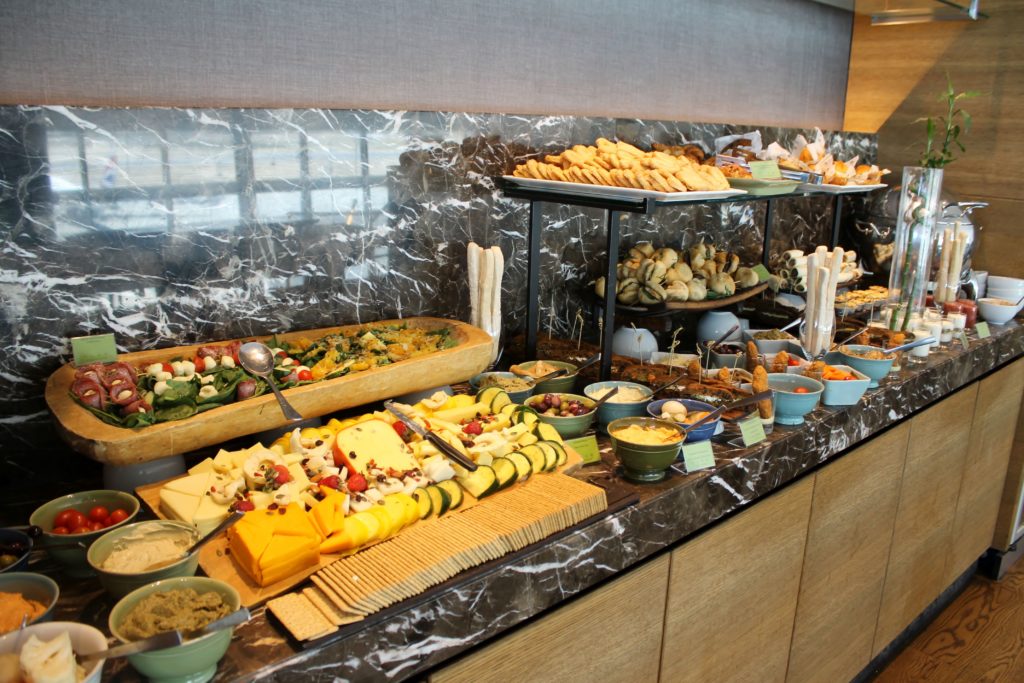 I also had time to make a brief visit to the newly renovated Bidvest Premier domestic lounge, which had received a major facelift since my last visit and now had a completely new design, making it significantly nicer than in the past.
The flight
Cape Town-Johannesburg
British Airways/Comair flight BA 6416
Departure: 14.00
Arrival: 16.00
Business Class
Boeing 737-800
Seat: 01F
Boarding started 20 minutes before departure with proper priority boarding for business class passengers as well as OneWorld Ruby, Sapphire and Emerald passengers (which means British Airways Bronze, Silver and Gold). There was a separate line for premium passengers making the priority boarding process easy for the staff.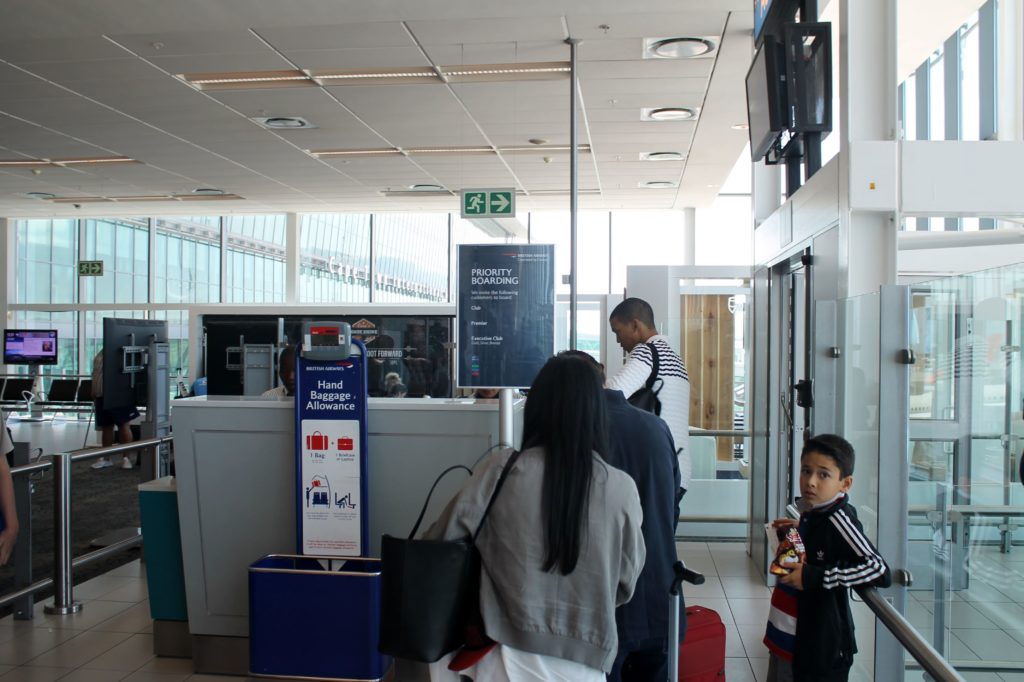 The flight to Johannesburg was operated using a Boeing 737-800. The British Airways domestic flights in South Africa are operated by Comair with an all-Boeing 737 fleet consisting of ten Boeing 737-400 and four newer Boeing 737-800 aircrafts. The airline has also order the Boeing 737 MAX 8 to be delivered between 2019 and 2022.
First impression
I was positively surprised to see that this was one of the newest aircrafts of British Airways/Comair in South Africa with the new cabin interior, significantly nicer than the cabin products offered on some of the older Boeing 737-400 aircrafts.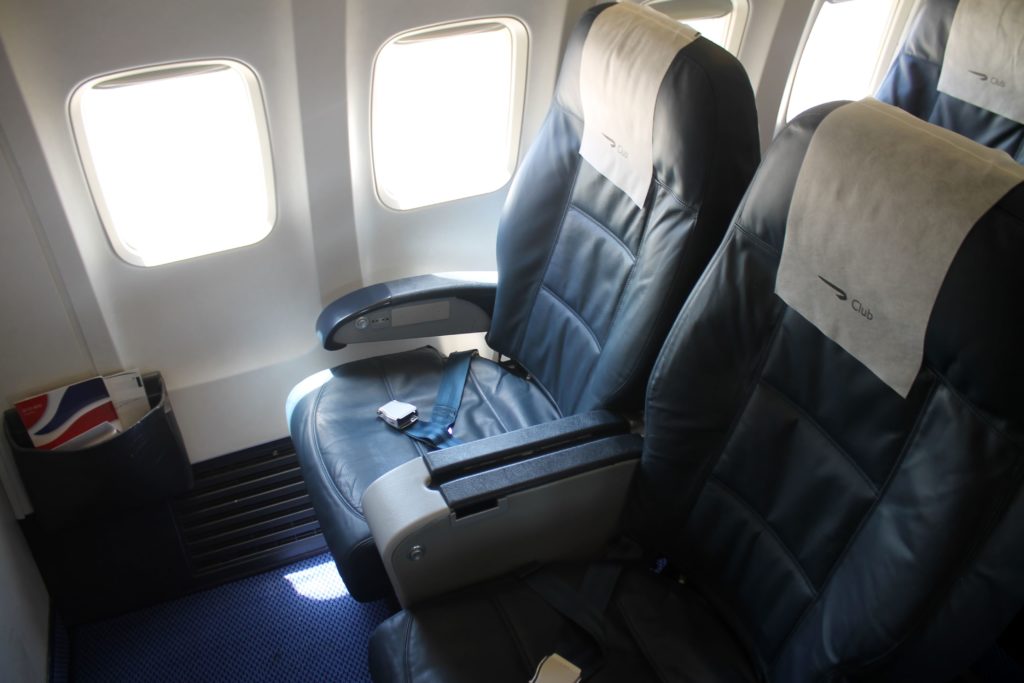 I had booked seat 01F on the first row with an excellent amount of legroom even though all cabin luggage obviously had to be placed in the overhead bin during takeoff and landing. In contrast to the other rows in business class there are only two seats on the right hand side on the first row, and the seat next to mine remained empty.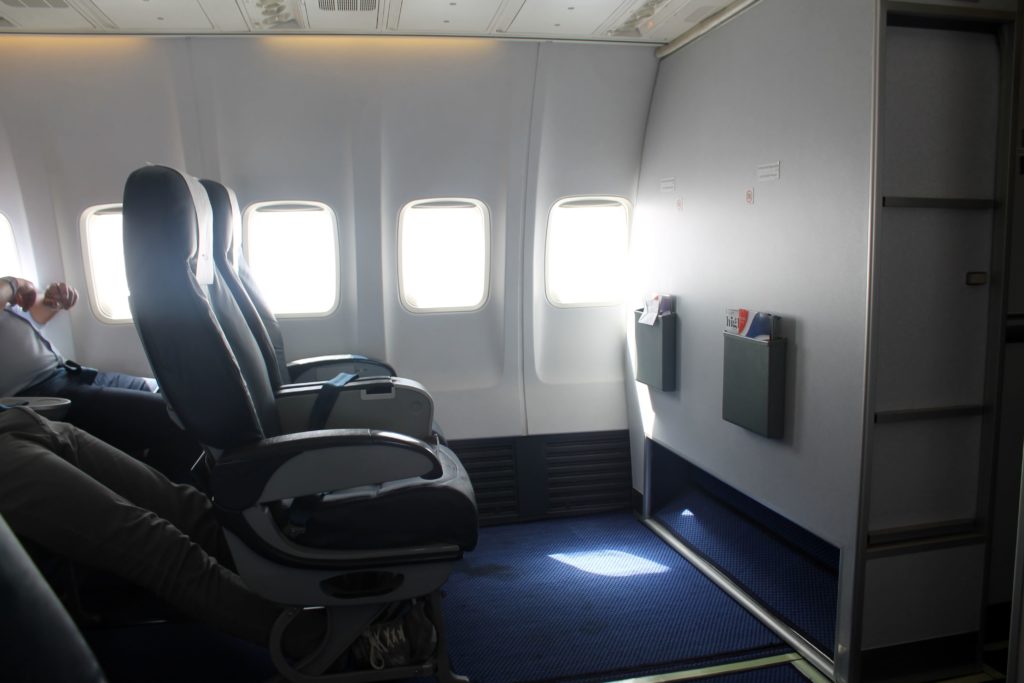 Before departure I was offered a choice of orange juice, water or sparkling wine. I chose the latter. A selection of South African newspapers in English were also offered.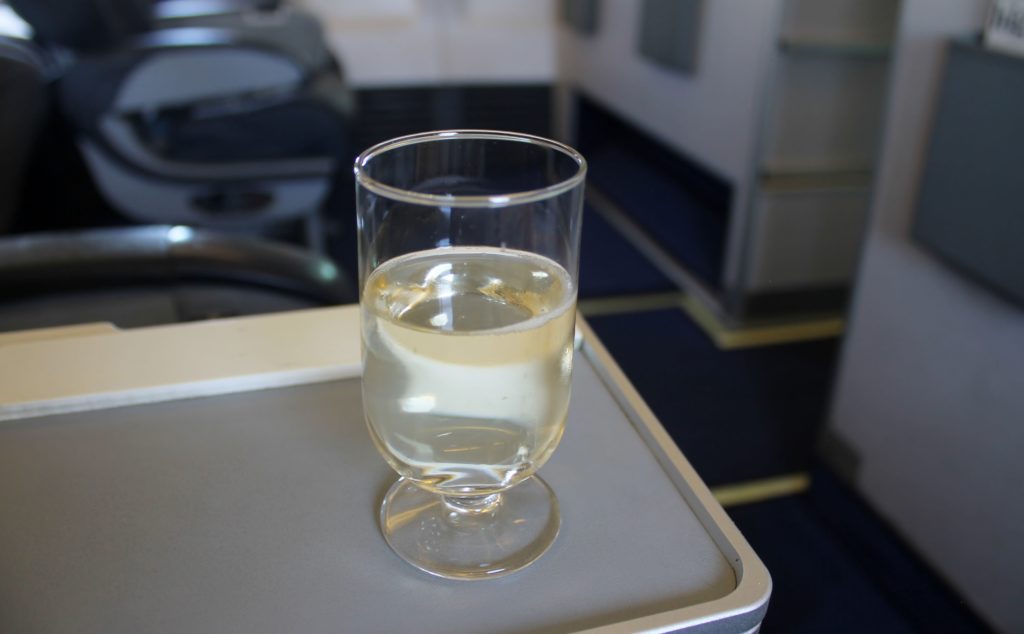 Pushback was very punctual at 2 pm with a flight time to Johannesburg of one hour and 45 minutes. The apron at Cape Town airport is very interesting to see with so many longhaul aircrafts parked there during the day. Most aircrafts arrive in the morning and then depart again in the evening.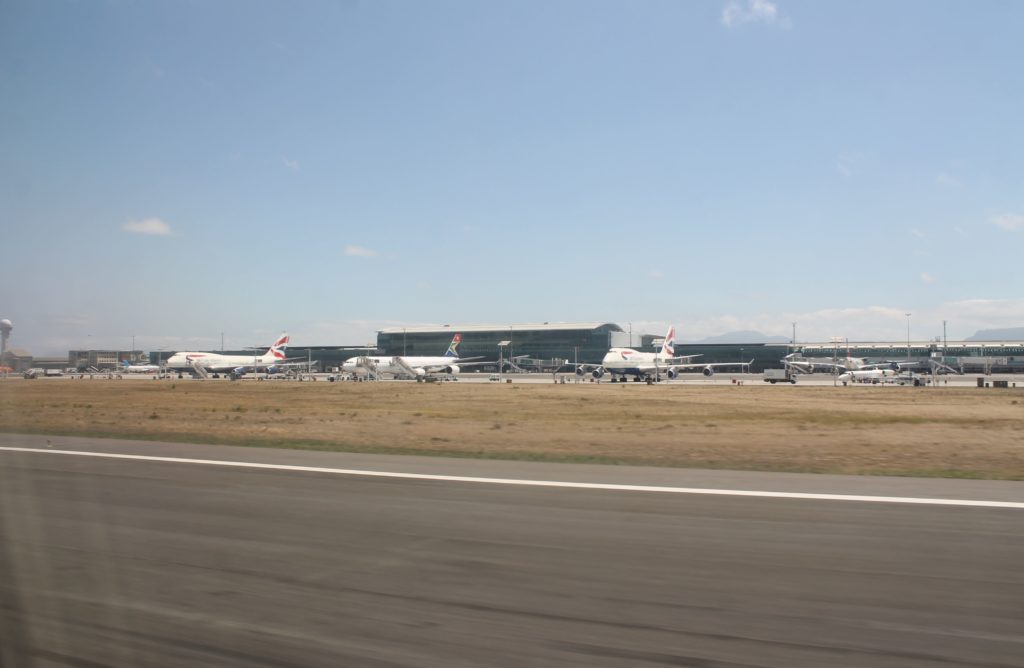 The initial climb provided a nice view of the Cape Peninsula and False Bay.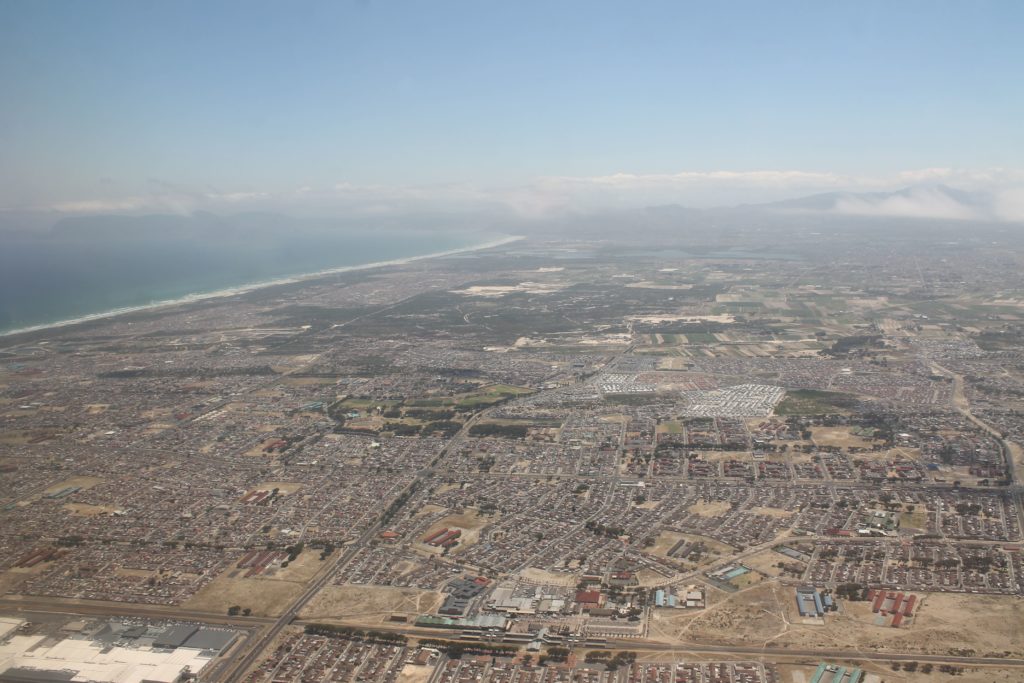 Seat and cabin
While the British Airways business class product within Europe is called 'Club Europe' and the longhaul one is called 'Club World', in South Africa they simply call it 'Club'.

On the Boeing 737-800 there are five rows of 'Club' with a 2-3 configuration, except on the first row where there is a 2-2 configuration. On this aircraft the new rather comfortable leather seats had been installed with a decent seat comfort. However, although there are proper and somewhat larger seats available in business class with a different configuration than behind the curtain there is one major drawback on these flights, the middle seats are not blocked. If the flight is full and you check in late you may get a boarding pass for seat 03E, right between two other passengers.
Although British Airways Club Europe (shorthaul intra-Europe business class) is rarely anything to write home about when it comes to comfort, at least no one will ever get a middle seat.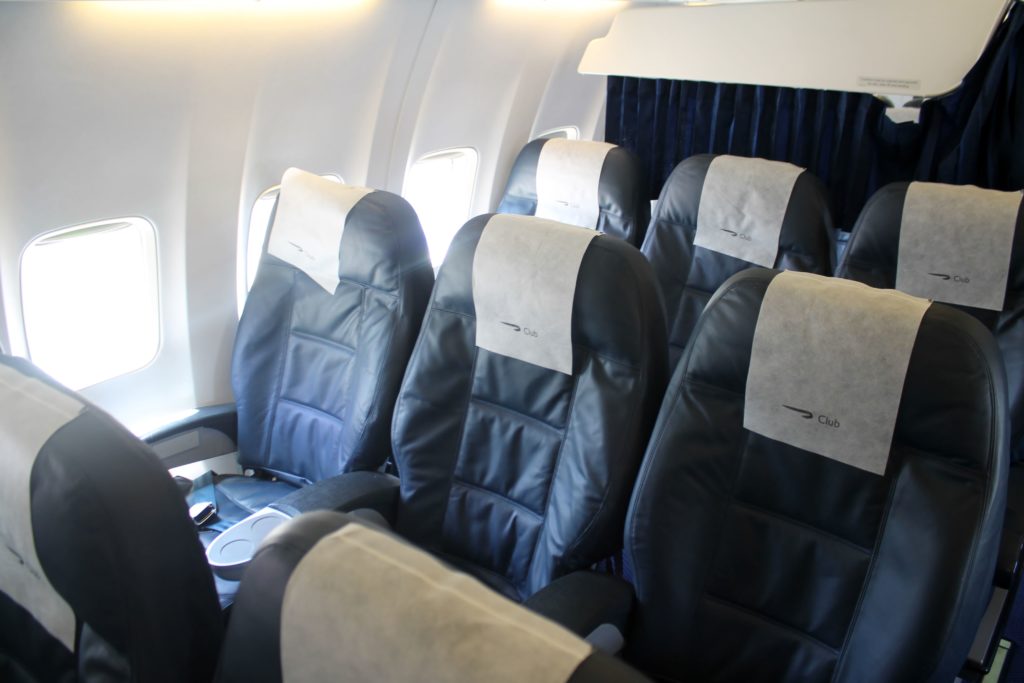 Food and drinks
Once in the air the inflight service started with a cocktail service. I asked for a glass of white wine and had two wines to choose between, a Cabernet Sauvignon and a Sauvignon Blanc. I asked for the latter which was served together with some nuts.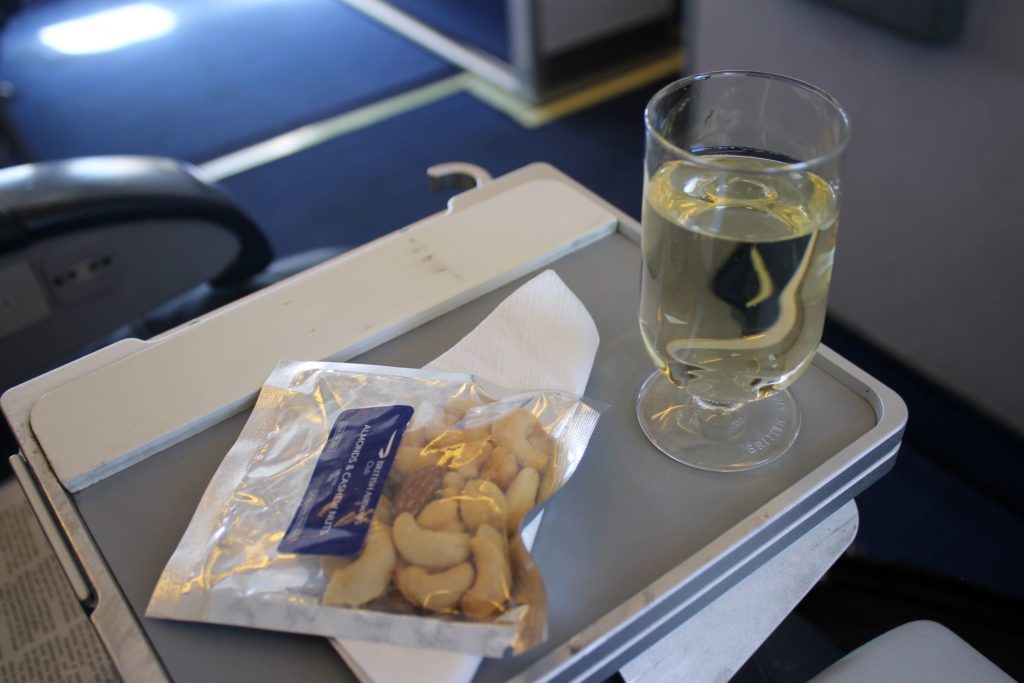 Next the meal tray was handed out and it turned out a cold meal was served on this afternoon flight to Johannesburg consisting of some kind of meat, potatoes, vegetables and curry sauce. At lunch and dinner times there is usually a hot meal offered on the same route.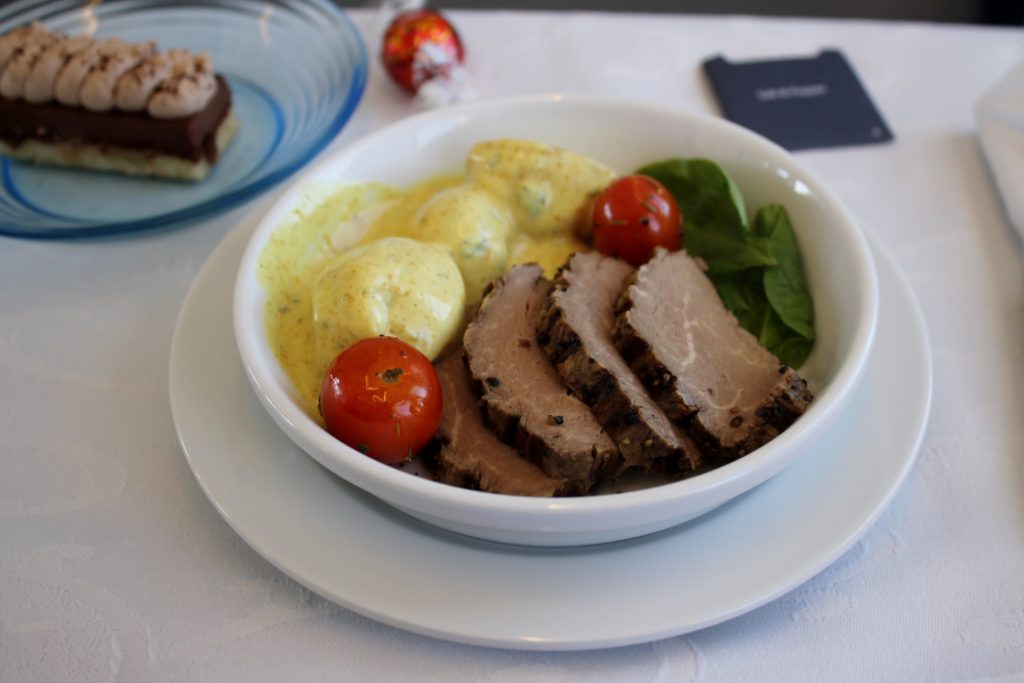 The dessert was a chocolate cake and a Lindt chocolate praline.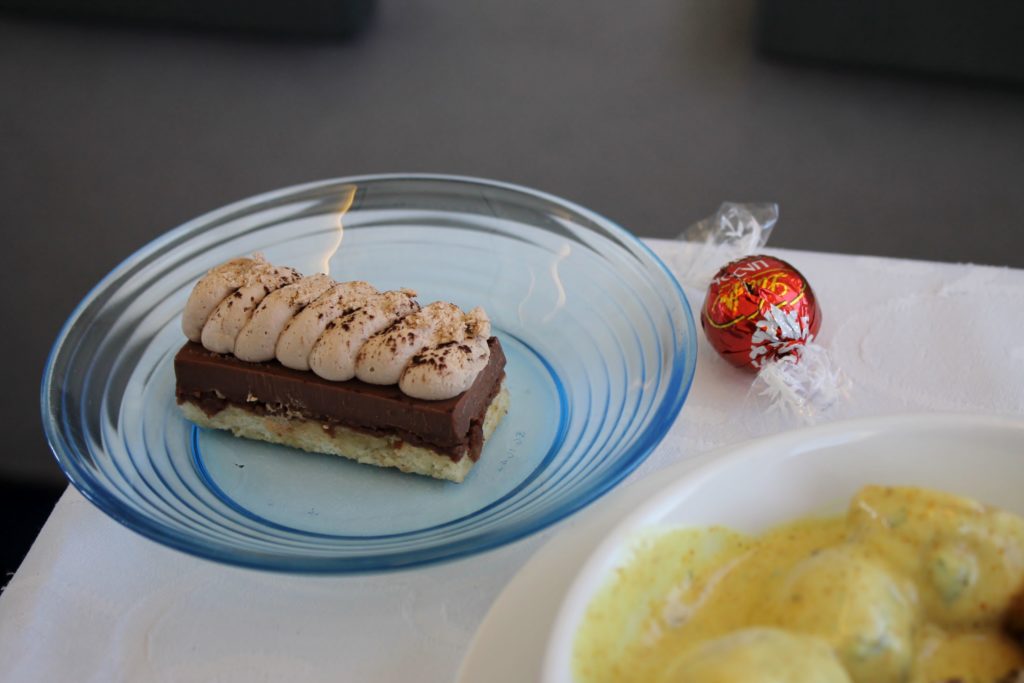 More wine was offered from the cart, served from large bottles, and finally coffee and tea were offered.
Later during the flight I asked for a gin & tonic, served with ice and lemon. They serve Tanqueray brand onboard.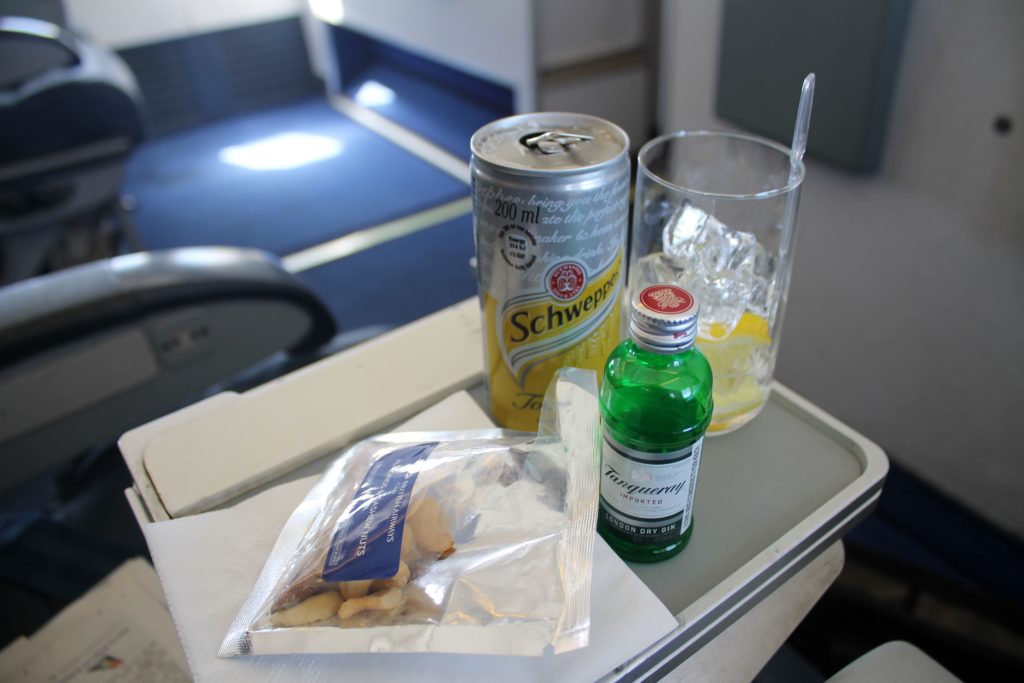 The service
The service was friendly and attentive with no less than three cabin crew members serving in business class, occupying five rows. That was obviously far better than the equivalent service level you would get on an intra-European flight. However there was no noticeable recognition of me as a gold card holder with British Airways, no one came to greet me or offered anything extra, but on the other hand there was not much missing anyway.

Arrival experience
We landed ten minutes ahead of timetable at Johannesburg O R Tambo international airport.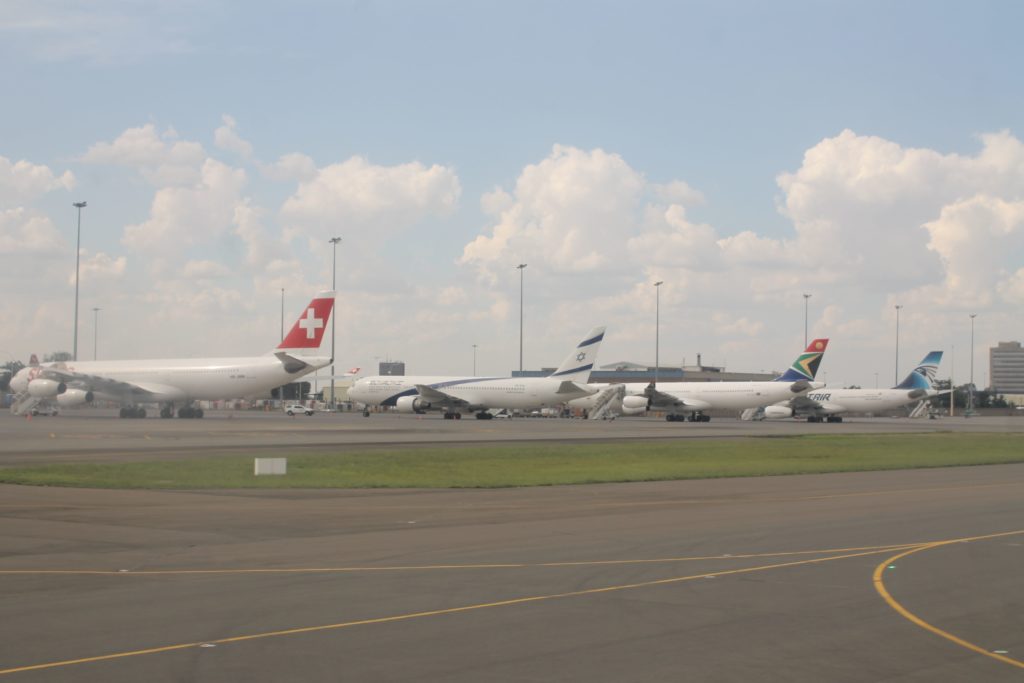 OR Tambo is an interesting airport given the number of widebody aircrafts from a large number of international airlines parked next to each other on the apron during the day. Most flights arrive in the morning and then return back to the hub in Europe in the evening.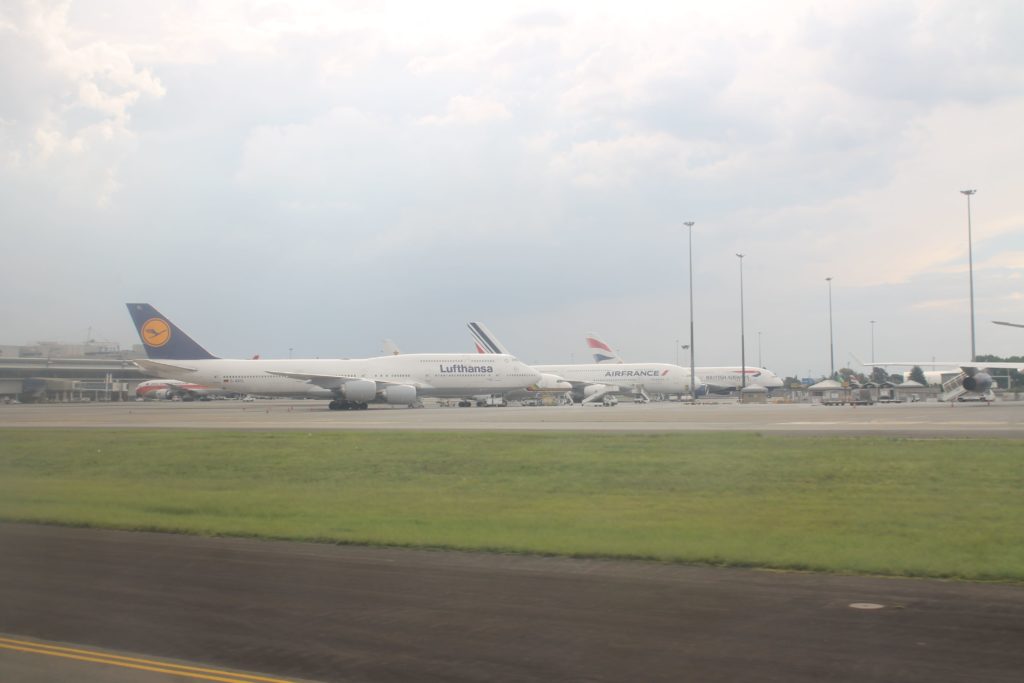 The checked luggage arrived fairly quickly and the priority tag worked like a dream. Priority baggage delivery almost always works perfectly in South Africa, even when travelling on a narrowbody aircraft like a Boeing 737.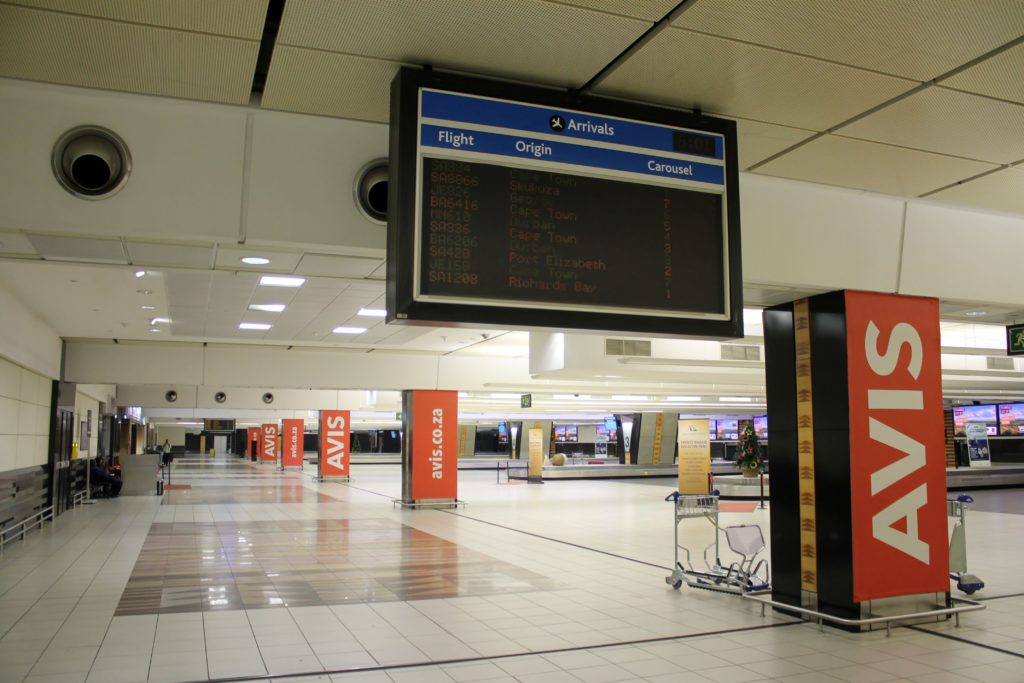 Final impression
Flying British Airways business class in South Africa is a decent experience. Priority check-in and baggage delivery work perfectly and the SLOW lounges are among the best domestic lounges in the world. From my experience British Airways also provides a slightly better and more consistent service than the major competitor South African Airways. The main disadvantage of choosing British Airways in South Africa is the old fleet with some rather old and worn cabins, so this flight was a complete breath of fresh air.