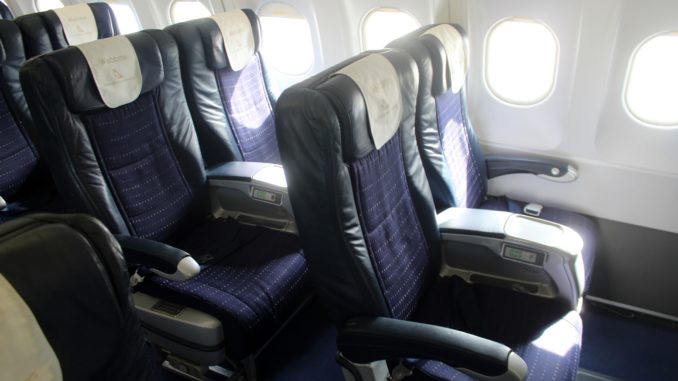 Departure experience

Check-in for the South African Airways flight to Johannesburg started two hours and 30 minutes before departure in the small check-in area at Windhoek Husea Kutako international airport. I arrived at the airport a couple of minutes before check-in commenced and had to wait in the very hot and humid departure hall before I could get my boarding passes.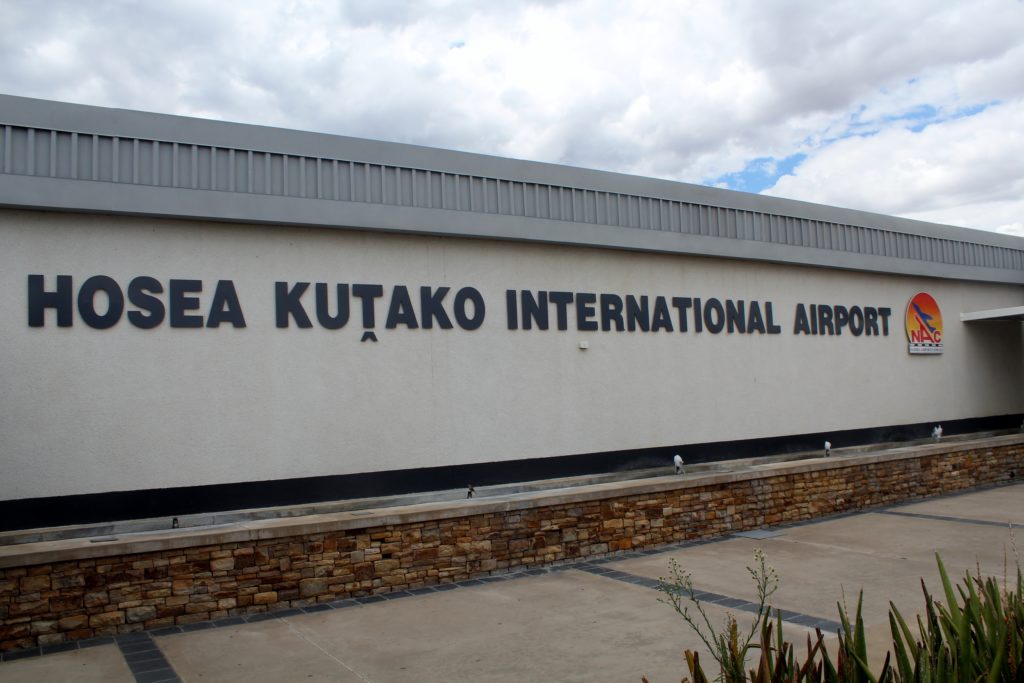 There was a premium check-in line for the flight to Johannesburg, very clearly signposted and with proper red carpets on the floor. I was the very first passenger to be checked in and the process was fairly quick as I had already pre-booked seats and only had hand luggage. Fortunately the check-in agent could also print boarding passes for my two connecting flights, which was much appreciated as I had a fairly short transfer in Johannesburg in the evening. I was also informed I could use the lounge in the transit hall.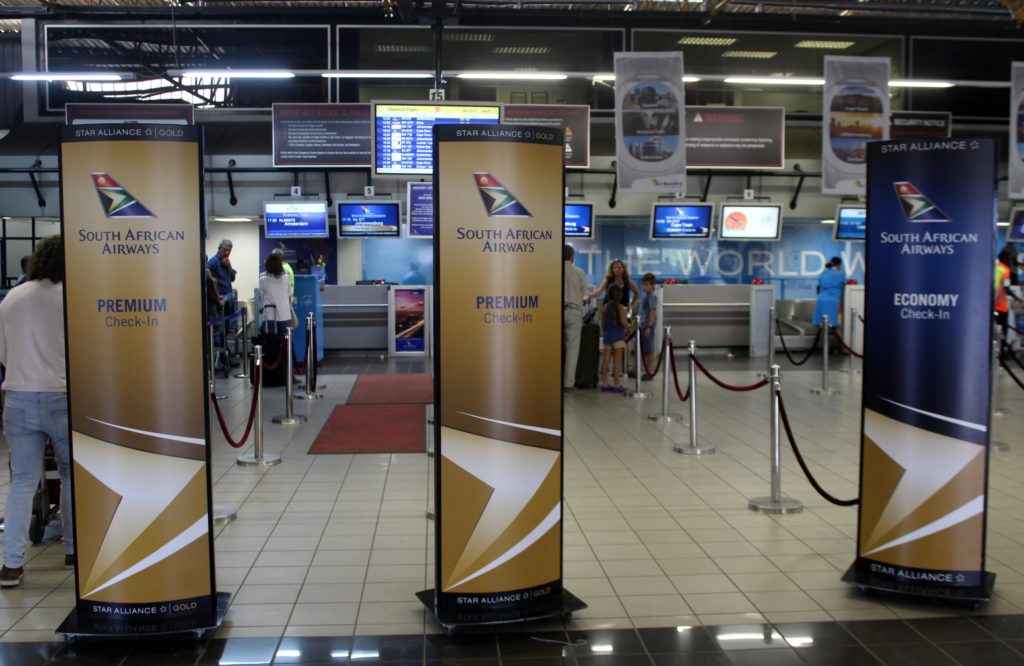 All departing passengers have to complete a departure card and these were available from a stand in the departure area where there were also tables to make it easier to fill these out. Afterwards I passed both security control and passport control with almost no line for any of them. There were only three flights departing in the late afternoon. Qatar Airways was just about to depart for Doha and then there was a KLM flight leaving around the same time as us, just after 5 pm.
Although most passengers probably only know about one lounge at the airport, the Amushe Lounge, which is located in the transit hall straight after passport control, impossible to miss, there is in fact a second lounge as well, the Oshoto Lounge. It has a very strange location right between security control and passport control, which are just a few metres apart. Right between there is in fact a door on the left hand side with a small sign informing about the lounge. Most people probably do not notice it unless you actively look for it and once passport control has been completed it is probably hard, if not impossible, to go back.
Not surprisingly the Oshoto Lounge was completely empty. The design feels rather old and dated and a far cry from the much newer Amushe Lounge, but as few people find it the atmosphere is also very quiet and relaxed. It is a great place to grab a coffee and get some work done if you do not want to be disturbed by others. There was a small buffet with both some hot food and cold items and also a manned bar. Being the only guest the service was very friendly and attentive.
Read the full lounge review here!
The Amushe Lounge was much more modern but also far busier. It is a surprisingly modern and well-appointed lounge for an African airport and also has a good view of the apron and the runway. A reasonable selection of food and drinks was on offer with some hot food, cold cuts, sandwiches and a full bar with beer, wine and spirits.
Read the full lounge review here!
The flight
Windhoek Husea Kutako-Johannesburg O.R Tambo
South African Airways flight SA 077
Departure: 17:15
Arrival: 19:05
Business Class
Airbus A319
Seat 02F

I could see the aircraft landing through the window in the lounge, a few minutes early. Boarding also started early already 30 minutes before departure time at the gate just outside the lounge. Windhoek is a small airport with a small transit hall and all gates are less than a 30 seconds walk from the lounge.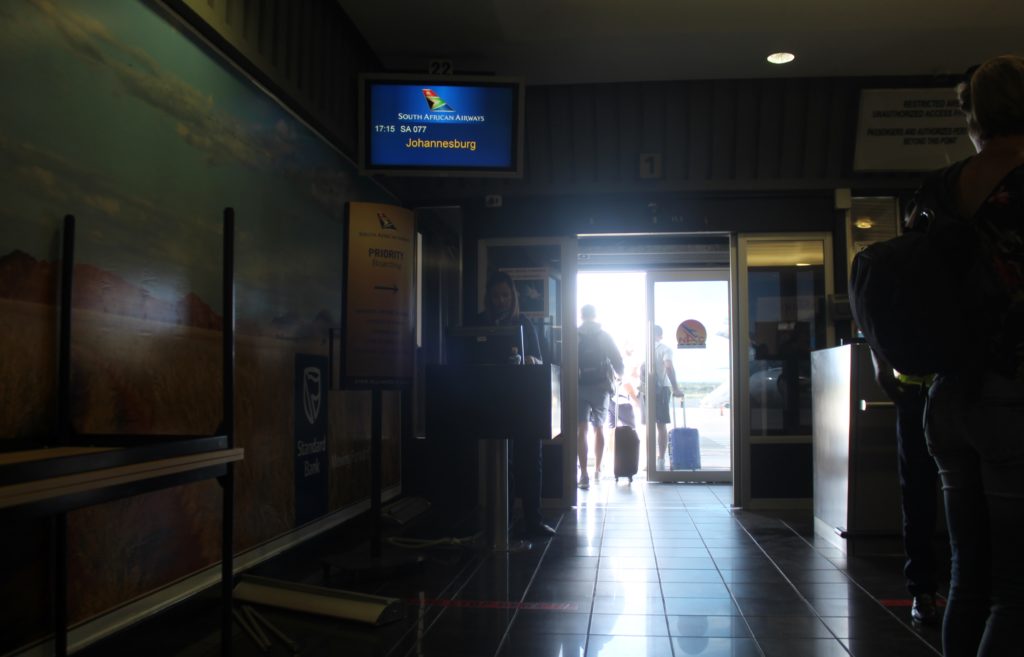 Proper priority boarding was offered for business class and gold card holders using the desk to the left.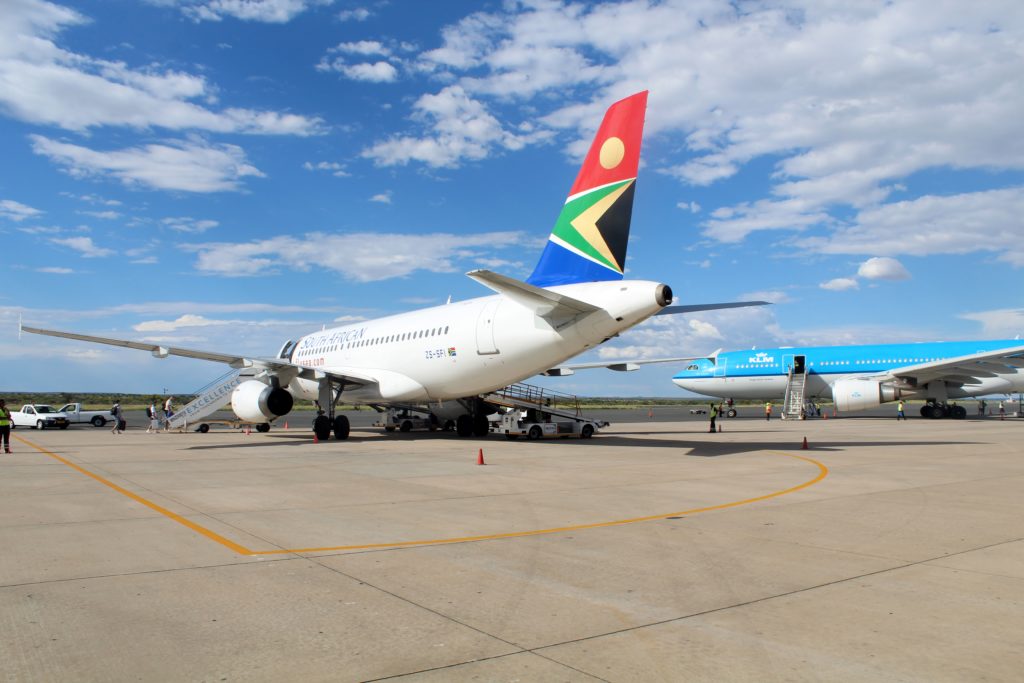 There are no passenger bridges at the airport so all passengers walk on the apron from the terminal building to the aircraft and there are usually four or five ground staff standing along the route to make sure passengers do not get lost or head somewhere where they should not.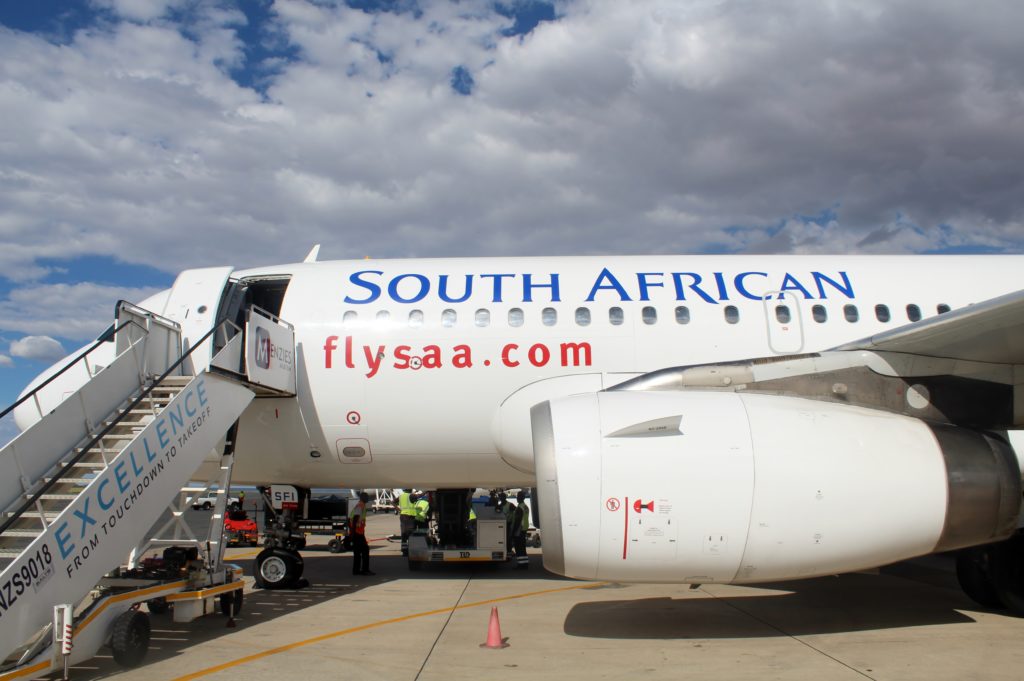 First impression

I was one of the first passengers to board and was warmly greeted by the purser who checked my boarding pass to make sure I was on the right flight and then took the opportunity to address me by name, which was a very nice touch.
The aircraft used to Johannesburg was an Airbus A319 with five rows of business class with a 2-3 configuration. I had selected 02D but had noticed on the internet that 02E had been blocked by the airline, most likely thanks to my Star Alliance gold card. At the end 02F stayed empty as well so I got my own row and later moved to the window to get some more space and a view.
Boarding was completed well ahead of timetable but they seemed to have a problem with some hand luggage and also a wheelchair which took some time. The purser was visibly irritated at the ground staff who was delaying the departure instead of leaving this task to the cabin crew.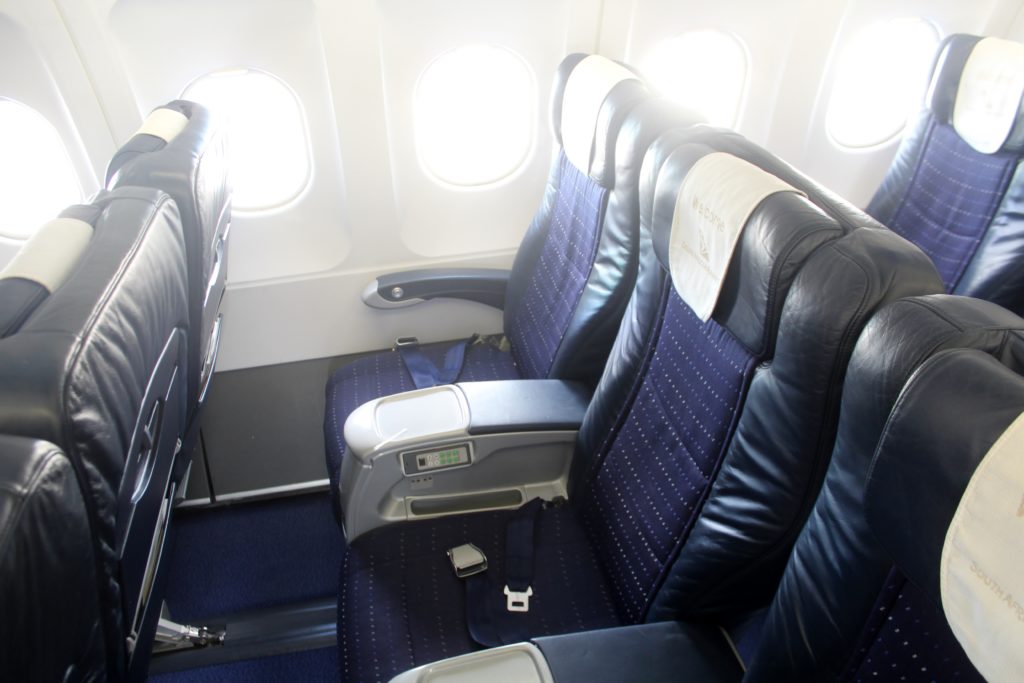 Interestingly no pre-departure drink was offered, which is the case on both British Airways/Comair and Air Namibia in business class, both operating the same route. Not even a glass of water was offered before departure.
The flight time to Johannesburg was expected to be one hour and 35 minutes.
Seat and cabin

There were five rows of business class with a 2-3 configuration instead of a 3-3 configuration in economy class. This meant 25 seats in total.
5 seats abreast rather than 6 seats abreast does not make a huge different, about 1 inch (2.5 cm) of seat width, but the seats at least had a bit more legroom, 35 inches instead of 31 in economy class. There was indeed more space at the seat but far from the comfort in international business class.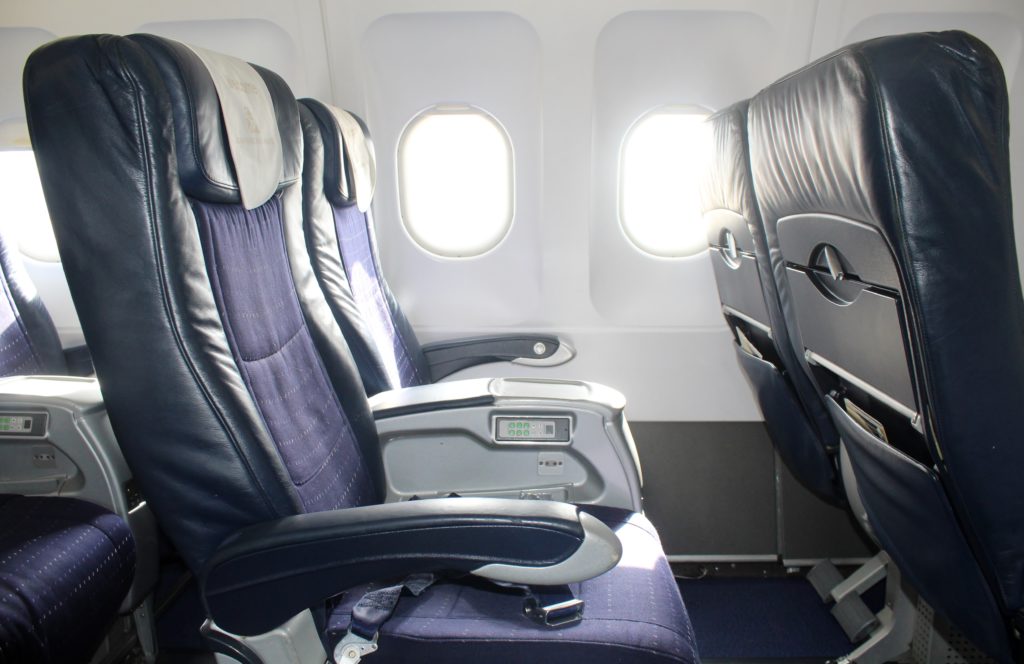 Food and drinks

Once airborne the service started with a cocktail service. I asked for a gin and tonic but it turned out they had no gin left, which was very surprising after a short 90-minutes outbound flight. Instead I opted for a glass of white wine with two bottles to choose between, all South African of course.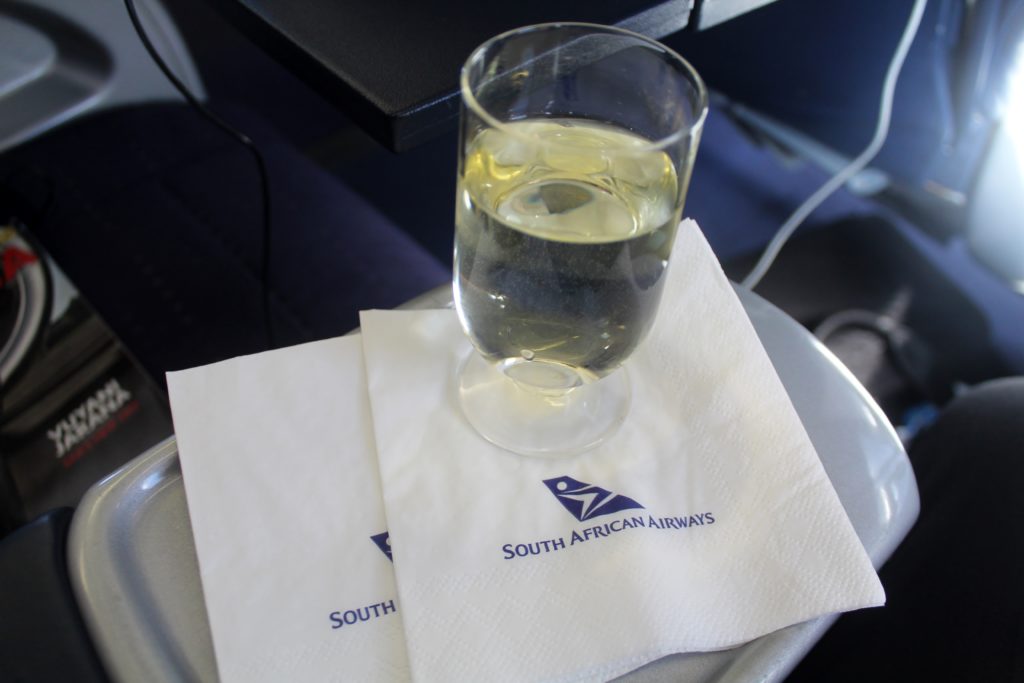 A few minutes later the meal trays were handed out for the dinner service. The entire dinner was served at the same time with salad, main course, cheese and dessert. There were three choices of main course which were presented by the flight attendant (there was no printed menu) and I choose the chicken supreme. Bread rolls were also offered from a basket and I was happy to find some garlic bread in the basket.
The starter was a salad with cheese, as already mentioned I chose the chicken dish for main course and finally cheese and crackers were offered on the tray and a caramel dessert to finish off.
After the passengers in business class had been served the crew continued to serve the passengers in economy class. It took a very long time before anyone reappeared. I had already finished the entire dinner, including the dessert, by the time any of the crew members passed again to offer a refill of the wine glass.
No offer of more bread rolls and no one asked if I wanted coffee or tea. The tray table was cleared and that was it. Of course I could have asked about coffee but this should really be offered proactively by the cabin crew in business class. It should even be offered proactively by the cabin crew in economy class on a full-service airline. And I was not sleeping and there was no turbulence preventing the crew from serving hot drinks. It was really just bad coordination and a bad service attitude.
The service

To summarise the service it started well but quickly it all went downhill. No pre-departure beverage and no special recognition of me as a gold card holder. No gin loaded and it took ages to be offered a refill of the wine glass and to have my tray cleared. And no offer of coffee or tea whatsoever.
The cabin crew rather spent most of the time in the galley chatting, with little interest about us in the business class cabin. The man across the aisle in 02C also seemed quite irritated when he had been sitting with his empty tray and his empty glass for a good 15 minutes.
Arrival experience

Punctual landing at O.R Tambo airport in Johannesburg at 7 pm where the rain was pouring. Unfortunately we were assigned an apron position and taken to the international terminal by bus. I was not too happy about this with only 85 minutes before my connecting flight.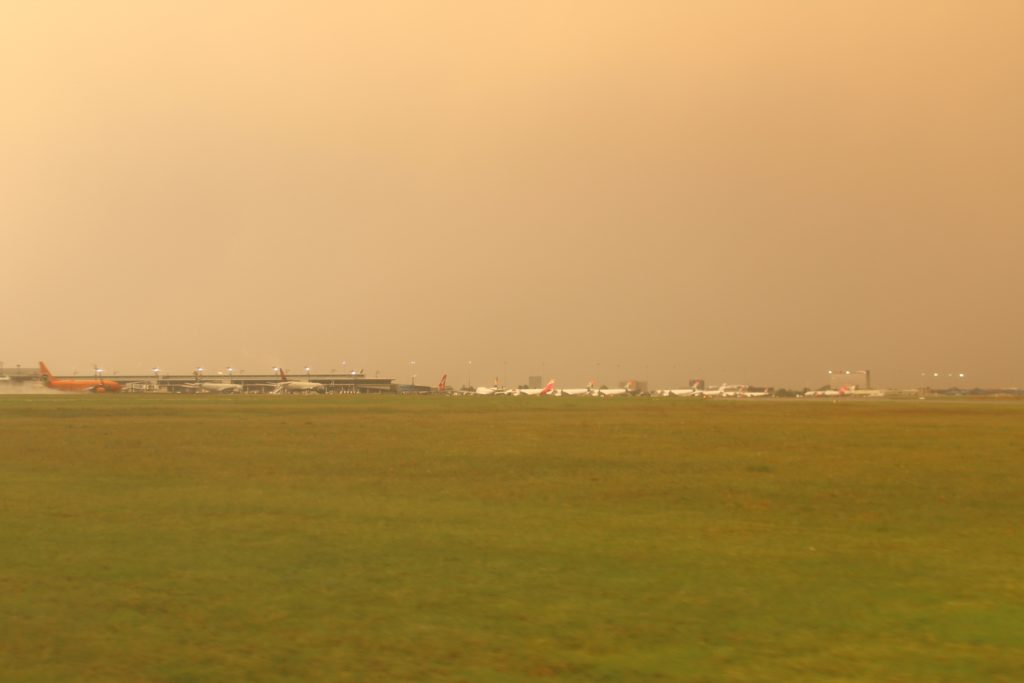 Final impression

The flight started off well with the purser greeting me by name but afterwards it all went downhill and the rest of the experience unfortunately lacked any kind of enthusiasm. But a reasonable dinner for a flight of 90 minutes was offered and tasted allright and the legroom was a bit better in business class than in economy class. But from previous experiences, both Air Namibia and British Airways/Comair offer a much better inflight service on shorthaul flights in southern Africa.