Finnair today announced a major overhaul of its frequent flyer program Finnair Plus. The thresholds are adjusted, new Platinum benefits are added while Silver members lose their lounge access.
Lower qualification limits
The qualification thresholds are lowered for all three levels. From 1 July 2016 the requirements for Silver are lowered from 40,000 tier points to 30,000 tier points while the number of segments needed is lowered from 24 to 20.
For Gold the the number of tier points are lowered from 90,000 to 80,000 while the number of qualifying flights is lowered from 54 to 46.
For Platinum there is no change in the number of tier points needed, it remains unchanged at 150,000 tier points. However there is a significant decrease in the number of qualifying segments, from 92 to 76.
All changes will come into effect 1 July. Members who qualify for a higher membership level after the thresholds have been adjusted will automatically be upgraded to the new level.
New Platinum benefits
Several new benefits are added to the Platinum level. Starting 1 April 2016 Platinum members can give a Finnair Plus Gold card as a gift to any Finnair Plus member. The benefit is available when the member reaches the Platinum level for the first time and after that every time the member requalifies for Platinum status, at the end of the qualification period.
Platinum members also get a free drink and a newspapers when travelling in Finnair economy class starting 1 April 2016. The benefit is valid for the member and a travel companion. The benefit is not offered on selected routes within Europe, most likely some very short routes where buy onboard is not offered today.
No more lounge access for Finnair Plus Silver members
The bad news is that Silver members lose the lounge access, this major change comes into effect 1 August 2016. Silver members will be able to buy lounges access at 25 euro or 8500 points per visit to access the Finnair lounges. Silver members can also purchase lounge access for travel companions. This is only applicable when flying Finnair (flights operated and marketed by Finnair).
Lounge access for Silver members has been a unique benefit in the Finnair Plus program for many years. The Silver level is equivalent toOne World Ruby where lounge access is very rare.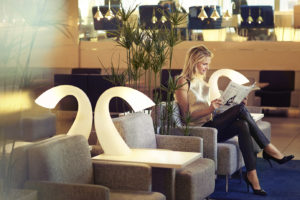 Changes in the number of points needed for award tickets
The number of points needed for a Finnair Classic award has been lowered to most European destinations (outside of what is defined as Northern Europe) as well as to Dubai and Tel Aviv. The point charge has been lowered from 45,000 points to 40,000 points. The points needed for one-way flights and junior flight awards remain unchanged.
For business class flights within Europe (outside the 'Northern Europe zone') the number of points has been lowered from 65,000 to 60,000
Cheaper award tickets to Japan, Hong Kong and Singapore
Some changes have also been made for intercontinental award tickets. In the past all intercontinental flights have been divided into two regions with Thailand, China, India, South Korea, Vietnam and North America available at 125,000 points in economy class and 200,000 points in business class while Japan, Hong Kong and Singapore have been available at 150,000 points in economy class and 250,000 points in business class.
These two regions will now be merged so there is just one point charge for all intercontinental destinations, the lower of the two with 125,000 points in economy class and 200,000 points in business class.
At the same time the points earnings on intercontinental flights have been harmonised in a similar manner which means passengers travelling to Hong Kong, Japan and Singapore earn slightly less while passengers travelling to all other Asian destinations as well as to Northern America earn slightly more. The point earnings are 16,000 points in business class, 12,000 points in Pro, 8,000 points in Value and 4,000 points in Basic and Light.