Departure experience

Just like all other Star Alliance carriers SAS uses terminal 2 at London Heathrow airport. Officially known as The Queen's Terminal this is now the home of Star Alliance at Heathrow airport, created to enable smooth connections between different Star Alliance airlines in London.
I had already checked in online on the SAS webpage but had a bag to check. Normally you are supposed to use the self-service machines and baggage drop counters if you have checked luggage, but when travelling in business class (or SAS Plus in this case) or having a gold card you can obviously also use a manned check-in desk in the priority check-in area.
The SAS Plus ticket also gave access to the fast track channel which was very quick.
Flying out of terminal 2 as a premium passenger is a very nice experience as there are no less than four Star Alliance lounges to choose between. United Airlines, Singapore Airlines, Air Canada and Lufthansa. The latter is divided into a business lounge for business class passengers and a Senator lounge for gold card holders.
The Lufthansa lounge is generally the best choice when flying SAS. It is located in the main terminal building, building A, straight after security control, the building mostly used for SAS departures. All other three lounges are located in the satellite building, building B, which can be reached using an underground walkway. There is usually no point of going there unless you have a good amount of time as it takes some time to get there and then back again.
As I had plenty of time I ventured over to the satellite building and visited the Singapore Airlines lounge. It is probably the most luxurious lounge of the four lounges. It has a very stylish interior, a good apron view, and an excellent selection of food and drinks of high quality.
They also have a manned bar where you can order cocktails. Being in the Singapore Airlines lounge I ordered a Singapore Sling, the signature cocktail which was created at the Raffles hotel in Singapore. And they even had Singapore Sling ice cream in the buffet to complement.
As it was approaching departure time I went back through the underground tunnel to building A, where I expected my departure gate to be, and made a visit to the Lufthansa lounge. The business lounge is straight after the reception desk. If you have a gold card you get a voucher at the reception desk with a barcode which you scan at a door to get access to the Senator lounge, which is located inside the business lounge.
The Lufthansa lounge is a very standard Lufthansa lounge, if you have visited some other Lufthansa lounges you will recognise the interior and the concept. They have the forest wall in the London lounge though, which is quite nice.
The catering in the London lounge is provided by Do&CO, which are well-renowned for having excellent food of high quality. There were some hot food, sandwiches, cheeses and desserts for self service.
The flight
London Heathrow-Stockholm Arlanda
SAS flight SK 1524
Departure: 19.05
Arrival: 22.30
Business Class
Boeing 737
Seat 04F
First impression

Boarding started already 40 minutes before departure at gate A2, one of the gates often used by Aer Lingus for departures to the Republic of Ireland and Northern Ireland.
A separate line was available for premium passengers, including SAS Plus, EuroBonus Gold and Diamond, and Star Alliance Gold, and it worked very well. There was no wait to speak of.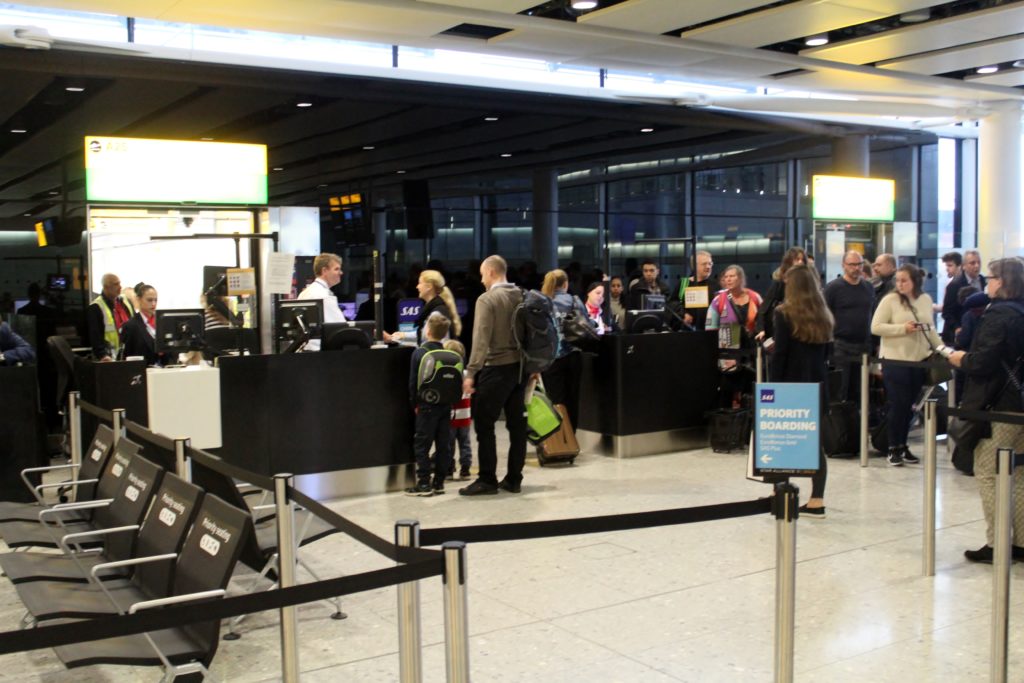 A Boeing 737 was used to Stockholm with the standard SAS cabin interior in dark blue. The load was quite light in SAS Plus so I got my own row.
Punctual pushback just after 7 pm with a flight time of two hours to Stockholm.
Seat and cabin

Six rows were assigned to SAS Plus on this flight in a 3-3 configuration. As SAS Plus is not a business class product but a premium economy product the middle seats are not kept free, in contrast to most intra-European business class products on a narrowbody aircraft where there is usually a 2-2 configuration. If the flight is full and you check in late you may get a middle seat. However SAS usually tries to block the middle seat for gold card holders when the cabin load permits.
The cabin load in SAS Plus was very light though with less than 10 passengers, so I had my own row and plenty of space to spread out.
Food and drinks

On longer intra-European flights, flights with a scheduled flight time of 90 minutes or above, a cold meal is served in SAS Plus. It is served in a blue box and contains a small starter, a main course and a dessert.
As the seatbelt sign had been switched off hot towels were offered in the cabin, a paper table cloth was laid on the table and the dinner box was handed out.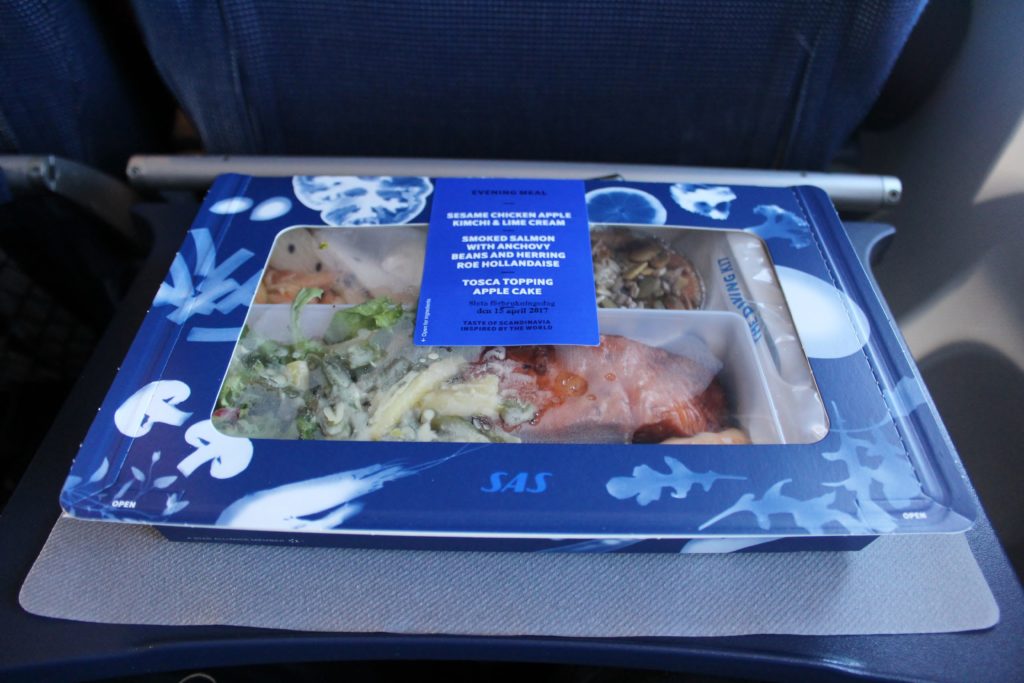 This time the starter consisted of sesame chicken with apple kimchi and lime cream for starter. Smoked salmon with anchovy beans and herring roe hollandaise for main course. And a tosca topping apple cake for dessert. The food was actually quite tasty this evening, all the three dishes.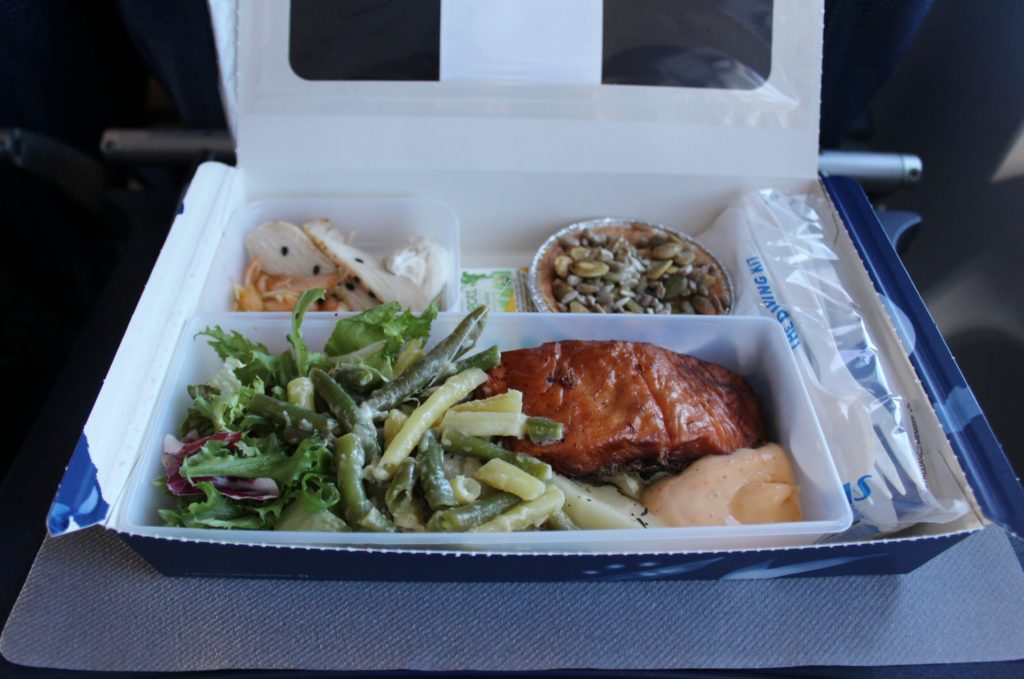 Drinks were offered shortly afterwards and given chicken for starter and salmon for main course I asked for a bottle of white wine. They usually offer white wines of South African origin and this time is was a Chardonnay. Proper glasses (rather than plastic ones) are usually offered for the wine.
The meal boxes were collected and coffee, tea and liqueurs were offered. SAS recently launched a new selection of beverages and I was eager to give some of these a try. The focus is on local Scandinavian brands, to enhance the Scandinavian experience onboard.
The new gin is Harahorn from southern Norway. The gin is based on different berries such as blueberries, rhubarb and bladderwrack and has a very fruity taste. Very tasty.
The new whisky is from Mackmyra in Sweden. It has notes of honey, straw, apricot, vanilla and orange peel.
Inflight entertainment
Newspapers and magazines are no longer offered on SAS flights, instead you need to download these before departure using the SAS app.
The service

The service was very friendly. After the passengers in SAS Plus had been served the two flight attendants continued to assist their colleagues in SAS Go, economy class, but they kept an eye on us at the front. The light load in SAS Plus also helped to improve the service level.
Arrival experience

With a punctual departure from London we also landed on time around 10.30 pm.
Final impression

SAS Plus is a premium economy product and can not really be compared to an intra-Europe business class product. The dinner box was surprisingly good this evening though, plenty of drinks were offered and the service was friendly. Overall a nice experience.