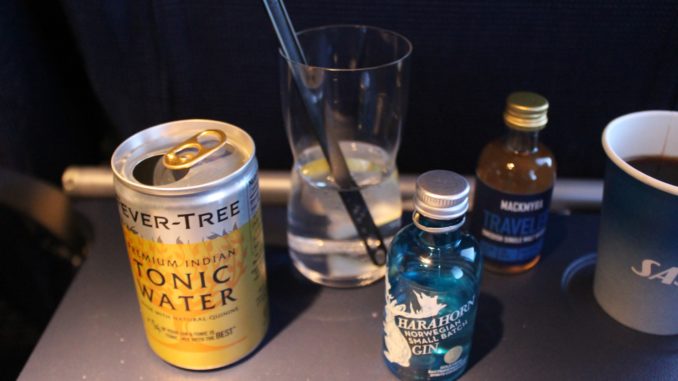 SAS Scandinavian Airlines recently introduced a new beverage selection on mainly European flights. The idea is to promote local Scandinavian brands to enhance the Scandinavian experience onboard when flying SAS, the national carrier of Sweden, Norway and Denmark. Among the new beverages are craft beers from Danish Mikkeller, Apple juice from Norwegian Ringi, a whisky from Swedish Mackmyra, and a gin from Norwegian Harahorn.
I had the chance to test two of these this week on a flight from London.
The Harahorn Gin comes from Norway and is named after a mountain in the regional of Hemsedal in southern Norway. The bottle shows a fable animal.
The gin is based on different berries such as blueberries, rhubarb and bladderwrack and has a very fruity taste.  It is served with Fever-Tree gin and is very tasty. Well worth a try if you enjoy a gin & tonic.
Mackmyra is a Swedish whisky brand produced in Sandviken, around two hours by car north of the capital Stockholm. It is a malt whisky with notes of honey, straw, apricot, vanilla and orange peel.
What you think about it naturally depends on your preferences. Of course Sweden is no Scotland with its long history of whisky distilleries, but if you fancy something different from the regular whisky brands often served onboard this is a nice addition.