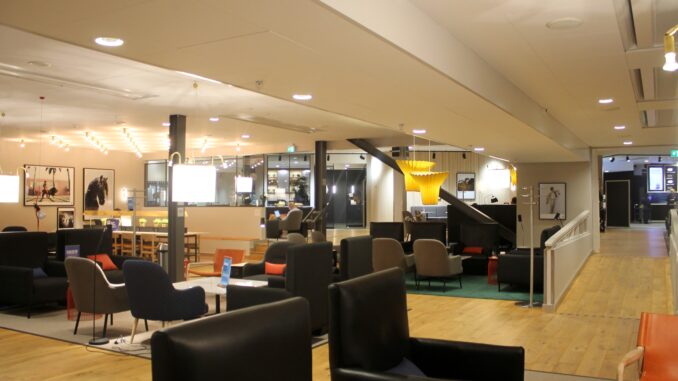 If you fly SAS on a domestic flight from Stockholm Arlanda Airport your flight will depart from terminal 4, which is the main domestic terminal at the airport. A smaller number of domestic flights to regional destinations in Sweden also depart from the smaller terminal 3, but if you fly SAS to a domestic destination your flight will depart from terminal 4.
If you travel in SAS Plus or have a EuroBonus Gold or Diamond card or a Star Alliance Gold card there is a lounge to visit in terminal 4, the SAS Domestic Lounge. However the lounge is nothing to write home about. It is small and can be very crowded at peak times. Also the selection of food is limited with little substantial to eat other than some bread rolls, some fresh fruits and cocktail snacks and possibly some soup later during the day. And although there is beer and wine available there are no spirits (which is the case in the SAS Gold Lounge in terminal 5).
But if you have enough time, did you know you can also visit the SAS lounges in the international terminal, terminal 5, which are far superior? Even though the two terminals are completely separated.
There are two SAS lounges in terminal 5, one business lounge for SAS Plus/SAS Business Class/Star Alliance business class and one for gold card holders in Star Alliance and the SAS EuroBonus program. They have a shared entrance and are both located airside in the Schengen transit hall between Concourse A and Concourse B. To get to the lounge entrance, use the stairs or the lifts opposite the SAS service desk in the transit hall.
If you have access to the SAS Gold Lounge there is some hot food in the afternoon and early evening as well as a cold buffet. There will also be wine in bottles as well as spirits for self service.
This is how it works
If you arrive on another SAS/Star Alliance flight from a Schengen country this is very easy. If your incoming flight arrives at terminal 5 you simply go directly to the lounge in terminal 5 upon arrival.
If you arrive on another domestic flight in terminal 4 you can take the airside transfer bus from terminal 4 to terminal 5. The bus departs from gate 30D in the basement. Get off at the first stop in terminal 5, which is the nearest one to the lounge.
If you start your journey in Stockholm, drop of any checked luggage in terminal 4 (if you have any) and then proceed to terminal 5 to pass through the security control there. The nearest security control is the one just after Skycity on your left hand side. It will also be the closest one to the lounge. Your boarding pass will give you airside access to terminal 5, even though you are technically in the wrong terminal. And at both security control checkpoints in terminal 5 there are automatic gates so no one will check which flight you are on.
After you have passed through security control, to the SAS Lounge and enjoy your visit.
After the visit you will need to go back landside. Follow the signs for baggage reclaim and pass through customs. Once your are landside in the arrivals hall, turn right and continue straight ahead towards Skycity and terminal 4.
After passing through Skycity, just before the escalator down to the departure hall you will see the SAS Fast Track to the left. If you have access to an SAS Lounge you should also have access to the SAS Fast Track. This one should be much quicker to use than the regular security control, and it will make the walking distance shorter.
If you arrived on a connecting flight (either international or domestic) and made it to the lounge without having to pass through a security control, just scan your boarding pass as usual at the security control and you will be allowed to pass.
If you started your journey in Stockholm you will already have scanned your boarding pass in terminal 5 and you will get a beep and an error message when trying to scan it at the automatic gate in terminal 4. To solve this you will need to call for a staff member. Explain that you have been to terminal 5 and that you visited a lounge there. They will have heard this before and it is allowed to do. They will then process your boarding pass manually before letting you pass.
Although there is no problem to do this, keep in mind it does require some walking and an extra security control.
I would not recommend doing this unless you have at least 90 minutes until your next flight, especially if you want to have time for a proper lounge visit and especially if you are not very familiar with the airport.