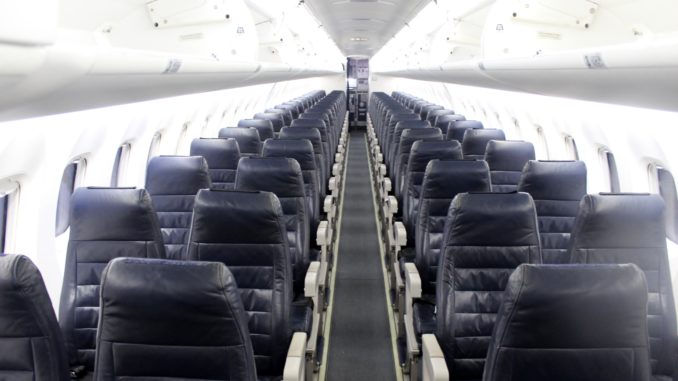 Departure experience

Check-in was done on the Air Baltic webpage. Depending on the type of fare you may be allowed to choose a seat free of charge but in most cases you are assigned one automatically by the system, unless you pay for it of course. When being assigned a seat automatically by the system you normally get a seat at the very back of the cabin and usually with a seat neighbour, even if there is plenty of space elsewhere in the cabin.
This time my fare entitled me to pick my seat of preference, without having to pay, so I chose 03D on the first row of the economy class cabin. Knowing that Air Baltic is basically a no-frills airline in economy class I also decided to try their pre-order service to get a breakfast onboard. Many of the options are only available for flights of at least 90 minutes and need to be ordered at least 24 hours before departure, but their standard breakfast box could actually be ordered until 12 hours before departure, so the evening before.
I arrived at Arlanda airport 80 minutes before departure. Having already checked in online I just passed a self-service machine to print a boarding pass. Flying in Air Baltic economy class without a top-tier frequent flyer card meant no fast track access at security, but the regular lines were fairly quick anyway.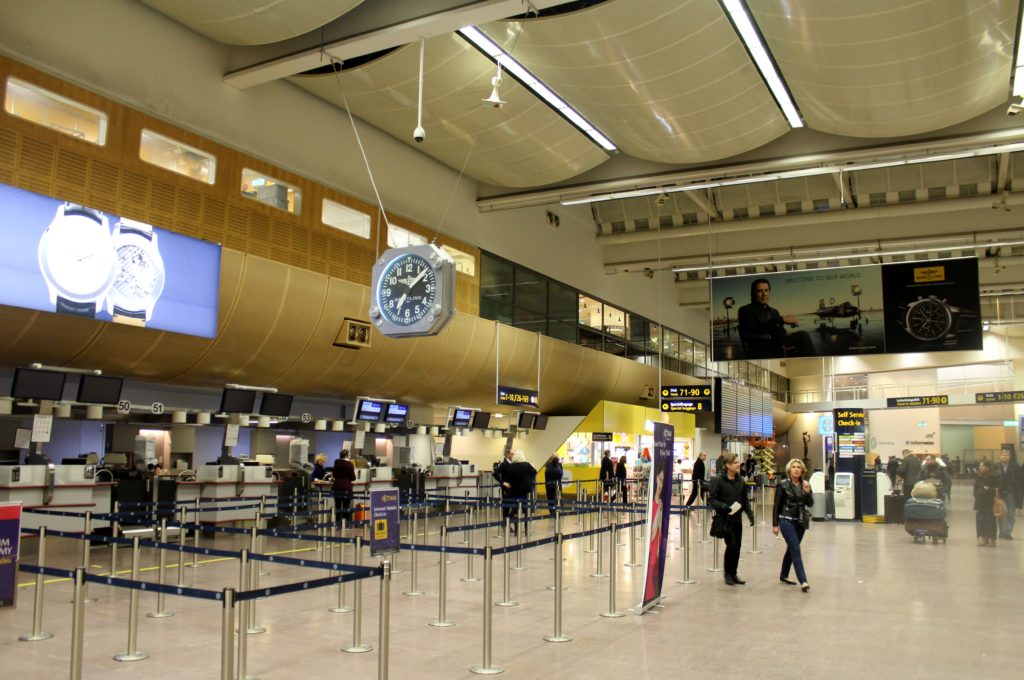 Air Baltic business class passengers and VIP members in the Air Baltic frequent flyer program PINS have lounge access at most international airport. In Stockholm the SAS Lounge is used.
With no lounge access with my ticket I decided to visit the pay-in Menzies Executive Lounge in the terminal, located in Concourse F. Very few airlines use this lounge nowadays so at most times of the day it is very quiet. This morning just after 7 am I was the only passenger.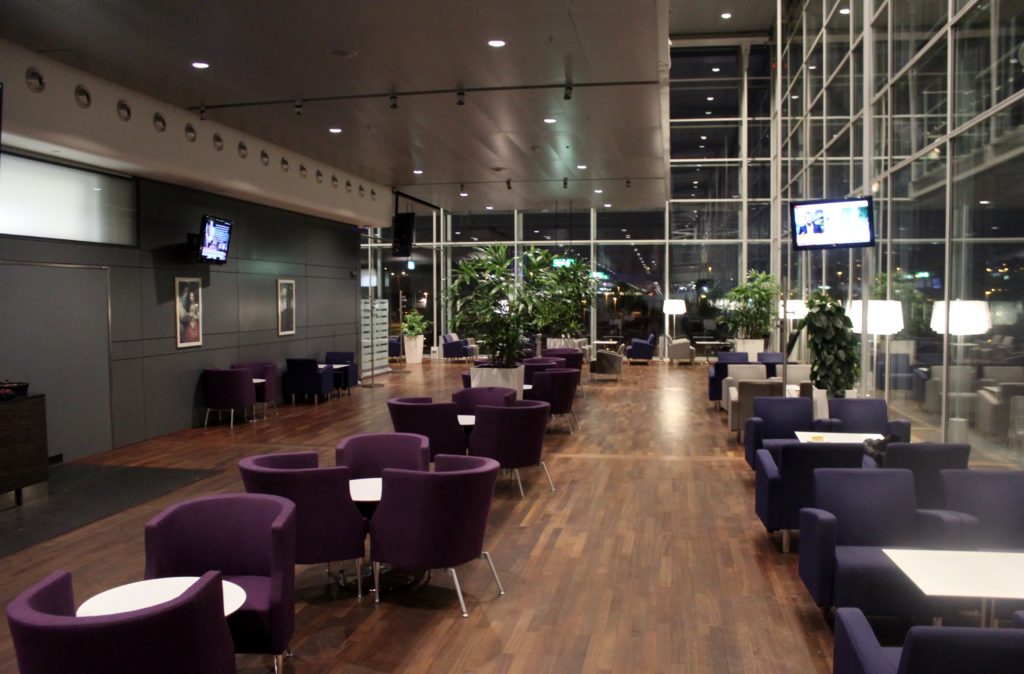 A small continental breakfast buffet was available with bread rolls, cheese and ham, yoghurt, vegetables, pastries, juices and of course coffee and tea.
Read the full lounge review here!
The flight
Stockholm Arlanda-Riga
Air Baltic flight BT 102
Departure: 08.15
Arrival: 10.30
Economy Class
Dash-8 Q400
Seat 03D

Boarding started 20 minutes before departure at gate 06B with general boarding for all passengers. There was no one travelling in business class on this flight anyway.
Although a Dash-8 aircraft can obviously not use a jet bridge, at Arlanda airport they are in most cases allowed to park at the terminal building anyway with a very short walk on the apron from the terminal building to the aircraft door, rather than having to take a bus. This was also the case this morning and it makes the boarding experience both quicker and so much more convenient.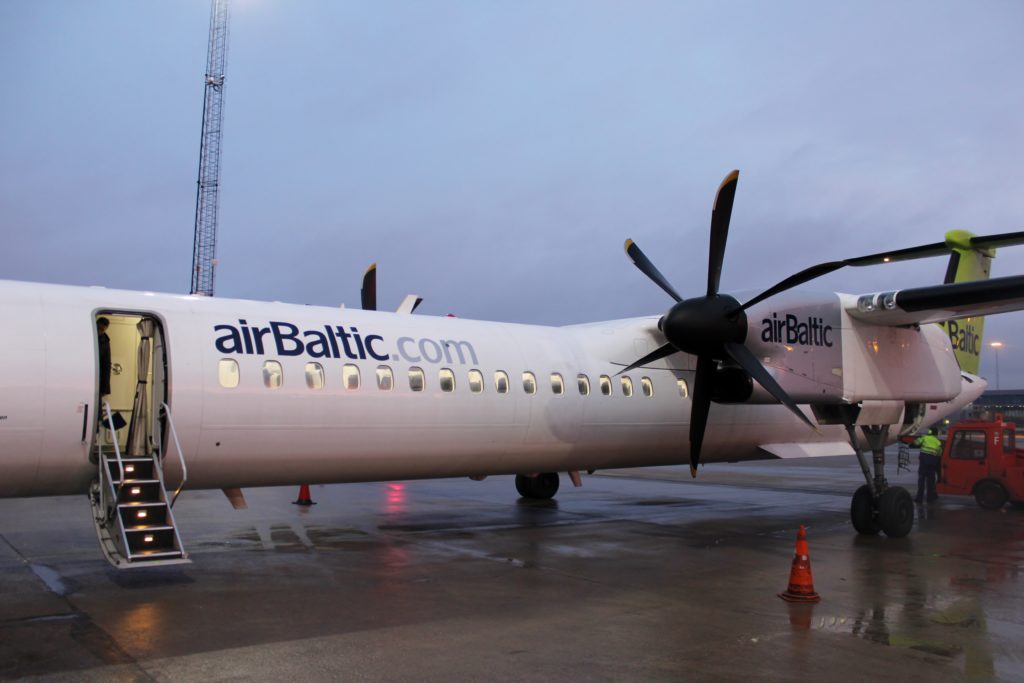 First impression

I was one of the first passengers onboard and the empty cabin with its lighting effects, in combination with the cold and dark winter weather outside in the early morning, gave the cabin an excellent first impression. The cabin load seemed to be fairly good with most seats taken in economy class, however there were no passengers travelling in business class.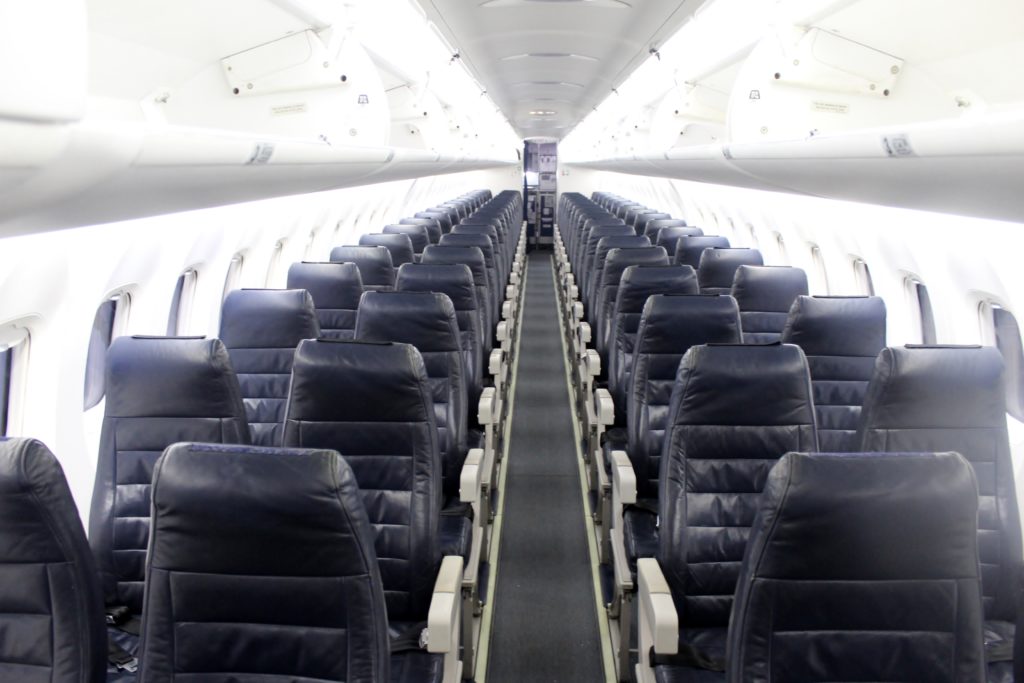 Punctual pushback at 8.15 am with a flight time of an hour to Riga. The initial climb after departure provided a fantastic view of the suburbs of Stockholm and a beautiful sunrise.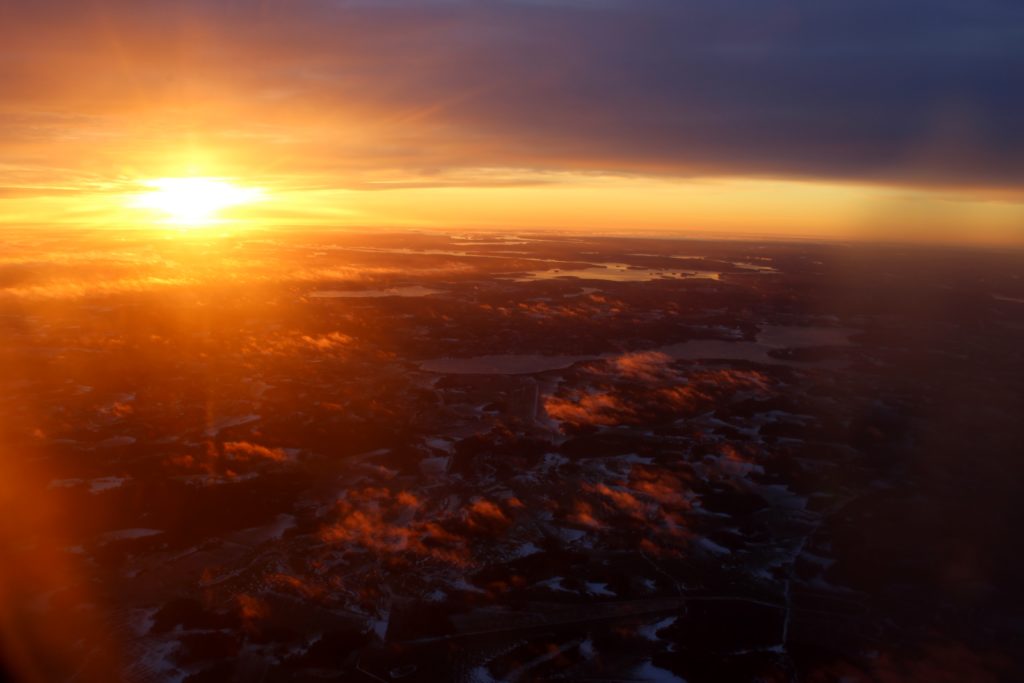 Seat and cabin

The Dash-8 Q400 had a 2-2 configuration with 76 seats in total. Business class took up the first two rows, or rather the first one and a half row as there was no row 1 on the right hand side of the aisle (no seat 01C or 01D). In business class the adjacent seat is always kept empty, which means a 1-1 configuration if you travel in front of the curtain. I was seated in 03D on the first row of economy class with just one row is front of me.
The seats were in dark leather with about standard legroom for a regional flight on a propeller aircraft. Nothing special but adequate for a one-hour flight.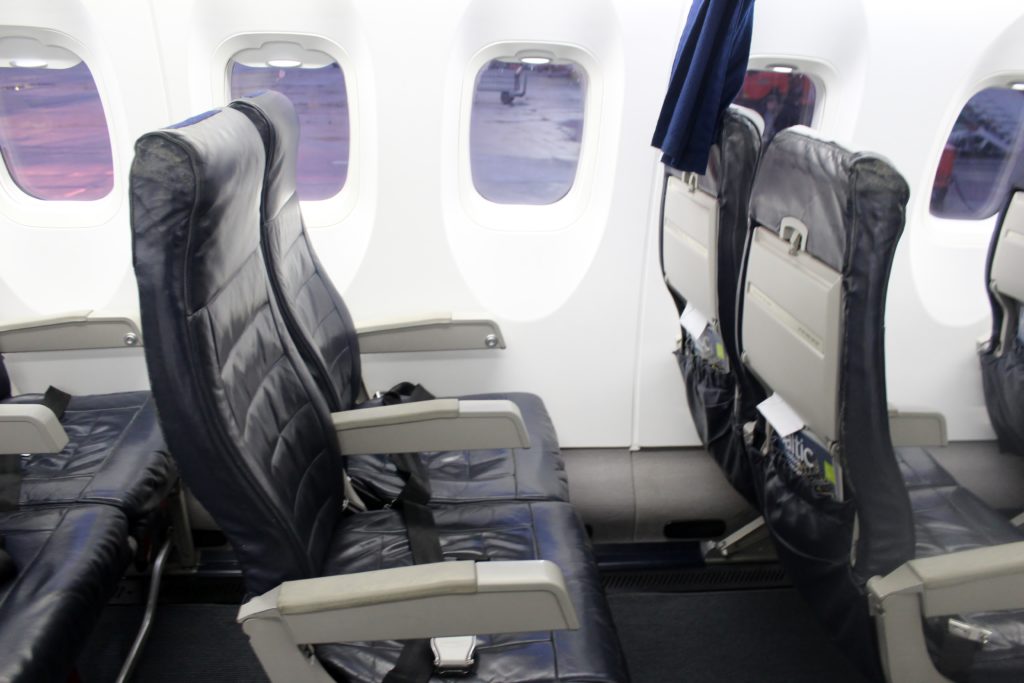 Food and drinks

Air Baltic is pretty much a no-frills airline when travelling in economy class. Nothing is included in the ticket in terms of food and drinks, not even a cup of coffee or a glass of water. As we reached cruising altitude the cabin crew passed through the cabin to offer food, drinks and snacks for sale.
On this flight I had pre-ordered an Air Baltic breakfast box. If travelling on a morning flight there are no less than nine breakfast options that can be ordered on flights lasting 90 minutes or longer, including "Happiness Breakfast" with pancakes with fresh berries and jam, a "Countryside Breakfast" with a cheese omelette and fried potatoes, and a "Scandinavian Breakfast" with pancakes with salmon and caviar.
None of these were obviously available on this flight as the flight time was too short (around 60 minutes), but a standard breakfast box was not a problem to order.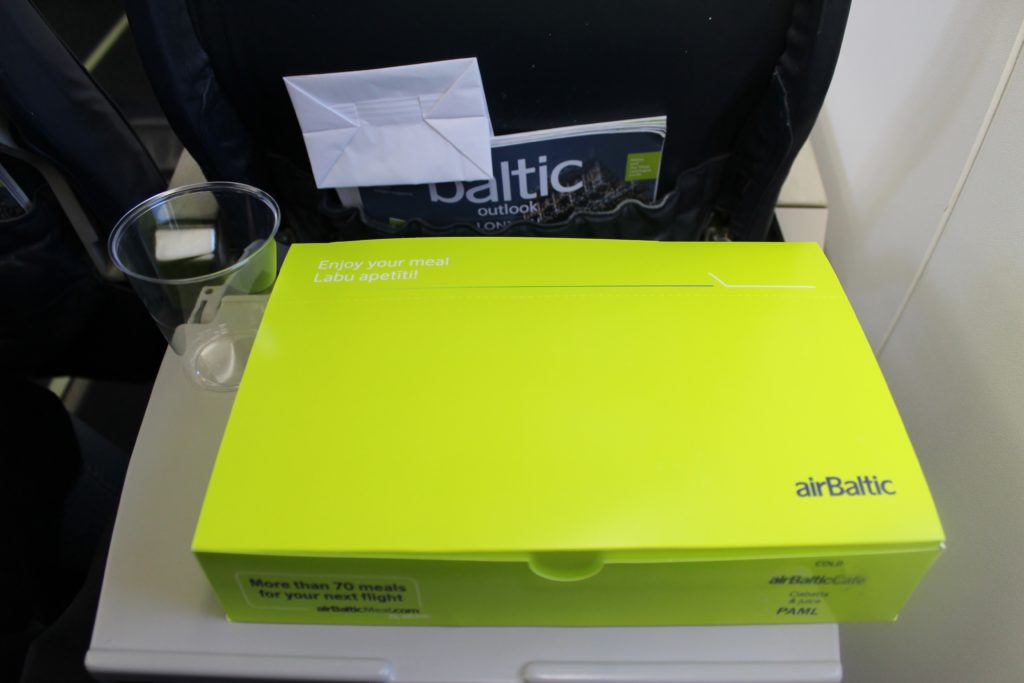 My breakfast box included a ciabatta with salami and cheese, yoghurt, orange juice and a Twix chocolate bar. Interestingly coffee or tea was not included in the price, or at least no one offered it to me, which I found a bit strange. But other than that it was OK for the price of 9 euros.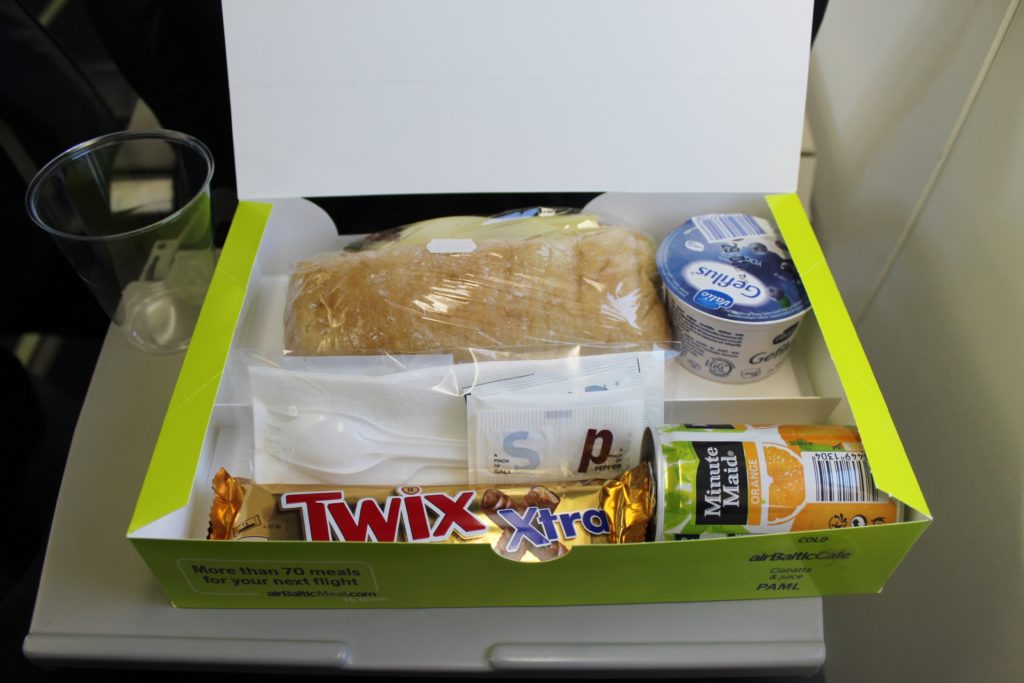 The service

Two flight attendants worked in the cabin, the service was fairly standard and by the book. On the negative side the crew completely forgot to deliver the breakfast box to me after departure, even though it had definitely been loaded and was most likely included on the passenger manifest, as special meals usually are. I had to ask about it when the crew passed with the sales trolley, which you really should not have to do.
Arrival experience

Landing five minutes before schedule at 10.25 am local time. Riga airport is a small and convenient airport with a transfer time of only 25 minutes in several cases. We parked next to the terminal building and could walk across the apron to the stairs to the terminal building, No need to take a bus.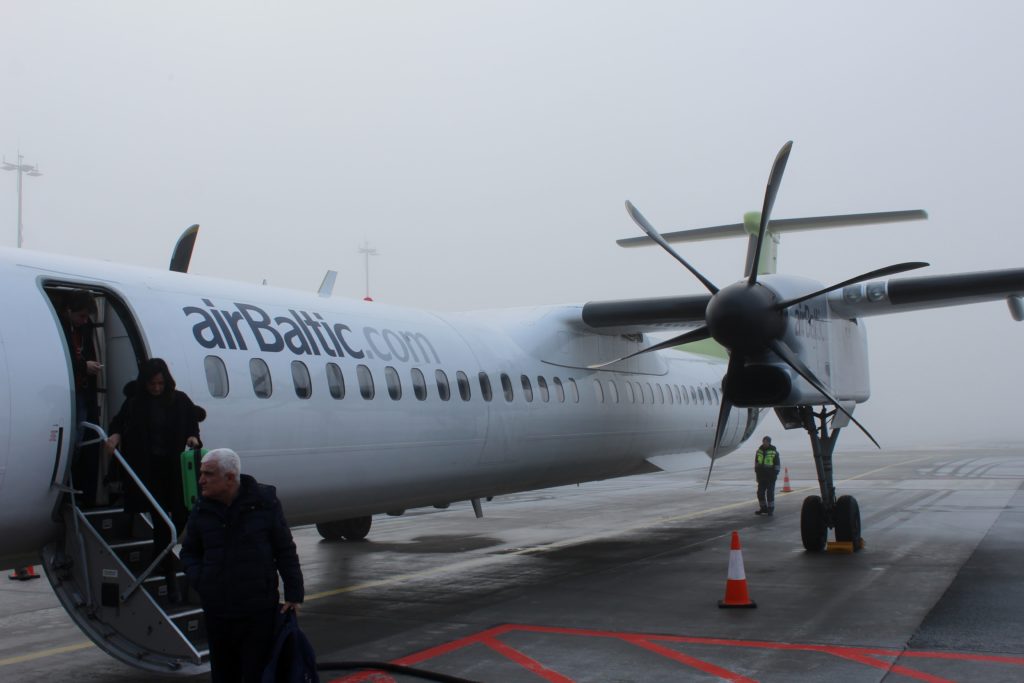 Final impression

A no-frills experience. In Air Baltic economy class you get a seat and pay for the rest. The pre-ordered breakfast box was allright though and the cabin gave a good first impression.