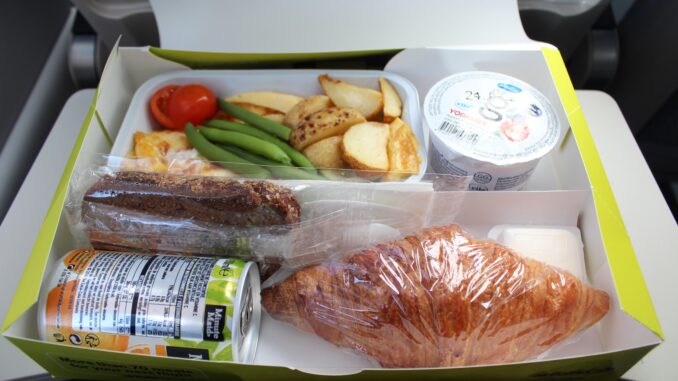 A great benefit of flying Air Baltic in economy class is that you have the option to pre-order food onboard, including hot food on flights lasting at least 90 minutes. No, I do not like airlines going no-frills as such, it is not the type of development I support. But I do appreciate when airlines introduce the possibility to pre-order food, and especially when we are talking about good-quality meals with several options. And Air Baltic are in fact quite good at this.
Meals can be ordered up until 24 hours before departure on the Air Baltic Meal webpage. Some items can even be ordered later than that, such as the breakfast box.
On the morning flight from Riga to Berlin I decided to order their standard hot breakfast with a cheese omelette. I had a long day coming up, I did not have time for breakfast at the hotel and although I did have time to eat something in the Primeclass Lounge at Riga airport I thought it would still not hurt to get something more to eat, and I was also rather curious to see what the breakfast would be like.

The cost for the breakfast was 9 euro and was paid by credit card. Perhaps not cheap, but not incredibly expensive either for a hot meal.

And this is what the breakfast was supposed to look like. The photo is from the Air Baltic webpage. Of course I never expected it to look exactly like that and naturally I never expected it to be served on a proper plate like that in economy class. But I really think you should be able to expect something similar.
A year earlier I tried the pre-ordered breakfast service on Nordica from Tallinn, and although the service was excellent the presentation of the breakfast left a lot to be desired, there was in fact very little resemblance to the photo on their webpage.
After departure from Riga, as the seatbelt sign had been switched off, the cabin crew started to prepare the trolleys for the buy-onboard service and after about 15 minutes they came out with the trays and boxes to those in economy class who had pre-ordered meals.
The breakfast was served in a breakfast box in the signature Air Baltic green colour.
The breakfast box contained an orange juice, a croissant, a yoghurt and a slice of rye bread with butter.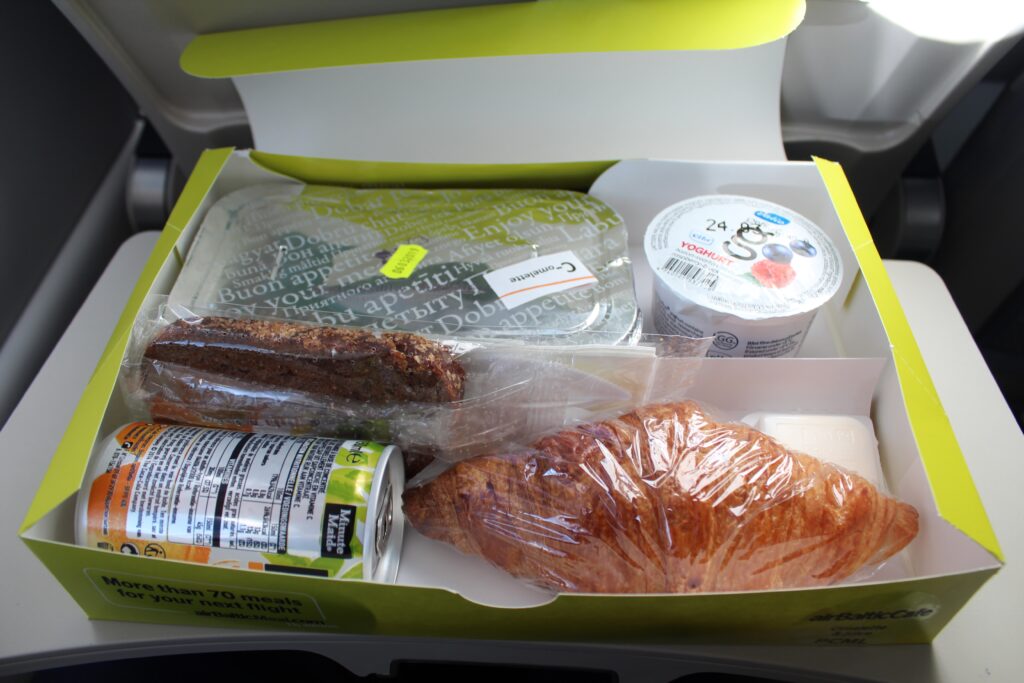 And below you can see what the breakfast looked like with the foil for the main course removed. The only thing missing was a cup of coffee or tea which was not included in the breakfast deal, which I found rather strange. Few people probably have breakfast without any of those two drinks, and they are not free in Air Baltic economy class. I had a few cups of coffee in the lounge and was not really tempted to pay even more for an inflight meal, so I skipped it.
The hot breakfast was a cheese omelette with potatoes and vegetables. It was surprisingly tasty, the presentation was better than expected and it actually looked fairly similar to the photo on the Air Baltic webpage.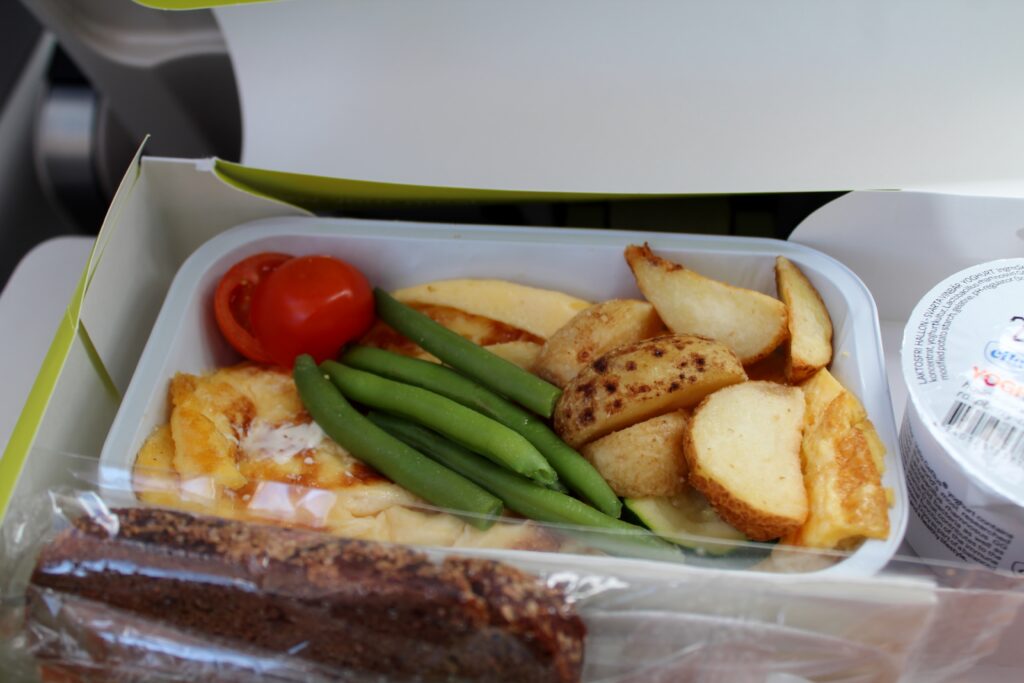 Final impression
All-in-all this was not bad and definitely not for the the price of 9 euro. The hot meal was excellent and quite tasty and the presentation was very nice for an economy class meal. I had previously also tried the Scandinavian Breakfast on Air Baltic and was quite happy also with that option.
Would I pay for this again? Definitely not on every Air Baltic flight and if you have lounge access in Riga the Primeclass Lounge has an excellent breakfast buffet with both hot and cold items, but if you have a full day coming up 9 euro is really not bad for a rather hearty breakfast. But they really should include coffee and tea in the deal. It feels ridiculous to pre-order a breakfast and then having to reach for your wallet on the flight to pay 3 euro for a cup of coffee.