The overall trend for European airlines nowadays is to reduce the service level in economy class and make more and more services optional, at a charge. More and more airlines are scrapping free food and drinks in economy class, but there is actually a positive aspect about it, an increasing number of airlines are consequently introducing the possibility to pre-order meals, in some cases with some rather decent options.  And let's face it, those dry cheese sandwiches were not always that great.
One of the airlines who has taken this quite far is the Latvian airline Air Baltic. They offer the option to pre-order breakfast, lunch, dinner as well as snacks and drinks. Although most items are available for all flights, hot dishes are generally only available on flights lasting at least 90 minutes (a scheduled flight time of 90 minutes that is).
As I have been quite curious about their pre-order options for some time I finally decided to give it a try as I had a suitable flight. I was booked to fly Riga-Berlin on the morning flight from Riga. With a flight time of 1:45 this meant the hot meal options would be available and with a departure at 7.35 am there would not be time to have breakfast in the hotel anyway.
The booking was done on the separate Air Baltic Meals webpage, however a smaller number of items can also be ordered on the regular Air Baltic webpage at the same time as the booking.
The order usually needs to be placed at least 24 hours before departure but some standard items such as the breakfast box can be ordered until 12 hours before departure. There seem to be a few exceptions though. A few dishes need to be ordered at least 48 hours before departure and the same applies when travelling from an outstation to Riga.
There were plenty of interesting options including Italian breakfast, Scandinavian breakfast, Happiness breakfast and Summer Basket breakfast.
As I have had omelettes, eggs and fruits on so many flights, especially in business class, I decided to pick the most unusual breakfast I could find on the menu. I had no idea Scandinavians had pancakes with salmon and caviar for breakfast, but apparently they do and it sounded delicious. Certainly not your average breakfast.
After selecting the Scandinavian breakfast on the menu card an interactive photo of the the tray appeared on the next page giving an idea what the meal would look like.
Although 15 euro for a breakfast is pricey at least a free drink is included, and not just water or orange juice but apparently also red and white wine, if you fancy something alcoholic at 8 am. At least these could be chosen under the Free Drinks section. You could also add two more extra drinks (at a charge) to be delivered with the meal.
The payment was done by credit card and I received a confirmation and receipt by e-mail a few minutes later.
Once onboard the Boeing 737, as we got airborne the cabin crew announced the pre-ordered meals were being prepared and would be served shortly. It seemed like a handful of passengers on the nearly full flight to Berlin had pre-ordered breakfast, and of course the crew took the chance to market the pre-order option.
After a some people had been handed their pre-ordered breakfast box, a few minutes later a flight attendant arrived with my tray. I was apparently the only one who had ordered a hot breakfast and the only one in economy class who got a proper meal tray. The tray also had the orange juice I had selected.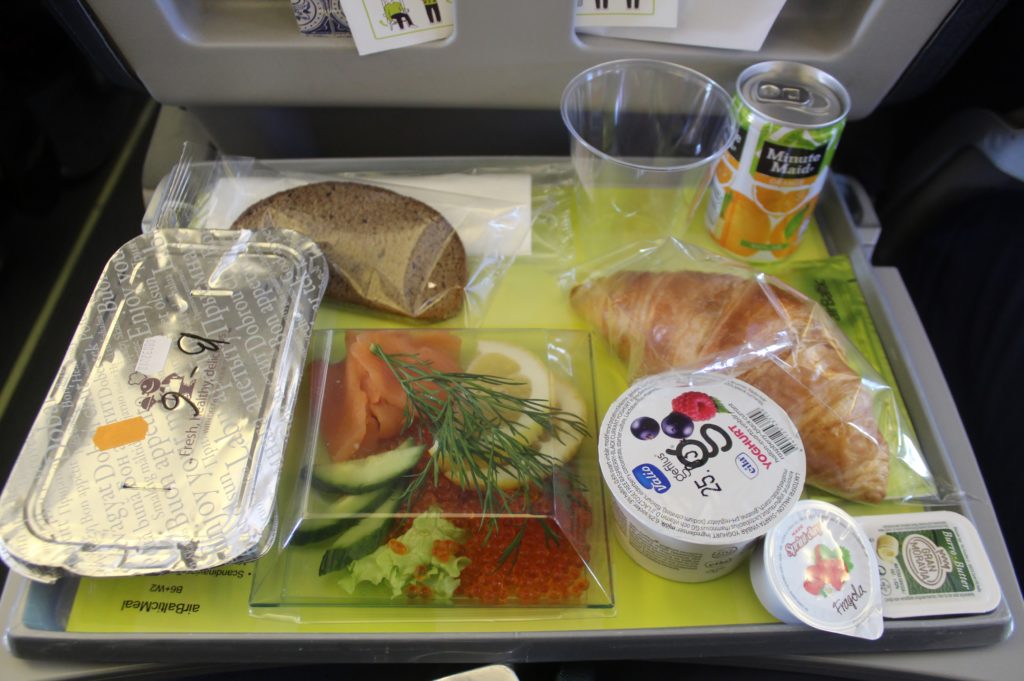 The Scandinavian breakfast included a fruit yoghurt, a croissant, butter, strawberry marmalade, a slice of rye bread and of course the main course.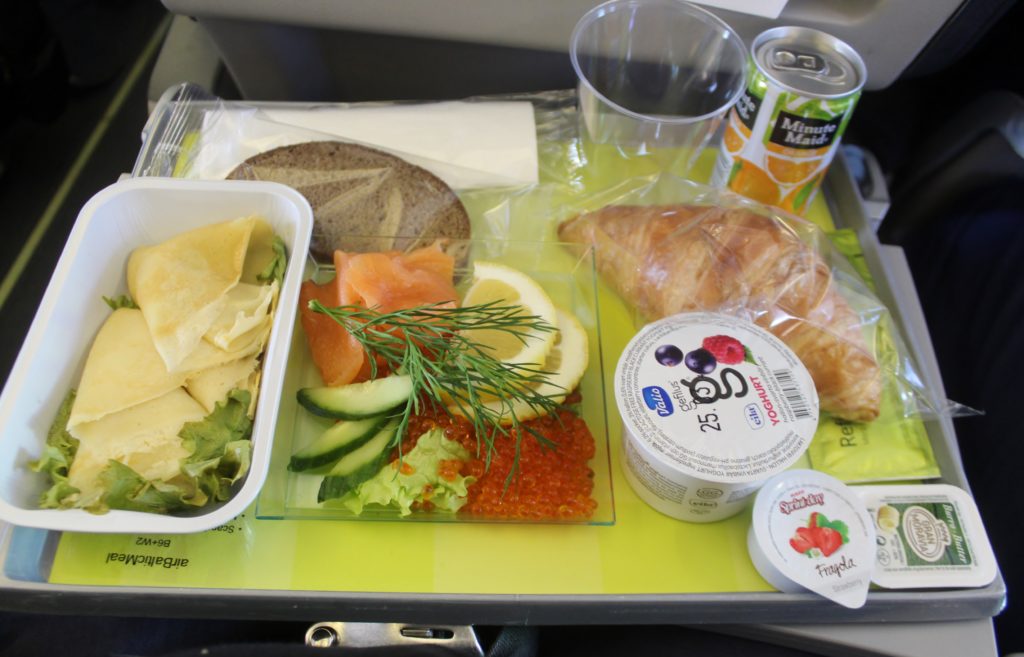 The pancakes with salmon, caviar and vegetables were very tasty although the presentation was not as nice as it would have been if served in business class. Certainly not what I usually have for breakfast, or have for breakfast on an airplane, even in a premium cabin. Very innovative!
All-in-all at 15 euro this was not particularly cheap, especially not for a breakfast, but once in a while, why not?! I rather pay a bit more for something that is of decent quality and actually tastes good rather than the opposite.