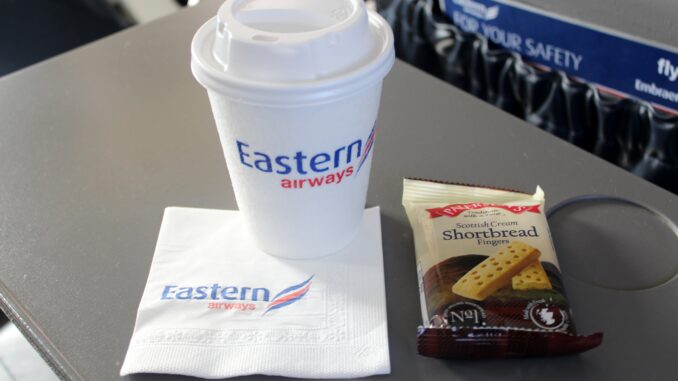 Eastern Airways is a British airline with its headquarters at Humberside airport in northeastern England. They operate mainly domestic flights to most corners of the United Kingdom including destinations such as Southampton, Cardiff, Aberdeen, Newcastle and Leeds serving mainly regional routes with regional aircrafts such as ATR-72, Jetstream 41 and Embraer ERJ 145.
Eastern Airways now has a franchise agreement with Flybe. Although they continue to operate as an individual airline, with their own ground service and inflight service concepts, and with a dedicated webpage, all flights are now operated with a BE code (BE for Flybe) and all bookings are made on the Flybe webpage. There is usually also a Flybe logo painted on the aircrafts together with the Eastern Airways logo.
This is a review of a flight from Humberside to Aberdeen in Scotland, an important route for people working in the oil and energy industry.
Departure experience

Humberside is a small regional airport located in North Lincolnshire in northeastern England. The closest major city is Kingston upon Hull, around 24 km from the airport.
I arrived in Humberside on another flight from Amsterdam with KLM with around two hours between flights. Humberside is a small, compact and efficient airport where the walking distances are short.
I had already checked in online, which once again was done on the Flybe webpage rather than on the Eastern Airways webpage, and which followed the Flybe seating policy. I had the option to prebook a seat during the booking process (at a charge) but decided not to, this meant I was automatically assigned a seat by the system during check-in.
The check-in desk for Aberdeen was not open yet two hours before departure, but I had downloaded my boarding pass to my mobile phone in advance and was only travelling with hand luggage anyway. However there was a charter flight leaving in the late morning for Akureyri in Iceland which created a rather long line at the small security control which I was not prepared for.
Just like the rest of the airport the transit hall is small but there is a surprisingly large duty free shop straight after security as well as a combined cafe and bar. And best of all, there is also a business lounge at this small airport, the Aspire Lounge.
The opening hours of the lounge generally follow the KLM and Eastern Airways timetables for the flights to Amsterdam and Aberdeen, which means the lounge is open on weekdays from early morning until 11 am and then again in the afternoon from around 3 pm to 7 pm. However on Fridays there is also a midday departure to Aberdeen at 12.15, which is the one I was booked on and which would be outside of the lounge opening hours. I was prepared to get 20-25 minutes inside the lounge and then being asked to leave at 11 am but was positively surprised when the lounge agent told me the lounge would stay open a bit longer as there were several guests inside leaving on the charter flight to Iceland at 11.40 am.
At the end she told me I could stay in the lounge until my flight was called for boarding, as she had to clean the lounge and clear the buffet anyway, and so I did, being the only guest for a good 45 minutes. What a great customer service!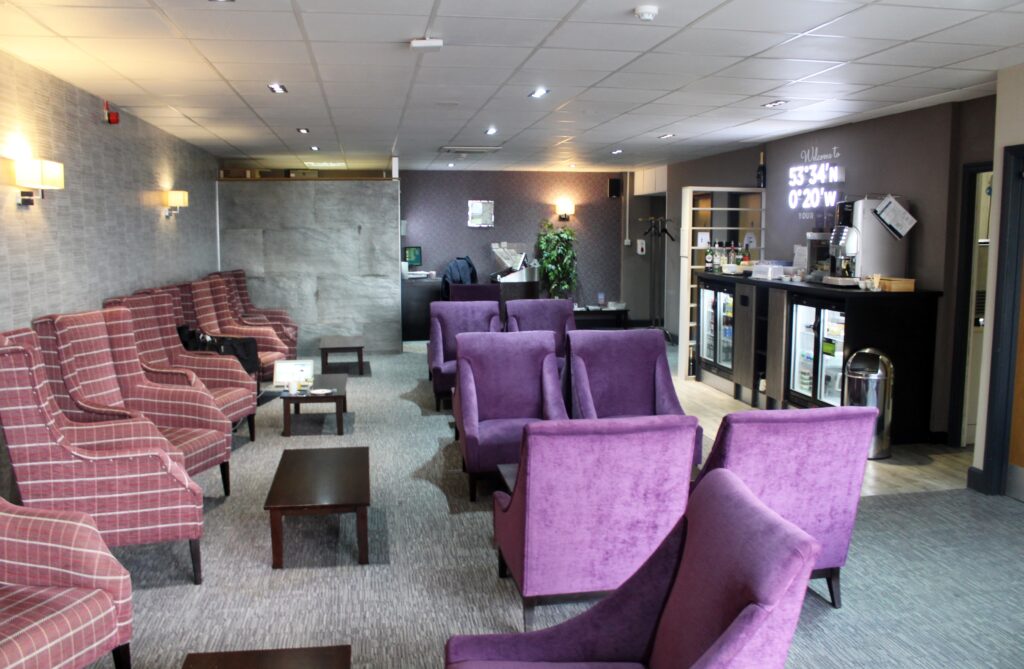 The lounge was surprisingly pleasant for such a small airport with a nice design and a good view of the apron. Apparently the lounge was recently refurbished, which you could notice. I also liked the cool sign above the buffet area with the exact coordinates for the lounge.
The selection of food, drinks and snacks was certainly not bad either for such a small lounge. In fact there are quite a few regional British airports with surprisingly decent lounges. Some breakfast items were still on offer at the buffet including cereals, bread rolls, pastries and even some small paninis. There was also a good selection of drinks with beer, wine, a standard selection of spirits, various soft drinks and a coffee machine.
Read the full lounge review here!
The flight
Humberside-Aberdeen
Eastern Airways/Flybe flight BE 7644
Departure: 12.15
Arrival: 13.30
Economy Class
Embraer ERJ-145
Seat 10D

I left the lounge around 25 minutes before departure. The small transit hall was now almost empty and it was clear the load for the flight to Aberdeen was going to be light. Boarding was announced a few minutes later with a short walk on the apron in the sun to the aircraft.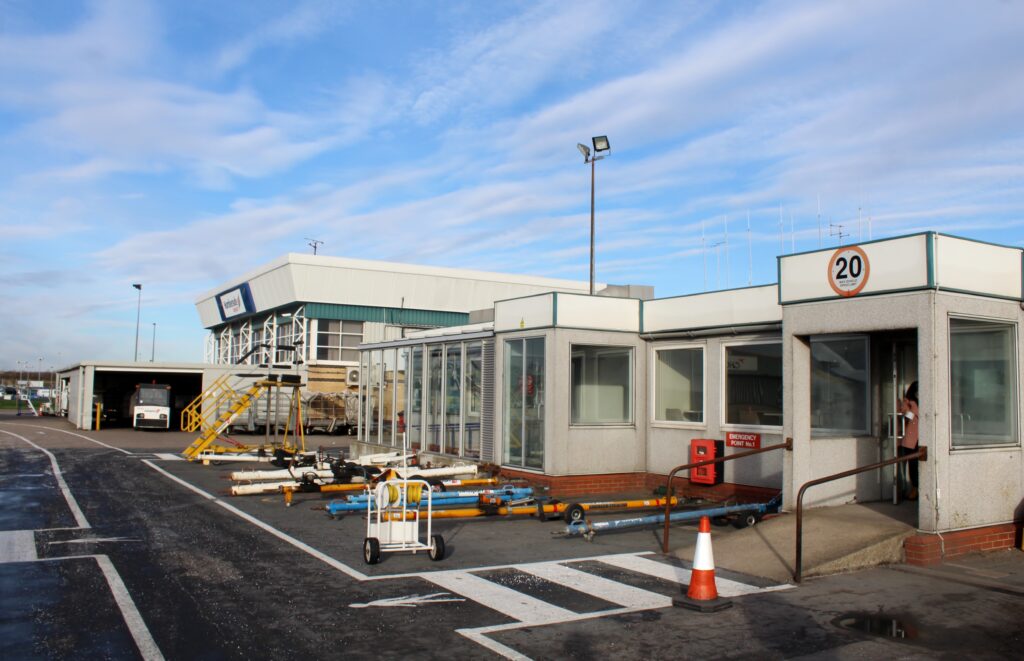 An Embraer ERJ-145 was used for the flight to Aberdeen, painted in white with both the Eastern Airways and the Flybe logos on the fuselage.
First impression

A very friendly female purser greeted each passenger at the entrance. I had been allocated seat 10D on the tenth row by the system as I had not prebooked and paid for a seat I was not given the option to change it either. However given the light load there was more than enough space for all of us and I got my own row.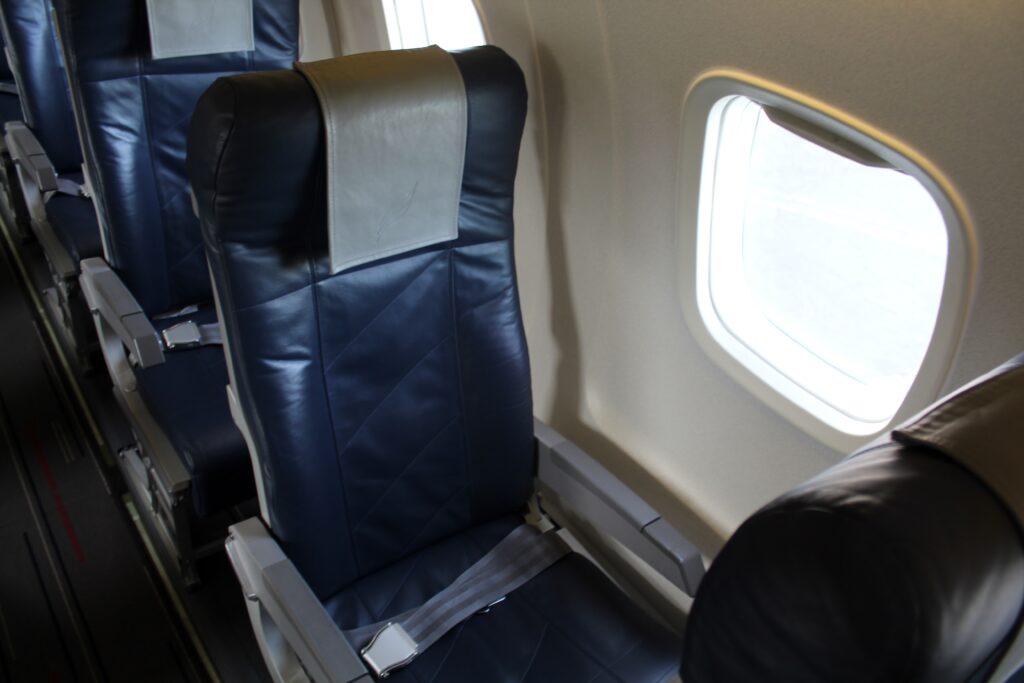 I was slightly less happy to see a sign at the back of the cabin saying that the lavatory was out of order, the only lavatory available onboard. Although the flight time was short, around 55 minutes, a flight without toilet is never a good thing.
Pushback right on time. The flight to Aberdeen was expected to be just under an hour.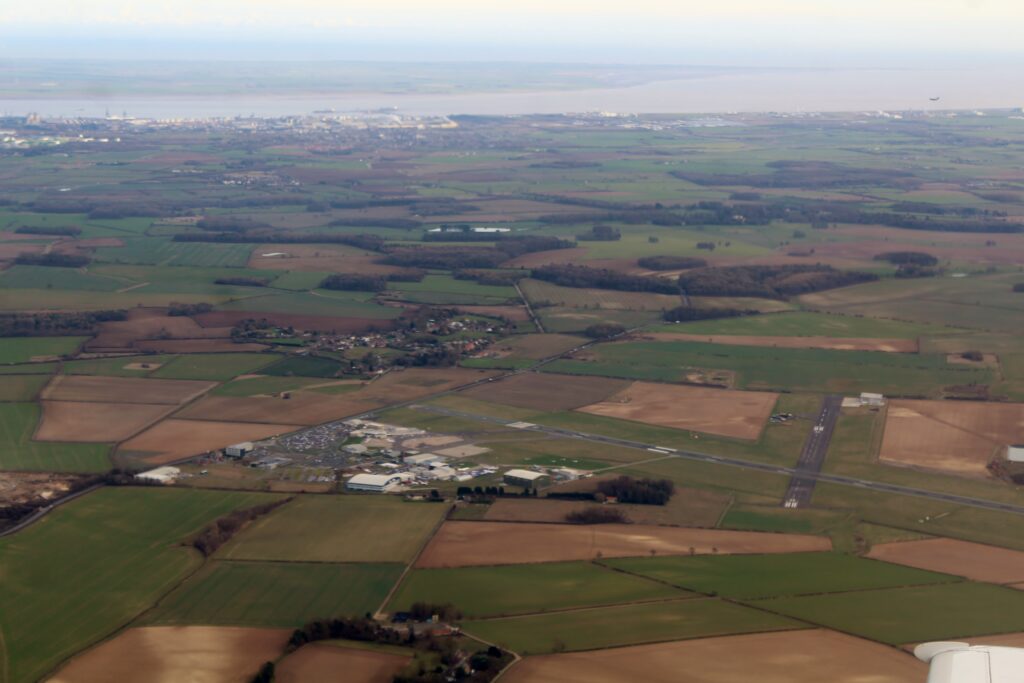 We took off to the south and then made a 180 degrees turn and got a good view of Humberside airport followed by a nice view of Kingston upon Hull, the river Humber and the Humber Bridge.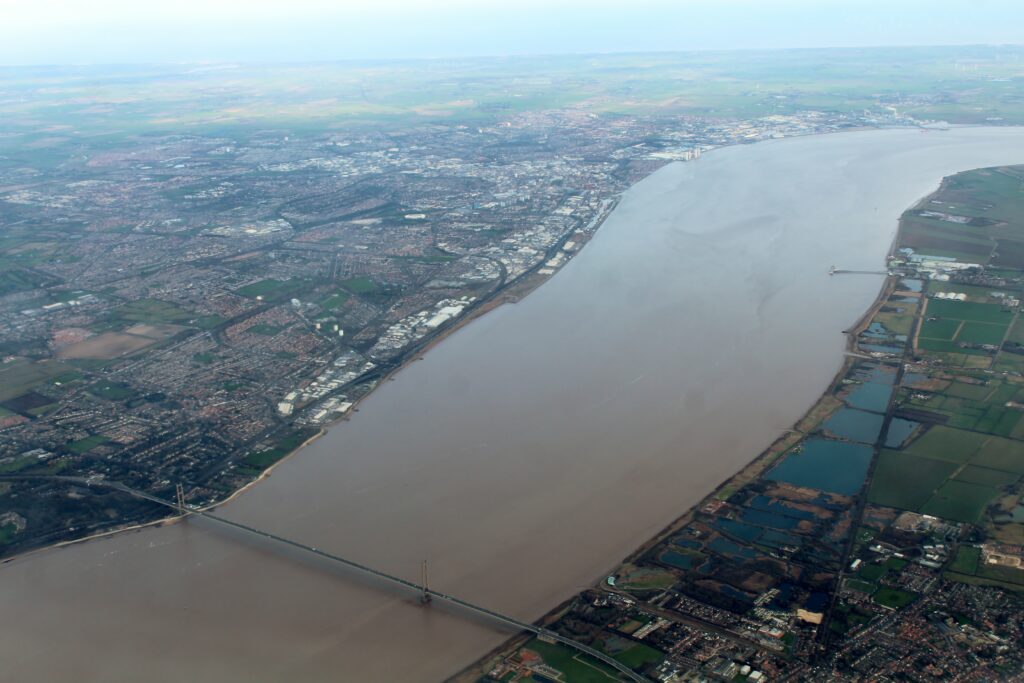 Seat and cabin

The seat configuration onboard the Embraer ERJ-145 was 1-2. There were 17 rows in the cabin with a total of 49 seats. As a single traveller I would have preferred one of the single seats on the left hand side of the aisle, the A-seats, however as I did not prebook a seat I was automatically assigned one by the system, which was 10D. The seats on the right hand side of the aisle are named D and F and fortunately I got my own seat pair and could move to the window to both get a view and more space.
The seats were fairly comfortable in dark blue leather. The legroom was not exceptional but adequate for a regional flight, especially as there was no one sitting in the adjacent seat.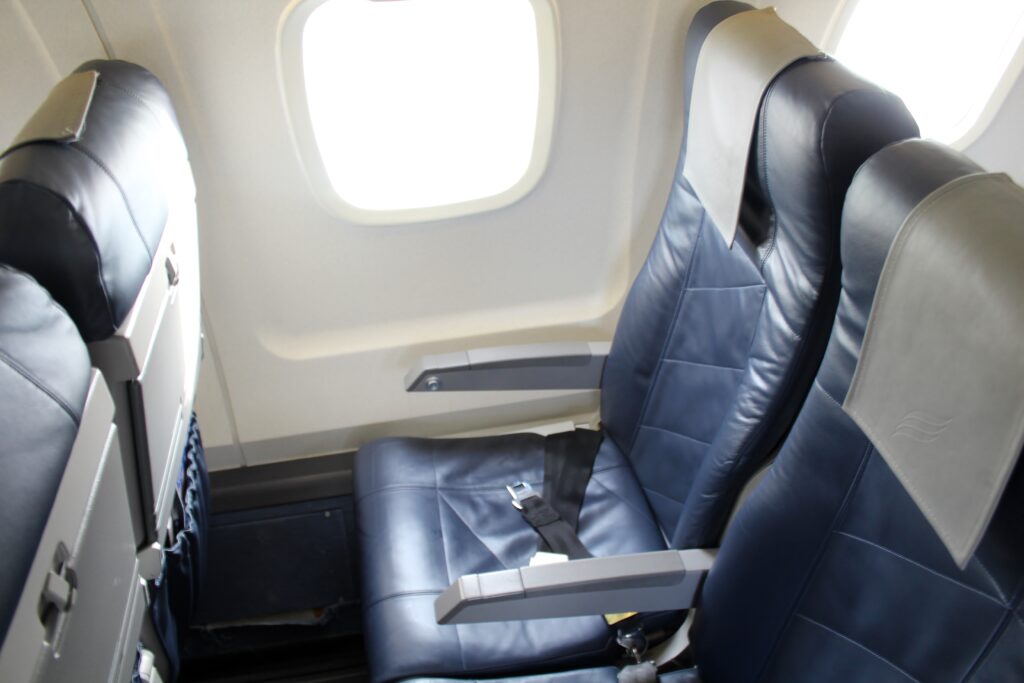 Food and drinks

The inflight service onboard kept an excellent standard and was completely different from the one offered on regular Flybe flights where food, drinks and snacks are available for purchase.
The inflight service started already on the ground with candies offered from a basket before takeoff. Up in the air hot towels were offered followed by a complimentary snacks service.
A selection of different snacks and cookies were offered by the cabin crew, I had the shortbread fingers. Hot and cold drinks were also offered including beer, wine, soft drinks, coffee and tea, and it was all complimentary. They make a rather big deal about offering some local brands on the flights, including craft beer from the local 'Grimsby Brewery Docks Beers' produced in Grimsby, not far from Humberside airport. A very nice touch and I really appreciate when airlines make an effort to provide something unique and different.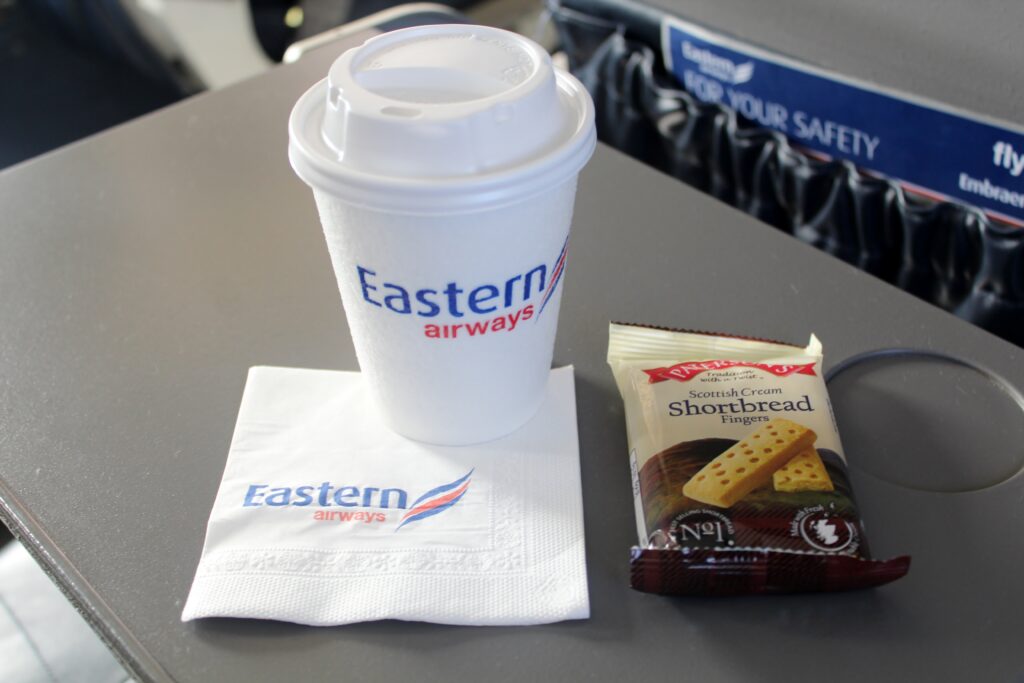 With few passengers there was time to offer a refill to those who wanted it and finally more candies were offered from a basket before landing in Aberdeen.
The service

The service was very friendly from the two female flight attendants working onboard but with only about a dozen passengers there was no rush and they had plenty of time to serve all passengers.
Arrival experience

We touched down a few minutes early at a wintery Aberdeen airport. There are no jet bridges at the airport but nearly all parking stands are located with direct access to the terminal building, with no need to take a bus.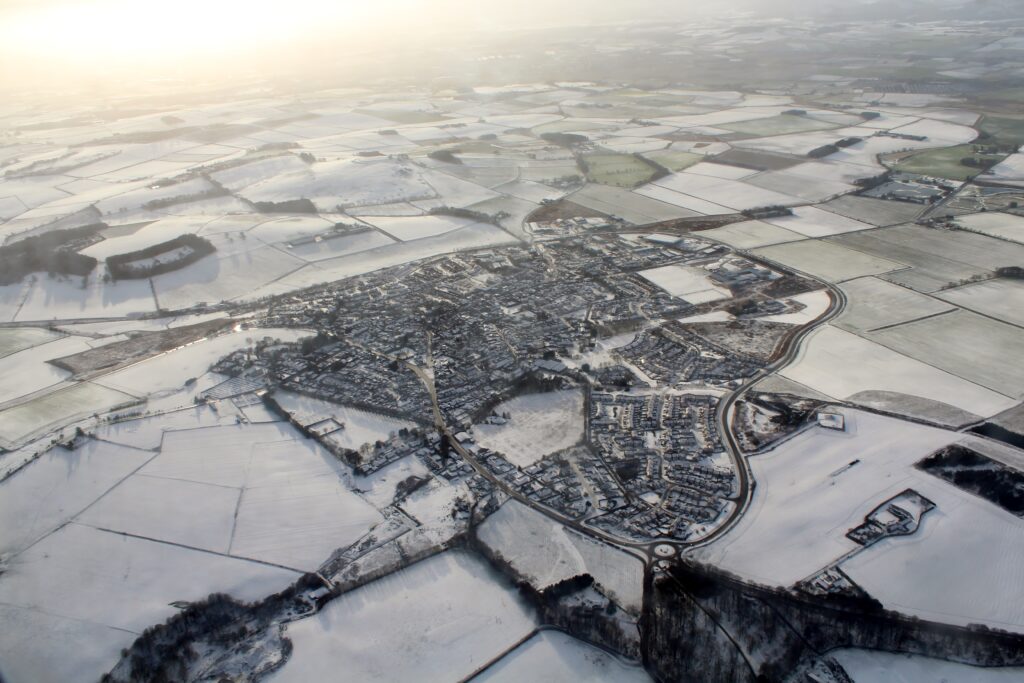 Interestingly Eastern Airways has its own lounge at Aberdeen airport, since Aberdeen is an important hub for Eastern Airways, and it is available to all Eastern Airways passengers. The lounge is quite a walk from the main transit area, located at the end of a regional pier, but there are plenty of signs and it may well be worth paying a visit if arriving early at the airport. I did manage to find the lounge but did not attempt to enter as an arriving passenger, so not sure if that would have been possible.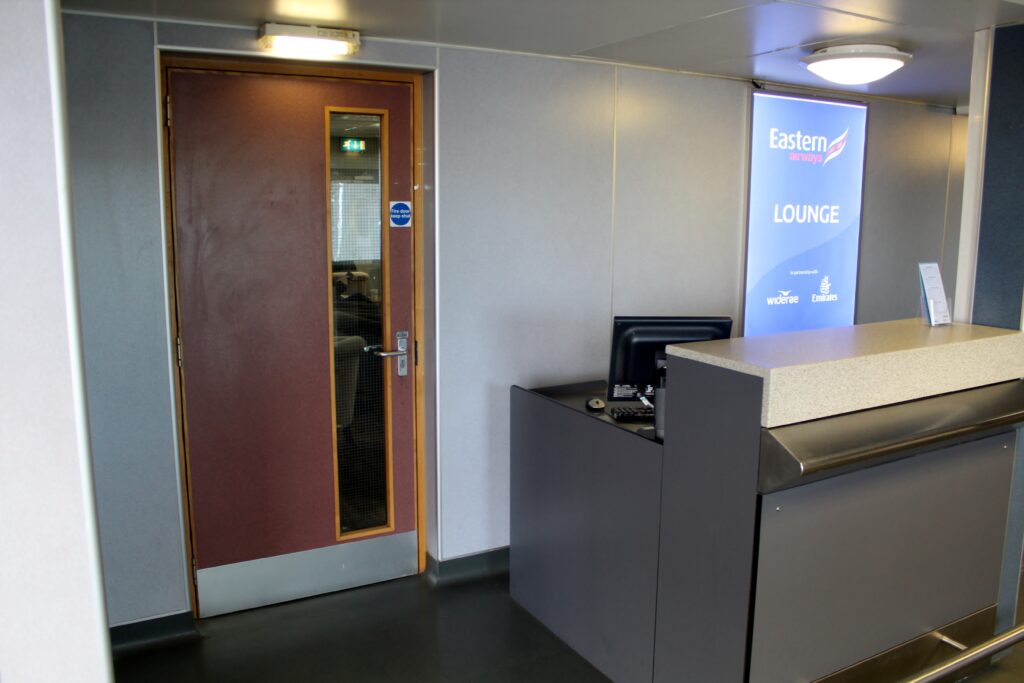 Final impression

Friendly crew and an impressive inflight service for a regional domestic flight with complimentary snacks and drinks including wine and locally produced craft beer from Grimsby. Nice little lounge in Humberside and Eastern Airways even has its own lounge in Aberdeen.