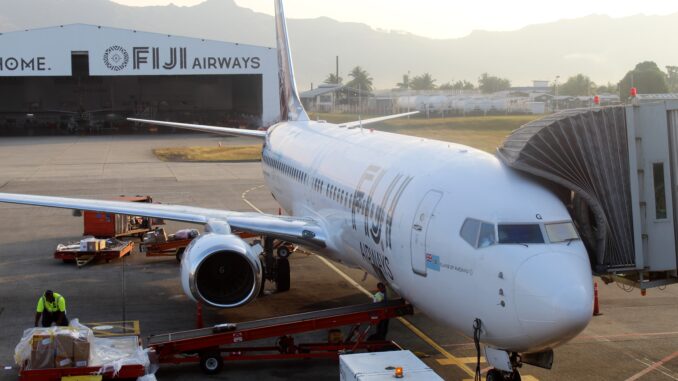 Fiji Airways is the national carrier of Fiji. The airline was previously known as Air Pacific but changed its name to Fiji Airways in 2012 in connection with a major restructuring of the company. The main hub is at Nadi airport where they have a rather extensive network to destinations in Australia and New Zealand, to Hong Kong, to the United States and to various islands in the mid-South Pacific region.
This is a review of a flight in Fiji Airways economy class from Nadi to Tarawa, the capital of Kiribati, one of the world's least visited countries.
Departure experience

I stayed overnight at the Mercure Nadi Hotel in Nadi. Perhaps not the fanciest of hotels, but decent enough for a short overnight stay and it does have a very convenient location just a few minutes drive from the airport. They even provide a free airport transfer service in the morning, which I took advantage of. The bus left the hotel at 6 am with plenty of time for the 8 am departure.
Nadi airport has been greatly modernised in recent years and the terminal nowadays looks much like any major European holiday airport. Although this certainly improves the travel experience and makes Fiji a more attractive holiday destination for holidaymakers (especially from Australia and New Zealand) I do miss a bit of the old South Pacific charm in the terminal which the terminal offered before the renovations started.
The departure hall was very crowded with several morning departures to destinations such as Hong Kong and Auckland, and for some reason most people decided to line up for manual check-in, even though there were several self-service check-in machines available which nobody seemed to care about. So I just used one of them instead and had my boarding pass and baggage tag printed in less than a minute.
There was also a dedicated baggage drop counter available with no one in line. The only thing the check-in agent asked for was my passport and a copy of my onward ticket from Tarawa, since I was travelling on a one-way ticket.
There was also a new and rather nice-looking premium check-in area in the corner of the departure hall. This time I did not have access to it flying Fiji Airways economy class, but I will next time since Fiji Airways is about to join the OneWorld alliance as a connecting partner. This is not the same thing as being a full member, but if you are a frequent flyer of one of their four 'sponsors' (American Airlines, British Airways, Cathay Pacific and Qantas Airways) you get most of the usual benefits flying Fiji Airways such as priority check-in and lounge.
Security control and passport control were a breeze, even with a fair number of morning departures.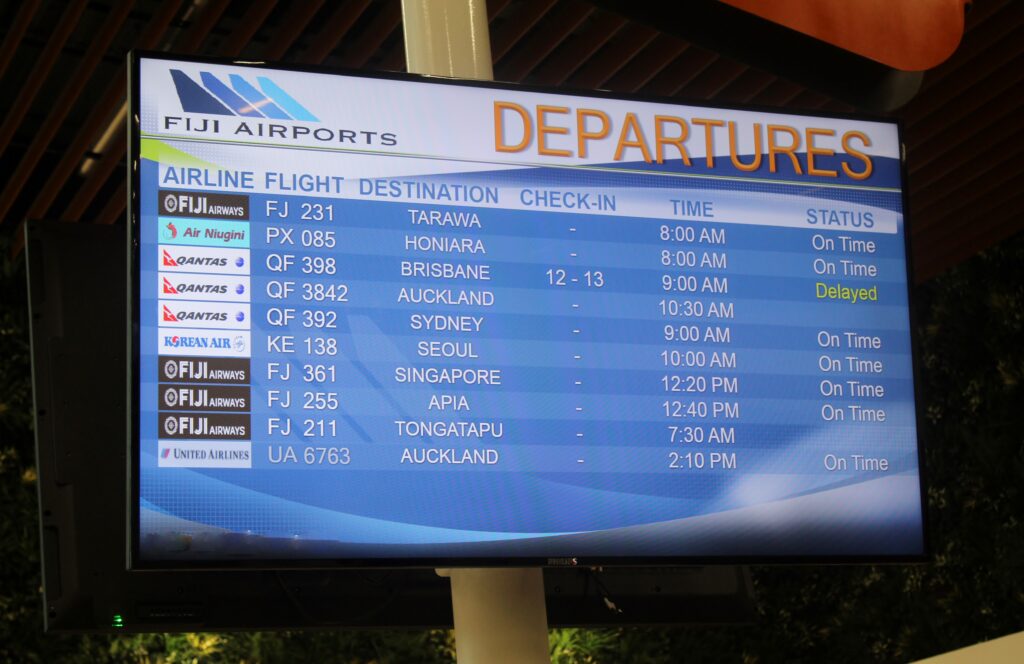 The international transit hall had also been both enlarged and completely refurbished since my last visit with both new fast-food outlets and various shops selling everything from traditional taxfree goods to clothes and shoes.
Fiji Airways also recently opened a brand new lounge in Nadi called 'Premier Lounge' located on the ground floor of the terminal. Although lounge access was not included in my ticket, and my OneWorld Emerald card was of little use (it will be in the future, though) I could access the lounge using my Priority Pass card.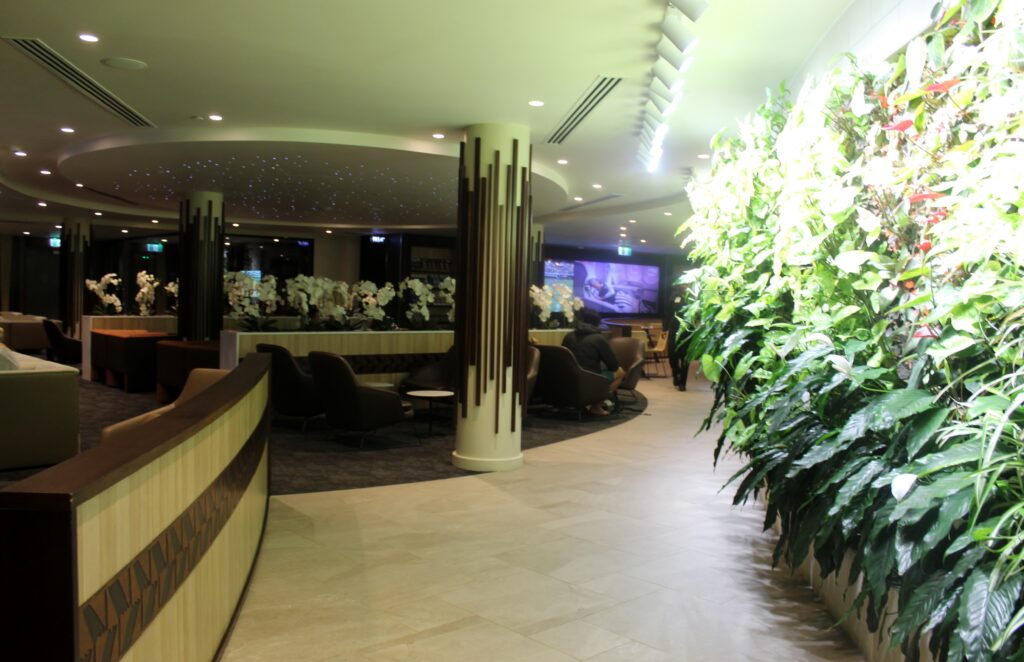 And what a great lounge this is. Definitely not what you would expect from a small South Pacific airline at an airport in the middle of nowhere. Nowadays this is a world-class international airport lounge and definitely a personal favourite in the region.
The new and rather spacious Premier Lounge is divided into several different areas with a manned bar, a restaurant area, a buffet area and a quiet area. And they even had their own welcome drink at the bar, iced green tea infused with pineapple.
As I did not have time for breakfast at the hotel (well it was not even open when I left) I had a seat in the restaurant at one of the nicely-decorated tables next to the large widescreen TV showing beautiful images from Fiji (and some Fiji Airways commercials).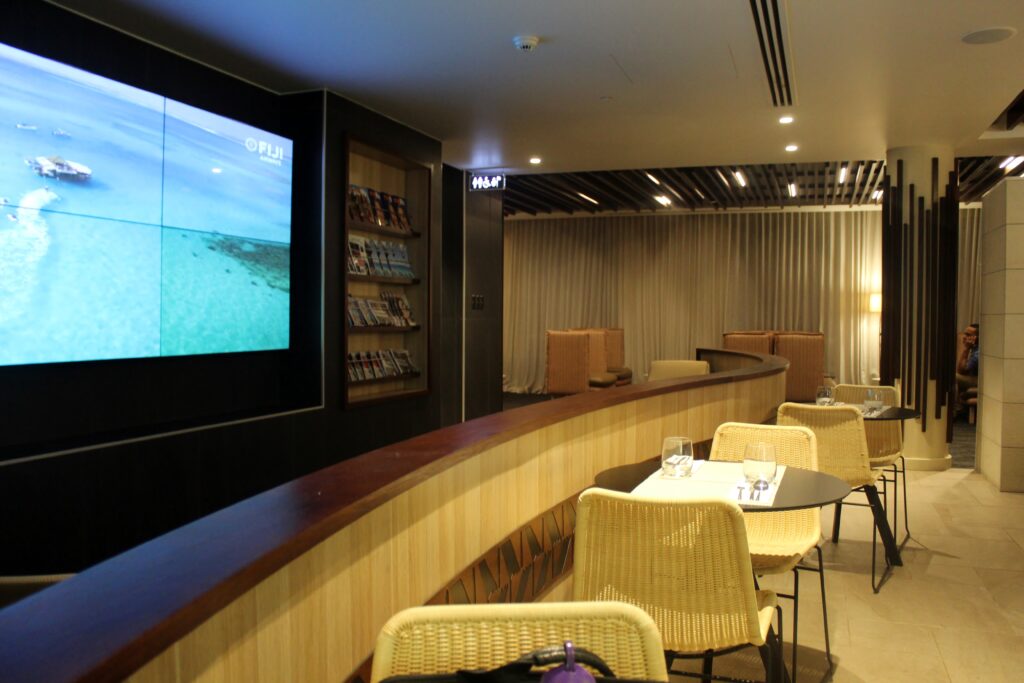 The self-service buffet had a rather extensive breakfast spread with everything you would expect to find including scrambled eggs, sausages, fresh fruits, yoghurt and pastries. Drinks could be ordered at the manned bar and if you ordered something that took some time to prepare (such as freshly-brewed coffee) the drinks were generally brought out to your seat or your table in the lounge by the friendly lounge staff.
Overall this was really much better than expected!
The flight
Nadi-Tarawa
Fiji Airways flight FJ 231
Departure: 08.00
Arrival: 11.00
Economy Class
Boeing 737-800
Seat 30C

Boarding started a good half an hour before departure at gate 4. There was a dedicated priority line for business class passengers, but unfortunately I could not use it.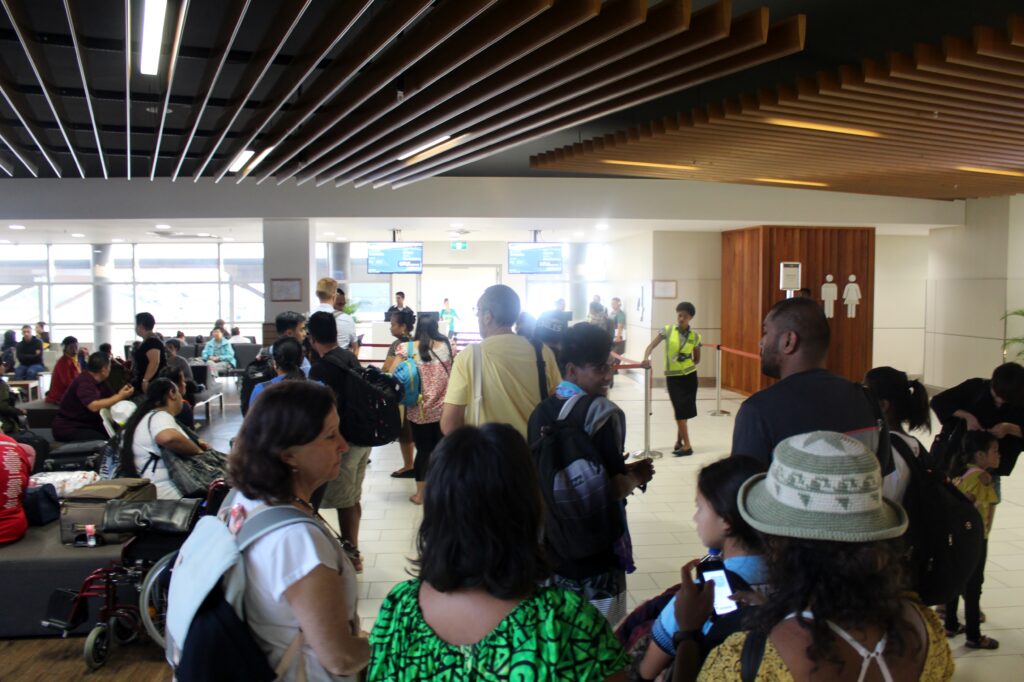 Although there are passenger bridges at the international terminal in Nadi you do walk mostly outdoors from the terminal building to the jet bridge using a covered walkway, which is a very pleasant and exotic way of starting or ending your Fiji experience, especially on a beautiful sunny day.
First impression

I was greeted with a warm 'Bula' (meaning 'Hello' in Fijian) as I entered the Boeing 737-800. Most passengers were already onboard so it was tricky to take any photos of the economy class cabin. However the business class cabin was still nearly empty, two rows in a 2-2 configuration with proper business class seats. Economy class had a similar design with the seats in brown and grey.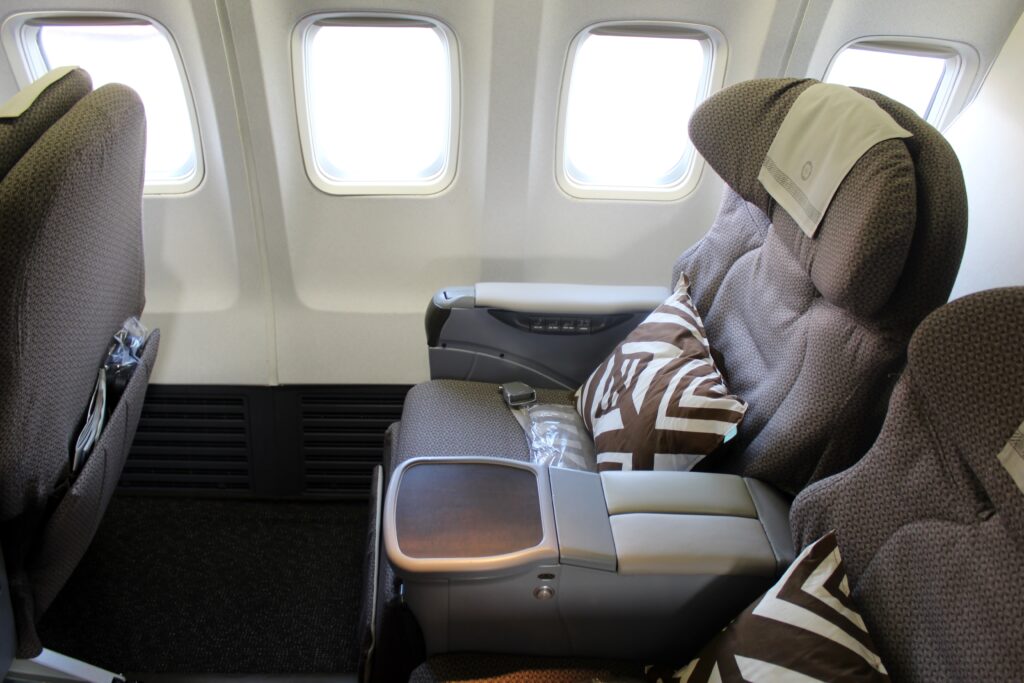 When I booked the ticket a lot of passengers had already pre-booked their seats so I ended up selecting seat 30C. This was not as far back as it may sound since the first row of economy class behind the two rows of business class was called row 14, so I was in fact sitting on the 18th row of the cabin.
I generally prefer a front-row seat if possible as you can get on and off the aircraft quickly, but on the other hand, when travelling around the South Pacific, what's the rush? They even joke about it on Fiji Airways, switching to 'Fiji Time'. I was fairly happy at row 30 enjoying an exotic flying experience.
The load onboard to Tarawa was around 80 percent. There was an Australian man in 30A but the middle seat stayed empty, which was good for the comfort.
Overall it was a relaxed but fairly strange atmosphere onboard. Virtually no one travels to Kiribati for tourism, since there is pretty much no tourism industry there. Forget about fancy resorts, nightclubs, shopping centres and world-class restaurants. You won't find any of it in Kiribati. The vast majority of the passengers were locals from Kiribati returning home, many of them dressed in beautiful and very colourful local clothing. The rest of the passengers were foreigners travelling to Kiribati on business, to assist with projects in the country, to take part in education or to meet government officials.
It took a lot of time to prepare the aircraft for departure with all the cargo, which probably included everything from mail and parcels to fresh food. They started already an hour before departure.
Eventually we pushed back at 8 am with a flight time of just under three hours to Tarawa.
Seat and cabin

Standard economy class seating on the Boeing 737-800 with a 3-3 configuration. The legroom was decent at 32 inches and the seats were comfortable and fortunately not one of the latest seat types with the really thin seatback.
For an economy class experience there was not much to complain about regarding the comfort and I was very happy to get an empty middle seat.
Food and drinks

As we reached cruising altitude breakfast was served in the cabin, although I of course already had a proper breakfast in the lounge.
Breakfast was a standard 'Full English' with scrambled eggs, a sausage, hash brown and beans. On the tray there were also a small fruit salad and a yoghurt and bread rolls were offered by the cabin crew together with coffee, tea and juices.
Nothing spectacular but definitely nothing to complain about either, especially for a shorthaul economy class flight of three hours, and it was all included in the price of the ticket.
Later during the flight more drinks were offered, this time including beer and wine.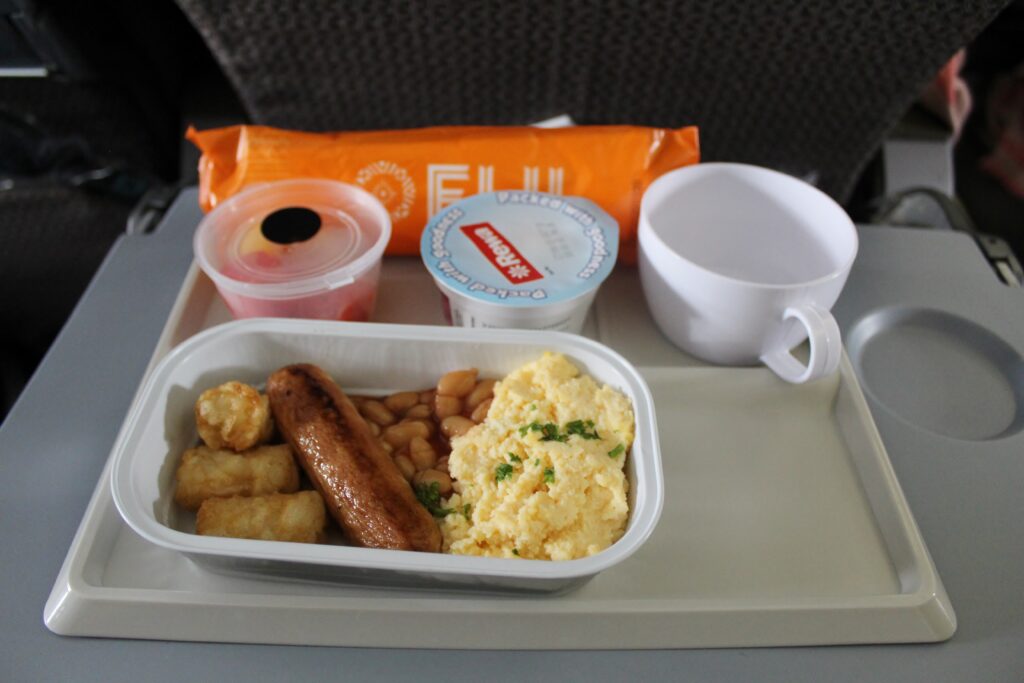 The service

The service was very friendly by the charming cabin crew dressed in beautiful uniforms in turquoise and brown. The service was not the fastest though, but again, we were on 'Fiji Time' and the flight was nearly three hours in length, so there was no rush.
Arrival experience

Although it was nice to have an aisle seat, to be able to stretch my legs during the flight, I regretted my seat choice as we approached Kiribati and the Tarawa atoll. I could see parts of the magnificent scenery from my seat and it was breathtaking, but I was sitting too far from the window to be able to take any photos.
We touched down at Bonriki airport on time at 11 am. The airport was completely surrounded by lush palm trees and the Tarawa atoll, shaped like an L, is so narrow that the runway stretched all the way from the beach on north side to the beach on the south side, which just enough space for a small road to pass between the beach and the northern tip of the runway.
Tarawa is the main atoll of Kiribati and is divided into North Tarawa and South Tarawa. There is no real capital city in Kiribati, instead the Tarawa atoll is regarded as the capital with the different ministries spread out in South Tarawa.
Bonriki airport on South Tarawa is the largest and the only international airport in Kiribati. There is also a handful other domestic airports served by Air Kiribati from Tarawa using Dash-8 and Twin Otter.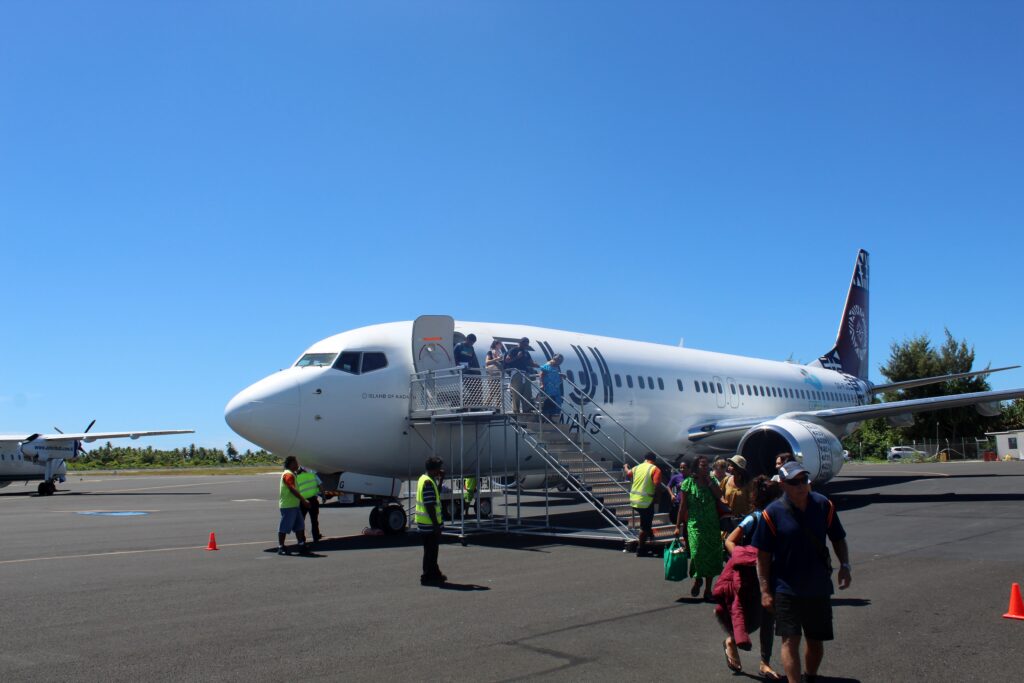 The terminal building was under re-construction so there were temporary arrangements everywhere at the airport, but then again, what's the rush? The immigration officer was very friendly but did probably not see many tourists coming to the country.
The baggage delivery was also a temporary, and primitive, to say the least, setup. There was no baggage belt in the tiny baggage hall, instead all bags were loaded through a window and placed either on the floor or on one of the tables. When you saw your bag being delivered through the window you just made your way to the front to collect it.
No, it was not efficient and definitely not customer-friendly either, and I wonder how the priority baggage delivery worked out, but we all got our bags at the end, and I was not in a hurry anyway.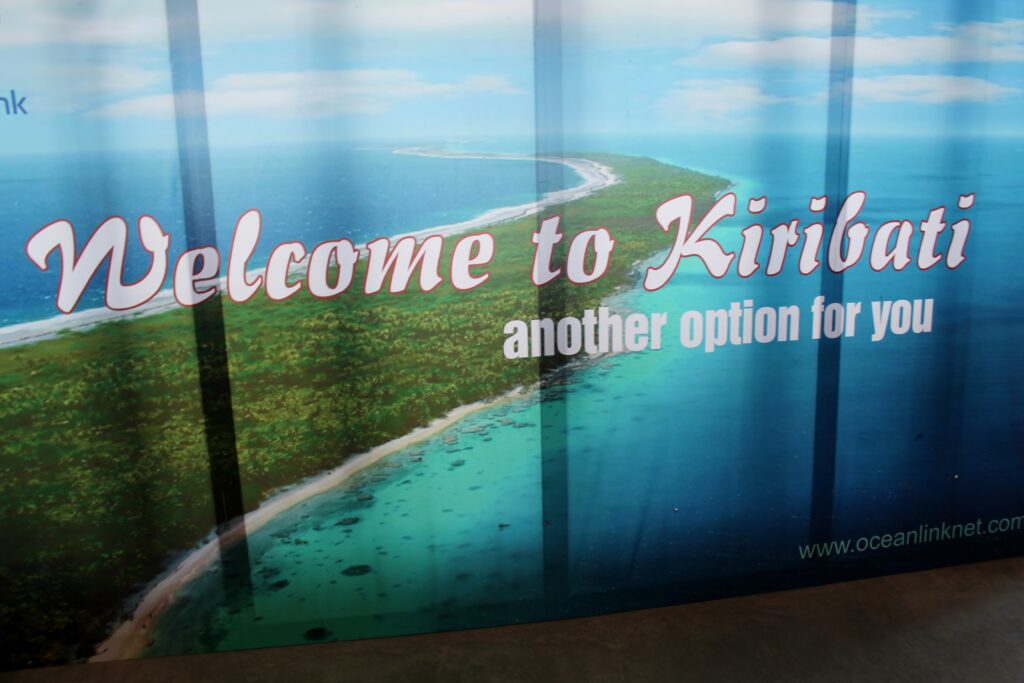 Although there is a network of buses on Tarawa (or a network of vans, to be more correct) which can be flagged down anywhere along the main roads, these are not very suitable when travelling with luggage as there is very little space and they are usually hot and humid. Most hotels will happily arrange airport pick-ups if you contact them in advance, which is what I also did.
Final impression

A very pleasant economy class experience with Fiji Airways. The new Premier Lounge in Nadi is world-class, the inflight service was surprisingly decent with a hot breakfast, the seat comfort was adequate and the service was friendly.