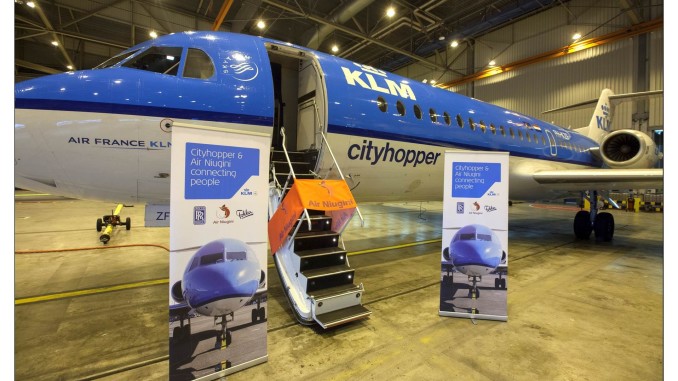 KLM today announced the transfer of seven Fokker 70 aircraft which have been sold to Air Niugini, the national airline of Papau New Guinea. The first aircraft will be transferred in December this year when KLM receives its first two Embraer 190.
The transfer is part of a major fleet modernisation. In March 2010 KLM phased out its last Fokker 50 and in 2012 the last Fokker 100 left the fleet. The Fokker 70 has been flying with KLM since 1994 and will leave the airline after over 20 years of service.
To replace the Fokker aircrafts KLM has ordered 30 new Embraer 190 aircrafts and 15 new Embraer 175 aircrafts. The first Embraer 190 will join the fleet in December this year to fly for KLM Cityhopper. When all 45 aircrafts have been delivered KLM will have the largest Embraer fleet in Europe.
The KLM Fokker 70 has 16 rows in a 2-3 configuration with 80 seats in total. In business class the middle seat on the right side and the adjacent seat on the left side are left empty to give more space and comfort. This means the number of passengers is usually lower than 80.
The KLM Embraer 190 has 25 rows in a 2-2 configuration with 100 seats in total. In contrast to the Fokker 70 there is usually no empty adjacent seat in business class.