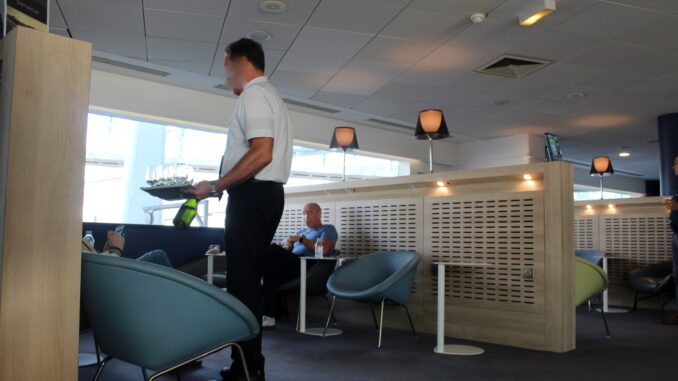 A late afternoon visit to the Air France Lounge in Paris and this what I truly enjoy about Air France. Surely Paris CDG may not be the best airport in Europe (although it has improved a lot in recent years) and I know some Anglo-Saxon travellers may find a slight culture clash when travelling on Air France, an airline deeply rooted in the Latin world where some things are simply done differently. But when it comes to style and finess it is hard, if not impossible, to find an airline better than Air France. When they make a serious effort they are nothing but world class.
In the Air France Lounge at Paris CDG terminal 2F this late afternoon a man passes through the lounge offering champagne to all lounge guests, very elegantly with glasses on a tray. And this is not the non-Schengen lounge for intercontinental flights, it is the Schengen lounge for shorthaul European flights. And this is not a first class lounge or a platinum lounge but a standard business lounge, accessible to business class passengers, Flying Blue Gold and Skyteam Elite Plus passengers, even when travelling in economy class.
And do you think Air France would offer a cheap, unknown, low-class champagne brand in their lounge? Of course not. They have the Charles Heidsieck.
How many business lounges in Europe would offer something like this? Or lounges in other parts of the world for that matter. This was really terrific. Well done Air France.