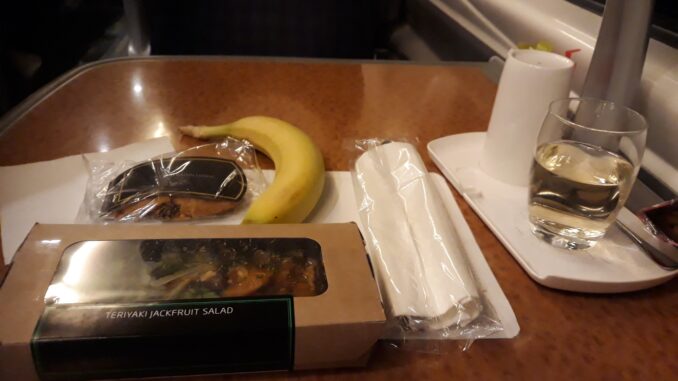 Booked to travel from London to Liverpool in Virgin Trains First Class on one of their evening services. Shortly after departure from Euston station an announcement was made that due to catering problems there would be no proper meal service on the train. Usually at dinnertime on weekdays there is some kind of hot meal served, but there would no such thing on this train service, and they were quite apologetic about it. They also informed us no coffee would be served.
As the trolley passed there was indeed no hot meal, just a selection of cold snacks. I eventually went for the Teriyaki jackfruit salad, a banana and a cookie. The salad is apparently offered also on regular services, as a lighter vegetarian option.
The drinks selection was the standard one though, including beer, wine, spirits and soft drinks with nothing missing. And an hour into the journey they passed our seats offering, coffee. I was very surprised since they had previously announced there would be no coffee available this evening, but in some way they managed to sort it out. Either they found and took some coffee from standard class, or it was loaded on one of the stations we passed on the way. Nevertheless I was happy, since I really needed it after a long day.
And when it was time for the second round with the drinks trolley, about half an hour after the coffee had been served, I asked for a gin & tonic to drink and was proactively given a double, together with some more cookies and chocolates.
Even though I would have enjoyed a hot meal on this 6.30 pm departure I have to give some credit to the train crew for handling this surprisingly well, offering some cold snacks and then managing to serve some coffee anyway. And then being very generous with the drinks instead. I left the train as a happy customer.
Read a full review of Virgin Trains First Class here!