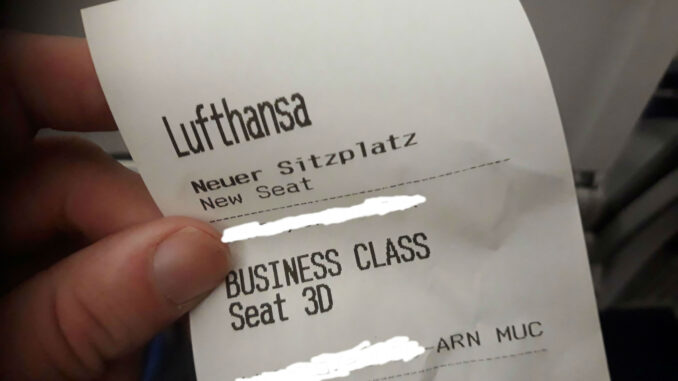 My fifth upgrade this year, or rather my fifth operational upgrade, which means a complimentary upgrade for operational reasons such as when a flight or a cabin is overbooked.
Christmas is usually an excellent time if you want to maximise your chances of being upgraded. Many flights are fully booked with people going to see friends and family for Christmas and on top of that there are fewer business travellers and frequent flyers than usual, which means the competition for the upgrades is smaller. So if you have a gold card and meet the general criteria to get an operational upgrade, chances are at least reasonable.
I already knew the evening flight to Munich was going to be almost completely full and looking at the booking status for the flight together with the seat maps it did seem like economy class was most likely overbooked. And although I do not have status in Miles & More I do have Gold status with Star Alliance, which may make a difference during the holiday season when there are fewer business travellers.
And just like I had hoped for, when scanning my boarding pass at the gate the small printer on the counter came to life and two seconds later printed a small piece of paper with a new seat, 03D. I had been upgraded to business class. A great start of the Christmas holiday.
Catering strike on Lufthansa / LSG Sky Chefs
What made this experience a bit more unusual was that there was a catering strike at LSG Sky Chefs. A first report came on Wednesday evening regarding the strike and the effects it would have on the Lufthansa flights.
And Thursday at noon there was another report saying the German labour court had banned the strike, asking the employees to return to work.
And Thursday evening a third update came from Lufthansa. The inflight catering would resume but with some bottlenecks, and which would especially affect flight to and from Munich, where I was flying to.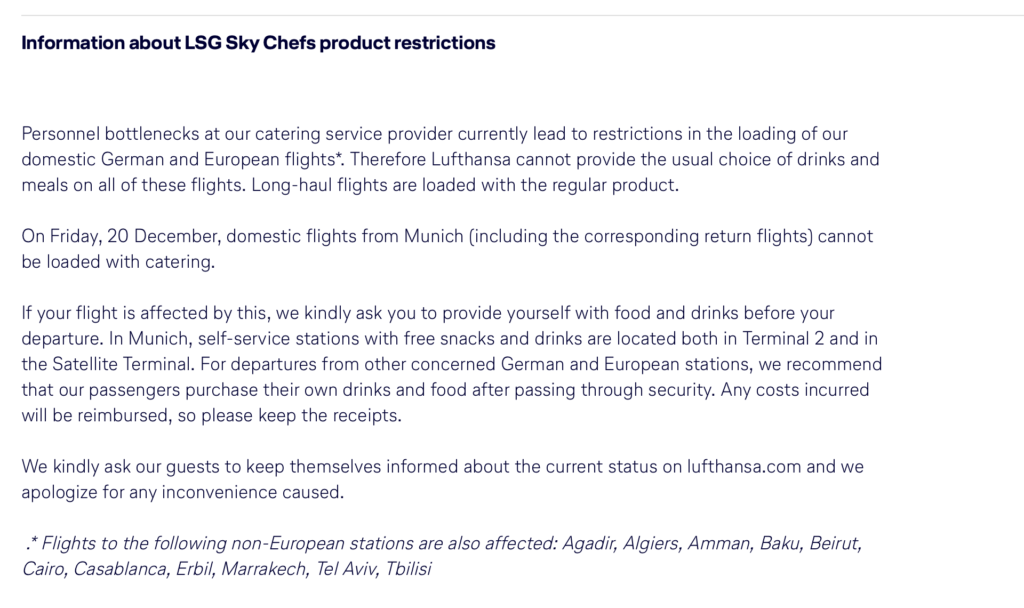 With this information in mind, on top of being upgraded, I was rather curious to see what the inflight service would be like on the evening flight to Munich. Sometimes when you get upgraded to business class there is no meal for you. Obviously when there are more passengers than there are meals loaded paying business class passengers get priority. So although you get a better drinks selection and in proper glasses you will only get the standard economy class sandwich.
We were three passengers who got upgraded to Munich and I was delighted that there were meals available to all of us. The Lufthansa shorthaul business class catering is nothing to get terribly excited about though. A plate with some cold cuts, in this case chicken, and some vegetables. Bread rolls from a basket and finally there was a mousse for dessert, which is also often the case on Lufthansa.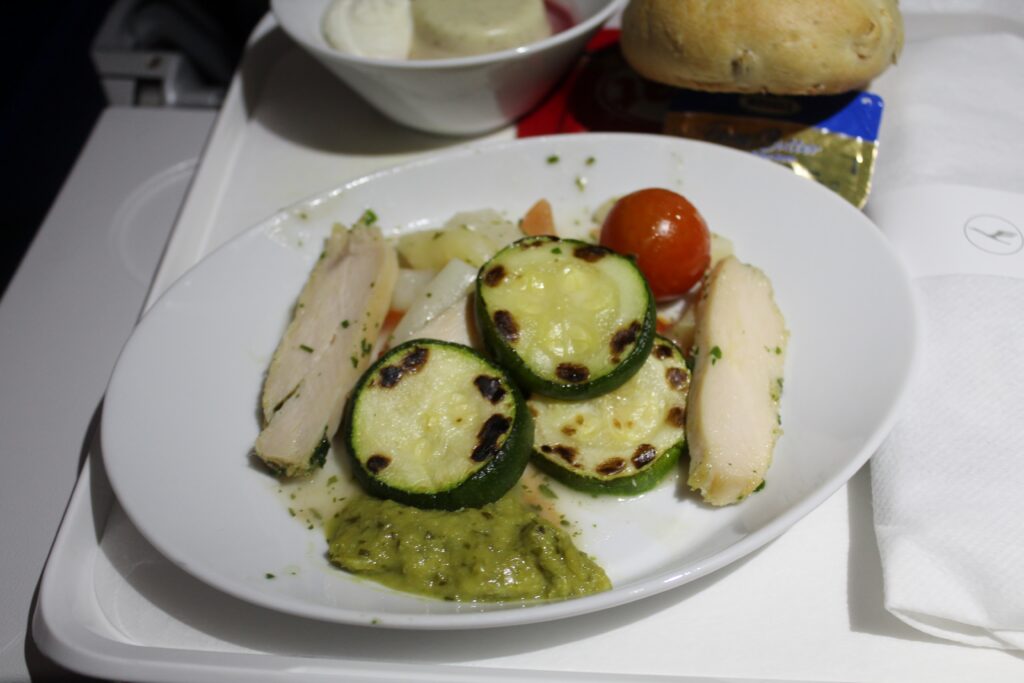 A few moments later the drinks cart passed through the cabin and it looked like everything was available as usual. I asked the flight attendant about it and was told that the alcoholic beverages were only available to business class passengers. Usually beer and wine are served also in economy class, but not this evening.
So they probably only got a limited number of wine bottles and divided these between the international flights, to made sure each flight got something like one bottle of red wine and one bottle of white wine.
The passengers in economy class only got soft drinks and apparently there were no sandwiches in economy class either. So the upgrade was really a great one this time as it meant I got both a proper meal (instead of nothing whatsoever to eat) and some alcoholic drinks (instead of just soft drinks).
I had a glass of white wine to drink with the meal.
The meal trays were eventually cleared and I was offered more drinks. I ordered a cup of coffee this time and a gin and tonic. They serve the Bombay Sapphire in Lufthansa business class.
With a rather long flight time of just over two hours I asked the purser if it would be possible to get a refill. She seemed hesitant, went to the galley and they came back informing me that they still had gin but no more tonic water. I did not really see anyone else ordering a gin & tonic so most likely they only had 2-3 cans of tonic water loaded, for 17 passengers in business class. A similar situation as with the wine.
She offered to arrange something else and a minute later she came back with a gin & bitter lemon. Not a favourite to me, but at least reasonably close.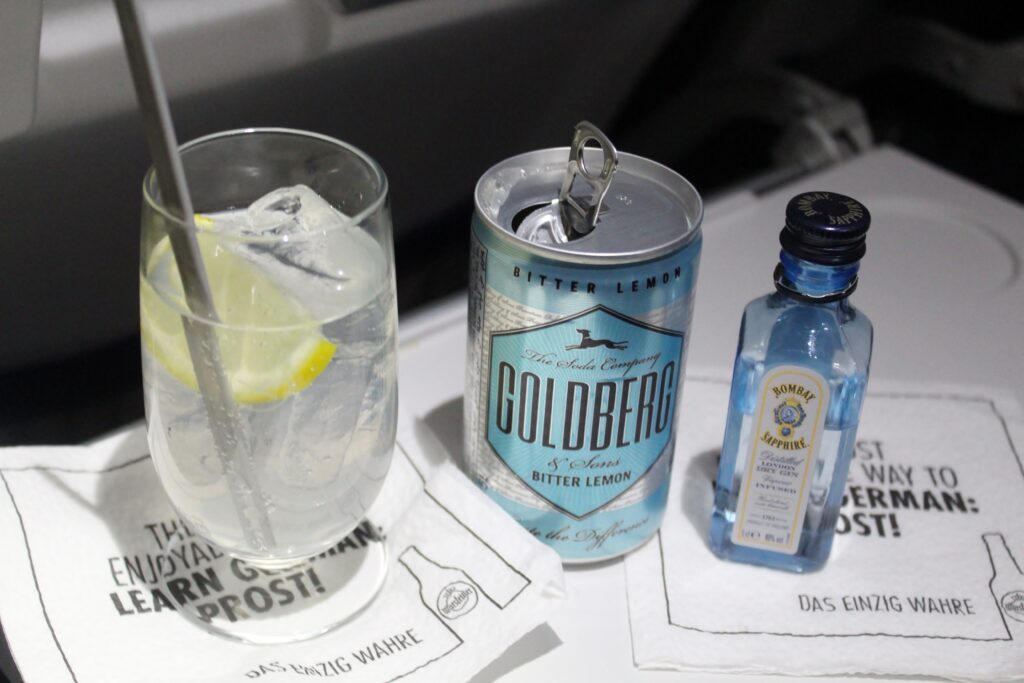 Final impression
Obviously the catering strike was beyond their. It started with almost no prior notice and was quickly deemed illegal by the labour court but apparently still created major bottleneck problems, one reason being higher sickness rates. But they did manage it quite well. The was plenty of updated information and they made the right priorities, focusing on the business class passengers who got meals, when the economy class passengers did not, and who also got alcoholic drinks such as wine when there were few bottles available.
So hands up to Lufthansa for handling this rather professionally and also for their offer to reimburse expenses for those who did not get anything to eat onboard. And of course a big thanks for the upgrade.