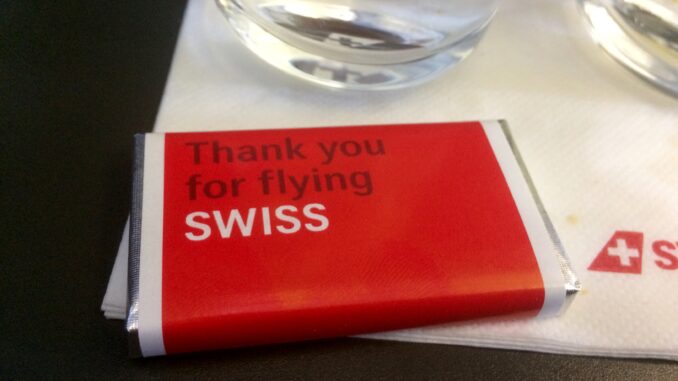 Only a month has passed since I was upgraded to business class on Lufthansa from Frankfurt to Rome, and now it happened again, this time on Swiss. Although operational upgrades (i.e. complimentary upgrades given for operational reasons) are fairly rare it is even more rare to be upgraded on an airline when you do not have status with that particular airline. Most airlines will upgrade their own most loyal frequent flyers first, which makes perfect good sense, and then upgrade gold card holders from other programs in the alliance (in this case passengers with a Star Alliance Gold status) when there is no one else to upgrade.
There were fairly strong winds in the Amsterdam area during the afternoon, one of the drawbacks of flying to/from/via Amsterdam. There are usually a few days every year when the air traffic more or less halts for a few hours, or even a full day, due to strong winds, thunderstorms or heavy fog. The standard procedure at KLM, the home carrier at the airport, is to proactively cancel a few flights in advance, to make sure they have a traffic program they know for sure they can handle.
This afternoon there were fairly strong winds, the aircrafts made a very unusual approach from the north, right over downtown Amsterdam, and the incoming flight from Zürich was delayed and I could see that it had been directed to a holding pattern over Rotterdam where it stayed for some time.
After a nice visit to the brand new Star Alliance Lounge at Amsterdam Schiphol I made it to the gate in concourse B in good time for boarding. There were plenty of passengers there and it was quite clear the flight was to be more or less full.
Just minutes after I got there they paged two passengers in the gate area to come forward, which they did. A minute later a new announcement was made, paging…me. I got to the gate podium and a smiling gate agent informed me I had been upgraded. I was given a new boarding pass with seat 02C in business class on the Airbus A320.
I spoke to a Swiss man who was also waiting at the gate area. I recognised him from the lounge as we had spoken briefly there regarding the delay. Apparently he was booked to fly from Amsterdam to Zürich in the late morning on KLM, but the flight was cancelled, most likely because of the weather, and he was rebooked to the Swiss flight. Most likely many others were as well and this was probably the reason why I eventually got an upgrade. When I checked just a day earlier the flight was far from fully booked.
The flight ended up being completely full in both cabins and both the ground staff and the cabin crew worked very hard to turn the delayed aircraft around as quickly as possible. Many passengers had connections in Zürich and to some passengers it could even mean risking a second rebooking for the day, for those who were initially to fly on KLM.
During the flight it turned out there were no business class meals for the three of us who had been upgraded, which I had already been informed about by the gate staff. This is not that uncommon, especially when flying from an outstation and upgrades are made last minute.
I was offered the same snack as those sitting in economy class, which was an apple pastry. The crew had a sheet of paper on the trolley identifying those who had been upgraded and those who were paying business class passengers. The other ones got a small snacks tray with three smaller dishes, with what looked like a small starter, some kind of canapé, and a dessert. Honestly it looked rather meagre for a flight like Amsterdam-Zürich, which is not really that short, and it was nothing I really regretted not being served. I had a proper lunch in the lounge anyway.
But we were all served drinks from the business class trolley and this is definitely a highlight on Swiss. The drinks are rather decent and served elegantly from large bottles on the tray. For the wines there is usually an option (two reds/two whites, and not the same ones as in economy class) and there is champagne if you want, Duval Leroy.
I had a glass of white wine to drink as well as a glass of still water, served in proper business class glasses.
Sitting on the second row with five rows of business class it took a bit of time before all passengers had been served. On the way back the flight attendant offered refills to those who wanted. I was happy with the wine but decided to order a gin & tonic, something you are not able to order in economy class. They serve the Bombay Sapphire on Swiss.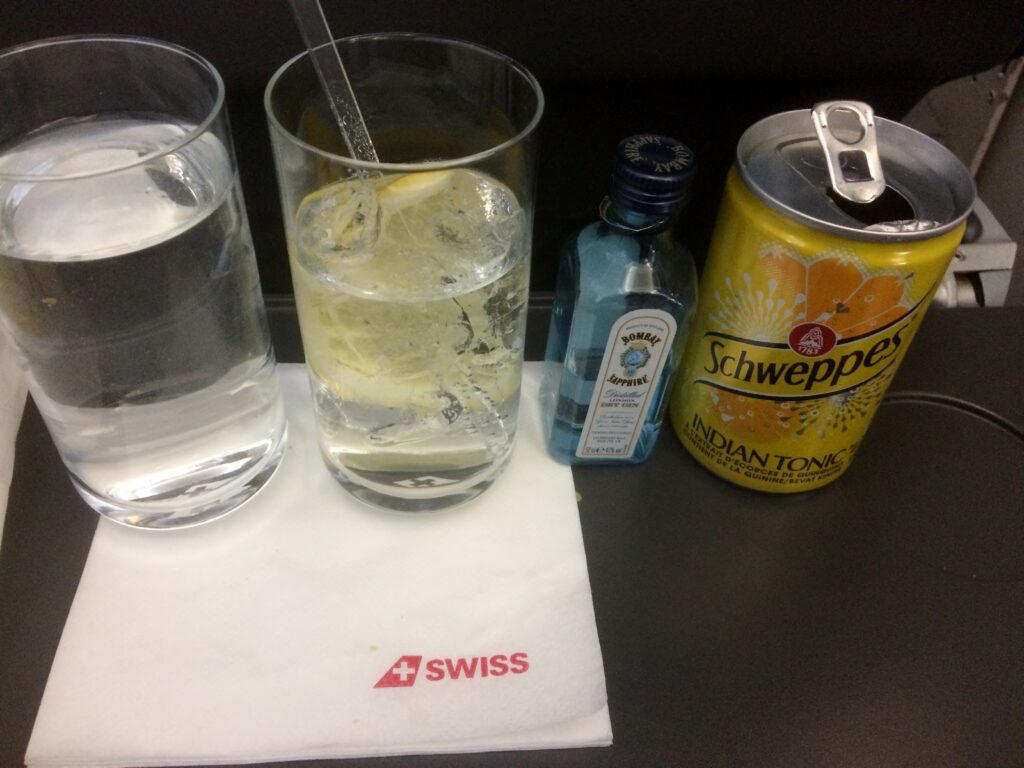 Eventually the standard Swiss milk chocolates were offered in both business and economy class, which is always a nice touch.
We landed nearly 45 minutes late in Zürich and for some passengers it meant a missed connection. And for some reason we were assigned an apron position. Why do they do this for an aircraft which is already severely delayed?
But the good news was that there was a dedicated bus for business class, which I could obviously join, and it left the aircraft as soon as we had all disembarked, several minutes ahead of the rest of the passengers in economy class. Although I did not have a tight connection it meant a few more minutes in the lounge.
Overall the service was friendly onboard from the flight attendant who was also the purser. They did an impressive quick turnaround in Amsterdam and I really enjoy the drinks selection onboard with champagne and reasonable wines in large bottles. And of course the upgrade itself was much appreciated. But the snacks plate, which I did not get, looked tiny.