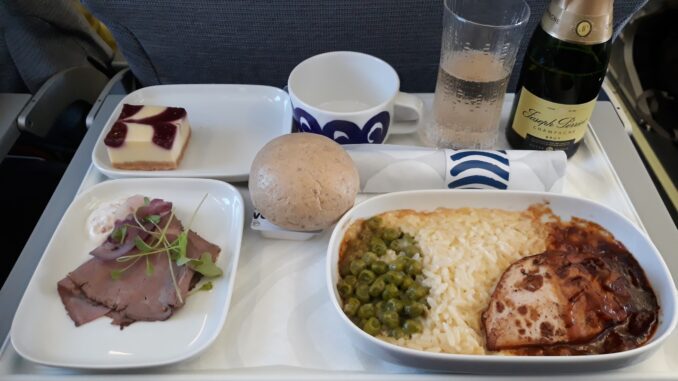 This has been quite a good year when it comes to complimentary upgrades. I just received my third one this year, and most significantly the third one this year on an airline where I do not have status in their own frequent flyer program, and that is quite spectacular and something that has not happened to me many times in the past. Although I do have top-tier status in all three alliances most airlines will start by upgrading their own frequent flyers first, before continuing with those from other membership programs in the alliance, which is perfectly understandable and makes perfect good sense.
After an upgrade to business class on Lufthansa to Rome in the beginning of the year, followed by an upgrade to business class on Swiss to Zürich about a month later, it was now time to get the never-tiring "seating issue" beep at the gate on Finnair.
I already knew the early afternoon flight from Hamburg till Helsinki was going to get rather full, but again it was not completely full according to the booking information I could access, and again, I do not have a frequent flyer card with Finnair (although I do have the top Emerald status with OneWorld) and thus I expected someone else to get the upgrade, someone with status in Finnair Plus, in case they needed to upgrade someone. But I was wrong.
About half an hour before departure, while waiting in the lounge at Hamburg airport, I noticed by a coincidence in the Finnair app there had been a seat chance for me, from 07D to 05C. I could quickly verify that row 5 was in business class and that I had been upgraded.
As I reached the gate, a bus gate in the basement, rather late during the boarding process, I also noticed a boarding pass on the counter and I was pretty sure I could spot my name on it. And indeed there was a beep when my boarding pass was scanned, the female ground agent checked the name on my boarding pass and then handed me the new one with a "Congratulations! We have a new seat for you".
Packed bus to the aircraft, parked quite far from the terminal. An Embraer 190 was used to Helsinki with a 2-2 configuration onboard. Unfortunately on these aircrafts there is also a 2-2 configuration in business class, so no free adjacent seat as on the Airbus A319/A320/A321 aircrafts. Some airlines offer a blocked adjacent seat also on these regional aircrafts, like Austrian and LOT with a 1-1 configuration in business class, Finnair does not. Anyway, with a complimentary operational upgrade there was really no need to complain, even though there was a man seated in 05A.
Printed newspapers are no longer offered on Finnair shorthaul flights, instead you should access them using the Finnair app. On flights with inflight Wi-Fi these can also be downloaded and read during the actual flight.
In some cases when you get upgraded there is no meal for you. This is especially common when there are last-minute unexpected upgrades and when they happen at outstations, in particular when more than one person gets upgraded. This was the case earlier this year when I was upgraded on Swiss from Amsterdam to Zürich. Then they informed me already at the gate there would be no meal. When an upgrade takes place at the hub of the airline it is usually much easier to arrange with extra meals very close to departure.
Fortunately this time there was an extra meal loaded so I was offered the full inflight service experience with both meal and drinks by the purser who served in business class. And the Finnair shorthaul business class shorthaul concept is quite decent and Hamburg is one of the destinations where the full meal service is offered with a proper hot meal.
There was no printed menu so I am not 100% sure what was served. But there was a three-course meal and the starter was some kind of meat, presumably reindeer.
The main course was chicken with rice. Not the most exciting of dishes perhaps, but it was surprisingly tasty.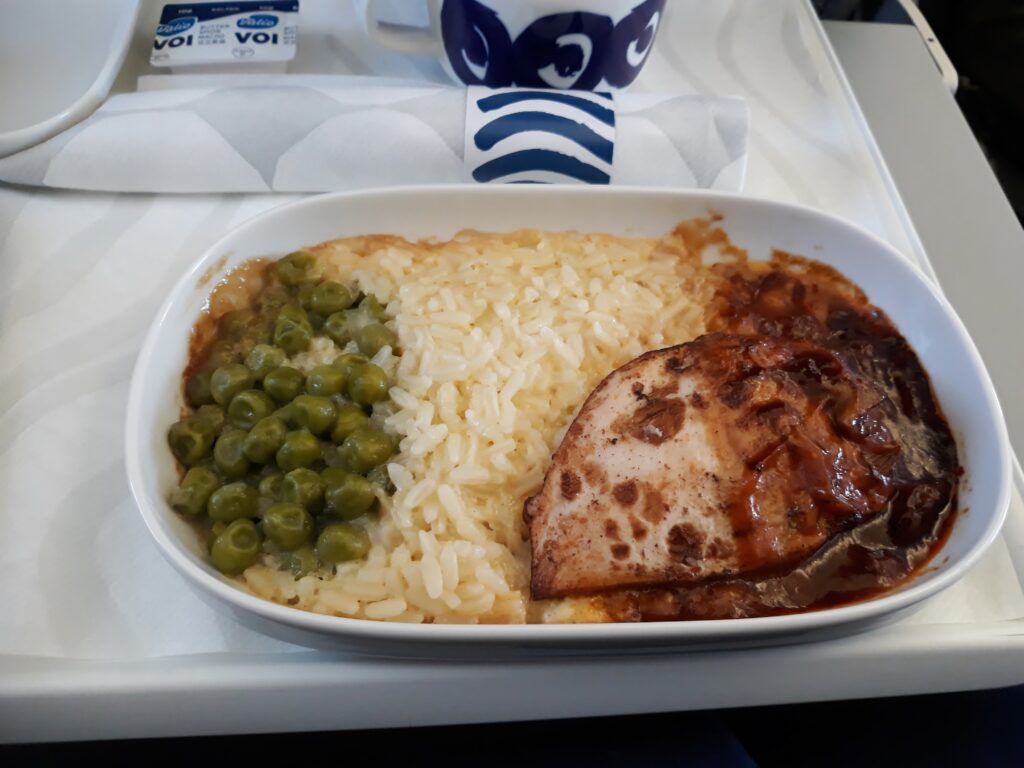 I had a bottle of champagne to drink. They have now got back to serving Joseph Perrier as house champagne after having served Nicolas Feuillatte for some time. I quite enjoy both of them. And you get the champagne in a lovely Iittala glass.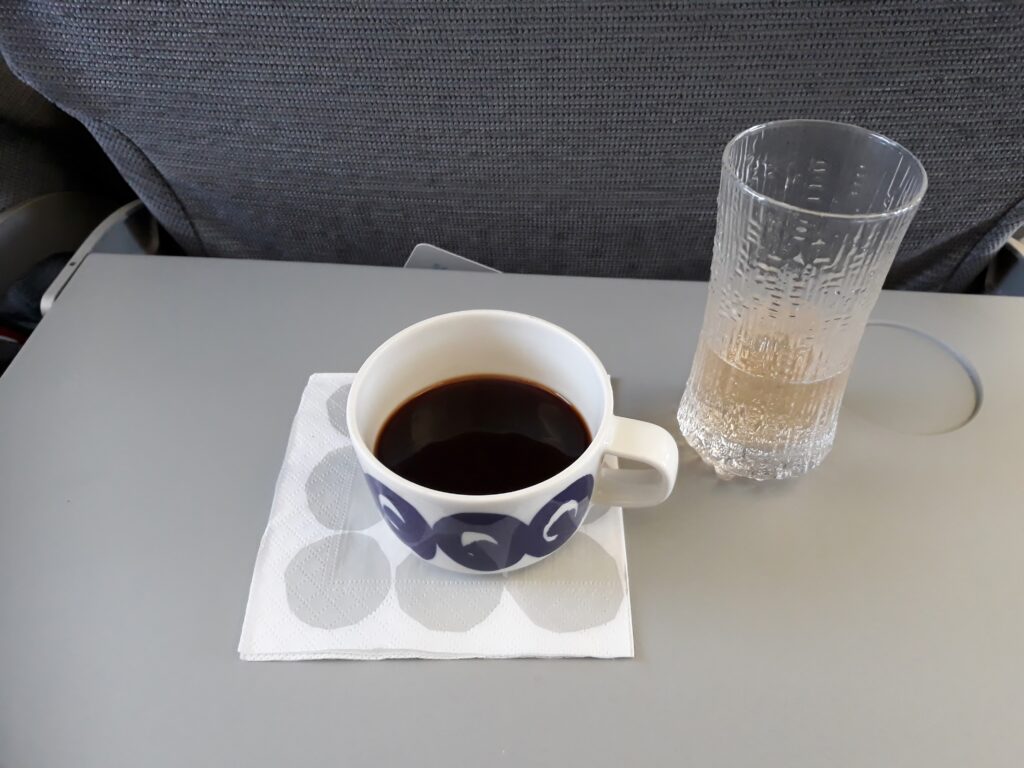 Coffee and tea were also offered, served in a Marimekko cup, and there was a slice of cheesecake for dessert. All-in-all a very decent business class lunch.
After my tray had been collected I was asked if I wanted something else to drink and a refill of the champagne was arranged.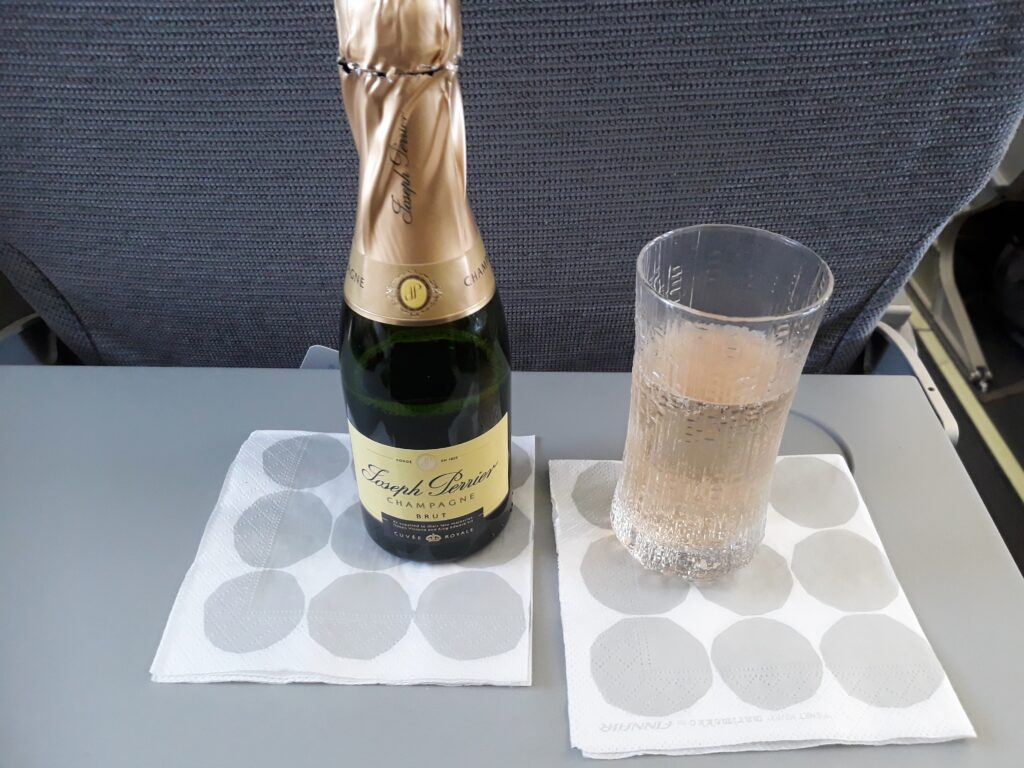 The service was very friendly and attentive although the purser had to work quite hard with a full flight and a nearly full business class cabin of five rows.
A very pleasant afternoon with Finnair!