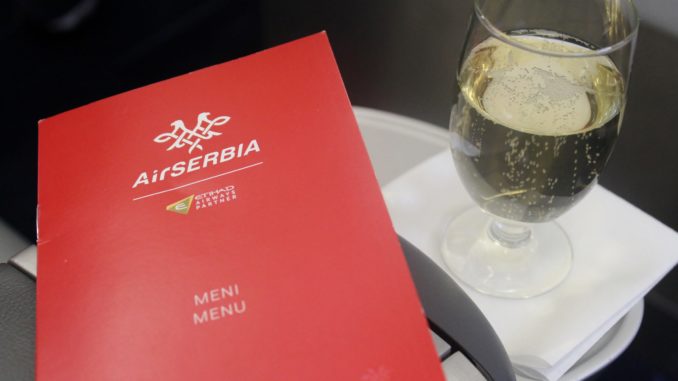 Air Serbia is the national carrier of Serbia, previously known as JAT Airways, which used to be the flag carrier of Yugoslavia. The airline was partly acquired by Etihad Airways in 2013, changed its name to Air Serbia and at the same time went through an extensive modernisation process. And the result is quite impressive and nothing like the old carrier.
This is a review of a flight in their business class from Frankfurt to Belgrade.
Departure experience

Air Serbia uses terminal 2 at Frankfurt airport. There were two desks open for Air Serbia, one for for business/premium passengers and one for economy class. However as there was no real divider both were in practice handling all passengers. However I approached the business class desk, the agent noticed me, asked me if I was travelling in business class, and promptly checked me in after he had finished dealing with the passenger at the counter. So at the end it worked out just as it should, but they really could have structured the check-in area much better.
From some destinations it is possible to check in online on the Air Serbia webpage, however Frankfurt is currently not one of them. All passengers need to pass a check-in desk to pick up the boarding pass, most likely this will change in the future. However travelling in business class I could pre-select a seat on the webpage, but not check in.
As I was only travelling with hand luggage the check-in process was swift. I received a printed boarding pass, information about lounge access and also a business class tag for my hand luggage.
When travelling to a non-Schengen destination at terminal 2 security takes place just before the gate. So this means you pass passport control and then enter the transit hall with all the shops and lounges and then clear security afterwards, just before boarding.
A great thing about Air Serbia being part of the Etihad Airways Group is that you get access to the Etihad lounges, assuming there is one at the airport, and of course assuming both Air Serbia and Etihad use the same terminal. Frankfurt is one of the airports where they do coincide and there is a great little Etihad Lounge to visit before the flight.
As I was very well aware of the lounge arrangements in Frankfurt I arrived quite early. There were no Etihad flights leaving for a couple of hours but there were a few passengers in the lounge leaving on the Air Seychelles flight, an hour before the flight to Belgrade. So it was not empty but far from packed.
The lovely attendant at the reception asked me if this was my first visit to the lounge, which I confirmed it was. She gave me a brief tour and introduction to the lounge, the facilities and the dining options before she invited me to take a seat.
I had a seat in one of the empty sofas next to the buffet area and was immediately approached by one of the waitresses. She asked me if I wanted something to drink and I asked for a glass of champagne. I was also served traditional Arabic coffee and received a cold towel. A very nice start of the visit and especially for a business lounge.
The Frankfurt lounge is one of the smaller in the Etihad network measuring 275 sqm with seating for 50 guests. It is definitely not large considering all the facilities they want to include but they have still manage to squeeze quite a lot of thing inside the very limited area.
Read the full lounge review here!
A fantastic thing about the lounge is that they offer a la carte dining in the small restaurant with a couple of starters, main courses and desserts. With a flight departing at 8 pm it was perfect to have dinner in the lounge (although there would of course also be dinner on the plane). I ordered the chicken dish, Chicken panang with Thai jasmin rice, followed by the mango rice pudding. The standard was of course excellent for a business lounge with proper hot food served at the table by a waiter, but the service not as attentive and polished as in some other Etihad lounges.
For most flights they make announcements in the lounge when it is time for boarding, but as I was probably the only passenger in the lounge flying Air Serbia to Belgrade the updates were not very frequent. As I could see the incoming flight was slightly late it was all rather inconvenient as I still had to allow time for the security control. At the end I decided to head for the gate anyway to make sure I did not run out of time.
Read a full review of the dinner in the Etihad Lounge here!
The flight
Frankfurt-Belgrade
Air Serbia flight JU 335
Departure: 20.10
Arrival: 22.00
Business Class
Airbus A319
Seat 01F

The aircraft was parked at a remote stand which meant a bus transfer from the terminal to the aircraft. Not the best day for an apron position as it was raining quite heavily and it still required a short walk outdoors from the bus to the aircraft door.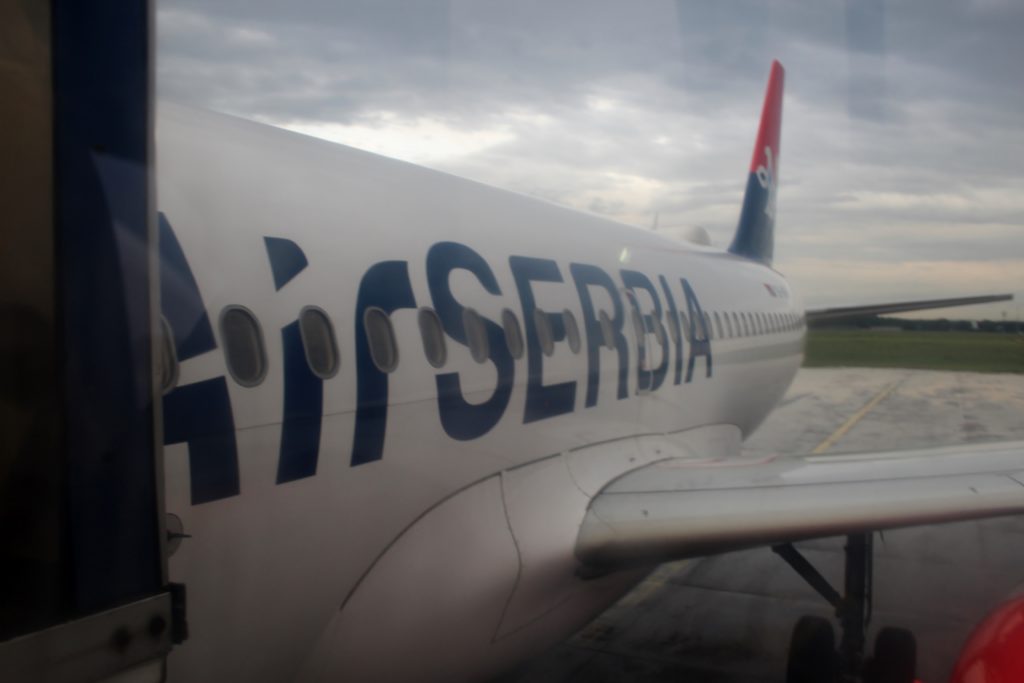 First impression

An Airbus A319 was used for the flight to Belgrade. As I had already noticed I was probably the only passenger in the lounge heading for Belgrade it did not come as a big surprise that I was also the only passenger travelling in business class.
Air Serbia is one of the few airlines using proper business class seat also in their shorthaul business class on intra-European flights and the cabin gave a good first impression with the seats in grey and with a bright red pillow on every seat. The cabin felt tidy and in good condition.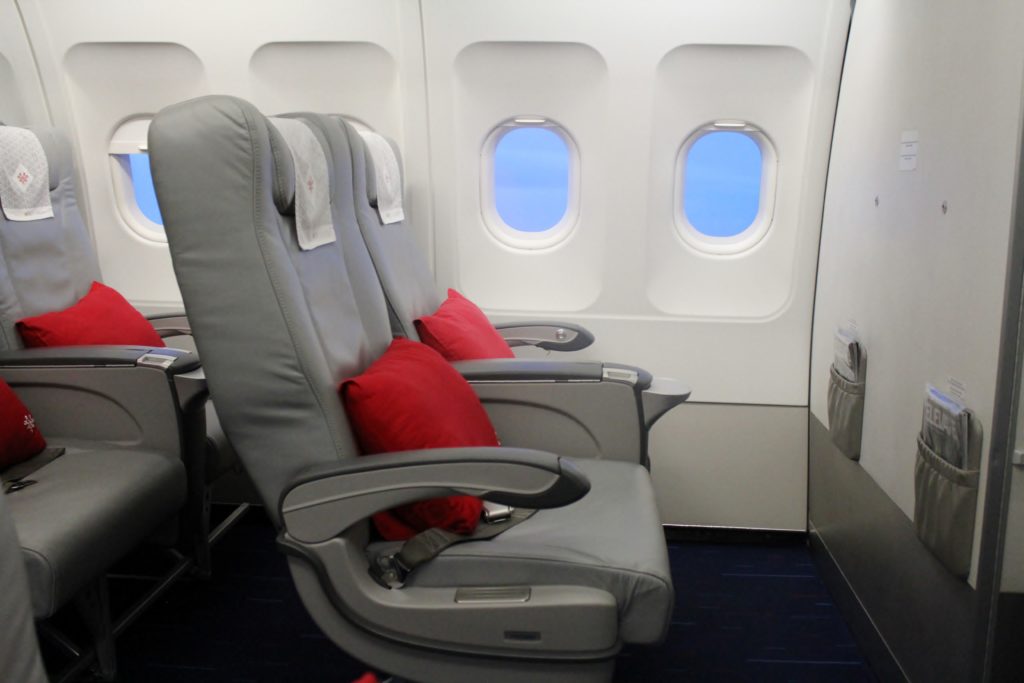 I had pre-booked 01F on the first row and as most passengers had boarded the purser came to greet me to welcome me onboard. I was offered a hot towel and asked if I cared for a pre-departure beverage and I naturally went for a glass of bubbly. I was also offered newspapers and was given the menu for the flight.
Overall this was a very good start of the experience and certainly a standard significantly above what is usually offered on a 90-minute flight in Europe.
Seat and cabin

Air Serbia is one of the very few airlines in Europe offering proper business class seats also on their shorthaul fleet and this includes all their Airbus A319 aircrafts. Although the business class concept may not be something unusual or extraordinary compared to similar experiences in Asia or North America, in Europe the standard setup is to get the same seat as in economy class but with the middle seats blocked.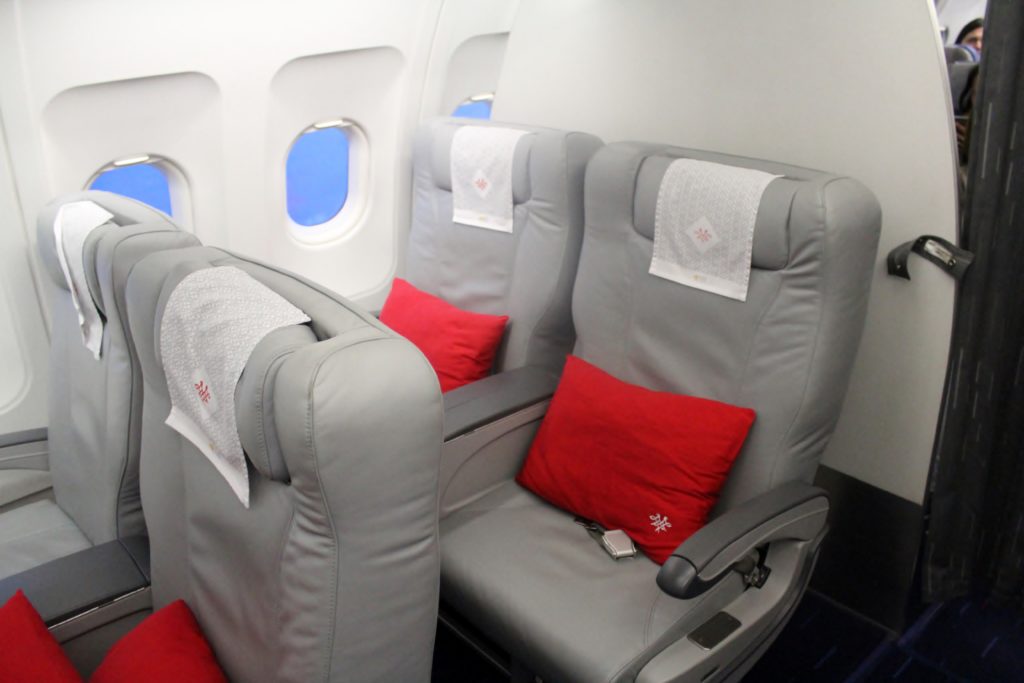 The configuration in business class was 2-2, in contrast to economy class where the configuration is 3-3. There were two rows of business class seats which meant eight seats in total.
The seats were rather comfortable and also had a decent recline. The legroom was certainly above average, but not massive. If you sit in one of the window seats on the second row and there is someone next to you in the aisle seat you will not be able to pass unless the person moves.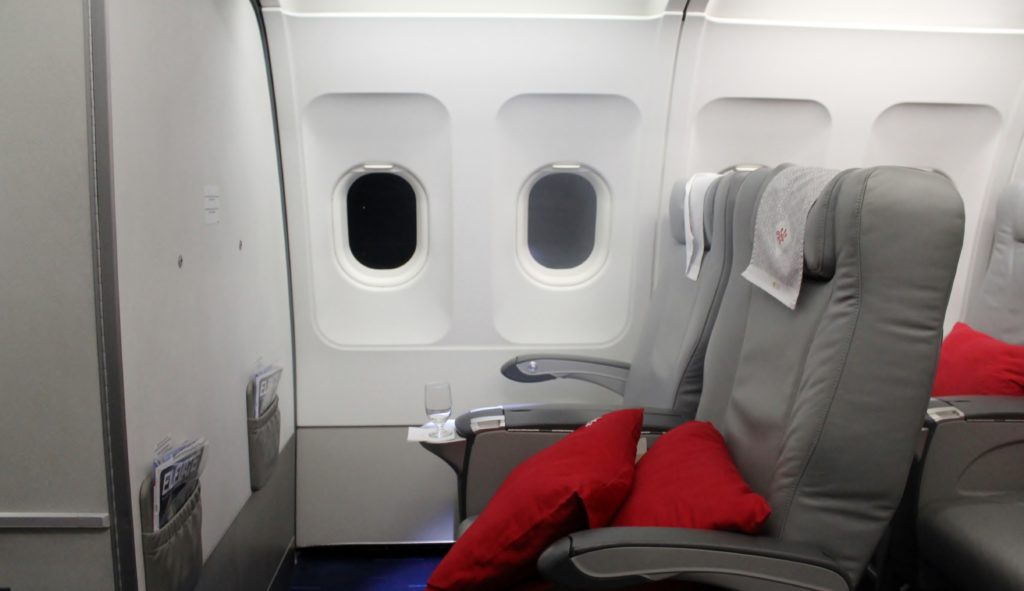 Food and drinks

A proper menu and drink list was handed out on the ground and before takeoff the purser also came to take a first drink order. The menu contained a rather extensive drink list with all the wines properly explained. It also had both the menu to and from Belgrade, which is different on the outbound and inbound flights.
I asked for a gin and tonic to drink which was served after takeoff together with a bowl with nuts. The purser also did a nice effort to decorate my table with both a table cloth and some napkins. She also asked for my choice of main course (they had two choices) and what I wanted to drink with the dinner.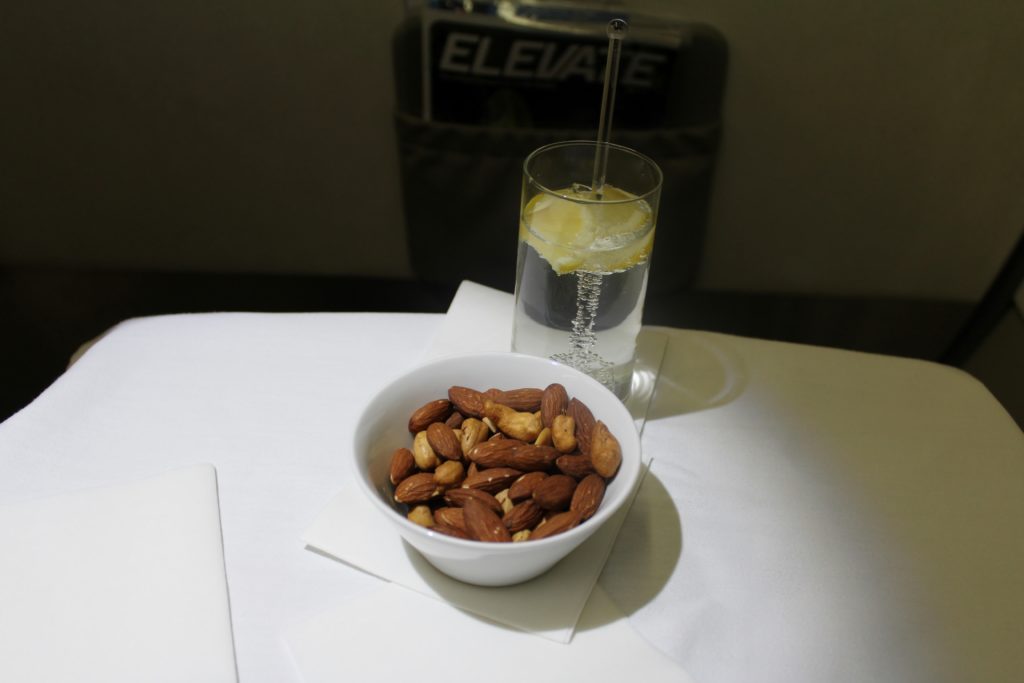 A couple of minutes later the dinner was served and the tray I received was very impressive, especially for a flight of just 90 minutes.
The starter was an Arabic starter. Hummus with pomegranate served with tabbouleh and stuffed vine leaves. It was tasty but quite heavy and I could not finish all of it. There were also two bread rolls on the tray.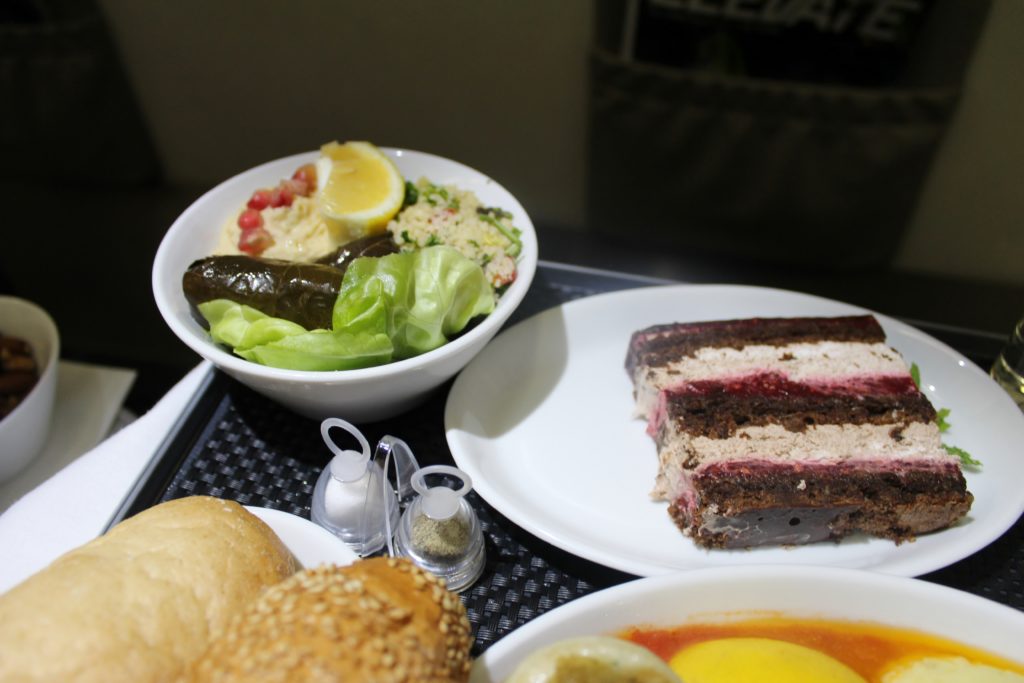 There were two choices of main course. Lamb served with mashed potatoes with celery, sautéed broccoli and carrot. Or gratinated sea bass fillet in a tomato sauce, served with Provençale mashed potatoes and spinach with pine nuts. Both choices sounded appealing but I decided to go for the latter, which turned out to be an excellent choice.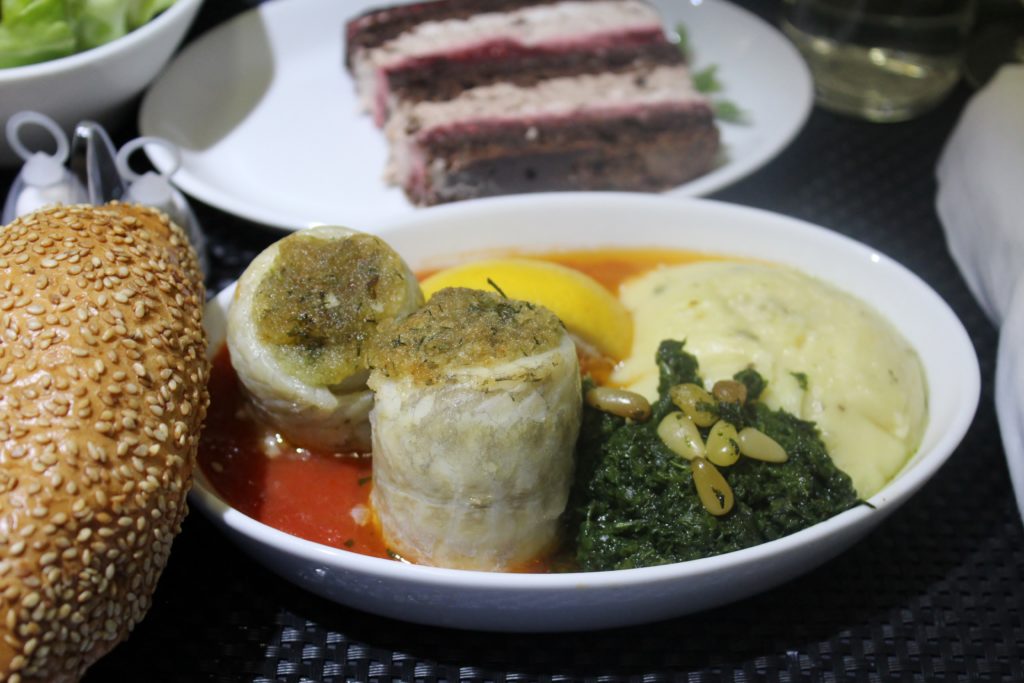 I also asked for a glass of white wine to drink. They had two white wines, one red and one rosé wine, all served from large bottles. All wines were Serbian from the wine producer Podrum Radovanovic. Refills were also offered.
Finally the dessert was a raspberry chocolate cake. I was also offered coffee and tea and asked for a black coffee. A refill of the Chardonnay was also arranged. If you want to try something different with the coffee they also have the Rakia Bar with five different types of Serbian brandy with different flavours. Strong but tasty. These are usually served in special Rakia Bar glasses.
Overall this was a great dinner. The food was excellent and of good quality, it was nice to be offered two main courses, the presentation was nice and the entire meal was very filling. I certainly did not get off the aircraft hungry.
Inflight entertainment
Tablets were available onboard in business class to borrow with a few movies, documentaries, TV-series and music albums. And you also got noise-cancelling headphones. Nothing extraordinary in terms of the selection but still a great service and definitely sufficient for a shorter intra-European flight.
The service

The service was excellent in every possible aspect. From the welcome greeting from the purser upon boarding with a glass of bubbly to the nice presentation of the food and drinks, where they really made an effort to make it all look elegant. And the drinks were always served on a tray and from large bottles.
The service was well coordinated and perfect in speed. Not too quick and not too slow. The crew were friendly, polite and attentive and you could easily notice the influences of Etihad.
Overall I have always enjoyed the service level on Etihad. Most of the time it is relaxed and fairly down-to-earth. You can have a chat with the crew and make some jokes and it will not be awkward. But at the same time they keep a professional distance and the balance between being friendly and being professional is just right. The service level was very similar on Air Serbia and it suited me perfectly.
Arrival experience

As we departed somewhat late from Frankfurt we also arrived a few minutes late in Belgrade. Fortunately the airport is fairly compact, passport control is quick and the walking distances are short. I was sitting in a taxi on my way from the airport within 20 minutes of landing.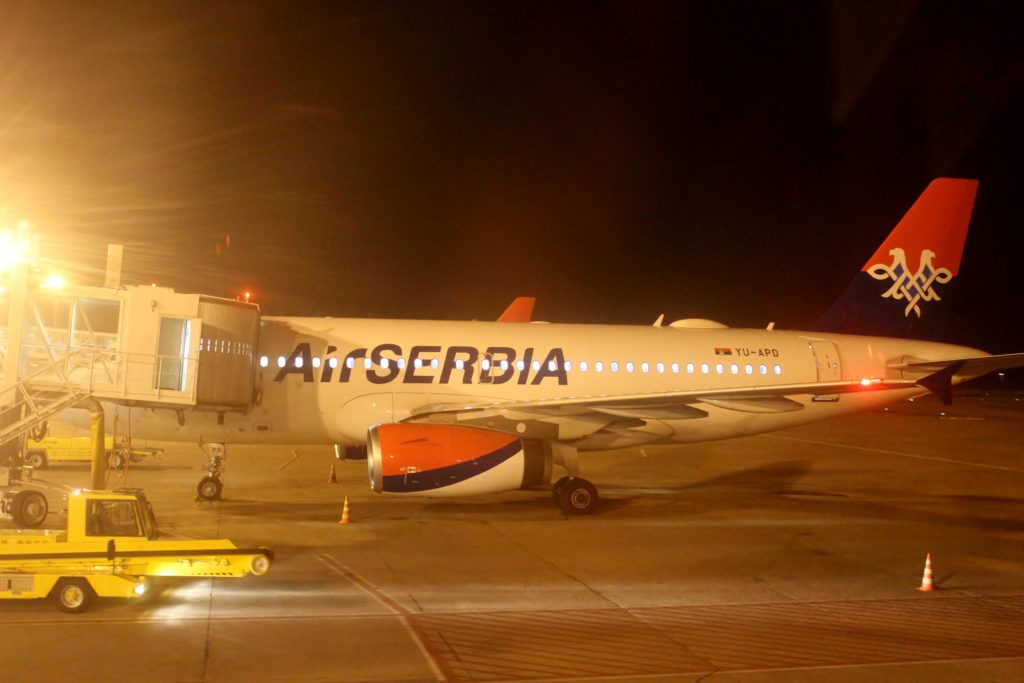 Final impression

This was an excellent experience with Air Serbia. Proper business class seats, excellent service from the crew and a fantastic dinner service, especially considering a flight time of only 90 minutes. Air Serbia continues to deliver one of the best business class experiences in Europe right now.