Air Baltic is the national carrier of Latvia with its base at Riga airport. There are also smaller hubs in Tallinn and Vilnius. Air Baltic is not a member of any of the three major alliances but does operate codeshare flights with airlines from all the three alliances such as from Riga to London with BA codeshare, from Riga to Amsterdam with KLM codeshare and from Riga to Vienna with Austrian Airlines codeshare. Their business model is rather unique as very few airlines fly to Riga themselves, instead using Air Baltic as a codeshare partner.
This is a review of a flight in Air Baltic business class from Riga to Milan.
Departure experience

A great thing about travelling from Riga is that the airport is located quite close to the city centre. If there is little traffic the journey takes less than 15 minutes and as the airport itself is quite small, compact and efficient it is a very convenient airport to fly from. The flight was to depart at 7.50 am and I actually ordered a taxi for 7.00 am from the hotel located in the old town district in downtown Riga. But even with only 50 minutes to make the flight I actually had time to spend 15 minutes in the lounge at the airport
Check-in was done on the Air Baltic webpage and the boarding pass was downloaded to my mobile phone. At the airport there were two check-in desks open for business class passengers and top-tier frequent flyers in the Air Baltic PINS program, which I could have used as a business class passenger, and there was virtually no line. But travelling with only hand luggage and having already checked in online I could bypass the check-in area and head straight for security control.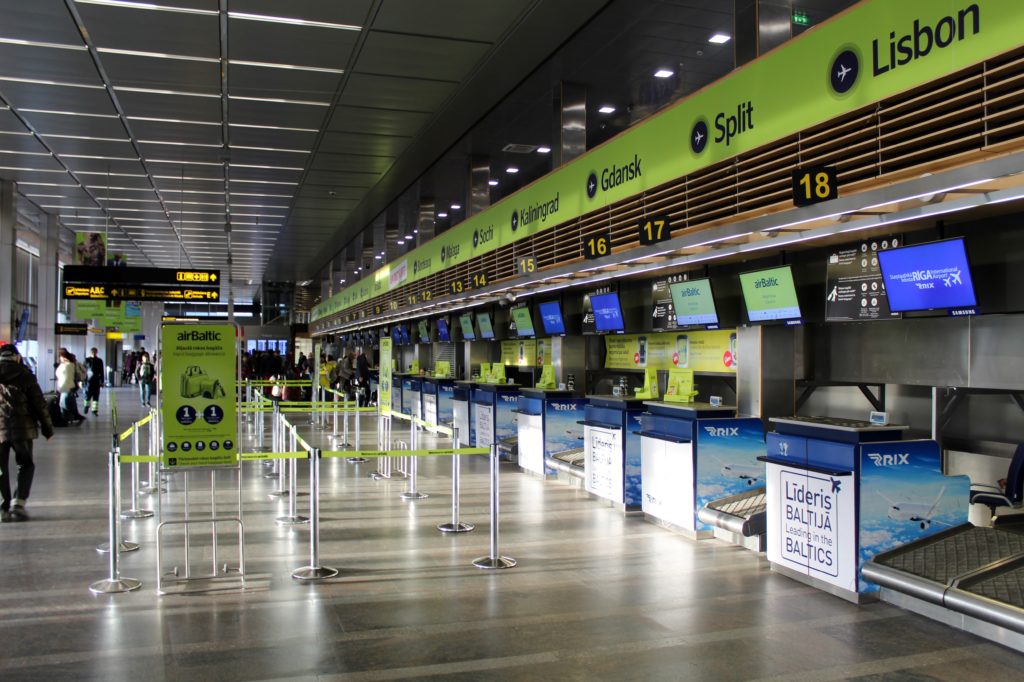 There was a fast track channel available with not a single person in line, I was through in less than a minute. Riga is one of those airports where it feels like the airport authorities have argued "all the major airports have one, we should have one too". Of course I do not mind finding a fast track channel at the airport, rather the contrary, but the regular lines at Riga airport have never taken more than five minutes, and usually less than that, even at peak times.
I was not planning on visiting the lounge and really did not need to as there would be a proper breakfast service onboard the flight, but once I had collected my belongings at the security control there were still 35 minutes to go until departure and so I decided to head there anyway, rather than hanging around at the gate.
There is just one lounge at the airport which is used by all full-service carriers and the current one opened just a few months ago. Most people had already left for the morning departures so there were just a handful of guests left. The breakfast offerings were not bad at all with three different hot items, including pancakes and omelettes, cold cuts, sandwiches and pastries.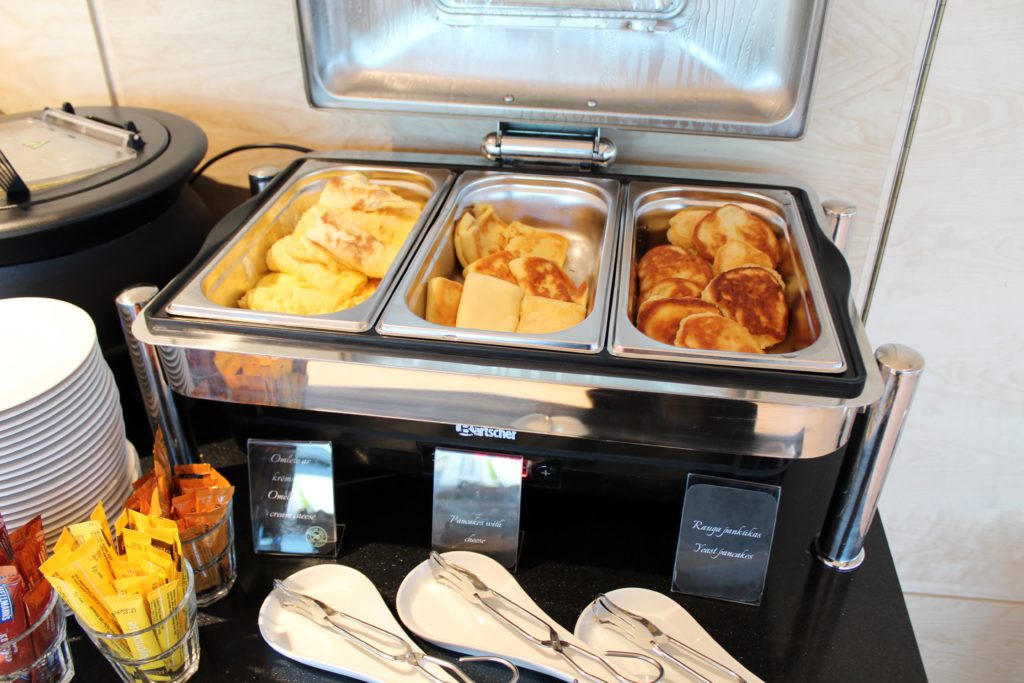 The lounge also has a rather cool self-service bar with all kinds of wines and spirits, and even appropriate glasses for each brand. They have done it really nicely.
Read the full lounge review here!
The flight
Riga-Milan Malpensa
Air Baltic flight BT 629
Departure: 07.50
Arrival: 09.35
Business Class
Boeing 737
Seat 01F

Boarding started 20 minutes before departure at gate B4, just a short walk from the lounge. As boarding had already started when I arrived at the gate I am not sure if priority boarding was offered, but based on previous experiences it was probably not. I also had a look around the gate area and saw no signs of a priority channel where business class passengers could go to be processed faster. I joined the end of the line, which was not a big deal anyway.
Interestingly when I scanned my boarding pass the machine indicated "seating issue". Some tapping on the computer and the gate agent informed me my seat had been changed as there had been an aircraft change. Since I had a mobile boarding pass he could not write down the new seat number but informed me it had been changed from 02D to 01F.
First impression

The aircraft used to Milan was a Boeing 737-500, a slightly older version of the Boeing 737. Sitting on the first row all cabin baggage obviously had to be placed in the overhead bins.
A cocktail table had been placed above the middle seat and under it there were pillows and blankets waiting. After most people had boarded the very pleasant purser came to greet us, welcoming us onboard. I was asked if I wanted something to drink before departure and I ordered a glass of orange juice. I was also offered newspapers and magazines, including the latest issue of The Economist.
However the strange thing was that there were three rows assigned to business class and we were only three passengers, me and a Russian couple who sat next to me also in the lounge. All other seats were empty, including my original seat 02D. I was perfectly fine with my new seat 01F with no one in 01D and plenty of space to spread out and take a nap during the flight, but I just wonder, what happened? Were they expecting more passengers who never showed up? The aircraft also seemed to be the same type as indicated on my booking confirmation. It was all rather strange.
Nevertheless we pushed back pretty much on time with a flight time of two hours and 25 minutes to Milan.
Seat and cabin

Three rows were assigned to business class with the middle seats blocked, the standard procedure in business class on most intra-European flights.
However the good thing was that not only was the middle seat blocked, the armrests of the middle seat had been moved slightly inwards, which made the aisle seats and window seats slightly wider with some extra centimetres of seat width.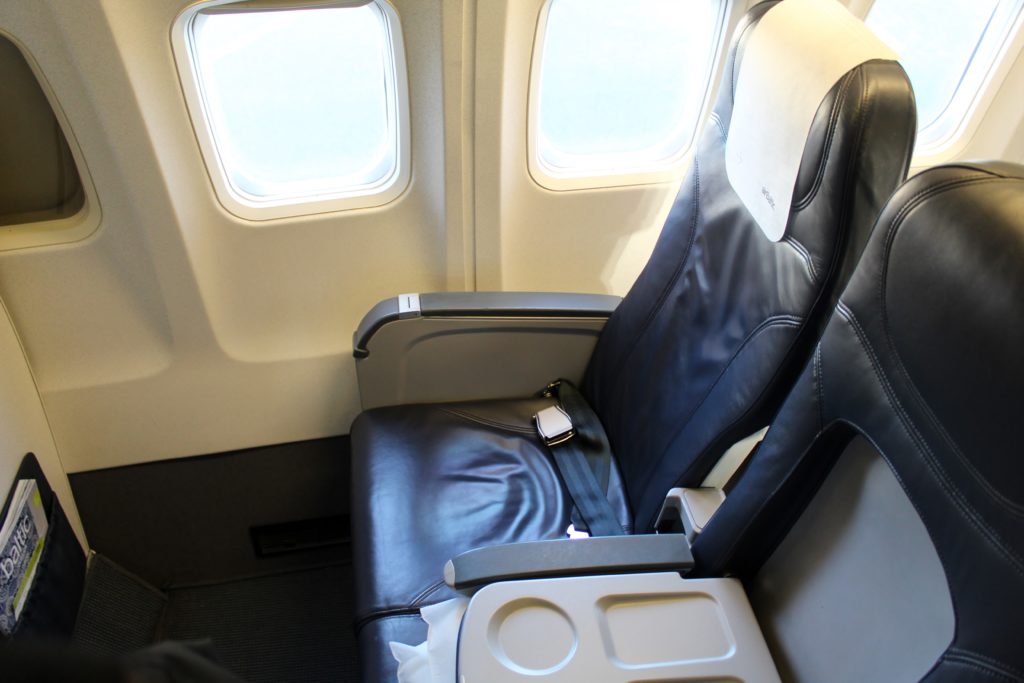 Food and drinks

After takeoff hot towels were offered followed by a printed men. It contained the drink list but also had a separate sheet inside with the breakfast menu. Everything was written in Latvian, Russian and English.
There are probably two reasons why Russian is included. First of all there is a fairly large number of Russian-speaking inhabitants in Latvia. And secondly, and possibly more importantly, Air Baltic tries hard to attract passengers from Russian cities such as Moscow and St Petersburg to fly Air Baltic via Riga to various destinations throughout central and western Europe, which in most cases is not much of a detour. The purser on the flight to Milan was fluent in Russian and the Russian couple in business class were addressed in Russian throughout the flight.
The drink list included the wine list with two red wines.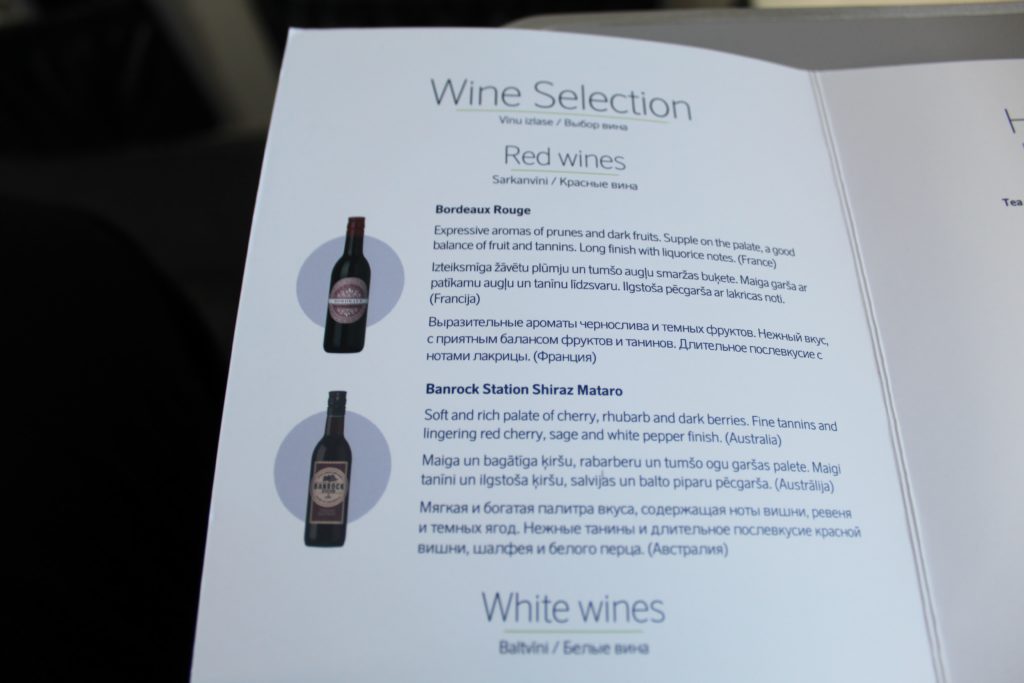 And two white wines as well as champagne, Heidsieck Monopole Brut. Perhaps not the fanciest of bubbly, but at least you can get proper champagne onboard in Air Baltic business class, which is far from always the case in intra-European business class nowadays.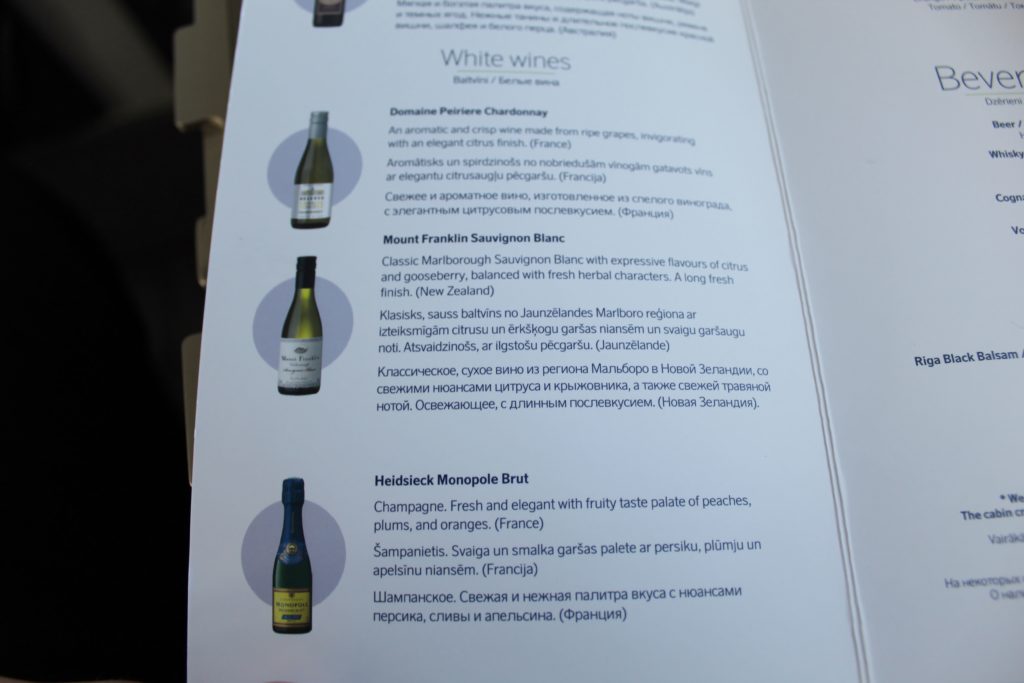 They also had all kinds of spirits, including the Latvian herbal bitter, Riga Balzams.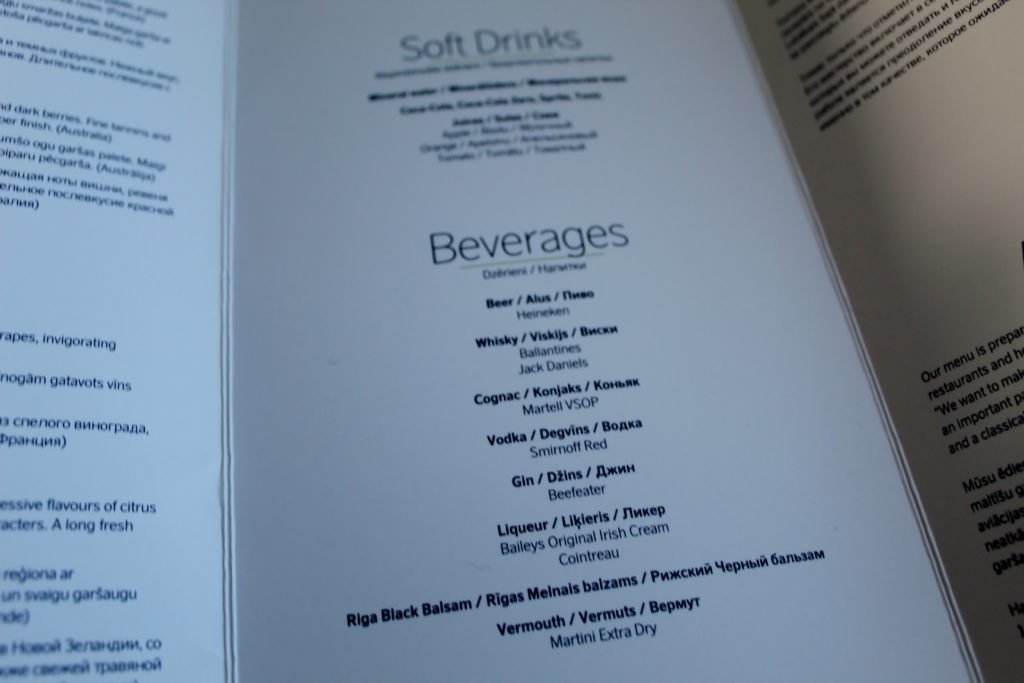 After the menu had been handed out the friendly purser asked me if I wanted to have breakfast straight away, or if I wanted to take a rest and eat later during the flight. A very nice touch. I told her I was rather hungry and preferred not to wait. She smiled and told me it would be served in about 15 minutes. In the meantime I was offered beverages, a glass of orange juice in my case.
The breakfast was basically a three-courses meal with a small grilled toast with Bresaola for starter, an omelette with cream cheese for main course and yoghurt with granola and berries for dessert.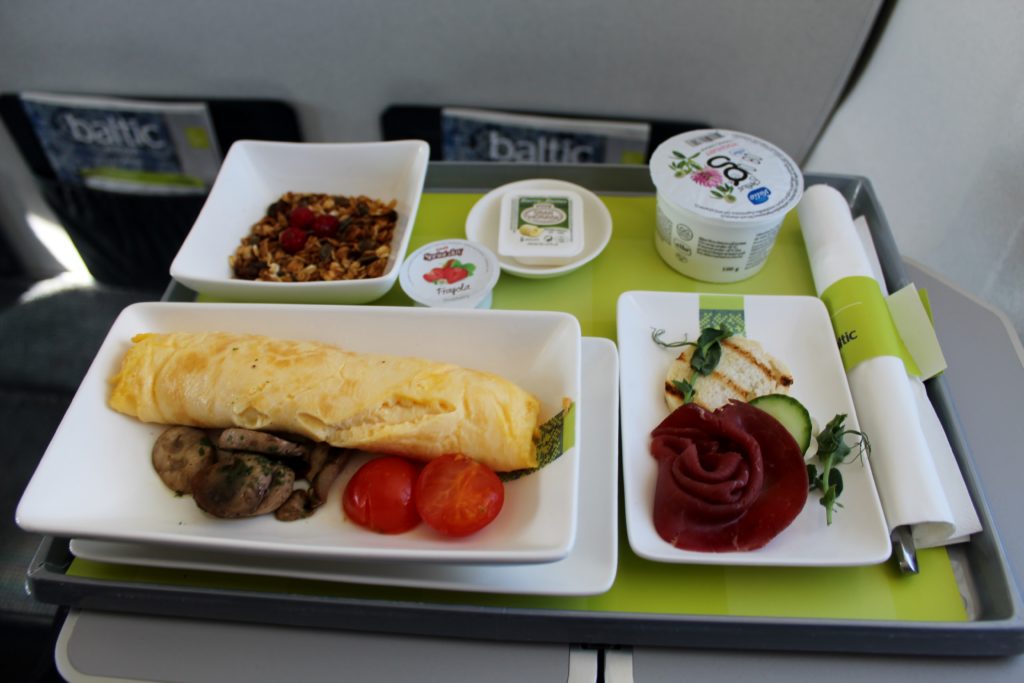 Warm bread rolls were offered from a basket as well as pastries, including warm croissants.
Coffee, tea and orange juice were offered as well as basically anything you wanted from the drink list, including frequent offers of refills. They had proper Nespresso coffee onboard which was quite strong and tasty.
Later during the flight, after a rest, I ordered another cup of coffee and a bottle of champagne.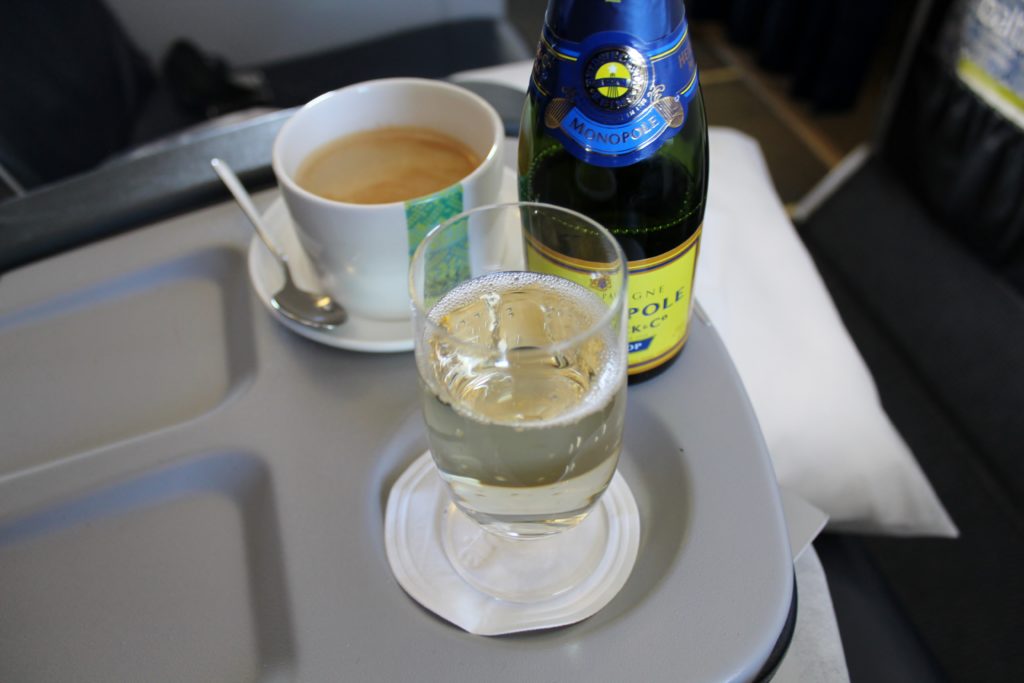 The service
The service on the flight was surprisingly good from the purser who served in business class. The service was friendly and relaxed but also polite and attentive. There were many things they did right such as giving me the option of having my breakfast later during the flight, offering a pre-departure drink on the ground in Riga and frequent offers of refills during the flight. However no names were ever used.
As we were only three passengers in business class, on three rows, and the Russian man was very tired, they even arranged for the table and the armrests to be removed on the last row so he could lie down across the three seats for a proper rest.
Arrival experience

As we were approaching the Alps the captain came out to speak to the cabin crew but also made a visit to greet us sitting in business class. He was a very pleasant and talkative man who, based on his accent, was not at all Latvian but rather British. He told me we had Salzburg on our left hand side and Munich right behind us on the right hand side. I concluded myself this would mean Innsbruck should appear somewhere below us, and sure enough, five minutes later it did.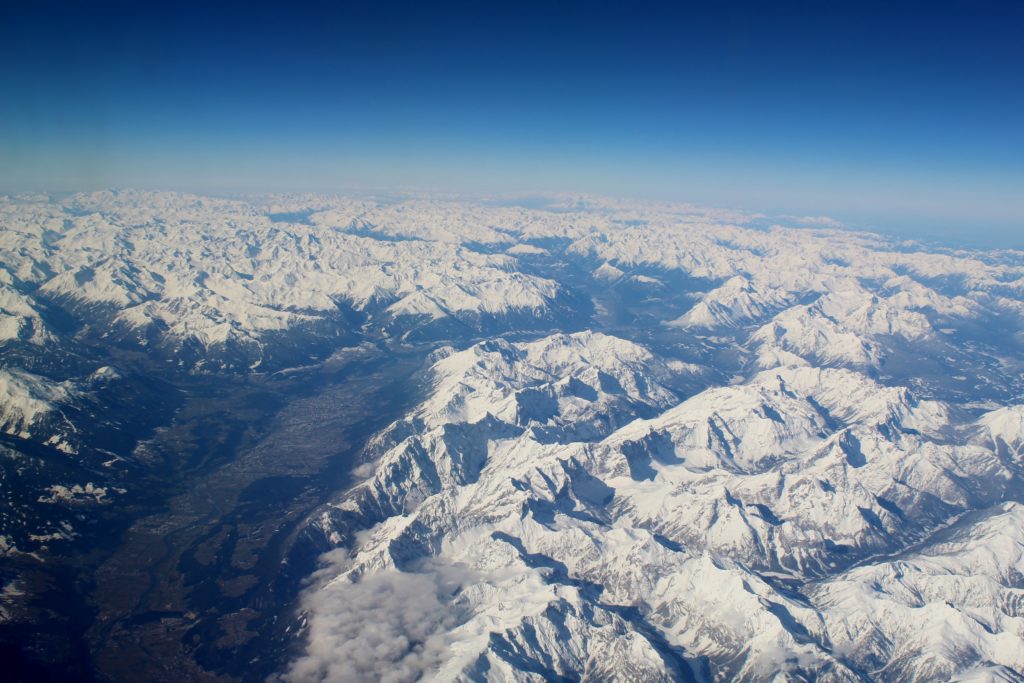 You could easily see the airport of Innsbruck, the city and the valley and it became clear why Innsbruck is such a challenging airport for pilots. There are mountains in basically all directions!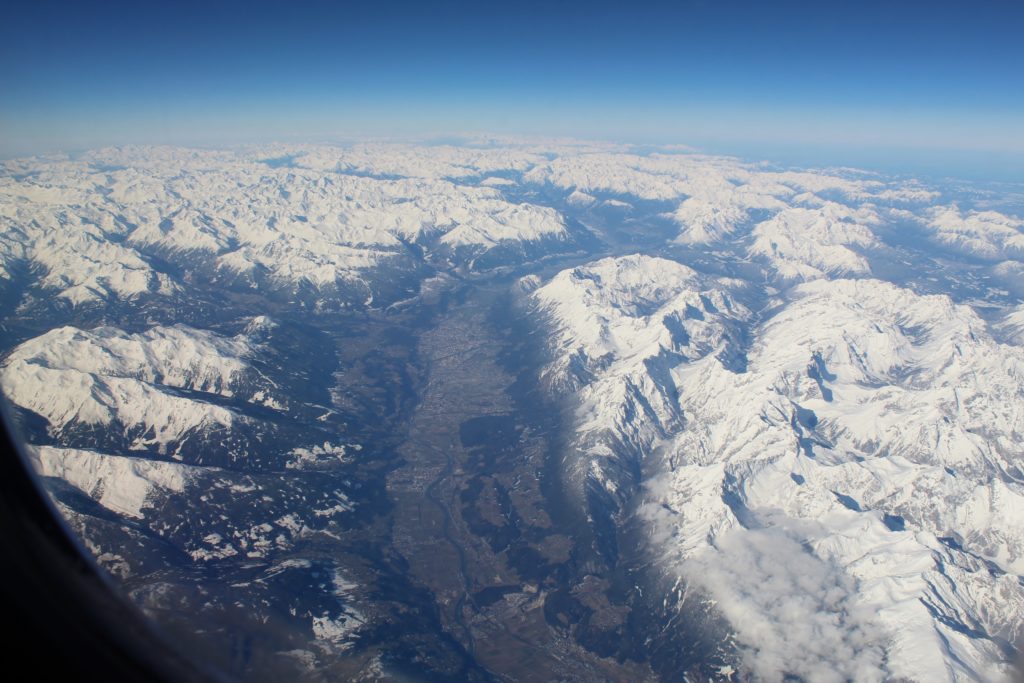 I also asked the captain about the weather conditions in Milan and he said he did not have any information yet as the high mountains blocked the radio waves from Malpensa airport with the current airport and weather information, called the ATIS. So he would not be able to get an update for another 10-15 minutes when we were on the other side of the Alps.
We landed ten minutes early at Milan Malpensa airport and parked at concourse A, which is used for Schengen flights. The weather was somewhat cold and cloudy with not much of a view during the descent.
Final impression

A surprisingly pleasant experience with a very friendly and attentive service from the purser and an excellent personalised breakfast service. Riga airport is also very convenient, both for departures and transfers, and the lounge is one of the best in Northern Europe. But priority boarding was missing and I still do not understand the reason behind that seat change at the gate.