Where is it?

The Cathay Pacific Lounge is located airside in the non-Schengen area in terminal 2. The entrance is opposite gate E7, which means a left turn after passport control.
As security control takes place at the gate for non-Schengen passengers in terminal 2, passengers should allow plenty of time to reach the gate after the lounge visit.
How do I get in?

The lounge is available for Cathay Pacific first class and business class passengers as well as OneWorld Sapphire and Emerald passengers travelling on Cathay Pacific.
The lounge can also be used when travelling on other OneWorld carriers when holding a Sapphire or Emerald card or when travelling in business class and first class, but the lounge is currently only open in the morning and the early afternoon in connection with the Cathay Pacific departures to Hong Kong and not available for afternoon and evening departures from terminal 2.
What's it like?

The Frankfurt lounge has the old Cathay Pacific lounge design with most of the interior in light food and with furniture in green, red and grey.
After the lobby area with the reception desk the lounge is divided into two rooms connected by a corridor where there are work desks and a selection of newspapers and magazines.
The room to the right contains the buffet area and dining area with proper seating.
The room to the left offers more seating with comfortable armchairs as well as the small business centre.
Food and drinks

There are two buffet area with the larger one located in the room to the right after the reception.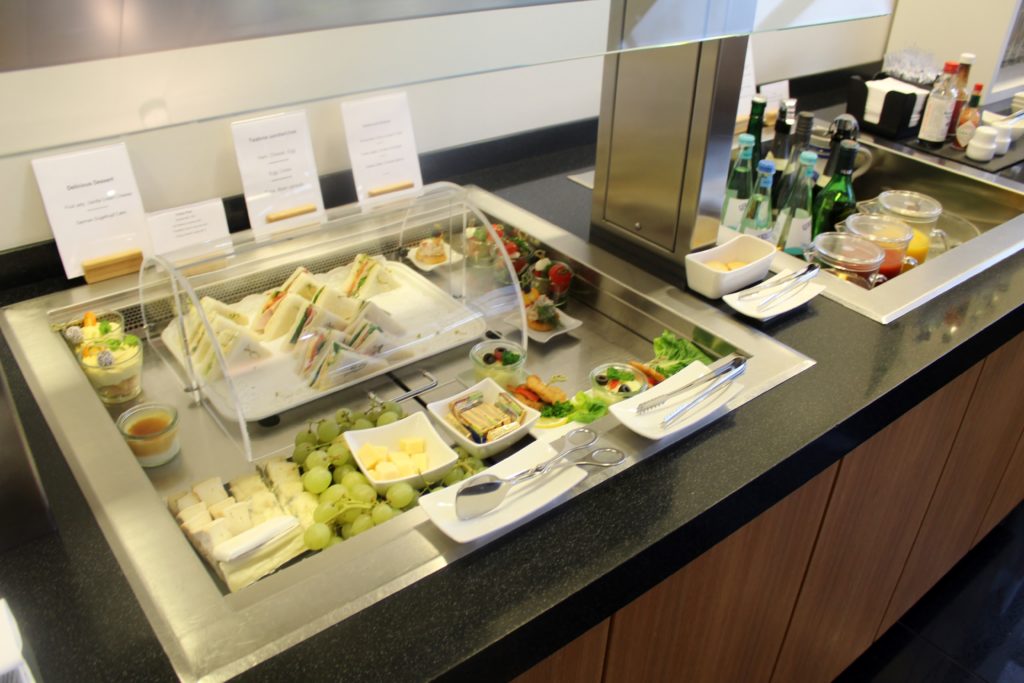 Here you will find different sandwiches, fresh fruits, desserts, cookies and snacks. There is also a small selection of hot food and a few dishes available to order.
The drinks selection includes beer, wine, a small selection of spirits, non-alcoholic drinks, coffee and tea.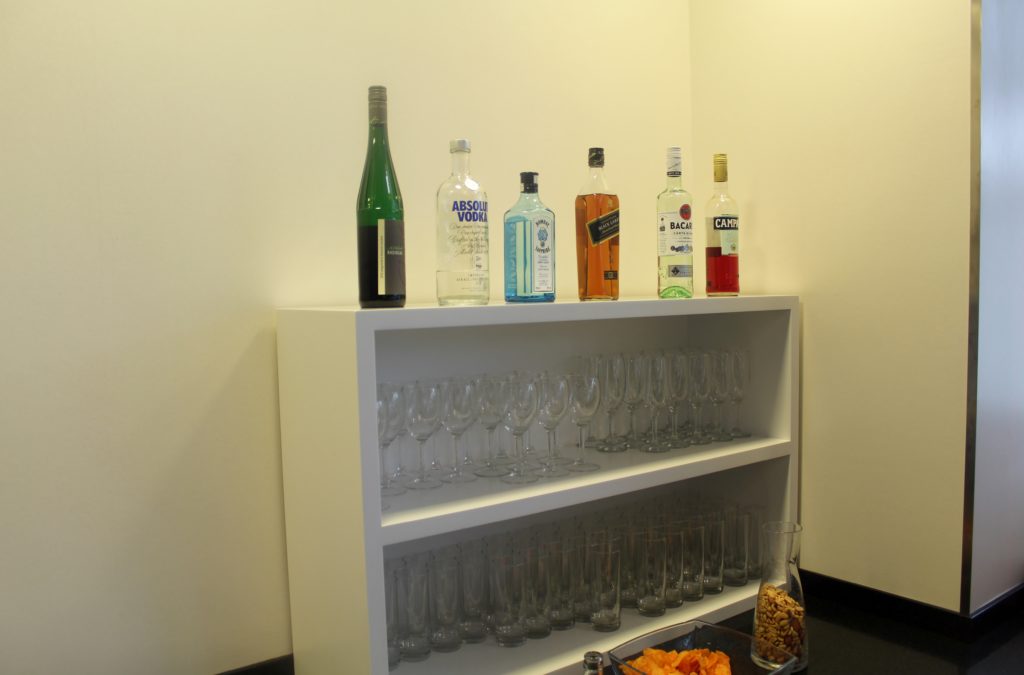 There is also a small buffet area in the room to the left with a smaller selection of drinks and a coffee machine.
Facilities

Free wireless internet is available throughout the lounge and there is a small business centre in the room to the left. There are also work desks in the corridor between the two rooms.
There is also a reasonable selection of newspapers and magazines.
Restrooms and showers are available in the lounge.
As the lounge is managed by Cathay Pacific with Cathay Pacific staff at the reception they can usually assist with enquiries such as seat changes when travelling on Cathay Pacific.
Final impression

Not an extraordinary lounge but the staff are very friendly and polite and the selection of food and drinks is reasonable. This is the best OneWorld lounge at Frankfurt terminal 2.