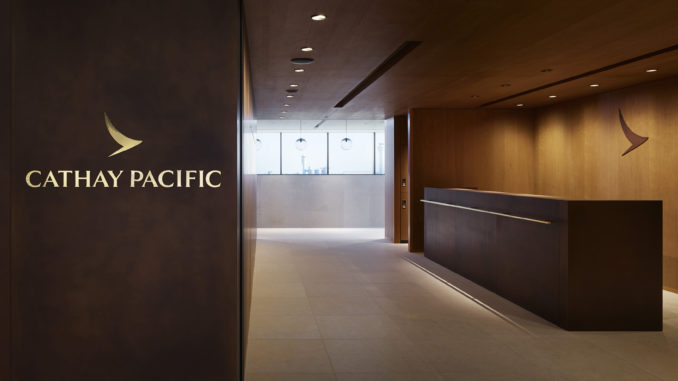 The new lounge was inaugurated today and is the first lounge at Tokyo Haneda airport operated by a non-Japanese carrier. The lounge is located on level 6 near gate 114 and measures 990 square meters making it one of the largest Cathay Pacific lounges outside Hong Kong. The lounge is available for both first class and business class passengers as well as OneWorld Sapphire and Emerald members with seating for 190 guests.
The new design concept has been developed by the London-based design studio Studioilse led by Ilse Crawford. According to the airline it features cherry wood walls, limestone floors and details such as glazed screens and green ceramic tiles. Throughout the lounge designer furniture are used and the idea is that the lounge should feel more like a living room than an airport lounge with a sense of understated luxury.
The lounge features Cathay Pacific's signature The Noodle Bar offering for example Dan Dan Noodles and Wonton Noodles in soup prepared by the chef. Until 11 am authentic Japanese breakfast items and French toast are offered.
At the Food Bar passengers can order various snacks such as wraps, sandwiches, quiches and salads as well as barista-made coffee, pastries and desserts.
At The Bar freshly brewed cocktails, including Cathay Pacific's signature drinks, and a wide range of alcoholic and non-alcoholic drinks are served. The food and beverages in the lounges are managed by the Hotel Okura Enterprise.
The lounge is accessible to Cathay Pacific and OneWorld business class and first class passengers as well as passengers with a OneWorld Sapphire or Emerald card travelling on Cathay Pacific or another OneWorld carrier.