The new Qatar Airways Premium Lounge at Singapore Changi airport opened in February 2020 and became the fifth lounge in the Qatar Airways network. It is located airside in terminal 1 at Changi airport, to the left after passport control in the same area as the Plaza Premium Lounge and the Emirates Lounge.
Just like the other Qatar Airways lounges you need a business class or first class ticket to get in. A OneWorld Sapphire or Emerald card when travelling in economy class will not give you access. If you travel in Qatar Airways economy class you will be directed to the SATS Premier Lounge in terminal 1. On the other hand you do get in if you travel in business class or first class on another OneWorld carrier.
You can see plenty of photos of the lounge and the facilities in this article, but the best part of the lounge is without any doubt the manned bar, the above-average wine list and the a la carte menu. You can definitely have a proper breakfast or a three courses lunch or dinner with wines and cocktails in the lounge.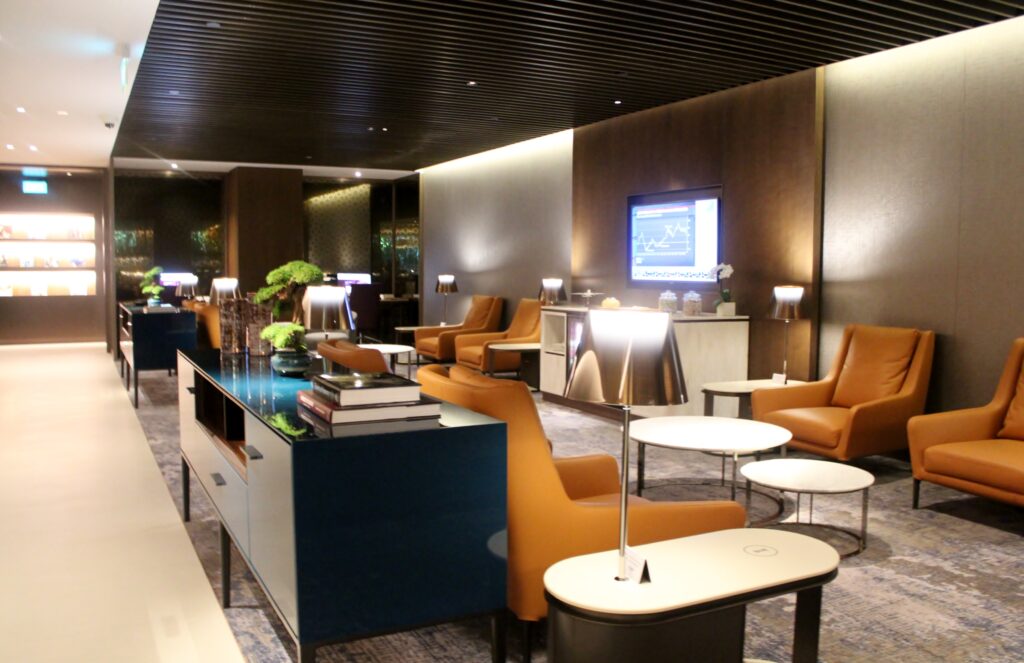 I was booked to fly Malaysia Airlines from Singapore to Kuala Lumpur. Although Malaysia Airlines uses terminal 2 I have never had any issues visiting a lounge in another terminal at Changi airport, and terminals 1, 2 and 3 are all connected airside and there are no transfer security controls or boarding pass checks when moving between terminals. It is in fact very easy and straight-forward to move around.
Although I do have a OneWorld Emerald card, the highest tier in the OneWorld alliance which usually give you access to some fabulous first class lounges, it is still not enough to get you inside one of the Qatar Airways lounges. You will need a same-day boarding pass in business class or first class to get in. But on the positive side it can be with another OneWorld carrier. So a boarding pass with Malaysia Airlines in business class was sufficient to get access
My flight was to depart at 7.30 pm so I made sure to be at the lounge entrance by 5.30 pm when it opens in preparation for flight QR 947, the evening departure to Doha. Access was not an issue, there were no questions asked. I was given a brief introduction to the facilities and advised I should allow enough time to get to the gate after the visit, especially as I had to change terminal and security control always takes place at the gate.
After I had taken a seat I was approached by one of the lounge attendants who welcomed me to the lounge and offered me the signature welcome drink, a smoothie. It was something with banana and something more, quite tasty. She also handed me the menu and the drink list.
There is a manned bar in the lounge so I went there to get something more to drink while browsing through the menu. I decided to go for a glass of champagne. They had two brands to choose between, the standard Veuve Clicquot and Bollinger rosé. I went for the pink one.
The menu turned out to be incredibly extensive, especially for a lounge with only three flights. There was one page covering the breakfast offerings in the morning and no less than two pages with the lunch and dinner options, including several appetisers, main courses and desserts.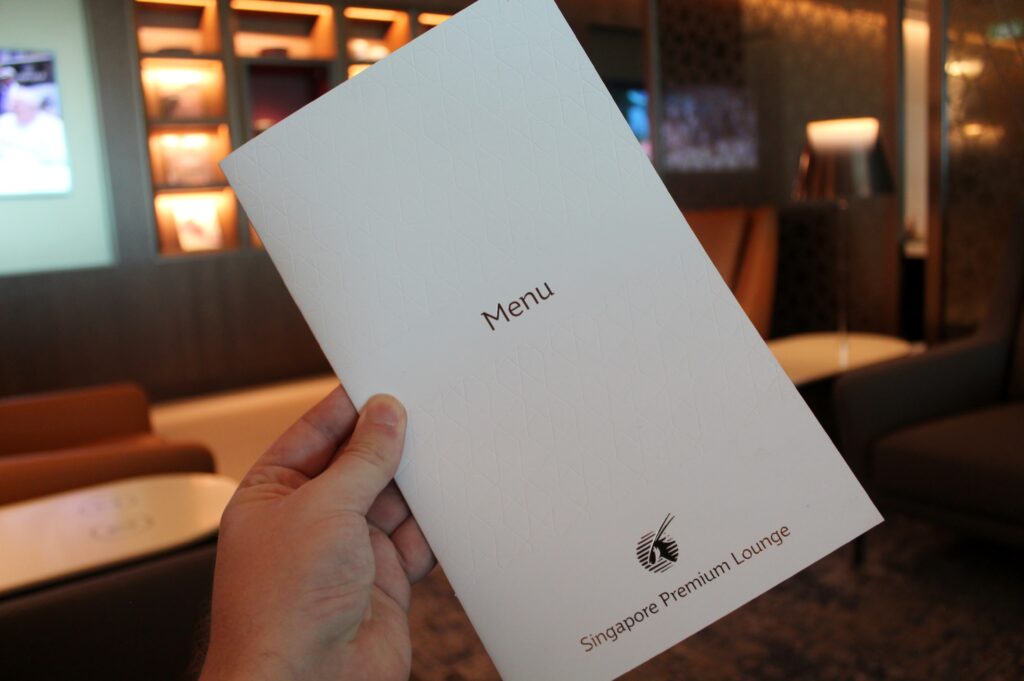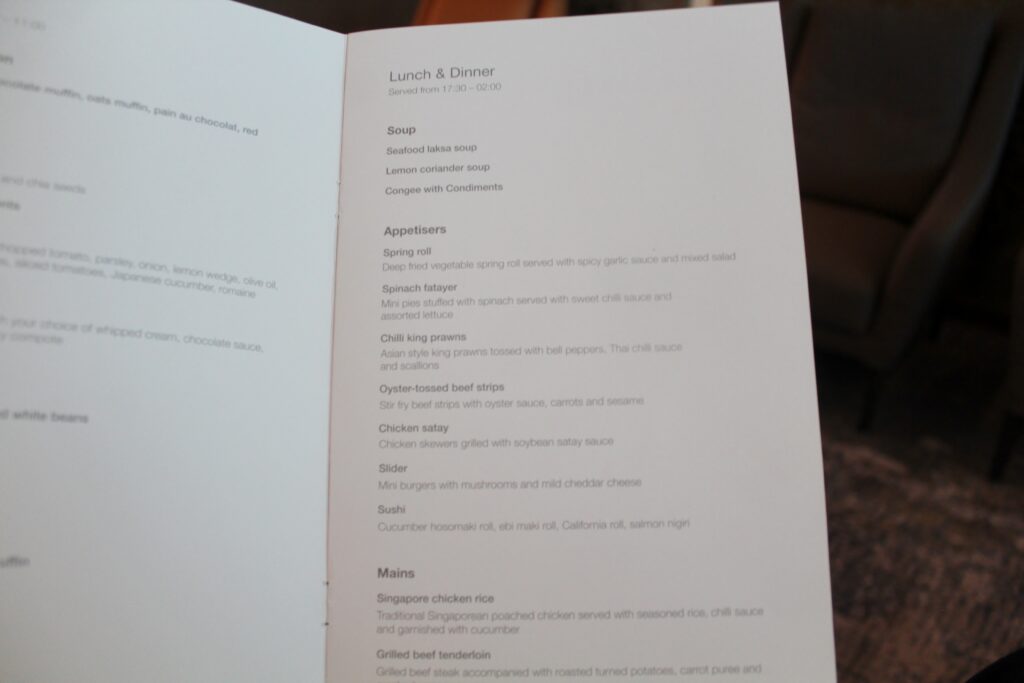 There was also a separate beverage list with the wine list and drink list, which also included a number of cocktails and mocktails you could order at the bar (or to your table in the dining area). There were three red wines on offer, three white wines, a port wine and two champagnes. And the wines were of decent quality, especially for what is essentially a business class lounge.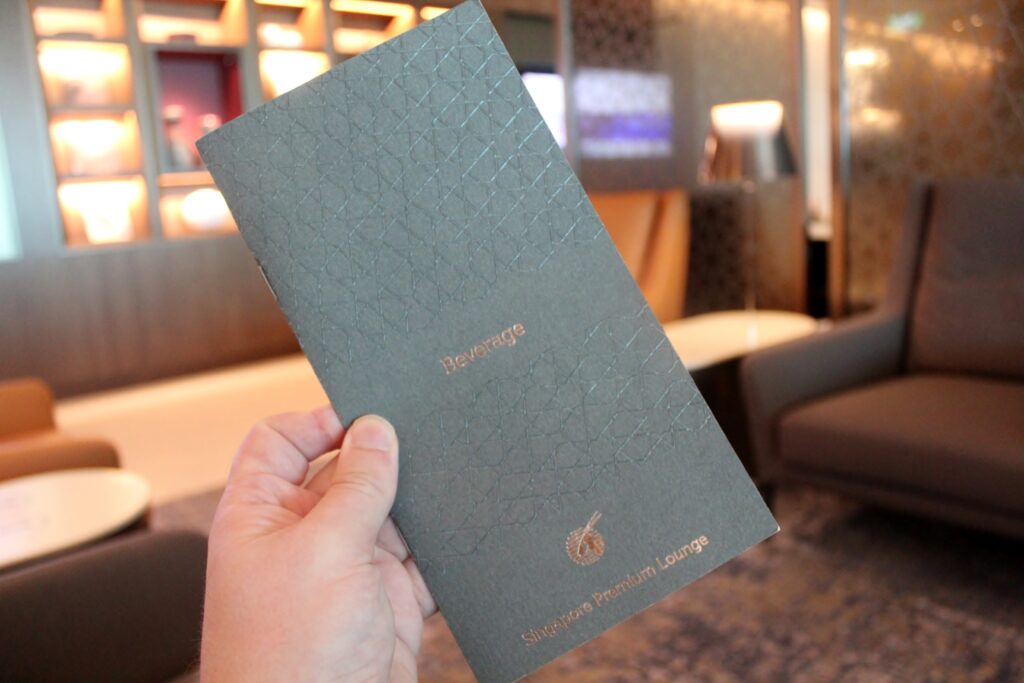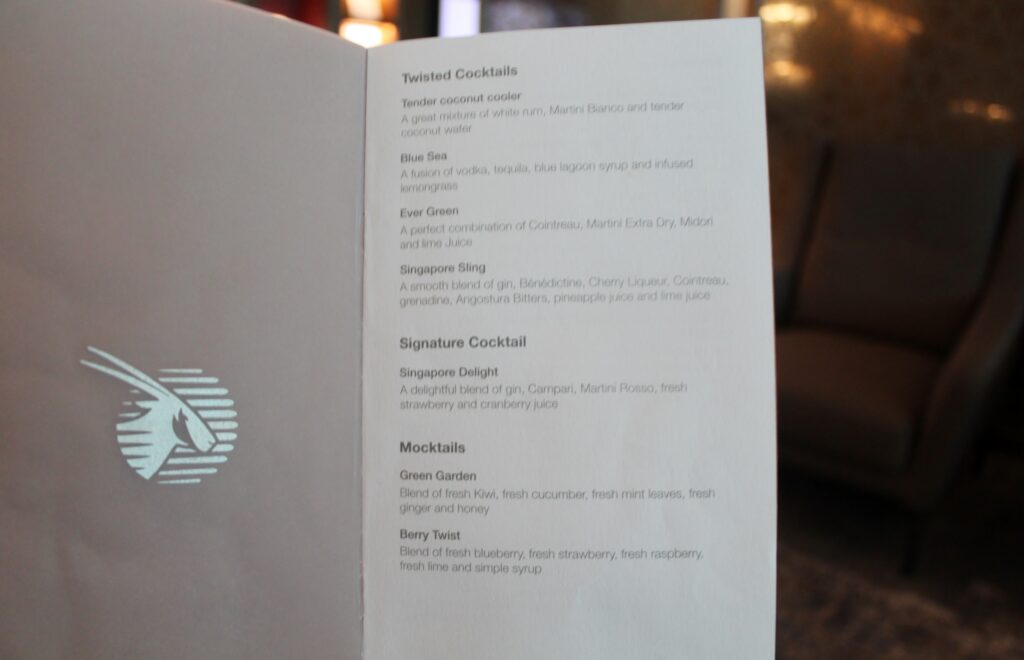 There is also a self-service buffet area next to the manned bar with snacks, sandwiches, bread rolls, cold cuts and vegetables.
I was very curious to try some dishes from the a la carte menu with all the different options available so I moved to the dining room to have a seat at one of the nicely decorated tables.
There are basically two dining rooms in the lounge. One on each side of the the manned bar. I had a seat in the larger dining room.
I was quickly approached by one of the lounge attendants who asked me if I had decided what I wanted to eat. She took my meal orders and at the same time I asked for a glass of the Chardonnay white wine to drink and was also offered still or sparkling water, poured in the same water glass they use onboard in Qatar Airways business class.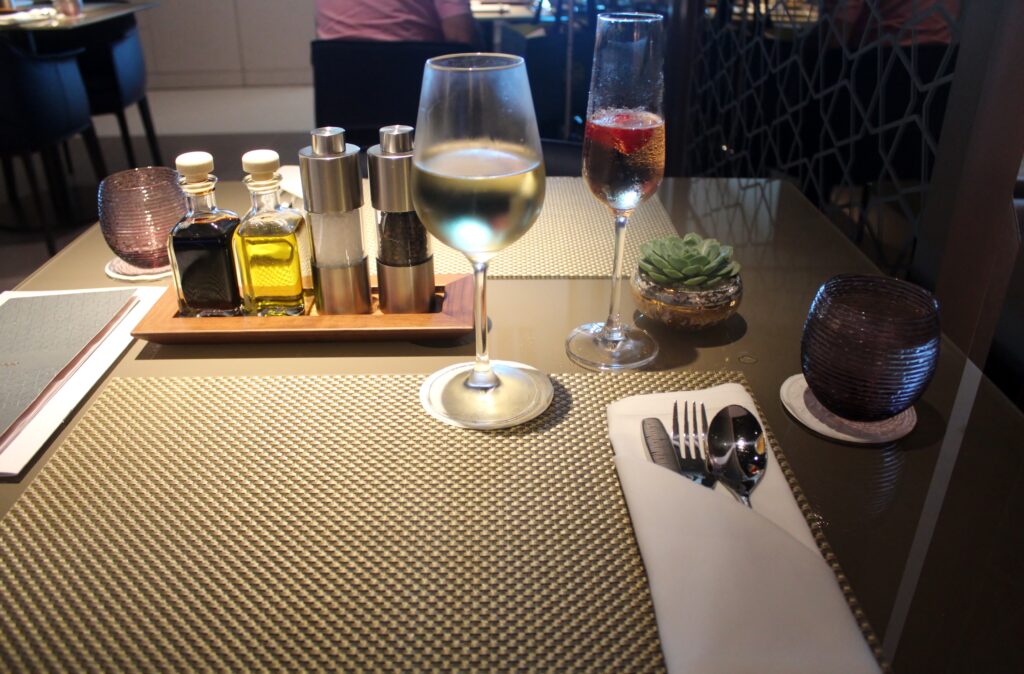 Since I had already eaten earlier in the Qantas First Lounge I decided to skip an appetiser, even though there were several excellent ones available, so I just went for a main course. I ordered the pan-seared salmon steak served with snow peas, capsicum, bok choy, lemongrass sauce and steamed rice. I usually like salmon and the dish was tasty, but I was especially impressed by the presentation, which was very nice.
And finally a dessert to finish off. There were four different ones to choose between and I went for the blueberry cheesecake. The lounge attendant also asked me if I wanted some ice cream with it and gave me the option of three different flavours. I went for the vanilla ice cream. I also asked for a cup of coffee.
Once again the presentation was very elegant, they really had an eye for the smaller details. Definitely not what you would expect from an airport lounge and especially not a business class lounge. I was very impressed.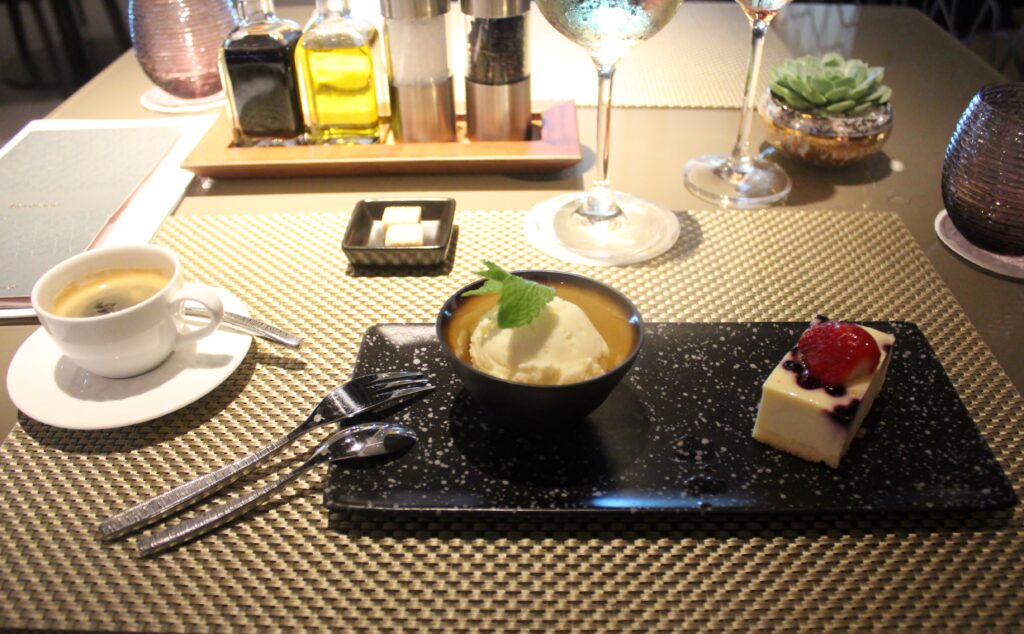 Final impression
Overall this was a very pleasant dinner with tasty food and drinks, a nice presentation, an extensive menu and a friendly and attentive service. Unfortunately I had already eaten, since I also visited the excellent Qantas First Lounge, otherwise I would have loved to also try one of the appetisers and perhaps one of the many cocktails.
The service throughout the lounge and in the a la carte restaurant was really brilliant. The staff were incredibly friendly, attentive and approachable. Everything was done with the kind of finesse and elegance I so much enjoy. And the presentation of the food and drinks was also very elegant.
Given the current situation in the world it felt like they really wanted to make a good impression and after the dinner when it was time to leave, quite a bit earlier than most passengers leaving on the Qatar Airways flight, several of the staff members wished me goodbye and told me they hoped to see me back soon again. And it did felt genuine.
And generally, if you want really good service it is always a good idea to visit a lounge just after it has opened. Everything is new and the staff are usually both enthusiastic and motivated and proud of the new lounge offering. And this was no exception.