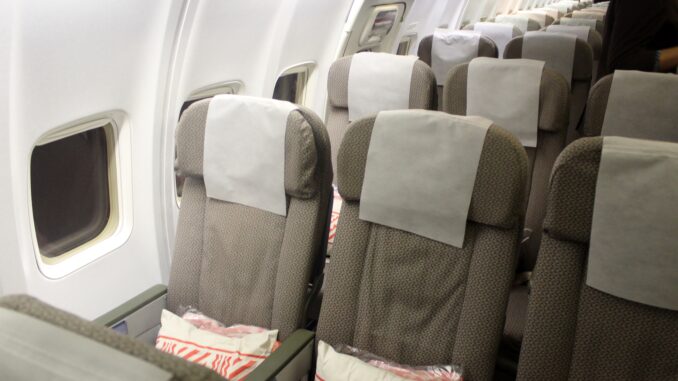 Departure experience

I had nearly four hours at Nadi airport between my incoming flight from Suva and my connecting flight from Nadi to Auckland. Although the flights were on separate tickets I could probably have asked the check-in agent in Suva to through-check my bag, but as I had so much time between the flights and just had to drag my suitcase the short distance from the domestic terminal to the international terminal, I decided to leave it.
The new international terminal is a major improvement at Nadi airport. On one hand it has lost a bit of the old South Pacific charm it used to have, but on the other hand the facilities are now well comparable to any major airline hub in Europe or Asia.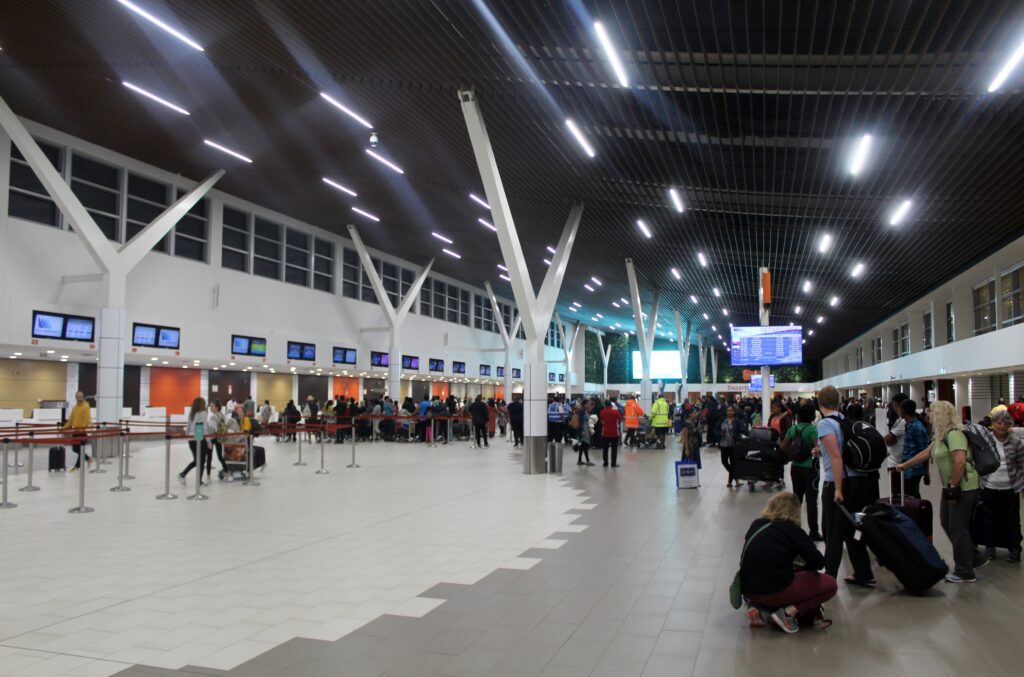 The departure hall was rather busy with many evening departures to Australia, New Zealand and the US.
Fiji Airways has a premium check-in area in the northern part of the departure hall. It seems to have been further divided into two areas, an area for frequent flyers and an area for business class passengers marked Business/Premier, the latter being slightly nicer decorated.
Since Fiji Airways is now a OneWorld Connect partner I could check-in in the premium area as an Emerald member travelling in economy class, with a 30-second wait before it was my turn. It definitely saved some time rather than having to wait in the regular check-in area, where many people apparently prefer to use manned check-in desks rather than the self-service machine and baggage drop counters available.
The check-in agent was friendly but did everything very properly, which meant the process took a bit of time. She also wanted to see proof of onward travel.
I had already checked in online and was automatically assigned an aisle emergency exit seat by the system, which was fine. However the agent decided to move me from the emergency exit on row 23 to the fourth row of economy class, row 17, in the premium section of economy class. If you want to prebook a seat in this section you have to pay for it, and it is rather expensive for a two-hour flight.
As my bag was just about to be sent away on the belt I reminded the agent to attach a priority tag. Not sure if I was really entitled to one as OneWorld Emerald in economy class, it is not mentioned anywhere on the OneWorld or Fiji Airays webpages, but I decided to give it a try. When she understood what I meant she immediately apologised and a green priority tag was properly attached.
There was a fast track channel available through security but only for business class passengers, but it seemed to be roped off anyway. Unfortunately the process took quite a bit of time.
Fiji Airways now has a brand new Premium Lounge at Nadi airport which I visited already a year ago. Back then the visit was in the morning so I was really looking forward to visit the lounge in the evening this time, to have a proper dinner and perhaps something to drink.
I had also read lounge access should now be provided for me as British Airways Gold, since British Airways is one of the sponsor airlines for Fiji Airways. However it seemed like I had not read the fine print properly. Apparently access is only provided to BA Golds when travelling on a flight from Nadi with a BA codeshare, and technically you should also have a ticket booked with BA, with a BA flight number. I had none of that and the route to Auckland is apparently not offered in codeshare with British Airways. However the gate agent was friendly and let me in anyway. If not I could have used my Priority Pass to get in.
I was rather excited when I learned about Fiji Airways joining OneWorld, even as a Connect Partner, but there are just too many exceptions now. Can regular and inexperienced travellers really keep track of all these finer details?
Read the article: Fiji Airways as OneWorld Connect partner, what does it really mean?
The lounge itself is brilliant though, seriously. Very nice interior, plenty of seating areas, shower rooms, TVs, a play area for children, and much more.
There is also a manned bar with a rather good selection of drinks. Three different white wines to choose between and they mix rather large cocktails as well. And the staff are excellent, even taking their time to chat with the guests and mingle in the lounge whenever they have the time, sometimes offering refills at the same time. It is very pleasant in every possible way. One of the bartenders asked me where I was from and what my day had been like.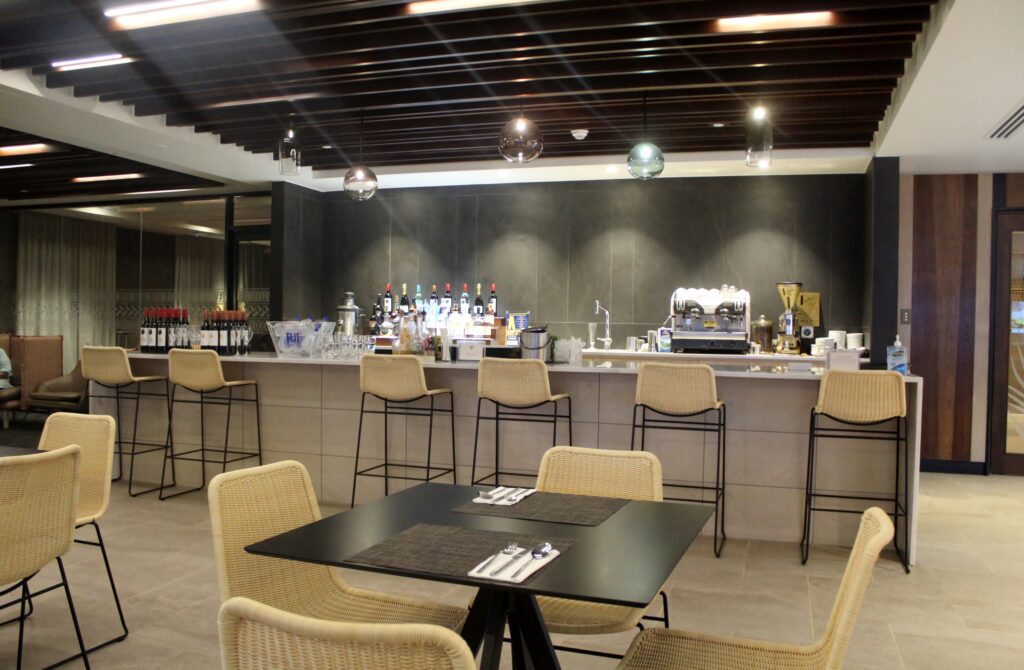 The food is also excellent with several hot and cold options. I was rather hungry and had some kind of Asian-style chicken with coconut-flavoured rice and a glass of Sauvignon Blanc to drink. I even went for a second serving and one of the bartenders offered me a refill of the wine.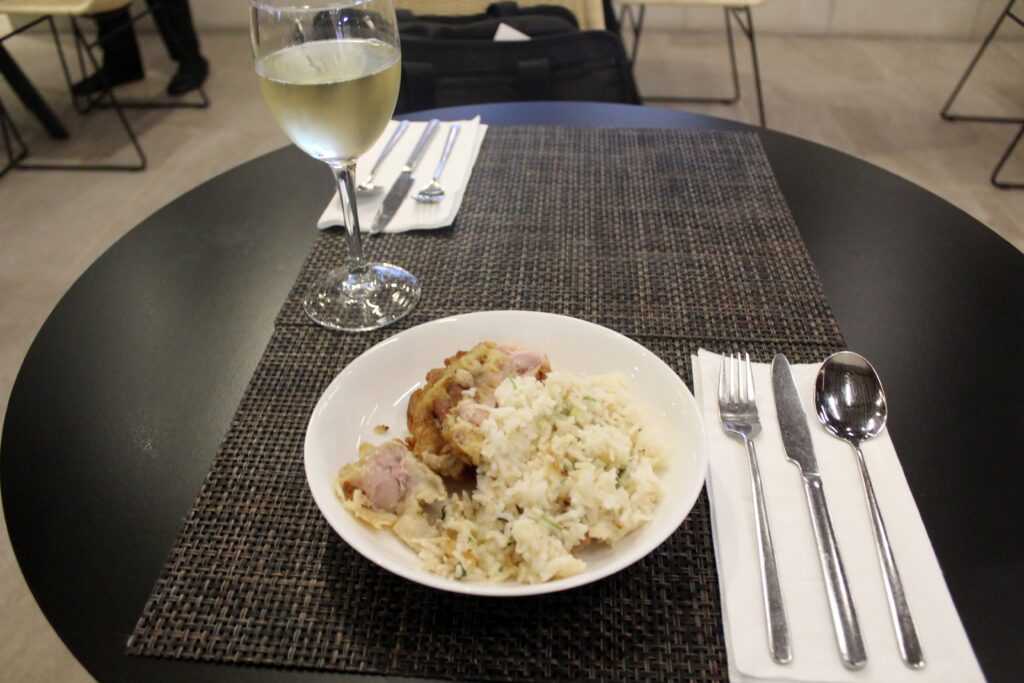 The flight
Nadi-Auckland
Fiji Airways flight FJ 415
Departure: 22.00
Arrival: 01.15
Economy Class
Boeing 737-800
Seat 17D

Boarding started very early, already 40 minutes before departure at gate 8. There was a separate line for business class and frequent flyers, which I knew I was entitled to use. The sign even had the Emerald logo on it, so there was no doubt. However there was nothing on the boarding pass saying I was entitled to use it, even though I had presented my frequent flyer card at check-in, so to avoid any problems I kept my plastic card ready to present to the gate agent. Once again I do appreciate a speedy boarding flying Fiji Airways as a status passenger, but they need to sort out their processes.
At Nadi airport you walk partly outdoors before you get to the passenger bridge, which is actually quiet refreshing.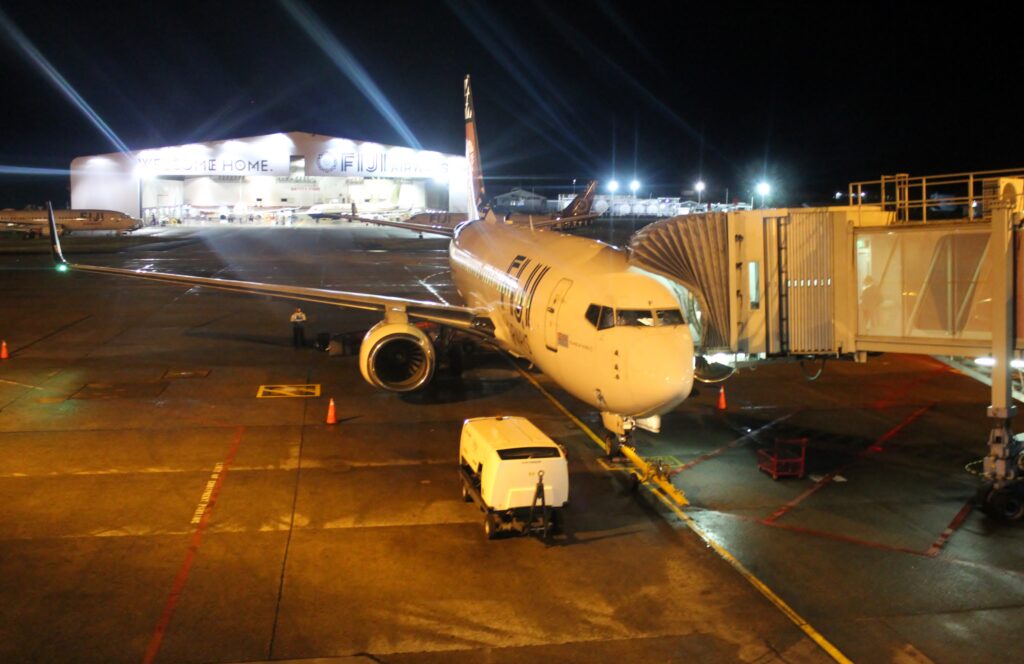 First impression

I was greeted with a friendly "Bula" (hello in Fijian) by the purser at the entrance. My seat 17D was on the fourth row of economy class, behind the two rows of business class, so definitely in the forward part of the cabin. Although there was a Fijian women in 17F the middle seat was kept empty, as one of the very few seats in the cabin. Not sure if this was because of my frequent flyer card status, or just a coincidence.
The cabin on the Boeing 737-800 had the latest Fiji Airways cabin interior in light brown.
The boarding process was completed well ahead of timetable and we actually pushed back 20 minutes ahead of timetable.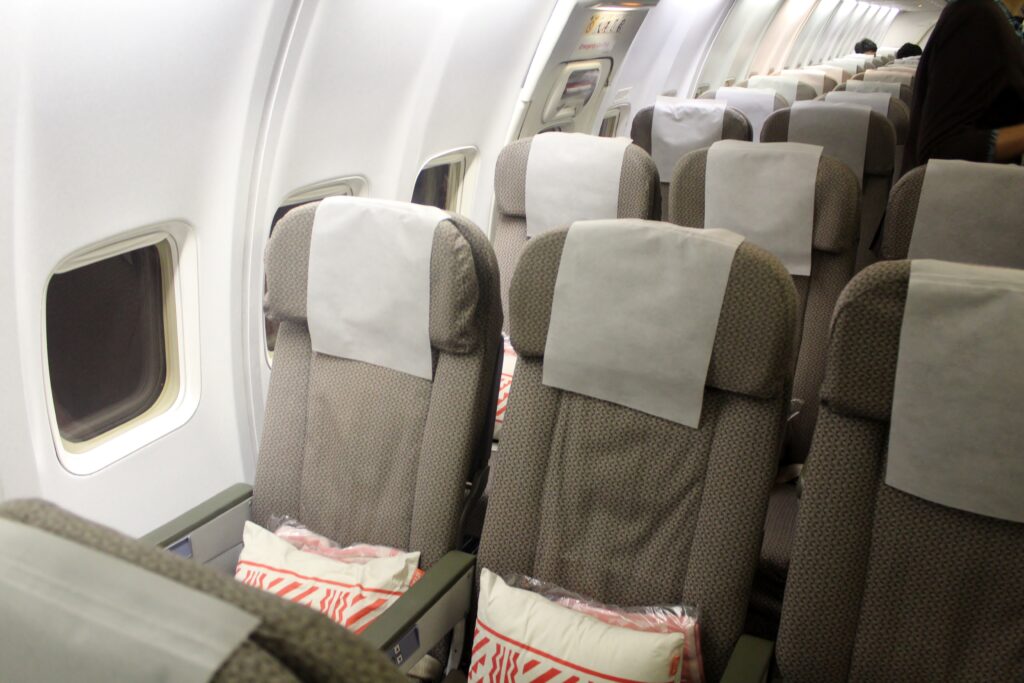 Seat and cabin

There are two versions of the Boeing 737-800, one with 152 seats in economy class and one with 162 seats in economy class.
I was seated in the fourth row of economy class, in the premium section where you have to pay a surcharge to prebook a seat in this section, but it was given to me for free. Of course some passengers will be seated there anyway if the flight is fairly full and as a top-tier frequent flyer it probably helps passing a manned check-in desk to if you want to get a seat in this section.
The seat pitch was 32 inches, perfectly alright. And with a free middle seat the comfort was perfectly adequate. Being a late evening departure at 10 pm, arriving in Auckland at 1 am, I tried to get some rest during the flight and it was better than expected. There was a pillow and a blanket waiting at the seat upon boarding.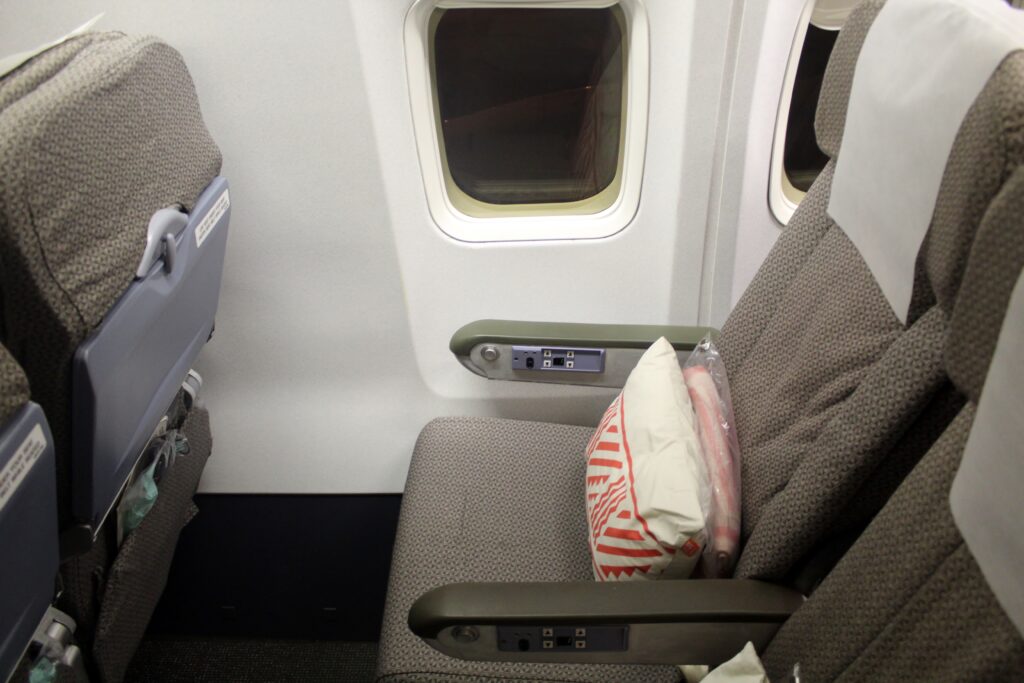 There were two rows of business class at the front of the cabin with a 2-2 configuration with proper business class seats, eight seats in total, and they looked like this.
Food and drinks

A full dinner service was offered on the flight to Auckland with two choices. I had the chicken served with saffron rice and spinach, which was perfectly fine for an economy class meal. White wine, red wine, beer and various soft drinks were also offered free of charge. I was happy with a glass of orange juice though.
There was also a bread roll and a chocolate bar on the tray.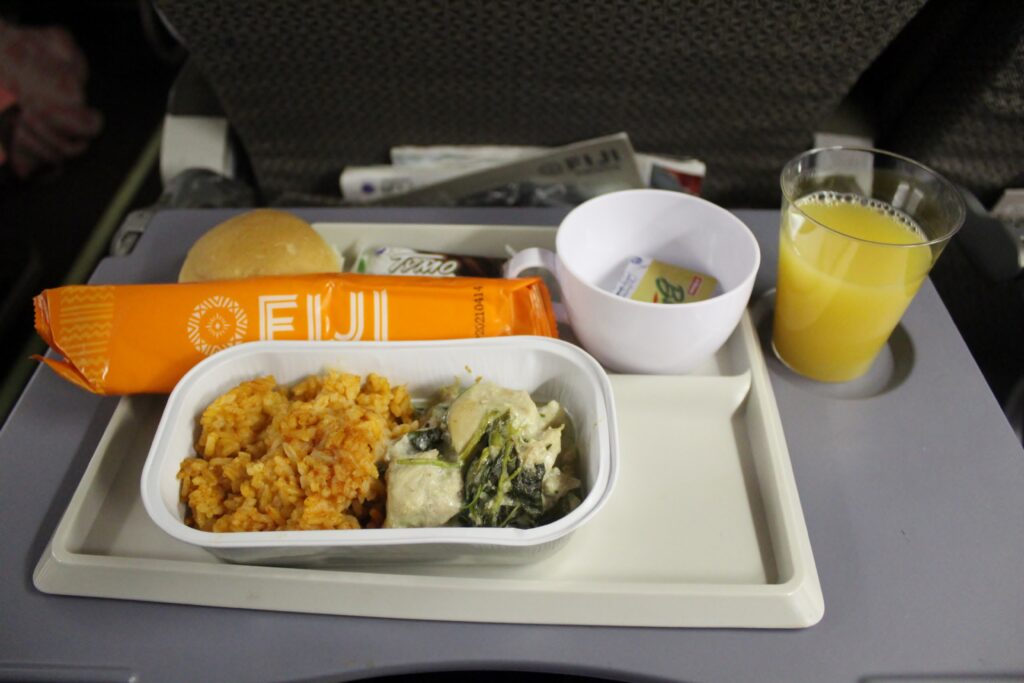 The interesting thing though is how much the inflight service in economy class differs between different Fiji Airways routes. On the Funafuti/Tuvalu-Suva flight earlier the same day, with a flight time of 2:30, not that much shorter than Auckland-Nadi, only some unhealthy snacks were served and there were no alcoholic drinks on offer in economy class.
The service

The service was friendly and polite and reasonably quick during the meal service, which was appreciated at this late hour of the day. Although it can be nice being on 'Fiji Time' sometimes you just want to get the meal service over and done with to get some rest.
Also when visiting the lavatory at the back I asked the flight attendant who had served me earlier for a glass of water. He went to one of the trolleys and offered me a full bottle instead, which I happily accepted. Not sure if they keep track of OneWorld status passengers and if the card made any difference, or if he was simply being nice to me.
Arrival experience

With the very early departure from Nadi we also landed early in Auckland, an impressive 30 minutes before timetable at 0.45. This was very good news given the time of the day. Sitting at the very front of the cabin I was one of the first passengers to get off, although the purser was very careful to make sure the three passengers in business class could get off first, which was just the way it should be done.
There were quite a few people at immigration though as a flight from Tonga had landed roughly at the same time. The priority tag seemed to work just fine as my bag was already on the belt. I was checked in at the airport hotel just across the street around 30 minutes after touchdown.
Final impression

Friendly service, a reasonable meal with free drinks and good seat comfort in economy class. The Premier Lounge in Nadi is brilliant, however although the new OneWorld Connect has its advantages all the rules and exceptions make it rather confusing.