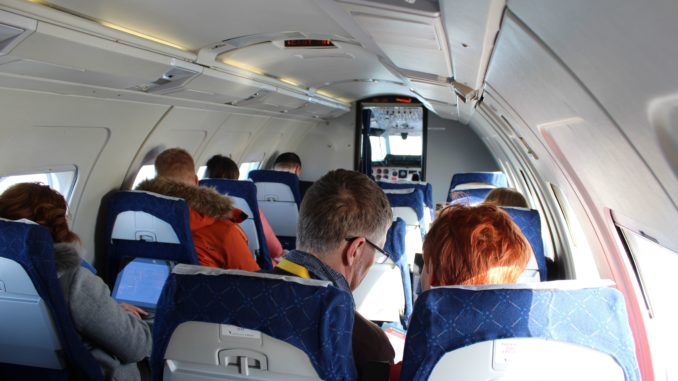 Avies is an Estonian airline based at Tallinn Lennart Meri airport. The airline was founded in 1991 and operates a small fleet of mostly Jetstream 31/32 aircraft. For several years Avies was the contracted carrier for several Swedish regional domestic routes but nowadays the network consists of a number of Estonian domestic routes as well as an international route between Stockholm and Tallinn.
Departure experience
Check-in for Avies opened exactly 90 minutes before departure time at 14.05 in terminal 5 at Stockholm Arlanda airport. With a small aircraft just one check-in desk was sufficient, desk number 40.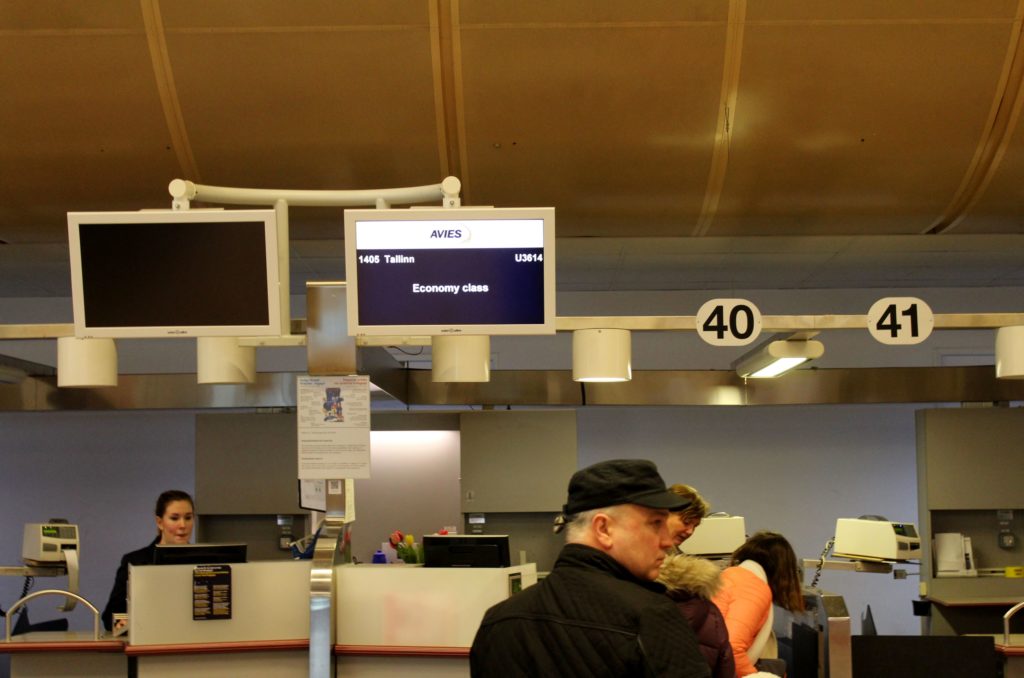 I was the third person to be checked in by the friendly woman. Passengers on Avies are generally allowed one piece of checked luggage at 15 kg and one piece of hand luggage at 5 kg. I only travelled with hand luggage, the bag was slightly above the formal weight limit but this was not an issue.
A boarding pass was printed by the agent indicating free seating onboard. I asked about the number of booked passengers and was told there were 13 passengers booked this day to Tallinn.
Security was very quick this afternoon with almost no line.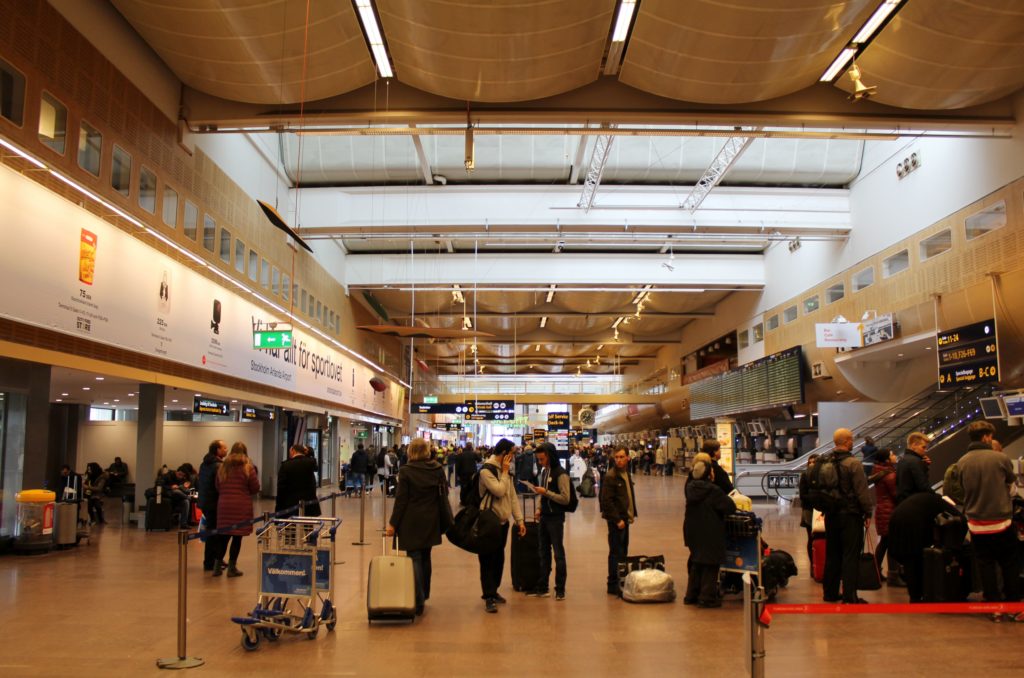 Avies is not part of any of the major alliances or airline groups and the gold cards were of little use this day. However a visit to the Menzies Executive Lounge was possible thanks to the Priority Pass card. The lounge was reasonably crowded because of a delayed charter flight to Punta Cana.
The self-service area offered a cold buffet with chicken, meatballs, vegetables, bread rolls, cookies and muffins. To drink there were red wine, white wine and beer on tap as well as a standard selection of spirits, which were mostly empty after three hours with bored charter passengers.
Read the full lounge review here!
Boarding started 20 minutes before scheduled departure at gate 6B, which turned out to be a bus gate. The aircraft was parked at the complete opposite end of the airport, opposite terminal 2, which meant a bus ride of nearly two kilometres.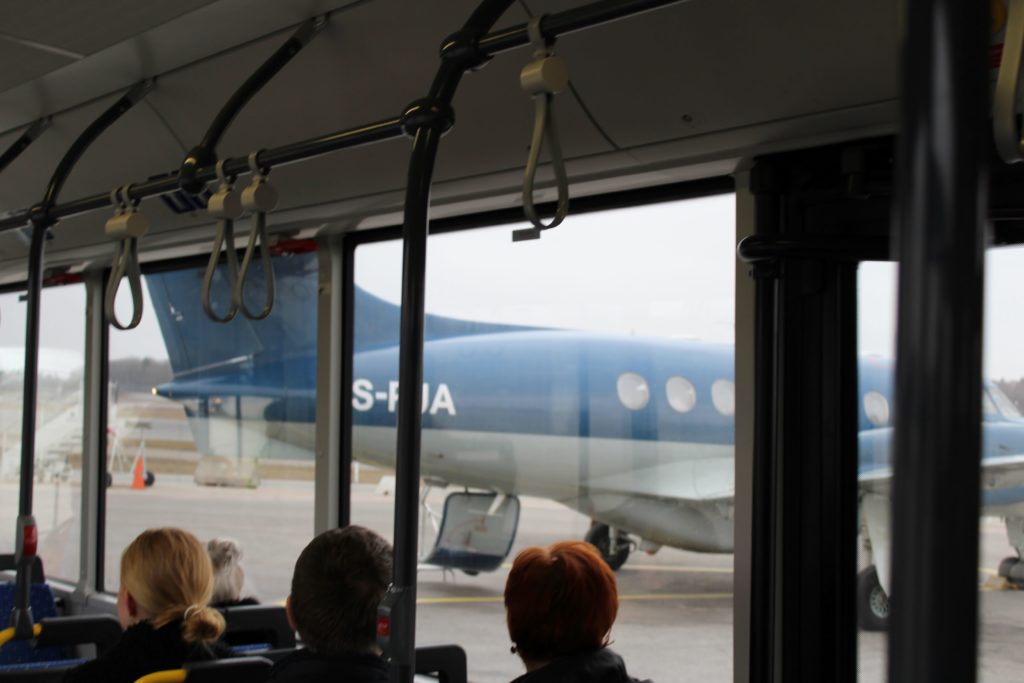 The flight
Stockholm Arlanda-Tallinn
Avies flight U3 614
Departure: 14.05
Arrival: 16.15
Economy Class (One class only)
Jetstream 32
Free seating

First impression
As the bus parked next to the Jetstream 32 aircraft the first officer came out from the cabin and indicated to the bus driver we were allowed to board. He stood by the stairs, assisting passengers and also offered caramels from a basket. He also showed us where to put larger pieces of hand luggage, there was a separate area just by the entrance next to the lavatory where I placed my bag. This was much appreciated as the cabin is small and there is no overhead storage.

There was free seating onboard and I chose a window seat on the right hand side on the last row. With only 13 passengers we all got our own row with direct aisle access.
As there are no flight attendants on Avies the first officer took care of the safety demonstration, indicating the location of the emergency exits and how to fasten seatbelts and use the life jackets. The first officer seemed to be British based on his accent.
Quite interestingly the door between the cabin and the cockpit was open throughout the flight. Actually there seemed to be no door at all but just a curtain, which was also open during most of the flight. We pushed back right on time and took off a few minutes later to the south with an expected flight time of an hour to Tallinn.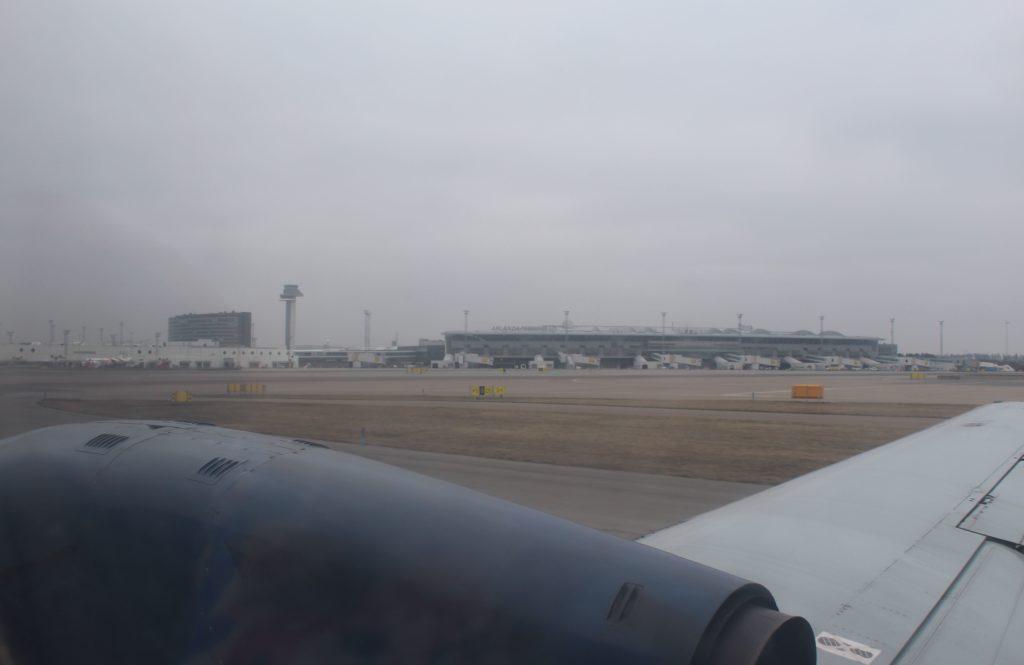 Seat and cabin
The Jetstream 32 had six rows in total in a 1-2 configuration with an extra seat on a seventh row on the left side, meaning 19 seats in total. Although the plane had most likely been around for some time the blue seats were reasonably comfortable with an acceptable seat pitch for a short flight. Being able to store the hand luggage at the back of the aircraft, in combination with a fairly light load, naturally also helped creating a comfortable flight.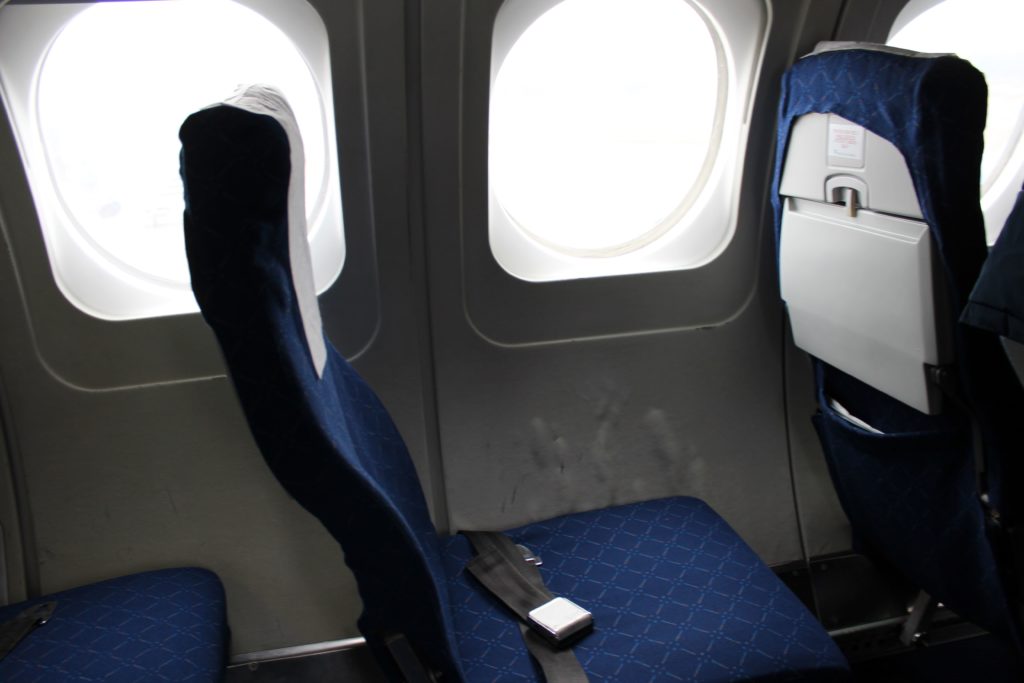 As there was no flight attendant working in the cabin there was no inflight service other than the caramels offered upon boarding. There was, however, an inflight magazine in the seat pocket.
Although the weather in Stockholm was grey and rainy the weather improved significantly when passing the clouds with plenty of sunshine during most of the flight.
Arrival experience
The flight passed quickly. The first officer made another announcement giving the weather forecast for Tallinn, however they really should increase the volume as it was quite hard to hear what he said.

We landed just on time at 16.15 at Tallinn Lennart Meri airport where it was grey and rainy. Just like in Stockholm we were directed to a remote stand and taken to the terminal building by bus, which was a quick process with a small aircraft and a smaller number of passengers.
Final impression
Naturally the lack of inflight service was a drawback and a small 19-seater aircraft cannot be compared to the comfort of a larger aircraft, either a turboprop like an ATR or a larger Boeing or Airbus aircraft. But the price was very reasonable at 90 euro, even when purchased very close to departure. The flight departed and landed right on time and everything worked without any problems.