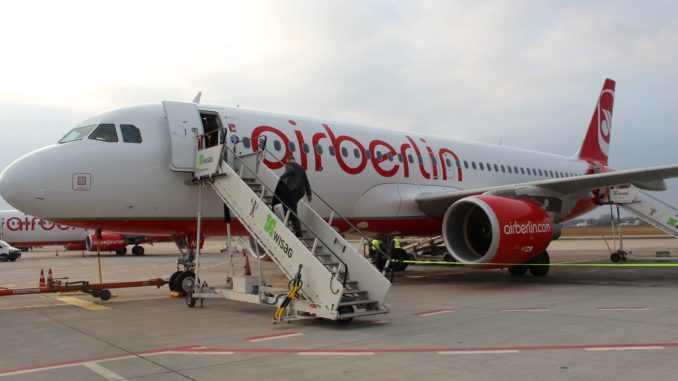 Departure experience
I arrived at Berlin Tegel airport two hours before departure. I had already checked in online and only travelled with hand luggage, I only needed to print a boarding pass at the airport. In the past Air Berlin has offered self-service check-in machines at the airport, however for some reason these seem to have been removed as I did not see a single self-service check-in machine in any of the terminals at Tegel airport.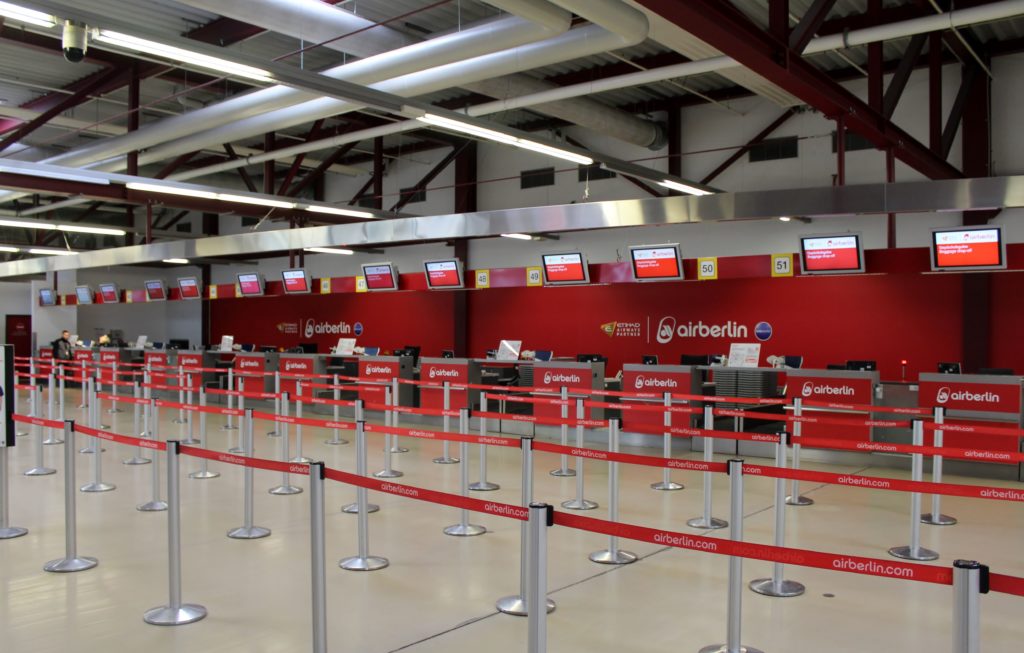 There was a dedicated priority check-in area in terminal C, available to me as OneWorld Emerald. My boarding pass was quickly printed however the check-in agent also wanted to check and weight my hand luggage. Air Berlin Topbonus Gold and Platinum members are allowed two pieces of carry-on luggage and this also applies to passengers with equivalent OneWorld tiers. My two bags were within the limits and a yellow "Approved baggage" was attached. Perhaps this is the reason why the self-service machines have been removed, to check all the cabin luggage.
Air Berlin does not operate any lounges at Tegel airport, which is strange given this is one of their hubs. A brand new lounge was (and presumably still is) planned at the new Brandenburg airport, but we all know the scandals surrounding that project. In the meantime Air Berlin passengers have two lounge options. Either the Air France lounge, which is the contract lounge for Air Berlin, or the British Airways lounge, which is accessible per OneWorld rules. Both are located landside in terminal A, rather inconveniently as most European flights depart from terminal C, which means passengers must allow time to both get from terminal A to terminal C and then to pass security control and make it to the gate in time for boarding.
Air Berlin also operate what they call "Premium waiting areas". These offer seating, soft drinks and snacks but are not regarded as proper lounges. Access is offered to business class passengers (including on connecting flights), Topbonus Gold and Platinum members and Etihad Guest Silver, Gold and Platinum members but not to other OneWorld status passengers. Not even OneWorld Emerald cardholders get access when flying Air Berlin.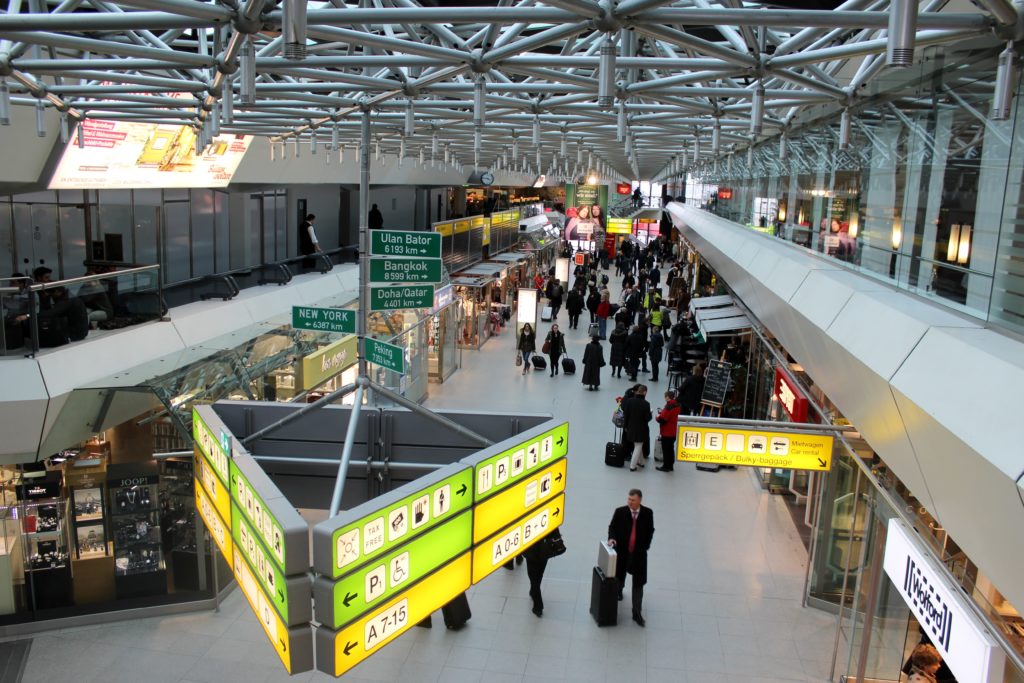 With plenty of time before departure I visited the Air France lounge, located right above the British Airways lounge. It has the standard Air France lounge design with armchairs in red and grey and with plenty of wood. The lounge attendant was very friendly, which has always been the case on previous visits.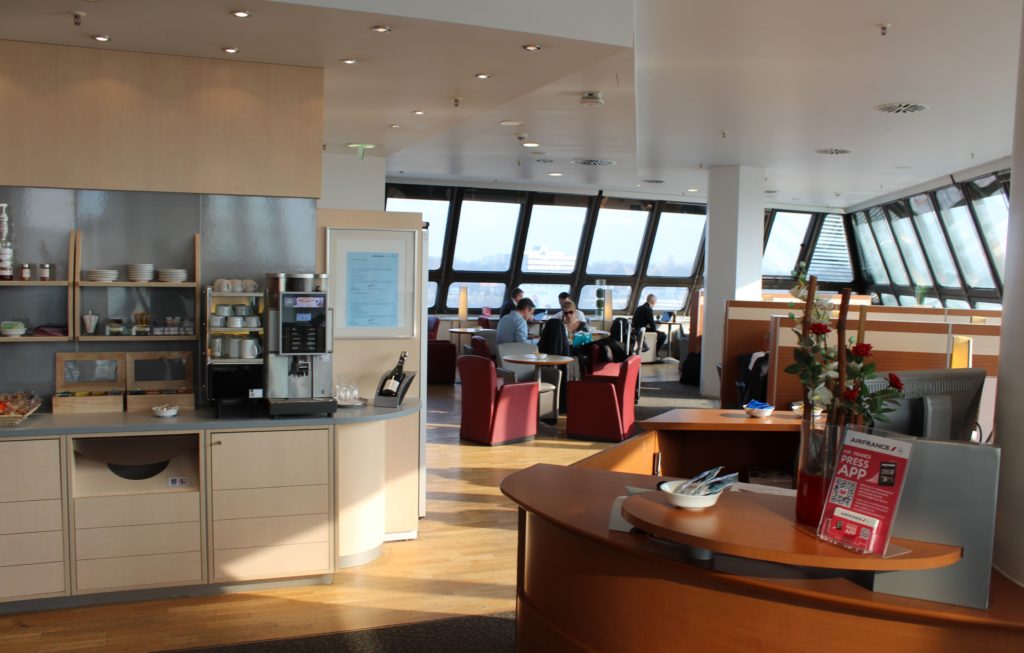 Unfortunately the selection of food and drinks was somewhat limited with no hot food and little substantial to eat. But at least they offered free wireless internet and some sparkling wine to stress down after a long day.
Read the full lounge review here!
Back in terminal C there was a dedicated fast track channel through security control, but all lanes seemed to move quickly.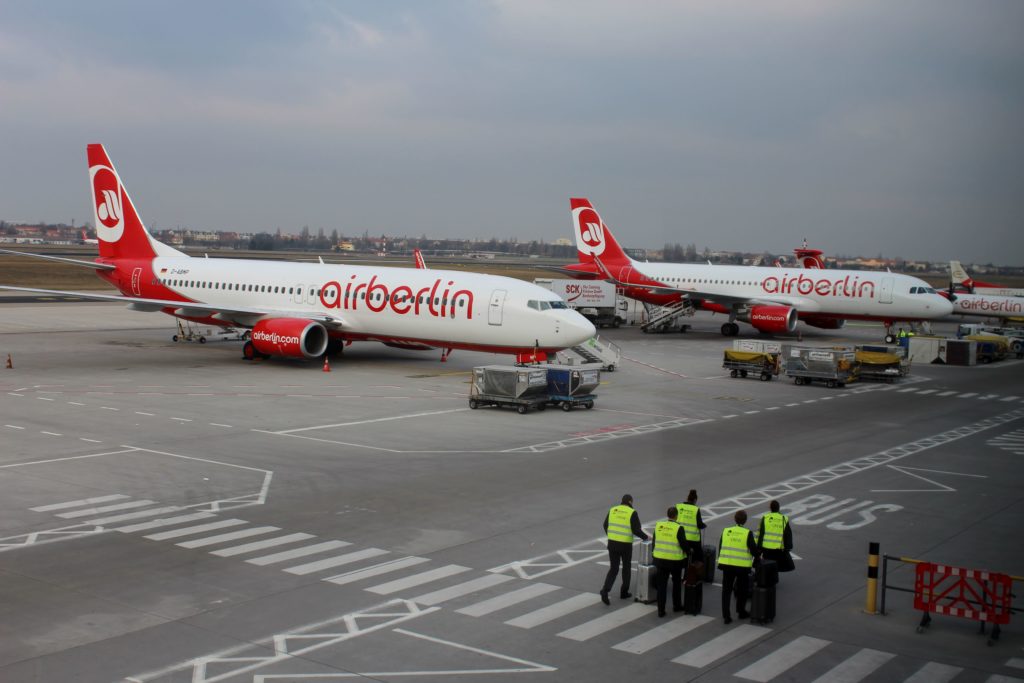 Terminal C is really a shame given this is the hub of a major airline like Air Berlin. The terminal is nothing but a shed, a temporary solution which has been around way too long with aircrafts parked in any available space around it. But to give the authorities some credit, it does work.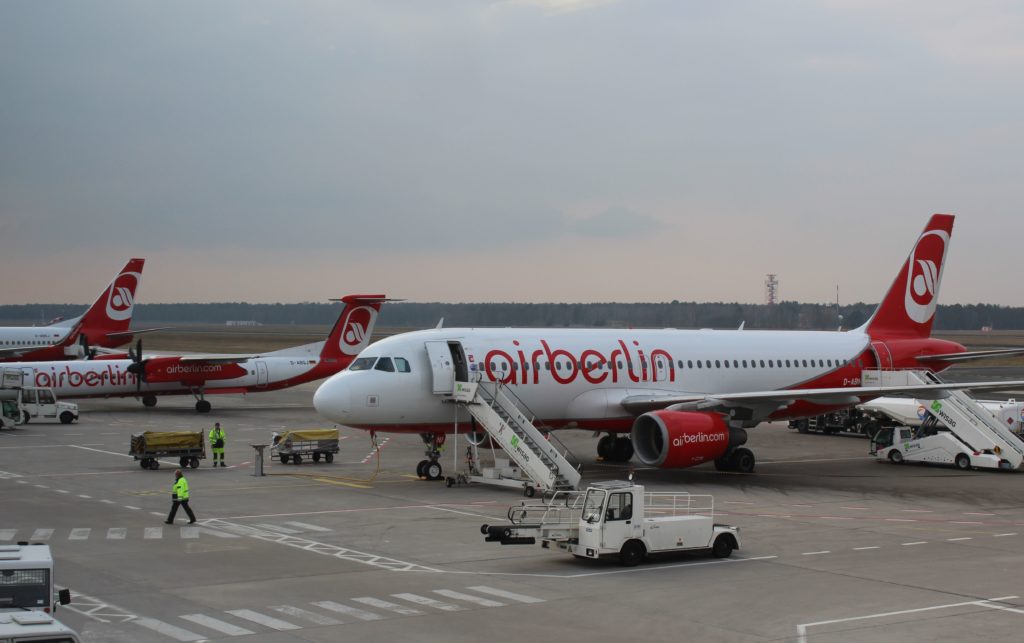 Terminal C is divided into two parts. The area used for gates 40-57 is much larger with more shops, cafes and restaurants than the area used for gates 60-67. When starting the journey in Berlin the staff will direct you to the appropriate security control but you can walk between the two areas airside using the stairs and a long corridor. There are plenty of signs.
The flight
Berlin Tegel-Stockholm Arlanda
Air Berlin flight AB 8006
Departure: 17.05
Arrival: 18.35
Economy Class
Airbus A320
Seat 01A
First impression
Boarding started early at gate 60, already 35 minutes before departure. Priority boarding was offered to those with "Pre-boarding" written on the boarding pass and this was checked properly by the staff. Passengers who did not qualify were stopped.

I had pre-booked seat 01A for the flight, one of the "Preferred seats". The main benefits are of course quick boarding and disembarkation but choosing the first row means all cabin baggage must be placed in the overhead lockers.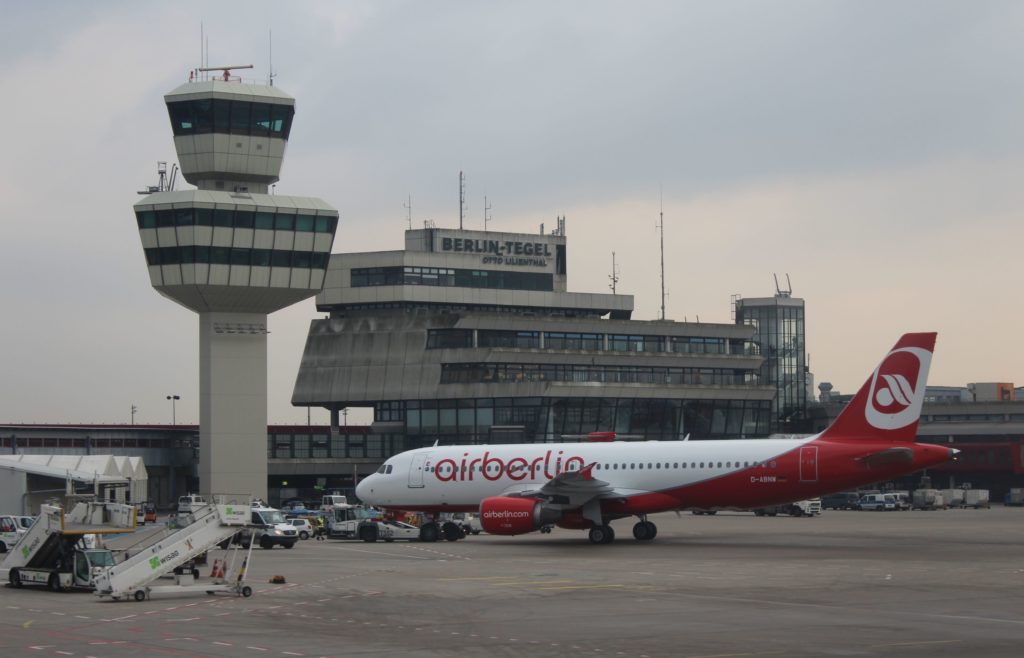 The flight was almost fully booked and even the priority section of the cabin was almost full. The man seated in 01B did not seem too happy about it. The aircraft departed five minutes ahead of timetable with an estimated flight time of one hour and 20 minutes.
Seat and cabin
Air Berlin only operates a one-class service on intra-Europe flights, economy class for all passengers. However they do offer different ticket categories with different rules and benefits.

The Airbus A320 had 180 seats in total, 30 rows in a 3-3 configuration with sex seats abreast.
As a OneWorld Emerald passenger I could select a seat free of charge during the booking process and I could also select a seat in the premium section of the cabin at no extra cost. The "Preferred seats" are available on the first four rows of the cabin and can be selected by any passenger at a charge (just like the XL Seats at the emergency exits).
The Preferred seats do not give any extra legroom but they have the obvious advantage of being at the very front of the cabin. Also the cabin crew can keep an extra eye on these passengers as the galley is just around the corner. I had selected 01A for the flight.
The seats were in dark blue leather, quite comfortable to sit in. The cabin felt new, clean and modern and gave a good impression.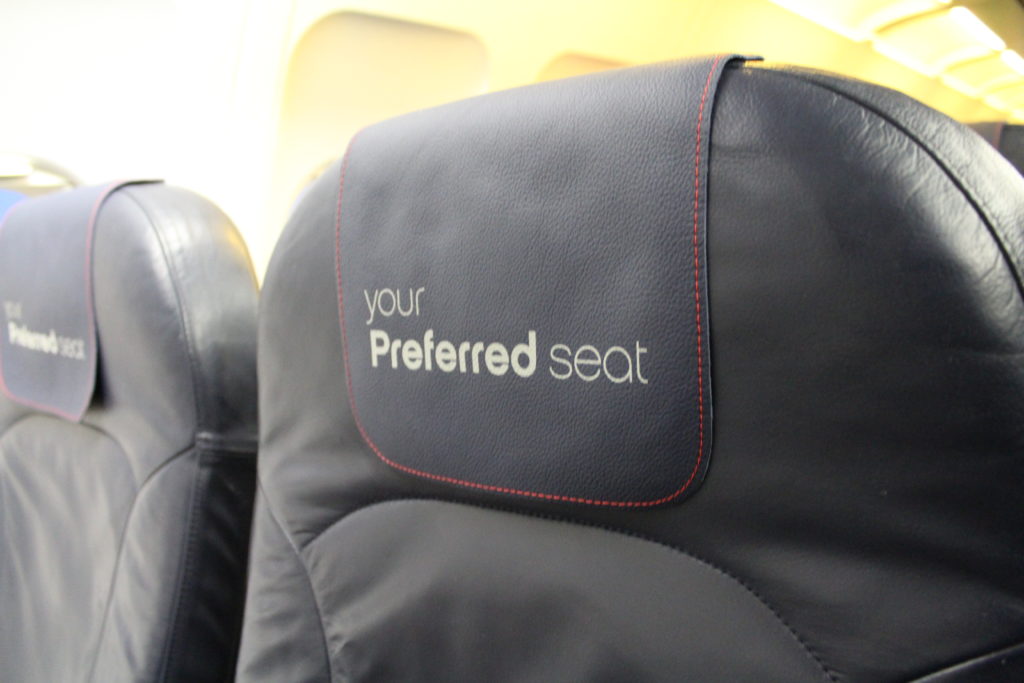 Food and drinks
The standard "Sweet or Salty" were offered free of charge to all passengers as well as soft drinks, coffee and tea. The salty item was a bag of crisps and the sweet item some cookies. I chose the latter and a glass of orange juice.

For the flight I had ordered one of the hot meals – Fillet of chicken breast with Tortiglione pasta, leaf spinach with Sansibar hollandaise and sun-dried tomatoes. For some reason it was not possible to order on the Air Berlin webpage so I had to call the customer service centre. Apparently this had something to do with the way the booking was made.
It took a very long time before the meal was delivered and for a few minutes I thought they had forgotten about it as they had already served snacks and drinks to most passengers, but eventually the meal arrived and they explained it took some time to heat it. The flight attendant asked me if I wanted anything more to drink and I asked for another glass of orange juice.
The meal was good, tasty and rather filling, created by restaurant Sansibar in Sylt. Still an economy class airline meal though, but a good options for those not having time to eat properly before or after the flight, or during a very long flight.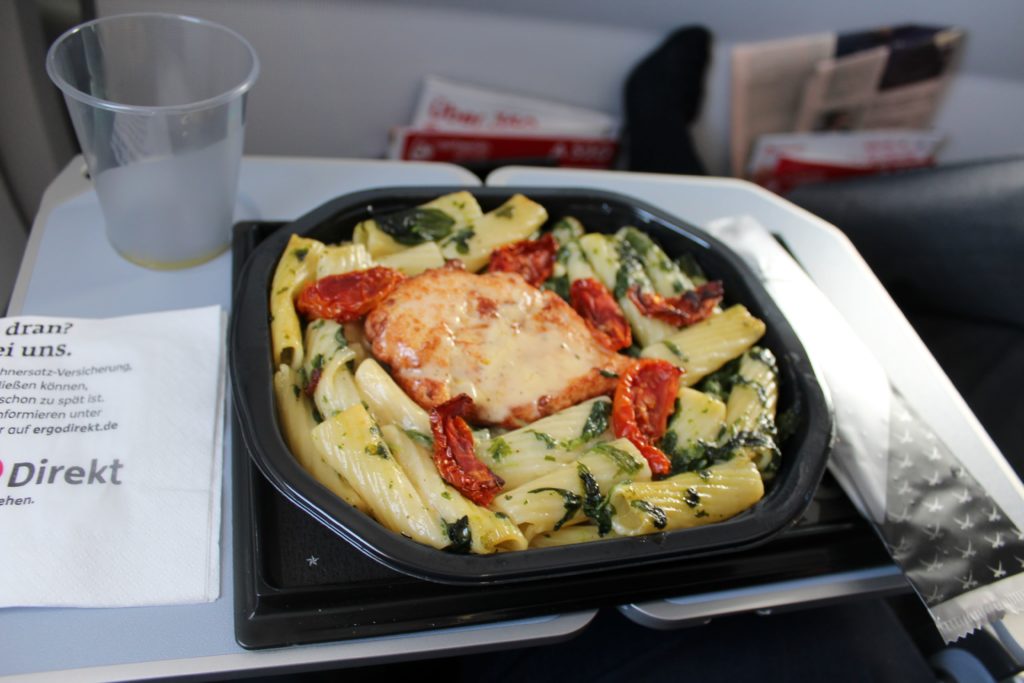 The service
Air Berlin usually has friendly cabin crew members but although the flight attendants on this flight were never rude it was just a bit too much German efficiency about the service, providing a somewhat robotic experience. Although they did have a full flight to serve a smile and a few friendly words would have made the experience much more enjoyable.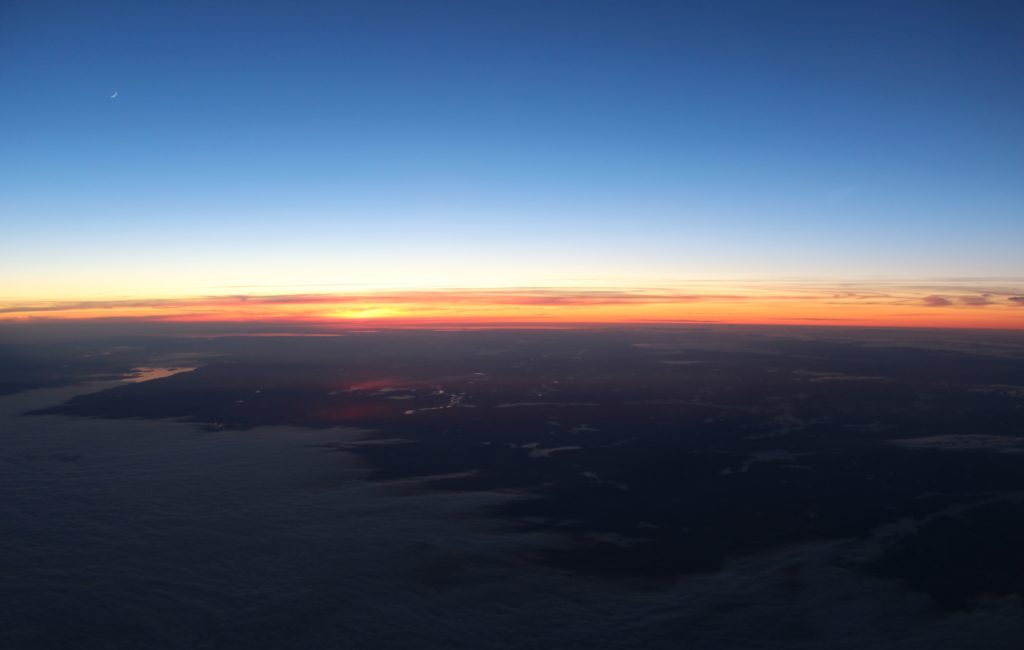 Arrival experience
We landed ten minutes early at Stockholm Arlanda airport. Air Berlin uses the smaller terminal 2 and sitting on the first row travelling with only hand luggage I was the first passengers to get off the aircraft and was quickly on my way from the airport.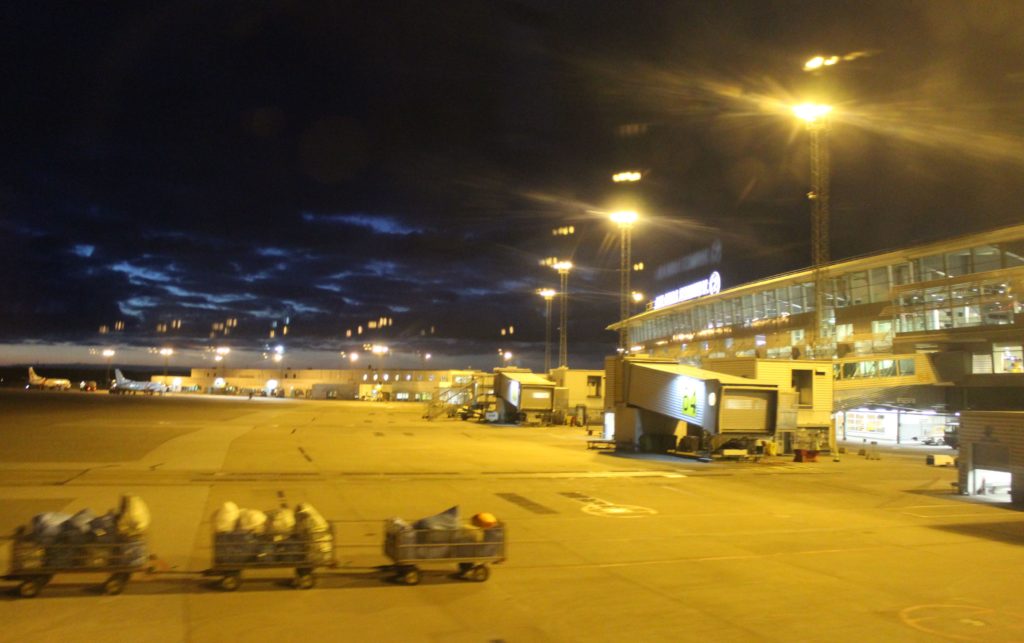 Final impression
Although Air Berlin has a reasonable intra-Europe product with several benefits for frequent flyers Tegel airport is not a fun hub to use. To their credit it does work and they do have decent connecting times, but the lack of facilities and proper lounges are of course major drawbacks. The pre-ordered dinner was tasty but I still do not know why it took so much time before it was served onboard.