The German carrier Air Berlin has solved for insolvency and is no longer able to operate as normal. However thanks to an emergency loan from the German government the airline is able to continue operations for a limited time until the end of October, which is good news both for the passengers and the employees.
This is a report from my last ever flight with Air Berlin, two weeks before the last Air Berlin flight ever, which is scheduled for 27 October.
Departure experience

Not much has changed at Berlin Tegel airport, everything looks pretty much as normal. But there are a few cancelled flights on the departure board and there are fewer passengers in Terminal C . Many people probably avoid booking Air Berlin in fear of problems and cancellations. The good news is that this means the tickets are very affordable.
I checked in on the Air Berlin webpage. My OneWorld Emerald status was properly recognised by the system and appeared on the boarding pass even though I am no longer able to earn points as the agreement with British Airways Executive Club (and most other programs) has been terminated. I could also select a front row 'Preferred seat' and the boarding pass indicated I had fast track access through security as well as priority boarding.
Once at Tegel airport I made a quick visit to the British Airways lounge in Terminal A, the hexagon terminal. Although all third-party lounges have been terminated and there have been reports of some OneWorld-operated lounges also refusing access to passengers flying Air Berlin, it was not a problem to gain access for a drink and a sandwich.
Afterwards I made my way to terminal C, which was the departure terminal for the flight to Stockholm, where fast track access was indeed provided, even though the regular lines were quite short.
Air Berlin nowadays has its own lounge in Terminal C called Weltbürger Lounge and it is still open and functional and access is still provided to OneWorld top-tier members flying Air Berlin.
The lounge is really pleasant and it is a shame they have not promoted it better. I am sure it would have attracted more business travellers and frequent flyers as the Air Berlin lounge facilities at Tegel have been really poor for a long time.
The Weltbürger Lounge is divided into three different floors with reception and dining area on the ground floor, a cafe area on the first floor and a smoking area and outdoor terrace on the second floor. The outdoor terrace is very nice with a decent apron view. It is actually really enjoyable to sit there and enjoy a glass of wine or a beer while watching the action on the apron. The food selection is also rather good. The drinks selection includes beer, wine and soft drinks but no hard liqueur.
Read the full lounge review here!
The flight
Berlin Tegel-Stockholm
Air Berlin flight AB 8000
Departure: 21.25
Arrival: 23.00
Economy Class
Airbus A320
Seat 03F

Boarding started early, 20 minutes before departure time, with priority boarding as usual for Topbonus and OneWorld top tier frequent flyers and other eligible passengers with 'pre-board' indicated on the boarding pass. I was the very first passenger to board.
First impression

With a light load the boarding process was quick and we pushed back a few minutes ahead of scheduled departure time. There was no one sitting in business class on the first row and we were five passengers in the preferred seating area, rows 2-5.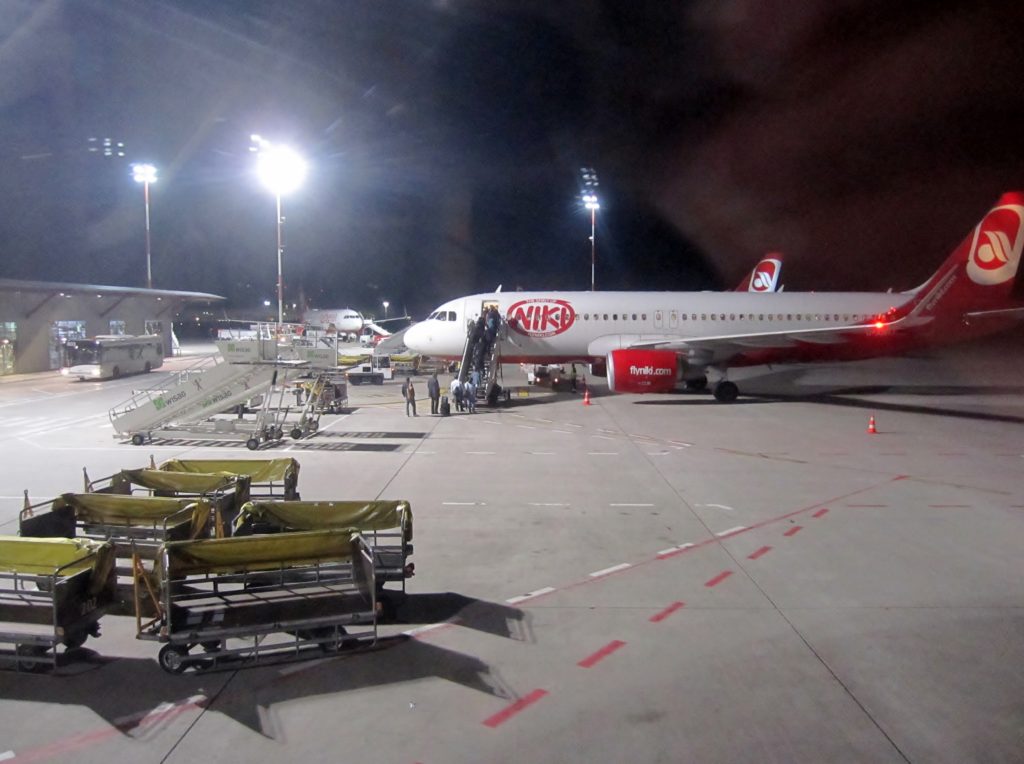 Seat and cabin

The flight was operated by an Airbus A320 with 3-3 seating except for the first row (business class) where the middle seat is blocked. They also seem to block middle seats for frequent flyers from time to time when possible.
The seats were the standard thin Recaro seats, perfectly adequate for a flight of 80 minutes.
Food and drinks

Up in the air food, drinks and snacks were offered from the onboard menu. Although the menu was still the same they seem to have loaded fewer items in the cart, probably to avoid waste (and costs). They had no bottles of red wine left and when I asked for a gin & tonic it turned out they had no ice. I also heard other passengers in the cabin who asked for things from the cart that were not available.
The crew were very apologetic though and most passengers seem to be very understanding. There were certainly no heated arguments.
Inflight entertainment
The flight map was shown on the screens during most of the flight but they also showed some information clips about Air Berlin. It was a bit strange to see a short clip promoting the Air Berlin longhaul business class product when Air Berlin has just shut down the entire longhaul network.
The service

The cabin crew were in a surprisingly good mood and seem to make the best out of the situation, although you could feel a certain sadness. I asked the purser if she knew what would happen after October but she did not know, although she said there might be some opportunities via Lufthansa and Eurowings to consider.
Arrival experience

We landed at Stockholm Arlanda airport ten minutes ahead of timetable at 10.50 pm. As expected the crew no longer offer chocolate hearts to all passengers when getting off. I wished the crew the very best of luck for the future as I left the aircraft, which seemed to be appreciated.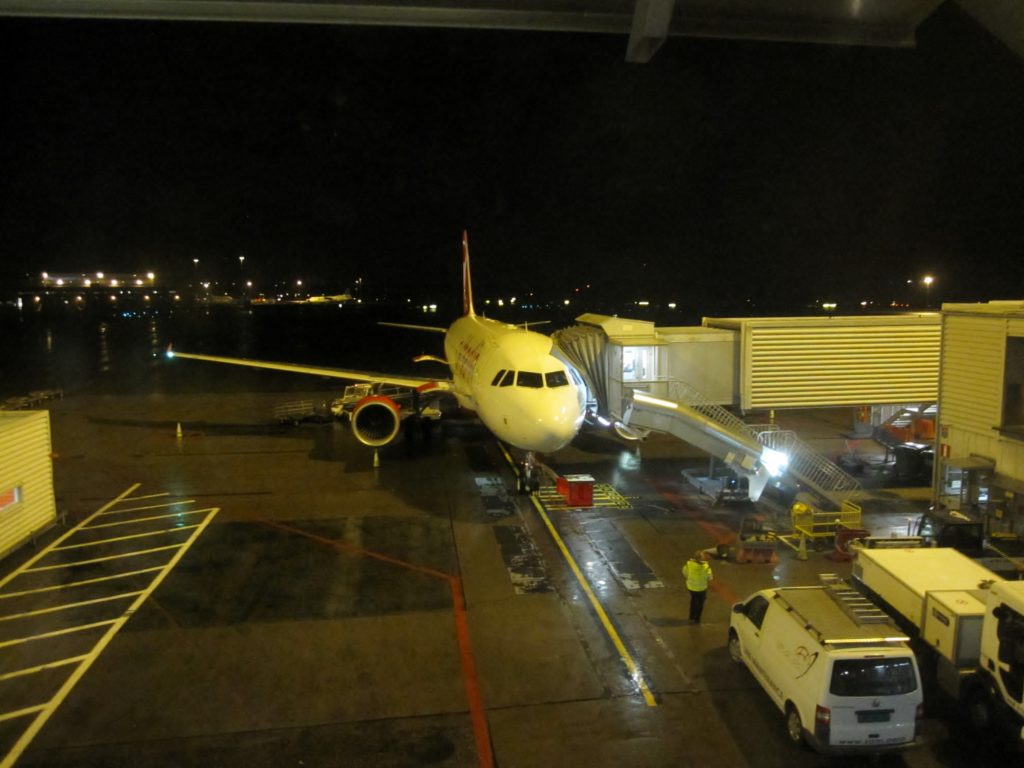 Final impression
Although Air Berlin has never been best in class they have provided a reliable and punctual service via Berlin and Düsseldorf. And even though Berlin Tegel is a lousy airport, an airport that should have shut down years ago, the Air Berlin transfers have mostly worked quite well, even with a transfer time of just 30 minutes, with checked luggage that is. Air Berlin have provided a decent status recognition, always being able to pick a front-row seat and there has sometimes also been some recognition onboard.
The flight itself was uneventful, most services on the ground in Berlin worked as normal with check-in, fast track, lounge and priority boarding. The crew were in a surprisingly good mood and they should be given some admiration for keeping the spirits high in a difficult situation. The only drawback was the limited supply in the sales cart.
All-in-all it is a bit sad to see the airline go.