On 28 March 2017 the brand new terminal building opened at Zagreb airport, replacing the old and rather cramped building which surpassed its capacity a long time ago. This afternoon it was time for me to visit the new terminal, to have a look inside and to try the new facilities, including the new lounge.
The new terminal building measures 65,800 sqm and has been designed by Neidhardt architects of Zagreb. The construction work started in December 2013 and was completed in October 2016. In 2017, around six months later, it was officially inaugurated and took over as the main airport terminal in Zagreb.
The new terminal building is located on the southern side of the runway but further to the east from the old terminal, in a different area which was previously not really used for anything more than a taxiway.
As a departing and arriving passenger a great thing about the terminal is that it has eight gates with passenger bridges. So unless you arrive on a regional jet or a turboprop there is a very good chance your aircraft will park by the terminal building and you will be led straight inside the terminal without having to take a bus or walk on the apron. The old terminal building had no passenger bridges and you almost always had to take a bus to and from the aircraft.
The arrivals hall gives a good first impression for newly arrived travellers with large panorama windows providing plenty of natural light. Quite a contrast to the old terminal. There are three baggage carousels here.
Just like the arrivals hall most of the terminal building has been constructed using panorama glass windows, including the landside airport facade. It gives the terminal a very modern feeling but also makes it feel airy and spacious and to some extent actually larger than it really is.
There are three floors and the departure hall with the check-in areas is located on the top floor where there are 30 check-in desks available. There is also an option to extend the check-in area with another 30 check-in desks in the future once the terminal reaches its capacity.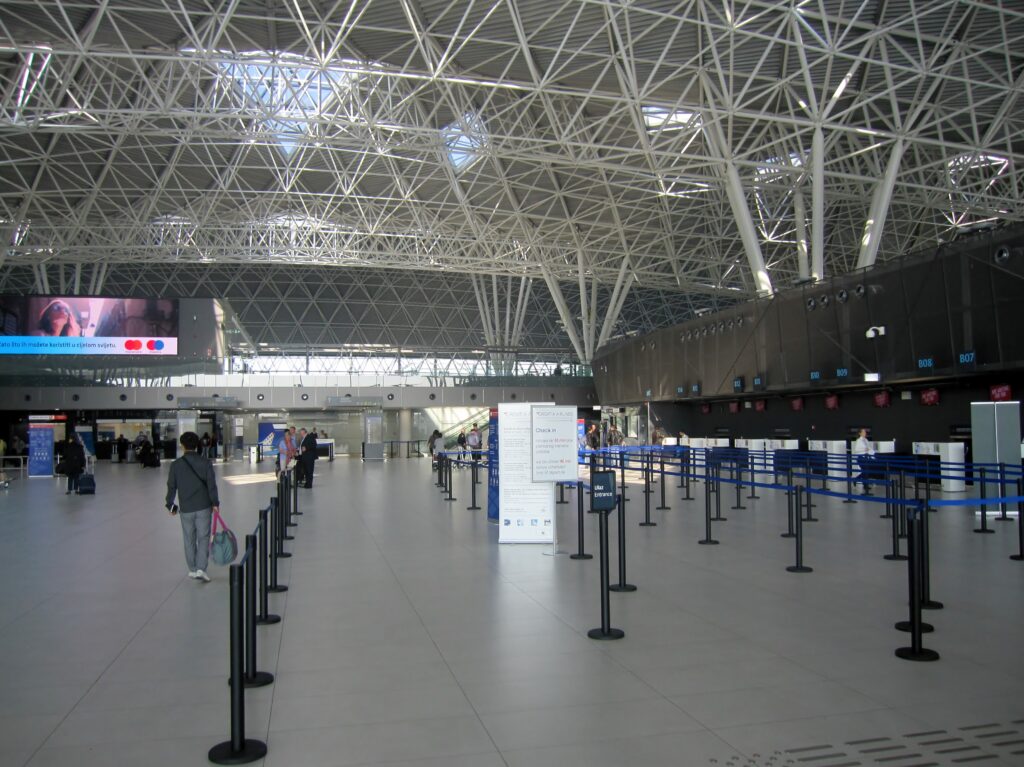 For passengers travelling in business class with Croatia Airlines or the Lufthansa Group or holding a Star Alliance Gold card there are dedicated check-in desks in the departure hall. At security there is a spacial Star Alliance Gold Track, a fast track channel for Star Alliance premium passengers.
After security control domestic passengers turn right and international passengers turn left where there is a passport control. The transit halls for domestic and international passengers are completely separated.
For international passengers, just like what seems to have become standard at most major international airports, you need to pass through a large duty free shop before reaching the gate areas.
There are not a great many shops airside in the international transit hall and the same goes for cafes, bars and restaurants. The transit hall is fairly small and compact. You will find everything you may need here and everything you may expect from the airport of an airline hub and a capital city, but do not expect anything out of the ordinary.
For eligible passengers travelling in business class or holding a gold card there is a Primeclass Lounge in the international transit hall. This is the only lounge at the airport used by all full-service airlines, irrespective of alliance. There is no lounge in the domestic transit hall. It is also accessible using various lounge cards and credit cards.
The lounge at such is actually not that bad. It has some nice features such as massage chairs, some rather good snacks (with a great presentation) and a cool business centre. Overall the lounge was a very pleasant surprise and far better than expected.
To conclude the new terminal building is a massive improvement compared to the old, worn and cramped terminal. A huge improvement. It is significantly larger, there are better facilities and there is a vastly better lounge. With Zagreb being the hub of Croatia Airlines the new terminal also makes transfers much easier, especially with so many gates with passenger bridges. However the terminal is still fairly small, but apparently they do have an expansion plan ready once the terminal reaches capacity.