A brand new Primeclass Lounge has opened at Riga airport, replacing the old lounge which was once the Air Baltic Lounge, and last evening it was time to visit it for the first time followed by a quick morning visit this morning.
The new lounge also has a new location, located between Concourse B and Concourse C. If you start your trip in Riga you pass through security control and then through the main shopping area and then continue straight ahead towards the C-gates until you see a staircase. The lounge is located upstairs. There are several signs and the lounge is not hard to find. Also Riga airport is a fairly small and compact airport.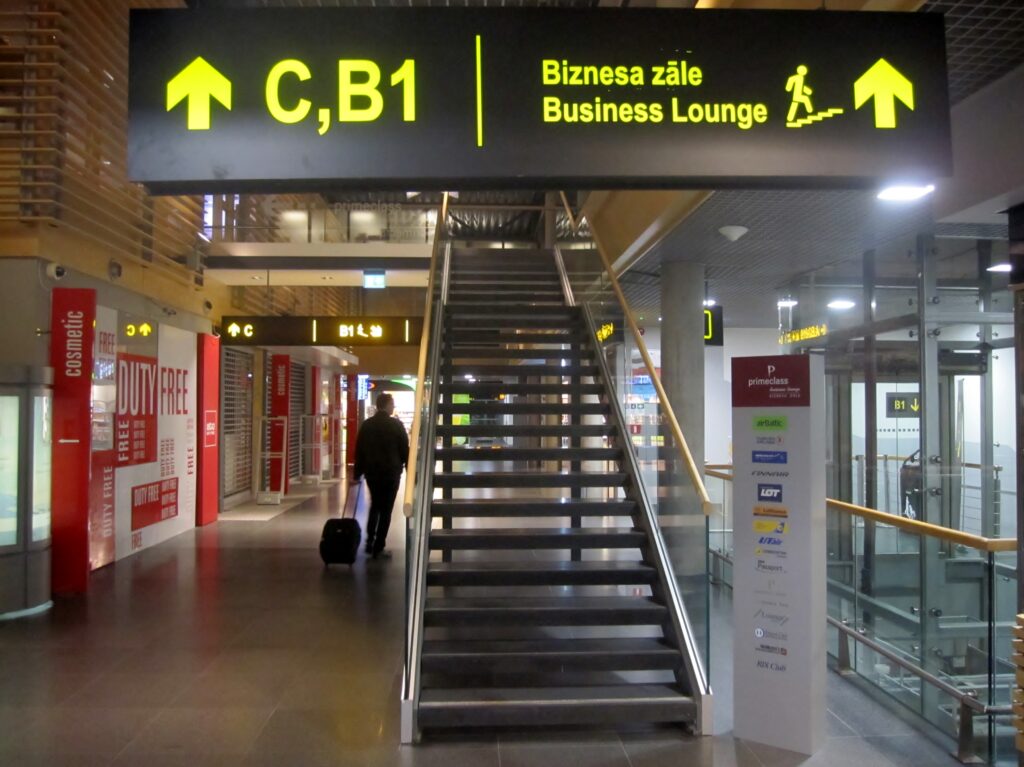 The new lounge is large and spacious but slightly more impersonal compared to the old lounge, which had a very relaxed, familiar and homey feeling to it.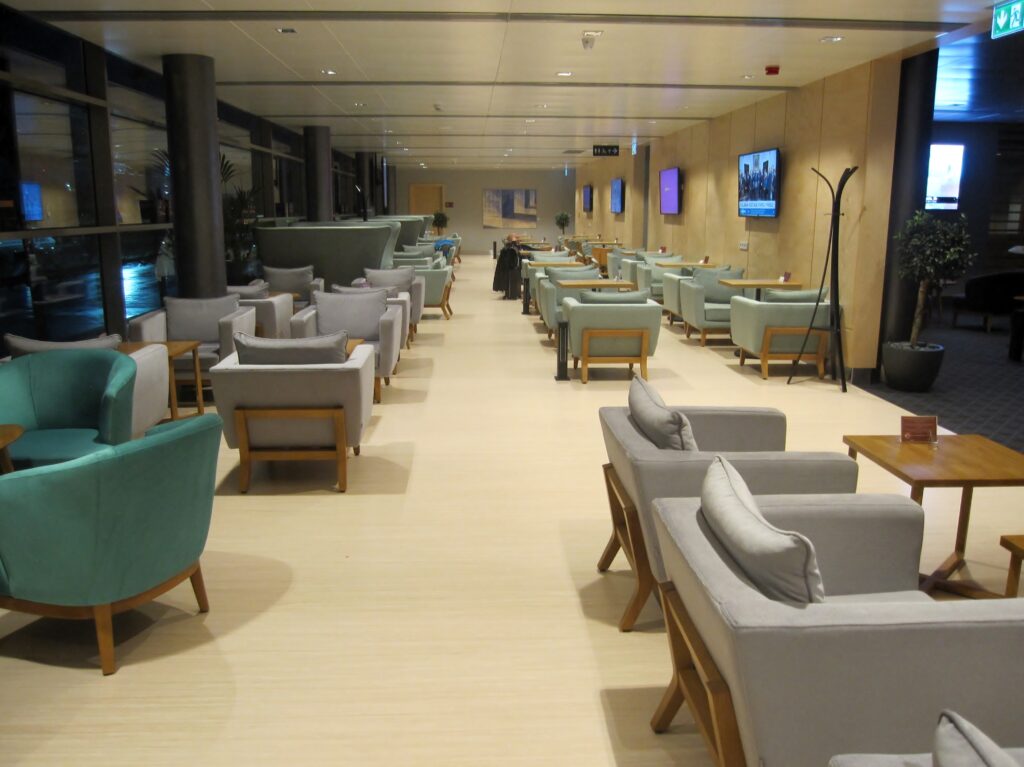 There are also brand new furniture in the new lounge, in grey and in various shades of green, and the sofas are very comfortable.
A great aspect of the lounge is the view. During daylight you get an excellent and nearly unobstructed view of the runway and the apron from the lounge.
Just like in the old lounge the selection of food and drinks is excellent, well above average and especially for a lounge in northern Europe where the focus usually is more on functionality than luxury. There is some hot food available for breakfast, lunch and dinner and the breakfast spread is easily comparable to the one offered at a smaller hotel with for example pancakes and fried eggs and omelettes.
There are also sandwiches and various snacks available throughout the day.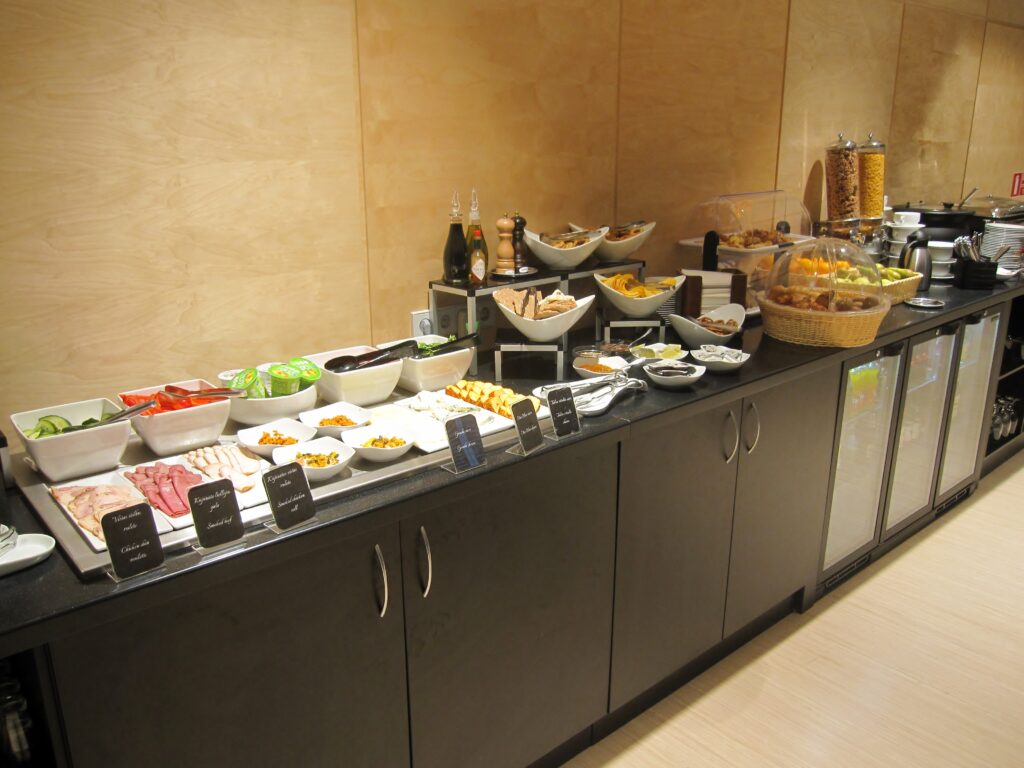 A cool thing about the new lounge is also the bar located in a corner, to the far left after entering the lounge. It has a proper bar counter, but although it looks like it is manned, everything is for self service.
The selection of alcoholic drinks is rather good with several different wines, including red wine, white wine and sparkling wine, and a good selection of spirits. There is also a rather good selection of beers in a fridge in the buffet area.
And on the bar counter they have appropriate glasses available for each brand of spirits, and they have just done the setup so nicely. There are even proper cocktail glasses. I wonder if they allow you to also mix proper cocktails yourself. Nevertheless the whole presentation is both attractive and very innovative.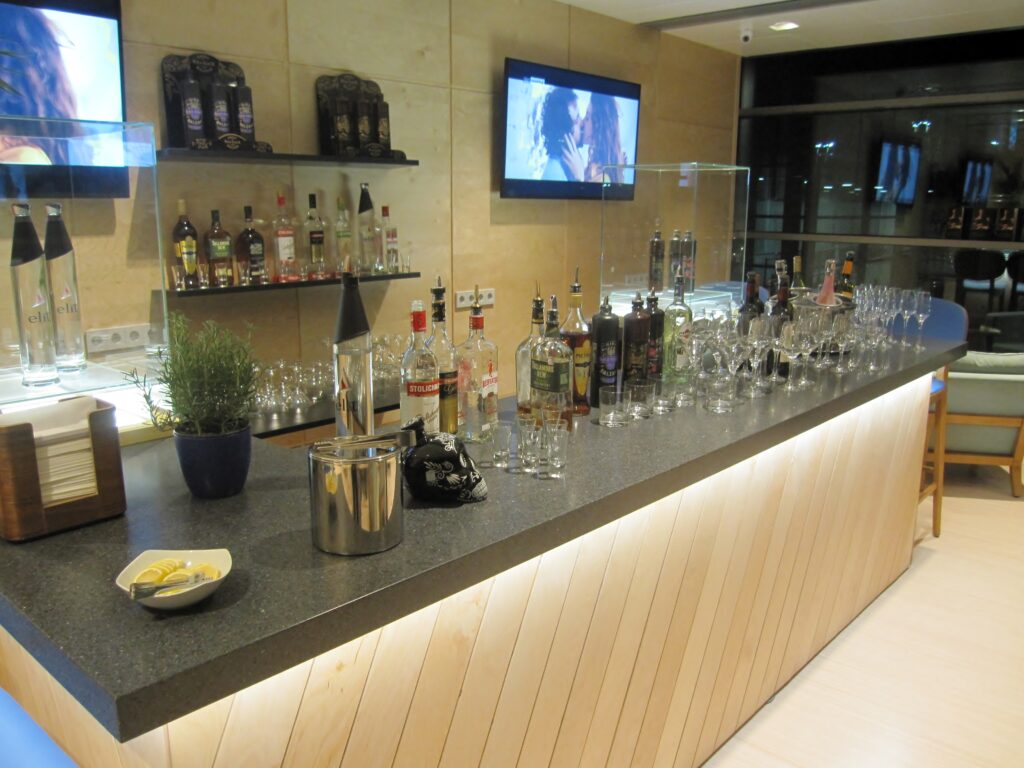 Final impression
All-in-all the lounge is very nice with a modern interior and a great selection of food and drinks. It is much larger than the old lounge, it is spotlessly clean and has a very nice apron view. The only thing I miss from the old lounge is the cozy feeling it had. The new lounge feels more impersonal.