There are several Lufthansa lounges in Europe, both in Germany and in some other countries, and most of them are at least reasonably good and several of them have in fact improved in recent years. But there is one lounge which really stands out, a true gem in the Lufthansa network. And I am not talking about one of the first class lounges in Frankfurt. They are obviously very nice, but that is also something you should expect. No, it is a different one.
The Lufthansa Lounge in Athens is a truly terrific lounge. Seriously. How they managed to create such a fabulous lounge at an outstation airport like Athens is really beyond me, beating most Lufthansa lounges in Europe, including many of the lounges at the hubs in Frankfurt and Munich. I am seriously impressed.
I visited the Athens lounge four years ago and was very impressed already back then, but now the lounge has also been fully refurbished with the latest Lufthansa lounge concept, and it has in fact become even better.
Some years ago the lounge was divided into a Senator Lounge (for Gold card holders) to the left of the reception desk and a Business Lounge (for business class passengers) to the right of the reception desk. As for the layout the two lounges are still there, so there are basically two separate sides, but nowadays there are both part of the Business Lounge, so you can move freely between the two sides.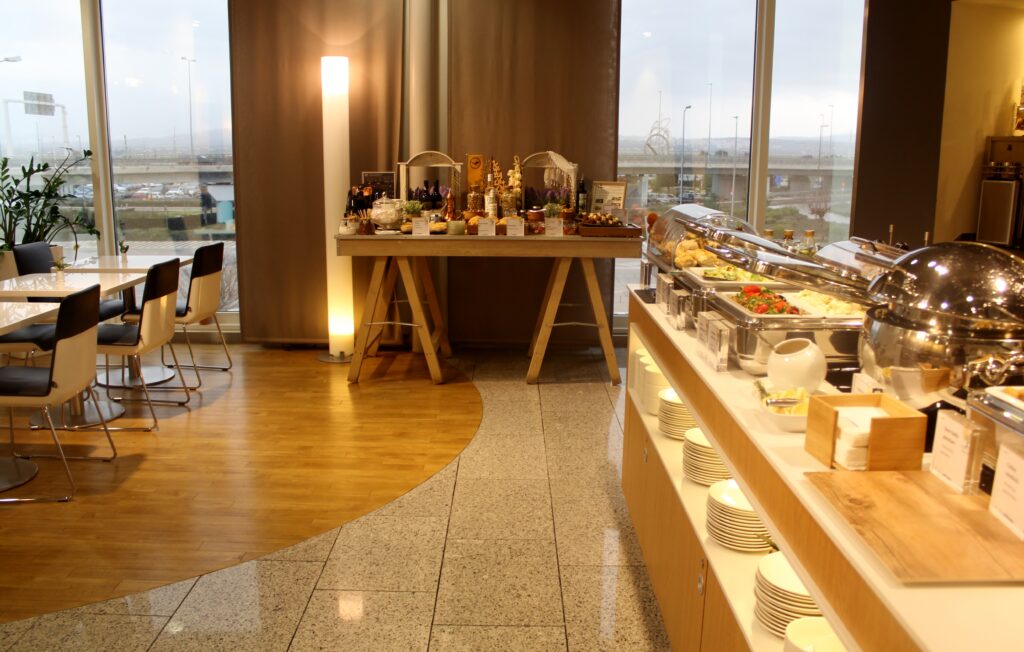 But what mostly impresses is the selection of food and drinks. Even though the lounge probably has capacity for no more than 50 guests, which in most cases would result in a rather mediocre outstation lounge, the selection of food and drinks here is incredibly impressive. And there are no less than 5-6 staff members working in the lounge, clearing tables and keeping the buffet area tidy and well stocked.
The selection of food includes some decent hot food, soup and also some proper sandwiches.
On the other side of the buffet there are some cold cuts, vegetables with dips, bread rolls, fresh fruits and some rather tasty mousse desserts. And all of it with a lovely presentation.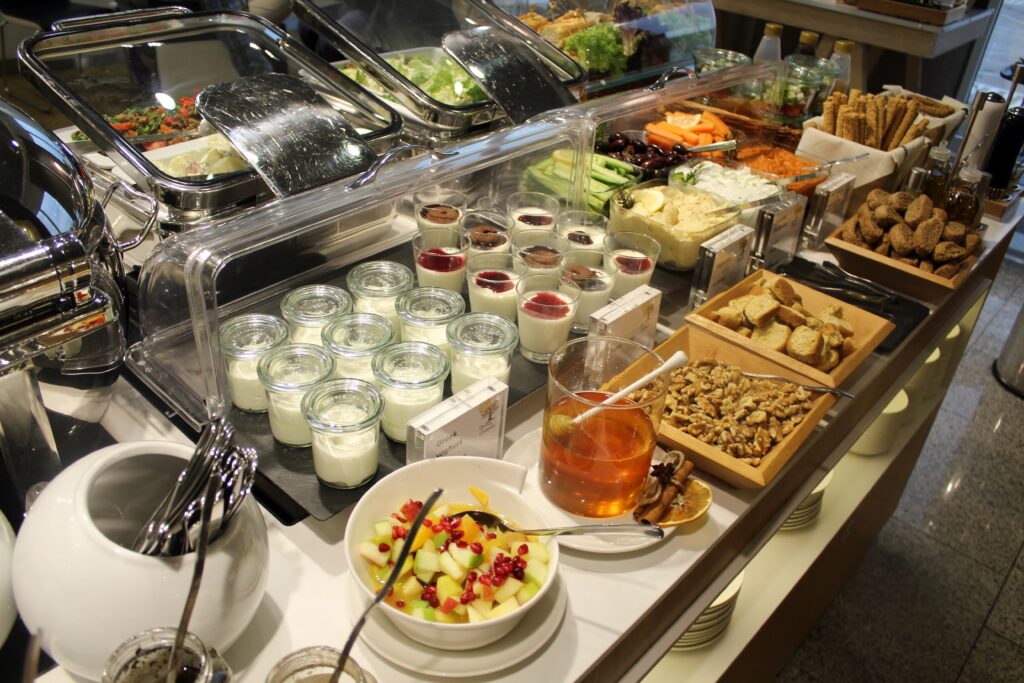 And on the opposite side of the buffet area there is a bar corner, the standard Lufthansa setup but once again with a rather impressive and above-average selection of both alcoholic and non-alcoholic drinks, and once again with a very nice presentation.
There are all kinds of wines, most Greek of course, including some sparkling wine. And furthermore beer, soft drinks, coffee, tea and a good selection of spirits, with both some well-known international brands and some Greek specialities. And once again, look at that presentation with the small vases with flowers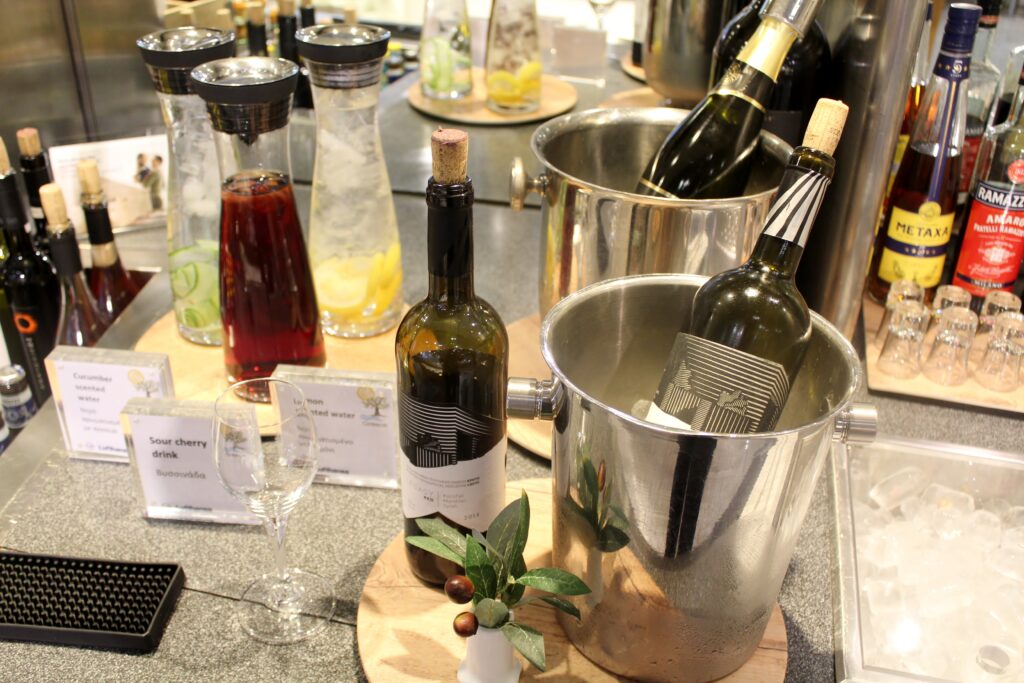 Another highlight is the Cretan table with various specialities from the island of Crete, including Cretan cheese pies and Cretan sweet fritters. And once again, what a fabulous presentation.
On the other side of the lounge, in what used to be old Business Lounge, there is another highlight of the lounge. The whisky table.
Again, not really what you would expect to find in an outstation Lufthansa business lounge. The whisky selection is better than the one you would find in most Senator Lounges (only for gold card holders) in Frankfurt and Munich. And this is a business lounge. There is even a sign on the table giving a description of the whiskies on offer.
To sum up this is a really terrific lounge which beats the Aegean Airlines Lounge hands down and also both the third-party lounges in the lounge corridor outside. Looking forward to come back here in the future.