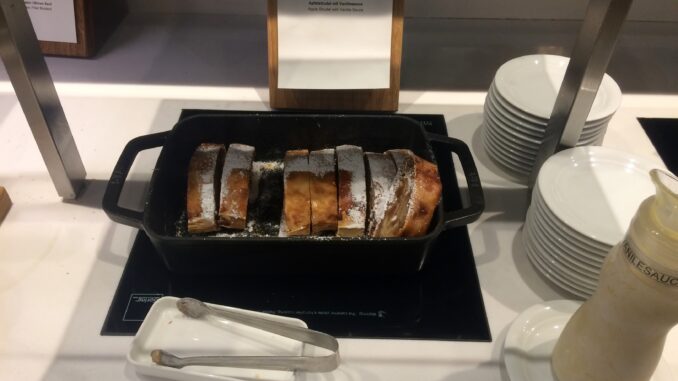 A quick evening visit to the Lufthansa Senator Lounge in Frankfurt before it is time to rush to the gate for the late evening flight to Rome. And to my delight they serve Apfelstrudel with vanilla sauce for dessert in the lounge this evening. Absolutely delicious.
I am so impressed with how the food and drinks have improved in the Lufthansa lounges in recent years, especially in the Senator lounges in Frankfurt and Munich. It has never been this good during the 15 years I have had access to these lounges.
The breakfast I got in the Senator Lounge in Munich during a longer and rather proper visit last year was easily comparable to the breakfast you would find in a smaller to medium-sized business hotel.
And in this lounge in Frankfurt they have had wonderful desserts with for example waffles with apple compote in the past, and today they have Apfelstrudel on offer. If they keep this level I am looking forward to come back many more times in the future, especially during weekends when the lounges are usually slightly less crowded.