Twice Priority Pass Lounge of the Year in the World and four times Priority Pass Lounge of the Year in Europe. Perhaps you would guess a lounge at a major hub like London Heathrow? Perhaps a design project at one of the airports in the Nordics? Or possibly it could be one of those brand new cool lounges somewhere in eastern or south-eastern Europe, in one of those airports which has been given a complete revamp in recent years.
Well the answer is not even close. It is quite remarkable that a small regional airport like Basel EuroAirport has constructed such a fancy lounge, and received all these awards, but they have and the awards are well-deserved.
The Skyview Lounge at Basel airport (or Basel-Mulhouse-Freiburg EuroAirport, to be fully correct) has been on the bucket list for a long time but the airport is not really one you pass very often unless you really have a reason to travel to the region. But once there it certainly did not disappoint. The lounge measures an impressive 1700 sqm which are divided into three different floors. There is a rather nice panorama lift taking guests between the three floors, if you do not want to take the stairs.
The main floor has seating for no less than 200 passengers, which is far more than needed nowadays. The lounge probably opened around 2000-2001 when the Y-shaped extension of the terminal was inaugurated. Back in those days Crossair/Swissair had a hub in Basel and probably had a fair number of business travellers and frequent travellers passing through Basel. Both these airlines are now defunct and the current national carrier of Switzerland, Swiss, no longer operate at the airport, focusing on the hubs in Zürich and Geneva. Instead several low-cost carriers operate at the airport with Easyjet Switzerland even having established a hub at EuroAirport. The change from being a hub for a full-service carrier with many transfer passengers to a hub for a low-cost carrier operating point-to-point flights means the lounge is vastly underused nowadays. But the positive thing is that it makes the lounge very quiet and peaceful.
The reception is on the ground floor where there is also (or at least used to be) a manned bar and a small buffet area. The spacious bar is now closed and probably not needed, but the ground floor is a very relaxing place designed like a tropical garden. There is even a wooden bridge over a small pond and some palm trees.
The first floor is the main floor and has a circular design with a fantastic ceiling like a dome and with comfortable armchairs with foot stools along the windows, all providing a good (or at least reasonable) view of the apron and the runway. This is also where the main bar area and buffet area can be found where there is also a spacious dining area.
The selection of food includes rösti and quich lorraine, a cold buffet, sandwiches, fresh fruits and desserts.
The drinks selection includes red, white and sparkling wine, beer, a good selection of spirits, and of course coffee, tea and soft drinks.
On the same floor there is also a large business centre which even has some small meeting rooms.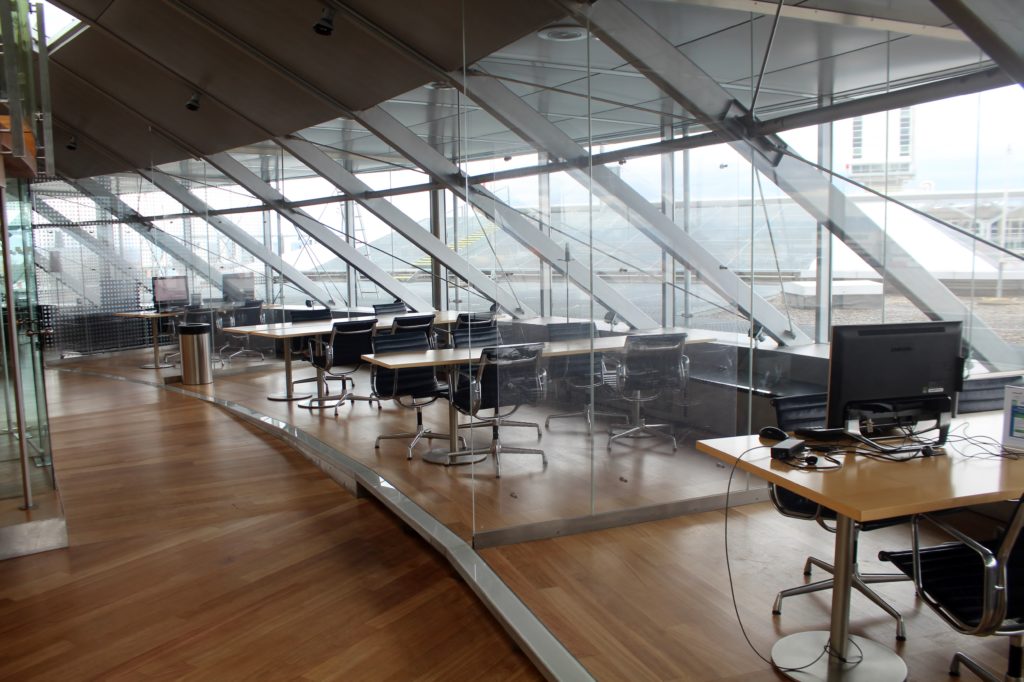 And there is a large outdoor terrace as well overlooking the apron. Unfortunately food and drinks are not allowed outside, which is a bit of a shame. But at least you can get some fresh air and a view, and take a cigarette if you are a smoker.
The final floor, the second floor of the lounge, is the smallest one and is located above the buffet area on what looks like a small balcony. There are some seating areas here but not much else. The area was closed and roped-off during the visit.
Some of  the other facilities in the lounge include restrooms and showers, several TVs, newspapers and magazines and of course free wireless internet.
For a small airport like Basel EuroAirport this is a terrific lounge and well worth a visit. It is used by most full-service airlines and it is also possible to enter using various lounge cards and by payment at the reception desk. And although it has been around for some time it is still in an excellent condition and very well-maintained. And you do not have to worry about not finding a seat. Highly recommended!