A late morning visit to the Casa Alitalia Piazza Del Popolo Lounge located in the non-Schengen area at Rome Fiumicino airport, in the satellite building of Concourse E. This is the original Casa Alitalia lounge, the first one to open with the brand new design.
I arrived at the lounge just before 11 am, planning to do some lounge hopping before the departure at 2.15 pm, including a visit to the new Casa Alitalia in the new Concourse E called "Casa Alitalia Piazza Di Spagna", and a visit to the new Plaza Premium Lounge, also located in the non-Schengen area.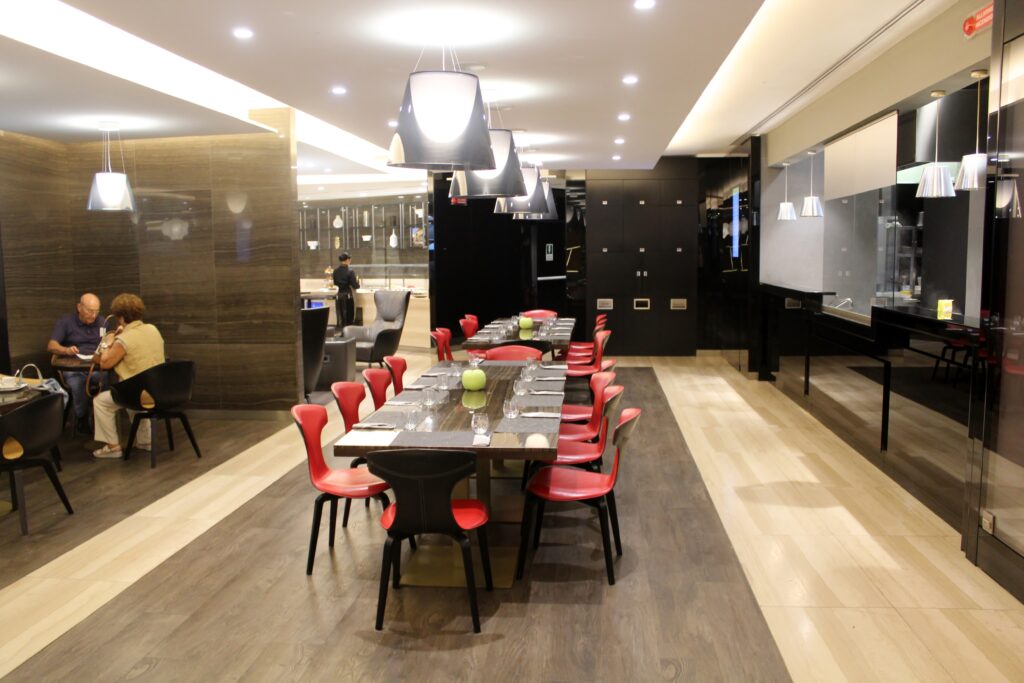 The lounge was more or less empty when I arrived. I guess that since the opening of the Casa Alitalia Piazza Di Spagna Lounge, which is located closer to many of the gates, fewer passengers make it to this lounge since it requires taking a train. And many people would probably not choose to go to this lounge now unless they know that their flight is really to depart from the satellite concourse (although you can easily go back if that is not the case, and it will not cause any problems but requires passing through transfer security). But at the end that is just a good thing, because it means that fewer people go to what is easily the nicest Casa Alitalia lounge in Rome.
The Casa Alitalia Piazza Del Popolo is truly a fantastic lounge. I was so impressed when I visited it the first time and nothing has changed in that aspect. Everything about the interior is just brilliant and so innovative. There is a cooking station, a manned bar, even a large dining table, and all of it with a very colourful Italian elegance. They have done it perfectly.
Apparently 11 am is the cut-off time between breakfast and lunch so when I arrived around 10.50 am there was still breakfast on offer. And what a nice selection. And what a terrific presentation. Full marks.
Scrambled eggs, bacon, mushrooms and pretty much everything you would expect to find in a decent breakfast buffet.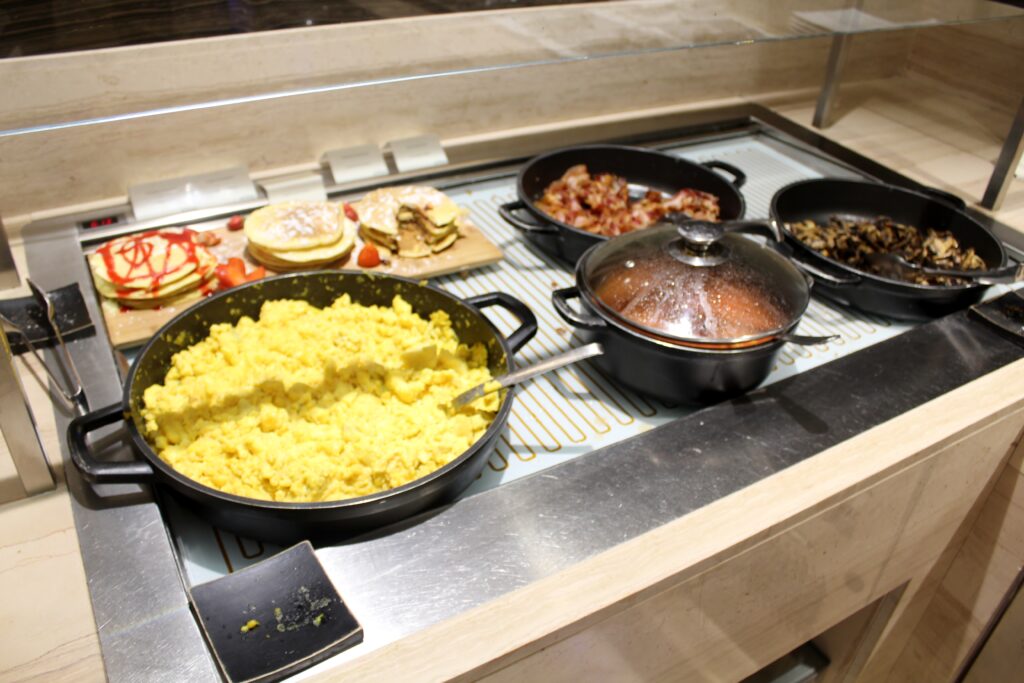 But they also had a pancake section with three different types of pancakes, including strawberry pancakes and chocolate pancakes.
I helped myself to some pancakes before they were removed and ordered a glass of Prosecco at the bar, a brand called Villa Sandi, served in an appropriate glass.
Hard to complain too much about this experience and I will happily come back to the Casa Alitalia Piazza Del Popolo Lounge again in the future.