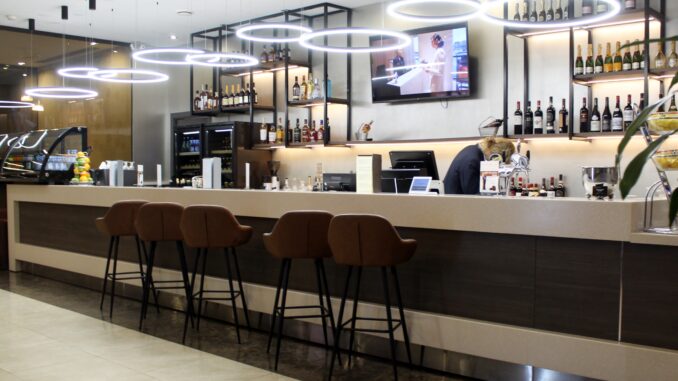 When I first visited the lounges at Moscow Sheremetyevo airport about a decade ago there was a full bar service available for self service in all the lounges. Beer and wine but also a selection of spirits. Just the standard affair though, like gin and whisky, and of course vodka, after all this is Russia. Nothing extraordinary but nothing missing either.
Two years ago when I passed through Moscow Sheremetyevo I noticed that the spirits were now gone. It was the same situation in all the lounges, in all the three international terminals. Red wine, white wine and beer were still available, and of course all kinds of soft drinks, but nothing stronger than wine, and with no option to buy anything. Most likely this change was due to an increasing number of alcohol-related incidents on flights departing from Russia, which led to the airport authorities having to take action. If you wanted a cocktail you had to leave the lounge and go to one of the airport bars or restaurants in the transit hall.
But now things seem to have changed again. Now there are manned bars in the lounges, it seems to be the same in all lounges in terminal D, E and F at Sheremetyevo airport. Generally speaking, even though the lounges have different names, different interiors and to some extent different concepts, and some are branded as Aeroflot lounges and some are not, all lounges are basically run by the same company with the same catering provider and with the same overall concepts.
At the new manned bars you can order a gin & tonic, a whisky or a glass of vodka. However in contrast to a few years ago, when everything was available for self service, you now have to pay for whatever stronger drinks you want. Beer and wine are still available free of charge though, and usually for self service.
Most likely this is something we will see more of around the world. Former self-service bar counters being made into manned bars where a bartender will make sure no one overindulges in the strong stuff. In the United Kingdom it is quite common nowadays to find manned bars in the third-party lounges, whereas the airline-operated lounges usually have drinks for self service.
But as for Moscow, it is still better with a manned bar, where spirits and cocktails are available for sale, rather than having no option whatsoever.