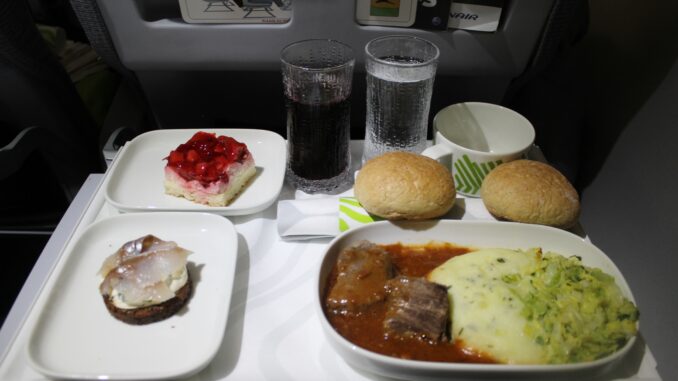 Departure experience

Check-in was done on the Finnair webpage and I just passed a self-service machine at the airport to print a boarding pass. I was only travelling with hand luggage.
Finnair uses terminal 3 at London Heathrow just like most OneWorld carriers with the exception of Iberia and, to most extent, British Airways, both using terminal 5. As a business class passenger I had access to the fast track channel through security, which was pretty quick.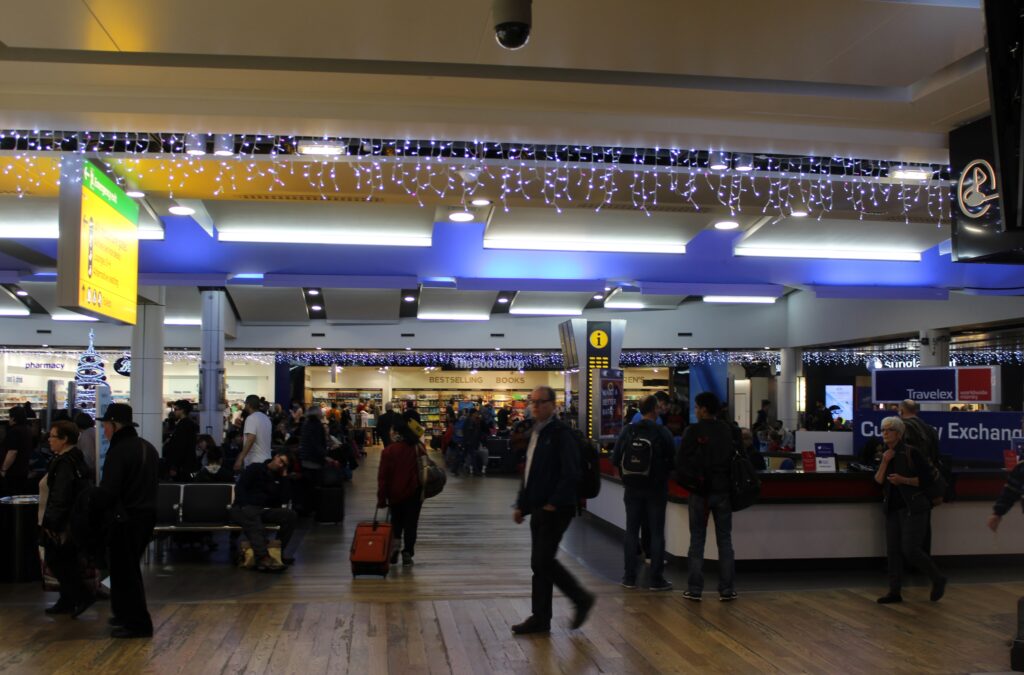 Flying OneWorld out of Heathrow terminal 3 as a premium customer or a frequent flyer is excellent thanks to the great selection of lounges. Cathay Pacific, British Airways and American Airlines all have lounges in terminal 3 and on top of that they all have first class lounges, which you can access as OneWorld Emerald.
This time though I headed directly to the brand new Cathay Pacific Lounge which had just reopened after a complete refurbishment. It is also the designated lounge for Finnair. As a OneWorld Emerald member I could also access the first class side which now also has an a la carte restaurant, 'The Dining Room'.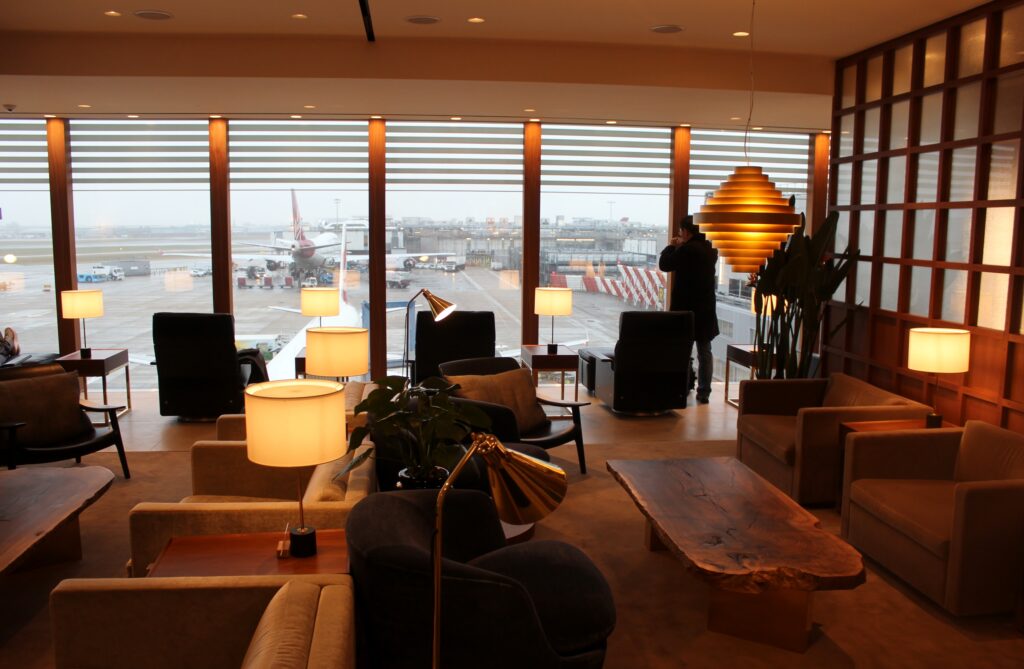 The new lounge is absolutely fabulous, pretty much a miniature version of The Pier First Class Lounge in Hong Kong. I had a great early dinner in the restaurant with a glass of champagne to start with. Traditional spicy Sichuan chicken with Chinese herbs for starter. Garden herb crusted salmon with caper, creamy peas and tomato salsa for main course. And finally a red wine poached pear with Häagen-Dazs vanilla ice cream and a double espresso for dessert.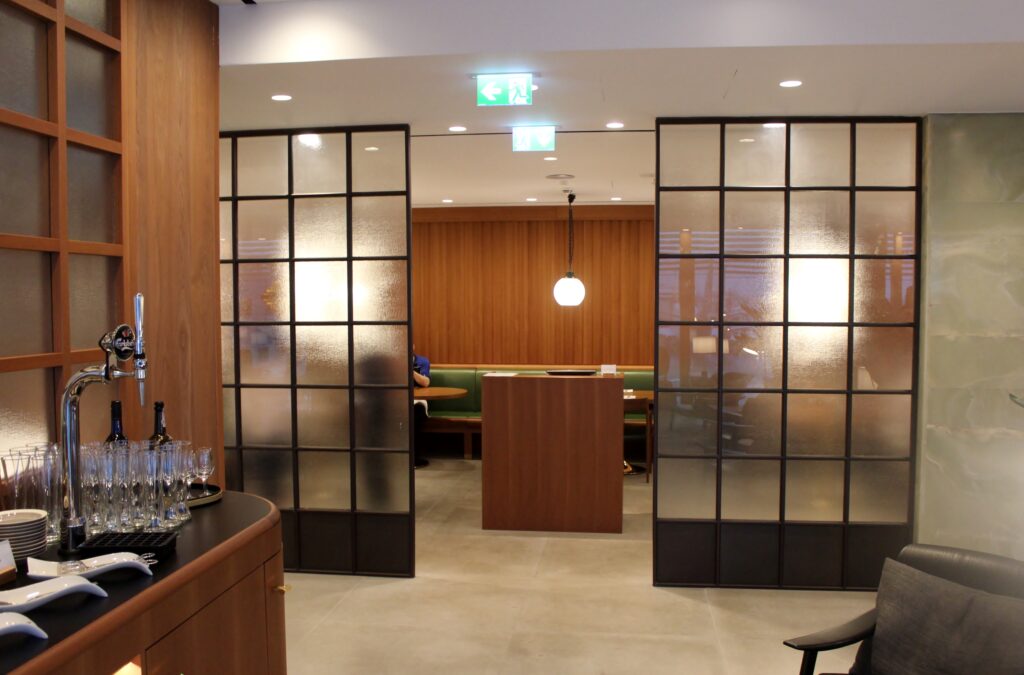 A selection of snacks and drinks is also available for self service in the main lounge so after the dinner I had another glass of champagne from the bar counter and had a seat in one of the armchairs with a footstool enjoying the fantastic view of the apron and the southern runway.
Overall this was a very nice dinner with a very attentive service from the staff. The service was perfect in speed but I guess they need to keep a certain speed as all guests obviously have flights to catch.
You can see photos of the menu and all the dishes here.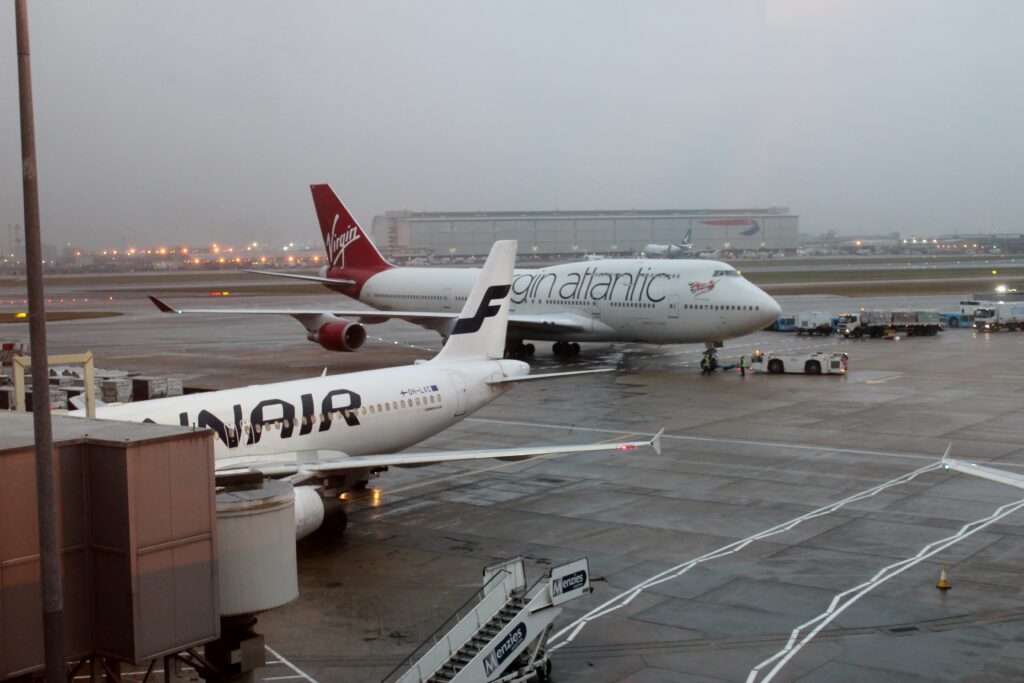 The flight
London Heathrow-Helsinki
Finnair flight AY 834
Departure: 18.05
Arrival: 23.00
Business Class
Airbus A321
Seat 05F

Boarding took place at gate 25 where there was also a separate lane for premium customers, including business class, Finnair Plus Gold and Platinum and OneWorld Sapphire and Emerald.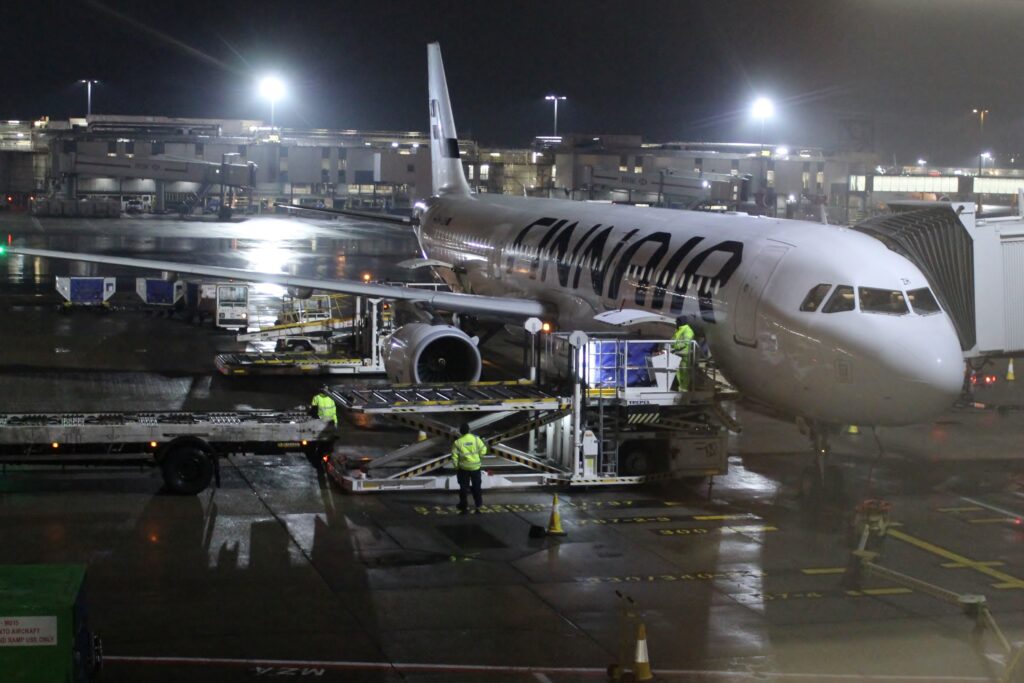 Gate 25 is one of those gates with a waiting room after you have 'boarded' in the system but fortunately boarding had already started so I did not have to wait inside.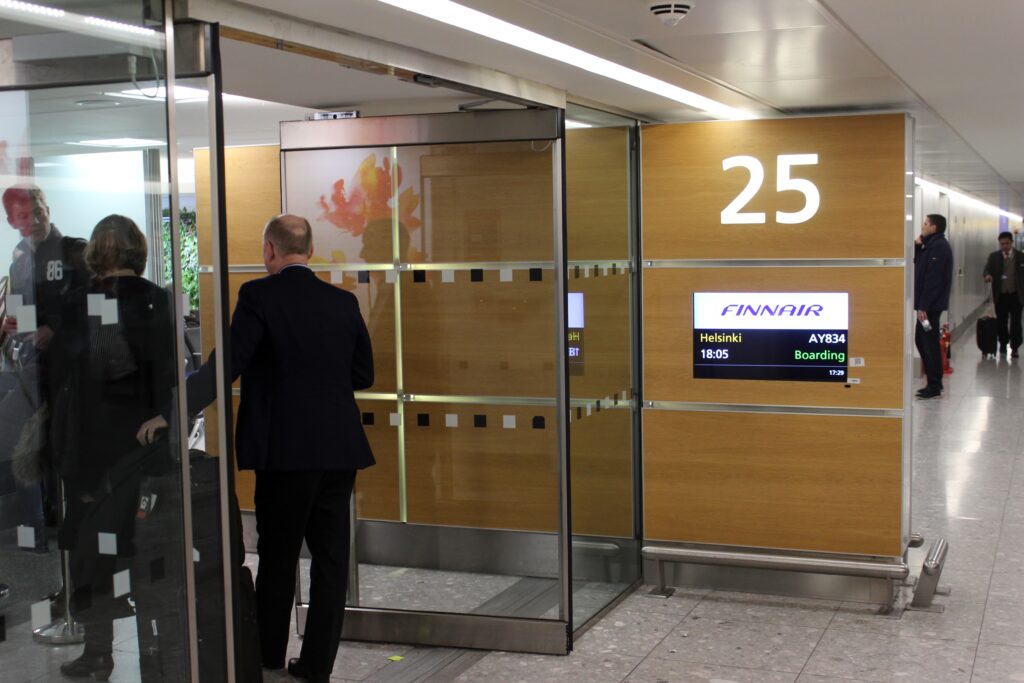 First impression

An Airbus A321 was used for the flight to Helsinki with the standard Finnair shorthaul cabin interior in grey. Business class stretched all the way to row 7 and I had selected 05D on the fifth row. As there was no one sitting in the window seat, meaning I got my own row, I later moved to the window seat 05F.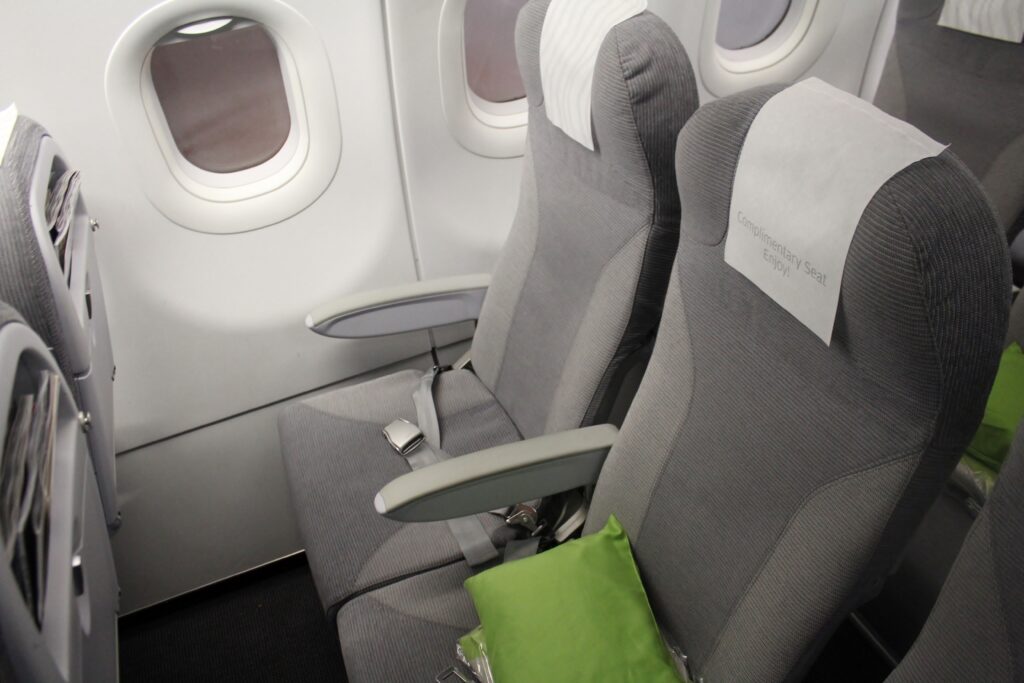 Before departure newspapers were offered in the cabin. The flight time to Helsinki was expected to be two hours and 30 minutes.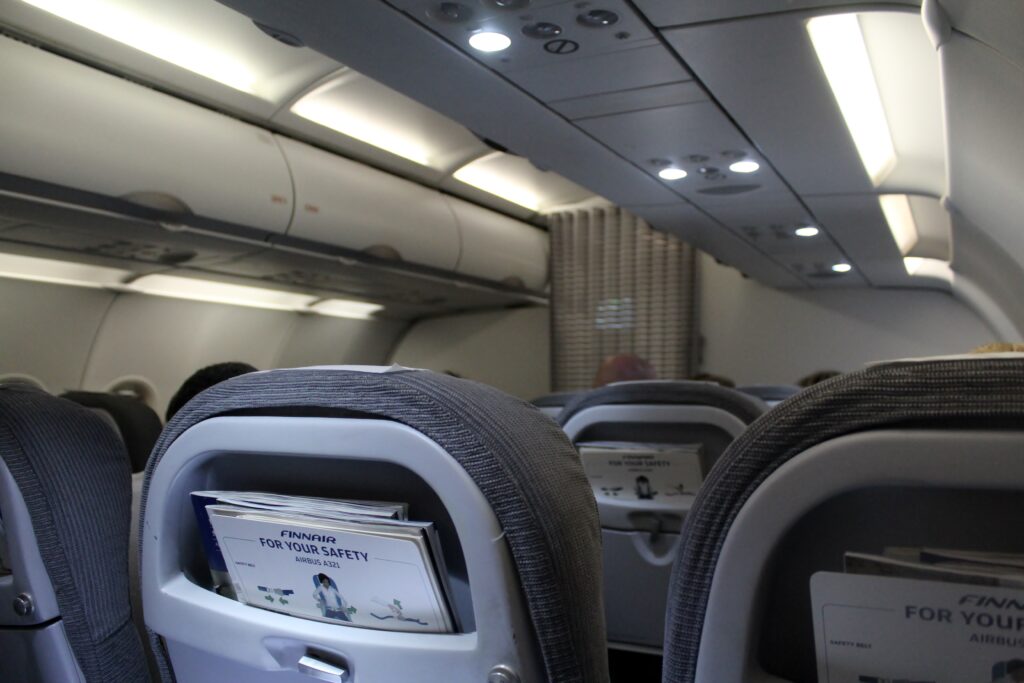 Seat and cabin

There were seven rows of business class on the Airbus A321 meaning 28 seats in total. The cabin load in business class was around 50% but I got my own row. The seats are the same throughout the cabin with a 3-3 configuration and a fairly standard amount of legroom of 31 inches.
In business class the middle seats are kept free and there are different headrests there saying 'Complimentary Seat Enjoy!'.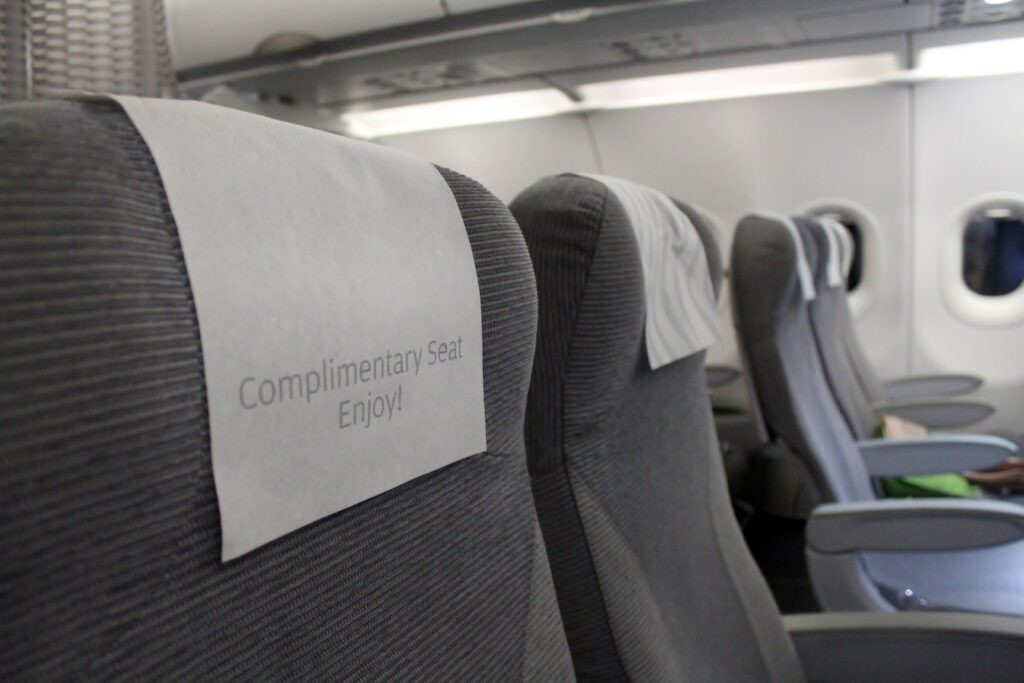 Overall I find the grey shorthaul seats used on all Finnair narrowbody Airbus aircrafts fairly comfortable.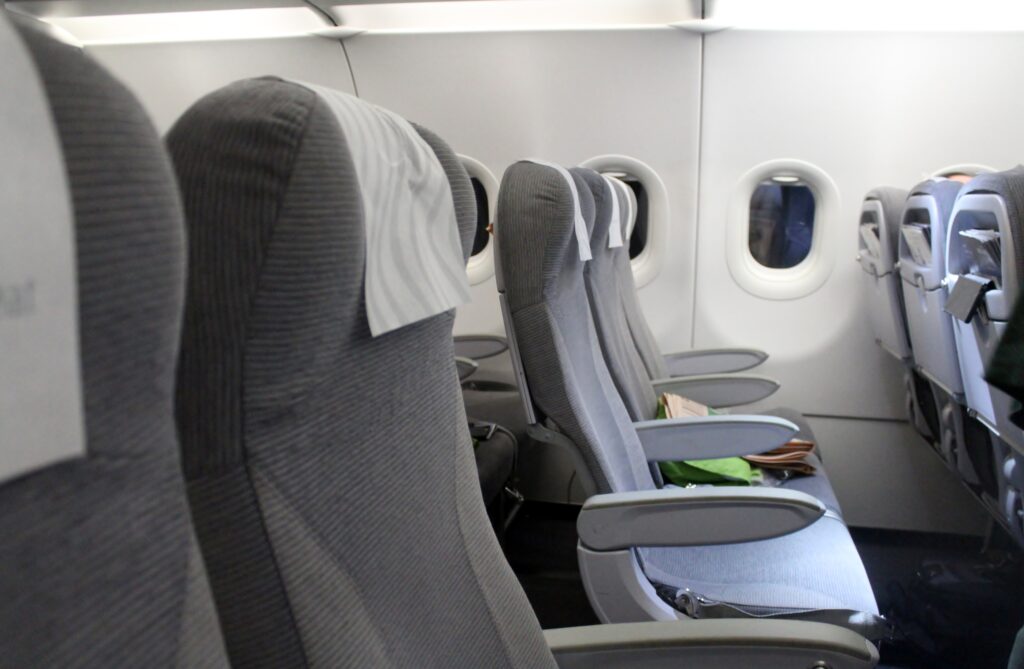 Food and drinks

In the past printed menus were offered in business class also on shorthaul flights but these seem to have been removed, so I do not know exactly what was served.
However the inflight service started with a cocktail of your choice from the drinks trolley, served with some pretzels. I asked for a gin & tonic and they had the Bombay Sapphire brand onboard. It was served with ice and lemon in one of the cool Iittala Ultima Thule glasses. I also asked for a glass of water, which I got in a plastic glass. Perhaps they were running short of proper glasses.
On longhaul flights they have the excellent Finnish Napue gin in business class, but this one is not available on shorthaul flights.
The meal tray was then handed out with the starter, main course and dessert in a rather elegant presentation with design details from Marimekko. As mentioned there was no menu so I am not sure exactly what they had on offer.
Since the main course was meat I asked for a bottle of red wine to drink. Bread rolls were also offered from a basket.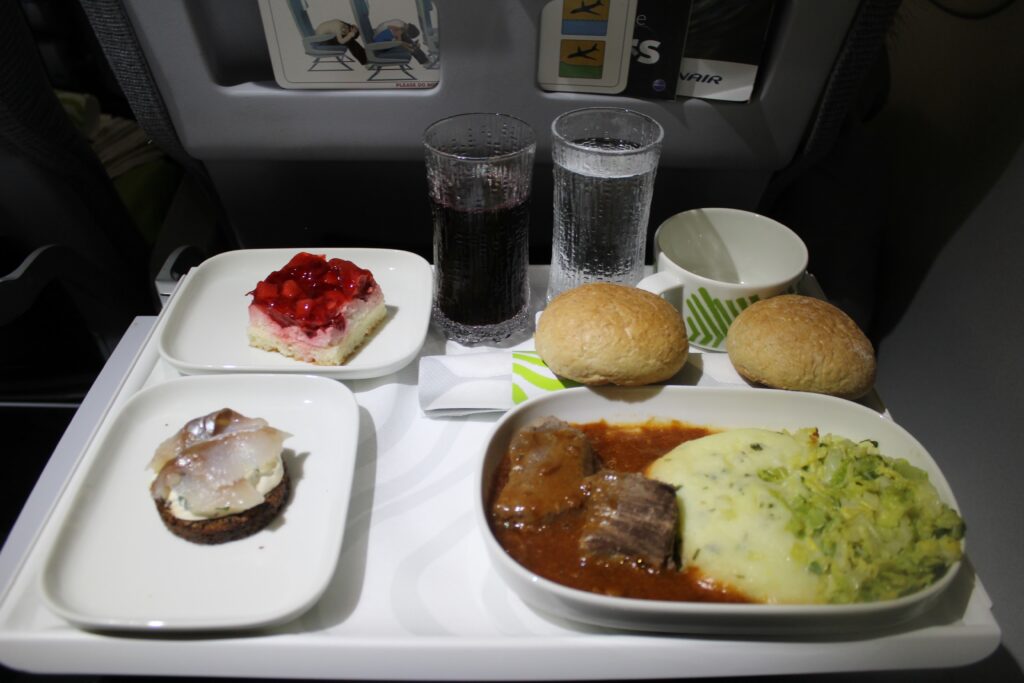 The starter was a small canapé with some kind of fish on rye bread. Very Nordic.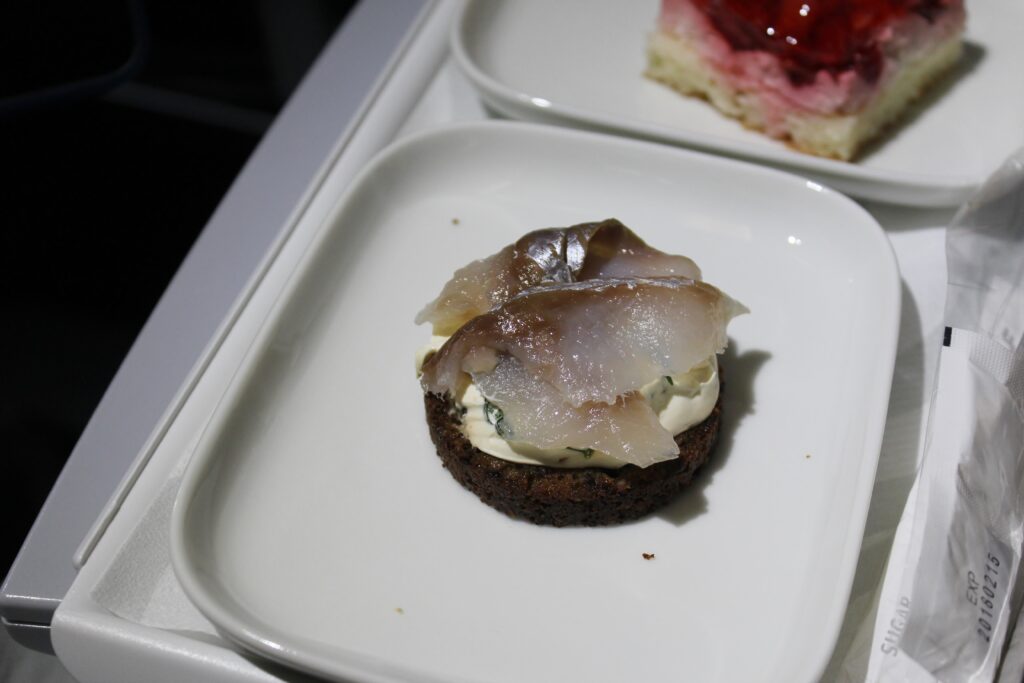 The main course was beef with mashed potatoes, vegetables and sauce.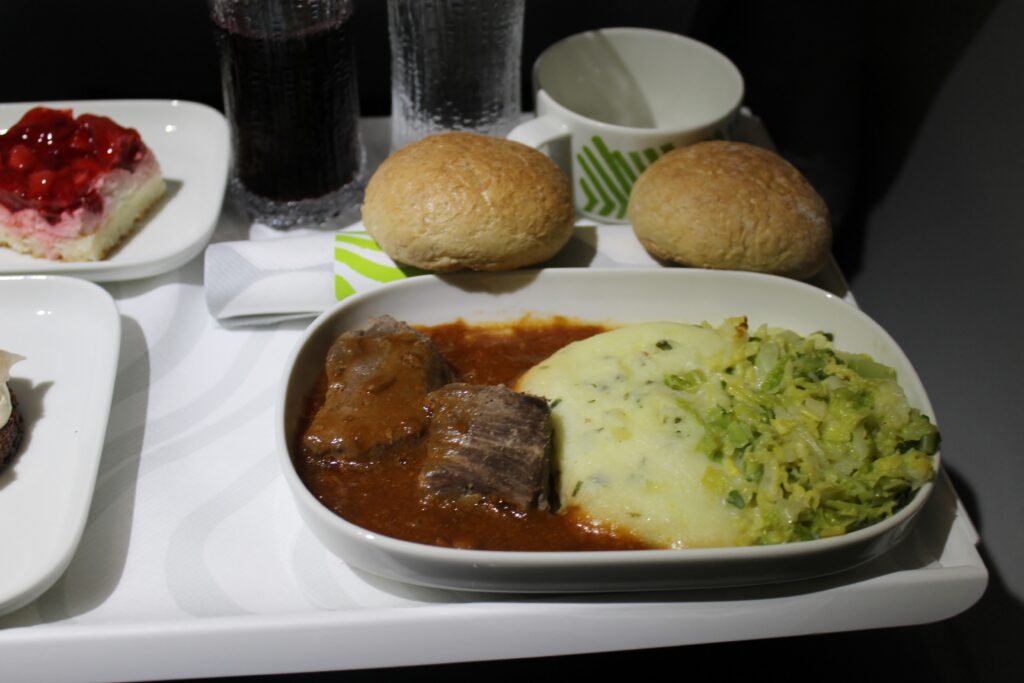 And finally there was a strawberry cake for dessert.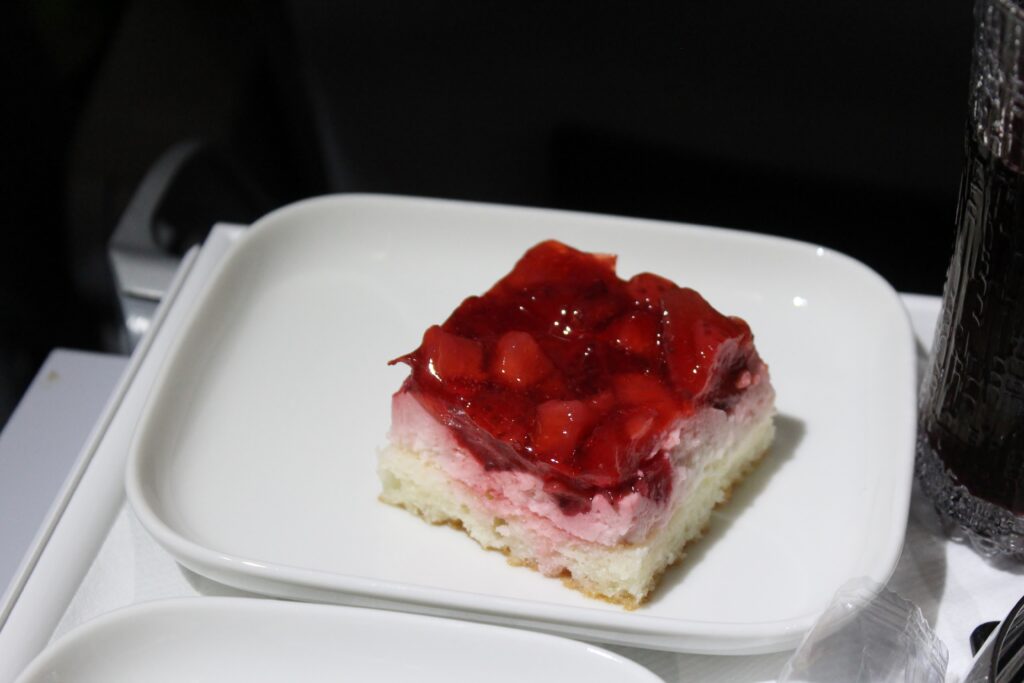 Overall the meal was quiet tasty. A proper business class meal with a very elegant presentation with china, napkins and various design details from Marimekko and glasses from Iittala. Two very famous Finnish design firms.
The meal tray was then cleared and finally coffee and tea were offered. I asked if they had the Lapponia liqueurs onboard, the Finnish brand which is available with either blueberry or cloudberry flavour. They have been available in the past in Finnair shorthaul business class but have apparently been removed now from the drinks selection.
I settled with a glass of Chivas Regal whisky instead, served in one of the stylish Iittala glasses used for liqueurs.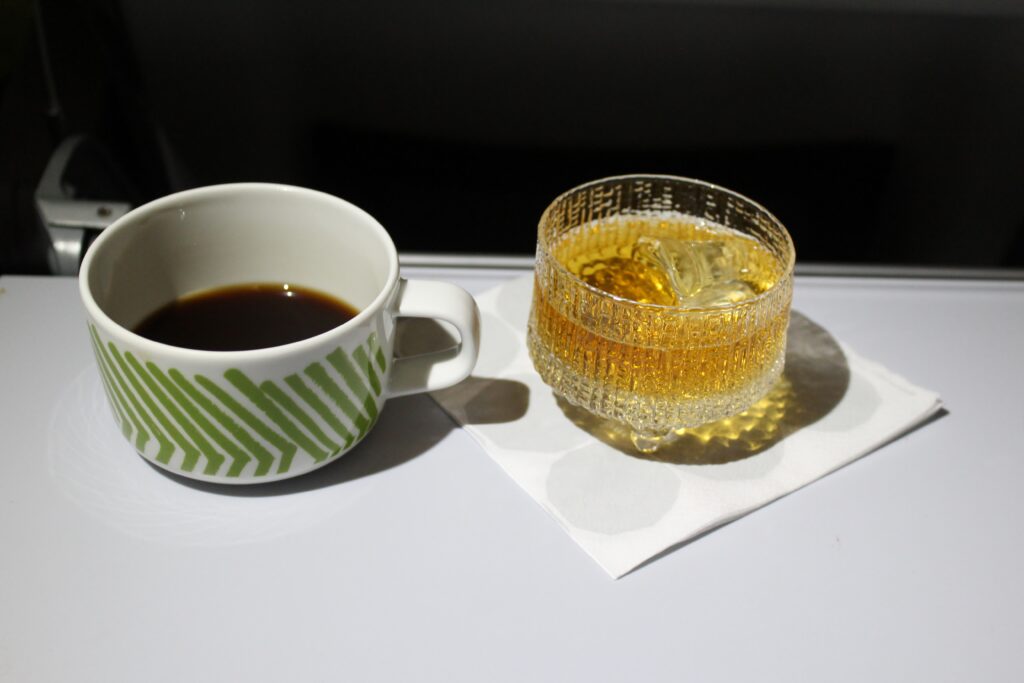 Inflight entertainment
There were screens in the cabin showing the flight map, some information about Finnair and Helsinki airport and also some short cartoons.
Newspapers were offered free of charge in business class. In economy class they are available for purchase.
The service

Overall I think the Finnair shorthaul business class service is quite decent and so was the service on this flight. The service was friendly and attentive and as a Swede sometimes you get addressed in Swedish, which is a minority language in Finland but actually one of the two official languages and generally taught in schools. If the crew speak Swedish (and do not mind speaking it) they have a Swedish flag on their name tag.
Arrival experience

We landed right on time at 11 pm at Helsinki Vantaa airport and parked at the non-Schengen terminal, sometimes referred to as the 'Asia Terminal' due to the large number of Asian destinations served from Helsinki.
With a machine-readable EU-passport I could use an E-passport gate to go through passport control and I was quickly on my way to the Hilton hotel where I had a booking for the night.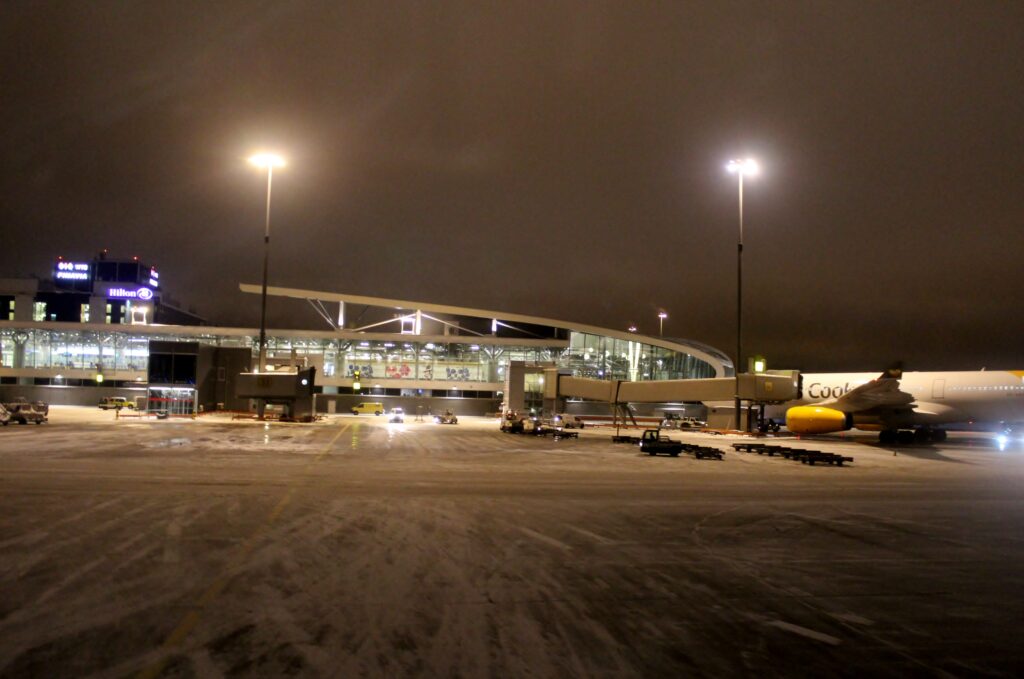 Final impression

A pleasant flight with a tasty dinner, a nice presentation of the food and a friendly and attentive service from the cabin crew. And I never get tired of the beautiful Iittala Ultimate Thule glasses. Overall quite an enjoyable flight.